Malaysia GE2022: Muhyiddin's PN in pole position to form new govt ahead of Anwar's PH, but 'anything's possible' ahead of King's deadline
SINGAPORE, MUAR, KUCHING — Gabungan Parti Sarawak (GPS), a possible kingmaker in Malaysia's current hung parliament, announced on Sunday (Nov 20) its support for a coalition government with Barisan Nasional (BN), Perikatan Nasional (PN) and Gabungan Rakyat Sabah (GRS), opening up possibility of a government without Pakatan Harapan (PH) despite it winning the most number of seats.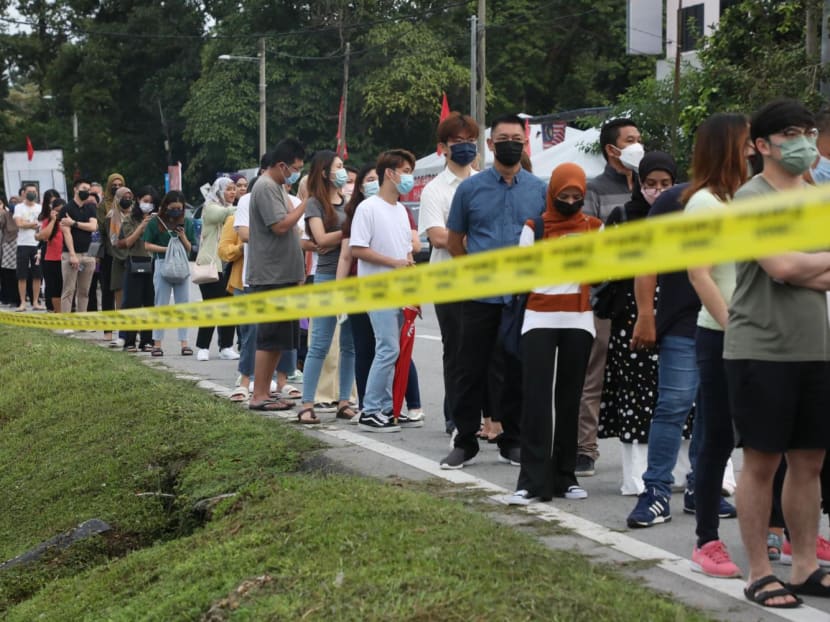 Gabungan Parti Sarawak on Sunday released a statement throwing its support behind Perikatan Nasional (PN) to form a government
This was after PN and Pakatan Harapan (PH), which won the most seats, both declared having canvassed enough support to form the majority in parliament
Political experts said there were a few possible permutations of alliances, including one wihtout PH in power
This would mean that its leader, Anwar Ibrahim, might once again miss the position of prime minister
KUALA LUMPUR, MUAR, KUCHING — Gabungan Parti Sarawak (GPS), a possible kingmaker in Malaysia's current hung parliament, announced on Sunday (Nov 20) its support for a coalition government with Barisan Nasional (BN), Perikatan Nasional (PN) and Gabungan Rakyat Sabah (GRS), opening up possibility of a government without Pakatan Harapan (PH) despite it winning the most number of seats.
The elections resulted in what some analysts described as an "unprecedented" situation, with no political coalition attaining a simple majority that is required to form a government.
GPS' announcement did not make the situation any more straightforward, with BN later in the day releasing a statement in response saying that "it had never discussed with GPS" to agree on the establishment of a government together with PN.  
The Anwar Ibrahim-led PH attained 82 seats, while Perikatan Nasional (PN) won 73 seats. The Barisan Nasional (BN) coalition, which has ruled Malaysia for about 60 years, was a distant third with 30 seats.
GPS from Sarawak and GRS from Sabah each won 22 and six seats respectively.
Malaysia's king Al-Sultan Abdullah Ri'ayatuddin Al-Mustafa Billah Shah earlier that day gave coalitions until 2pm on Monday to submit their numbers and the names of their prime minister candidates to break the impasse.
This came after both PH and BN had early on Sunday morning announced that they had enough numbers to form a government, though neither provided any evidence to back up their claims.
PH was noticably silent so far with no follow-up statements on the formation of any alliances, after its early morning press conference claiming that it had sufficient seats to form a majority.
Prior to GPS' announcements, experts who spoke to TODAY said that PH may be at a disadvantage when trying to court the East Malaysian parties to form a government together, though they did not entirely dismiss the chances of it happening.
Political observers also did not rule out other possible scenarios, including one where a government is formed without PH, despite the three main coalitions demonising each other throughout the campaign period. 
MANY POSSIBILITIES IN 'NEW PHASE IN POLITICS'
Experts such as Dr Francis Hutchinson, senior fellow and coordinator of the Malaysia Studies Programme at Iseas-Yusof Ishak Institute in Singapore, said that Malaysia has entered a "new phase in politics" where for the first time, there has been a hung parliament as none of the coalitions have managed to attain a simple majority in parliament.
This means that the Sabah and Sarawak political coalitions have become "much more" powerful, as parties will have to negotiate with them to forge an alliance to form the government with a simple majority of at least 112 seats.
However, Dr Hutchinson said when it comes to working with the East Malaysian coalitions, PN has an edge over PH.
"GPS has tended to be reluctant to work with PH, we can see this in GE 2018, when PH had a majority, GPS, instead of joining the coalition, it left BN and became independent.
"If they didn't join PH then, why would they join them now?"
Dr Norshahril Saat, also a senior fellow at Iseas-Yusof Ishak Institute, agreed that it was less likely for parties in East Malaysia to work with PH, given the history between the two.
However, Dr Hutchinson, before GPS' press conference on Sunday, said the possibility of a PH-GPS alliance cannot be ruled out, but this may only happen if PH makes the East Malaysian coalition an offer that "they cannot refuse".
This could be a deal to make an East Malaysian politician the next prime minister, or a delegation of more government revenue to develop East Malaysia.
WHAT OF UNITY AND ANTI-CORRUPTION?
Analysts also did not dismiss the possibility of PH forming a government with either BN or PN. 
This is in spite of PH coming down strongly on BN corruption issues, and rebuking PN for racially and religiously charged statements the latter had made during the election campaign.
Dr Norshahril said it was up to PH "to explain to the people that they have to be in a coalition even with their enemies" for the sake of forming a government.
Dr Meredith Weiss, visiting senior fellow at S Rajaratnam School of International Studies, said that it was not only PH's image, but that of the other two coalitions as well that would be affected, should they decide to work with PH.
"For PN to ally with DAP which they've so roundly demonised, or for PH to ally with a party that includes the court cluster, or with PAS, or any of these other combinations — these are all against what they've all been campaigning around," she said.
Dr Norshahril said that despite its poor showing during this election, BN still holds a "not small" number of seats, making it a kingmaker. Whether or not it will align itself with PH or PN to form a government might hinge on internal political developments.
BN chairman and Umno president Ahmad Zahid Hamidi has been facing increasing pressure to step down. Dr Norshahril said that Umno will need to convince its party leaders why it should work with PH, given that the party's number two is a "Muafakat Nasional person".
Muafakat Nasional was a political coalition formed between Umno and the Parti Se-Islam Malaysia (PAS) to unite the Muslim electorate against the then-ruling PH after the 2018 elections.
GOVERNMENT WITHOUT PH AND ANWAR?
DAP chairman Lim Guan Eng during a press conference on Sunday said PH ought to be given the chance to form a government, given that it had won the most number of seats.
Agreeing, Ms Aira Nur Ariana Azhari, the democracy and governance unit manager at think-tank Institute for Democracy and Economic Affairs, said: "PH should be given the right to form a coalition, but other (combinations) are legal, too."
Dr Weiss agreed, adding that it was the situation that Malaysia had before parliament was dissolved leading up to the elections.
And should this happen again, she said that this would effectively rule out Mr Anwar's chance of becoming prime minister.
"Even if Pakatan is in the government, it is not assured that he would be prime minister," she said.
"I'm not positive that Umno would agree to that if they form an alliance. That said, he would be the head of the larger block by far so there's certainly a good chance."
Mr Anwar heads Parti Keadilan Rakyat, a component party of PH. It had won 31 seats, while DAP, another PH component, won 40 seats.
Like Mr Anwar, Mr Muhyiddin Yassin was the prime minister candidate put forward by PN during the elections. He heads Parti Pribumi Bersatu (Bersatu), which won 28 seats, fewer than the 44 won by PAS.
Dr Norshahril said that the actual number of seats won by the component parties do not determine who the coalitions put forward as candidate for premiership.
He said that in a situation where no coalition forms a simple majority, it was important to put forward a candidate that can appeal to parties outside the coalition in order to better the chances of forming an alliance.
HOW LONG WILL THE IMPASSE LAST?
Dr Hutchinson said given that Malaysia has never experienced a hung government before, it is unclear how long the process of forming a new government might take.
Malaysia's king on Sunday ordered coalition and party leaders to notify Dewan Rakyat Speaker Azhar Azizan Harun of their numbers to form a new government by 2pm on Monday.
However, whether a resolution can be made by then is anyone's guess, said experts.
Dr Hutchinson said that taking examples of hung parliaments from other countries, the process may take weeks.
For instance, in Belgium, leaders had only formed a new government in 2020 nearly 16 months after their federal elections following a hung parliament.
"It is possible for Malaysia to still have a caretaker government in power before a new government is formed," he said.
WHAT THIS MEANS FOR SABAH, SARAWAK PARTIES
Analysts said that with their traditional allies BN no longer a dominant party, Sabah and Sarawak parties will now be more fluid and independent in who they choose to align with at a federal level. 
Dr Weiss said that the parties in Sabah and Sarawak have already been "edging towards greater opportunism" in the last few elections to see which coalition will serve their interests best.
However, it will also be more difficult for parties in East Malaysia to extract concessions from coalition parties this time round since they will likely deal with multiple parties, rather than just one main coalition, and there is "more negotiation involved for everybody", she said. 
In addition, with BN's component parties, the Malayan Chinese Association and Malaysian Indian Congress, now weakened, aligning with BN would be seen as aligning with Umno, a more Malay party rather than a communal coalition, which the Sabah and Sarawak parties prefer, said Dr Weiss. 
BORNEO BLOC
Following the polls on Saturday, GRS chairman Hajiji Noor said he and GPS' Abang Johari had agreed to discuss closer collaboration between the two parties as "a Borneo bloc" to ensure that the parties "support the federal government that will be beneficial to Sabah and Sarawak". 
Dr Weiss said it was practical and logical for parties in the two states to work together. Both sides have incentive to join the federal government and they have more influence when they work together, rather than separately.
However, this strategy would also hinge on whether leaders of parties in both states could get along, she added. 
Visit our Malaysia Elections 2022 page for the latest coverage, updates from TODAY journalists on the ground and more.