Malaysia GE2022: As rival coalitions claim to have numbers to form next government, country's fate hangs in the balance
KUALA LUMPUR — Malaysia's election ended early on Sunday morning (Nov 20) with a hung parliament and the leaders from the two top-performing coalitions each claiming they had the numbers to form the next government.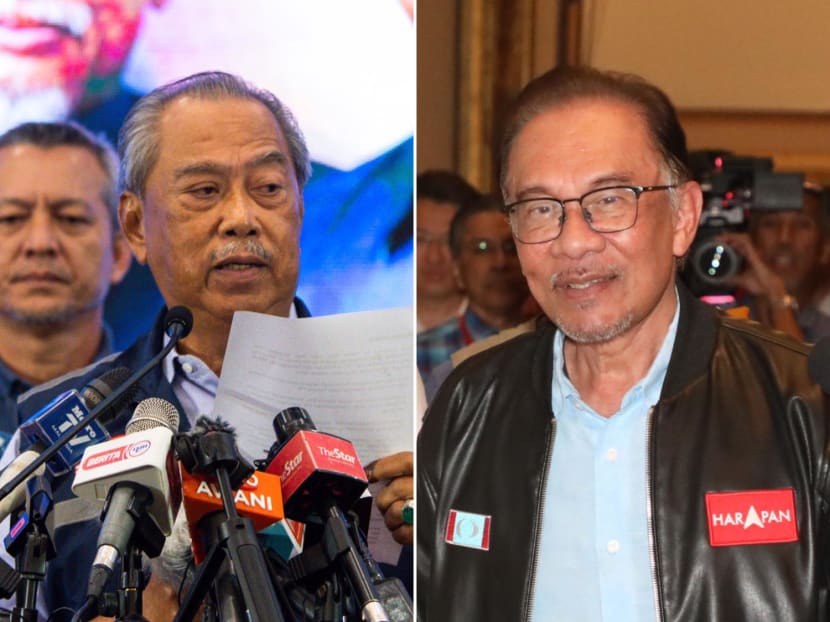 The Malaysian 15th General Elections ended on early Sunday (Nov 20) with no party winning a simple majority
Two top-performing coalitions each claimed they had the numbers to form the next government
Analysts told TODAY this was reminiscent of the political situation in Malaysia shortly before Parliament was dissolved in October
GE15 also saw many upsets, including long-time statesman Dr Mahathir Mohamad suffering a huge loss
KUALA LUMPUR — Malaysia's election ended early on Sunday morning (Nov 20) with a hung parliament and the leaders from the two top-performing coalitions each claiming they had the numbers to form the next government.
Analysts told TODAY that the situation was in a way not very different than what Malaysia already had just before then-Prime Minister Ismail Sabri dissolved the parliament in October and called for a snap election, which he said would help the country usher in a more stable government.
The country has been roiled by a turbulent political scene in the past four years, with a rapidly changing roster of Prime Ministers and a spate of party-hopping among politicians.
At around 3.05am former Malaysian Prime Minister Muhyiddin Yassin, who leads the Perikatan Nasional (PN) coalition, gave a press conference in which he said he planned to form a coalition with any party that was willing to work with PN and submit a proposal for the next government to Malaysia's king by Sunday afternoon.
By 4am PN had secured 73 of the 220 parliamentary seats up for grabs, just trailing behind Pakatan Harapan (PH), which had won 82 seats. Two more parliamentary seats will be contested later following the death of a candidate for one seat, and a flood affecting the voting process at another.
When asked by a reporter whether PN would form an alliance with PH, however, Mr Muhyiddin said no. 
Barely half an hour later, PH leader Anwar Ibrahim said his coalition had already secured enough agreements with other parties to form the next government.
"This is a fact," he said. "We have now the majority to form a government. We will notify the Palace accordingly."
He said that with these agreements, which were in writing, PH and its allies had secured more than 112 parliamentary seats and that he was presently asking the king for an audience.  He declined to reveal which parties PH had secured these agreements with.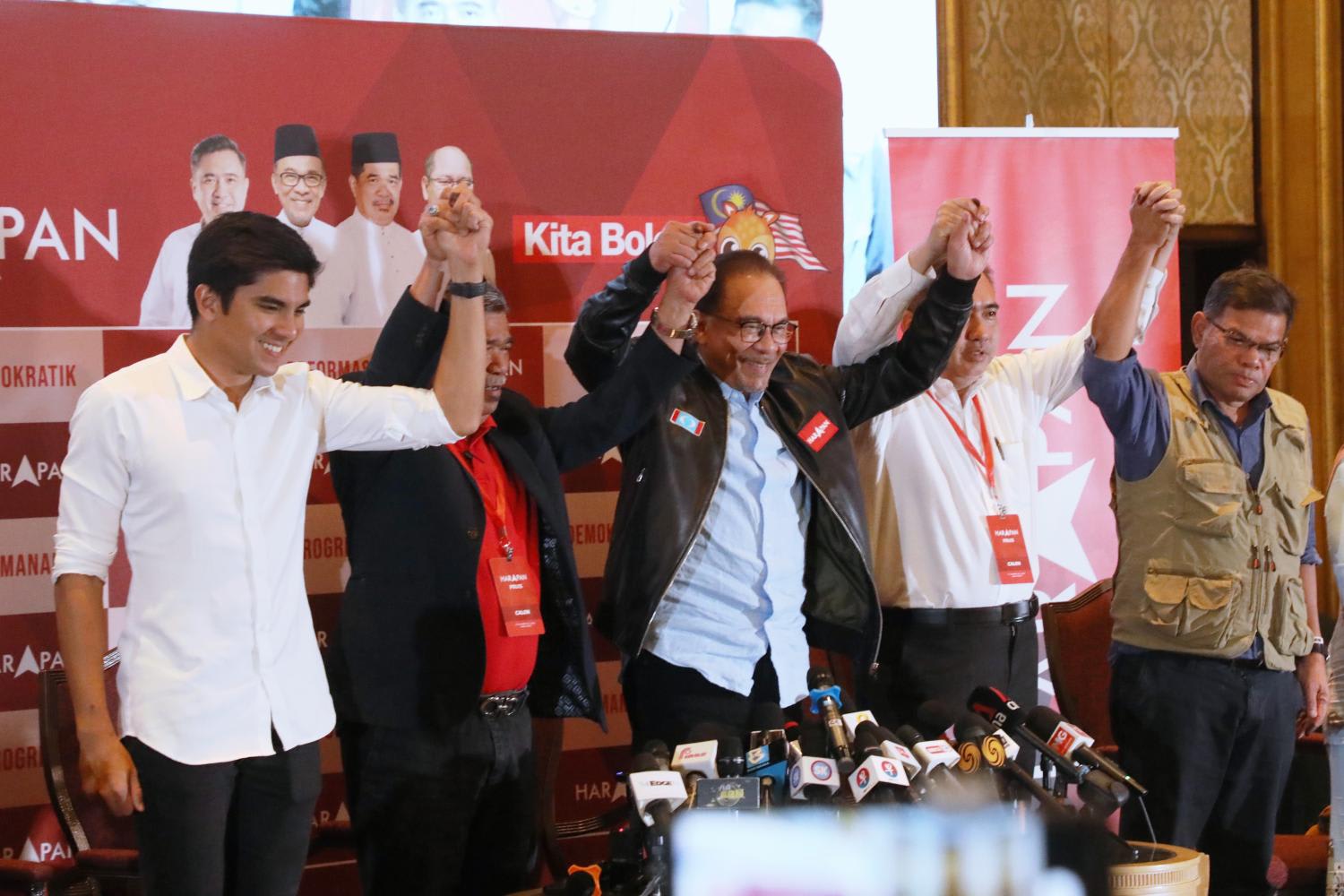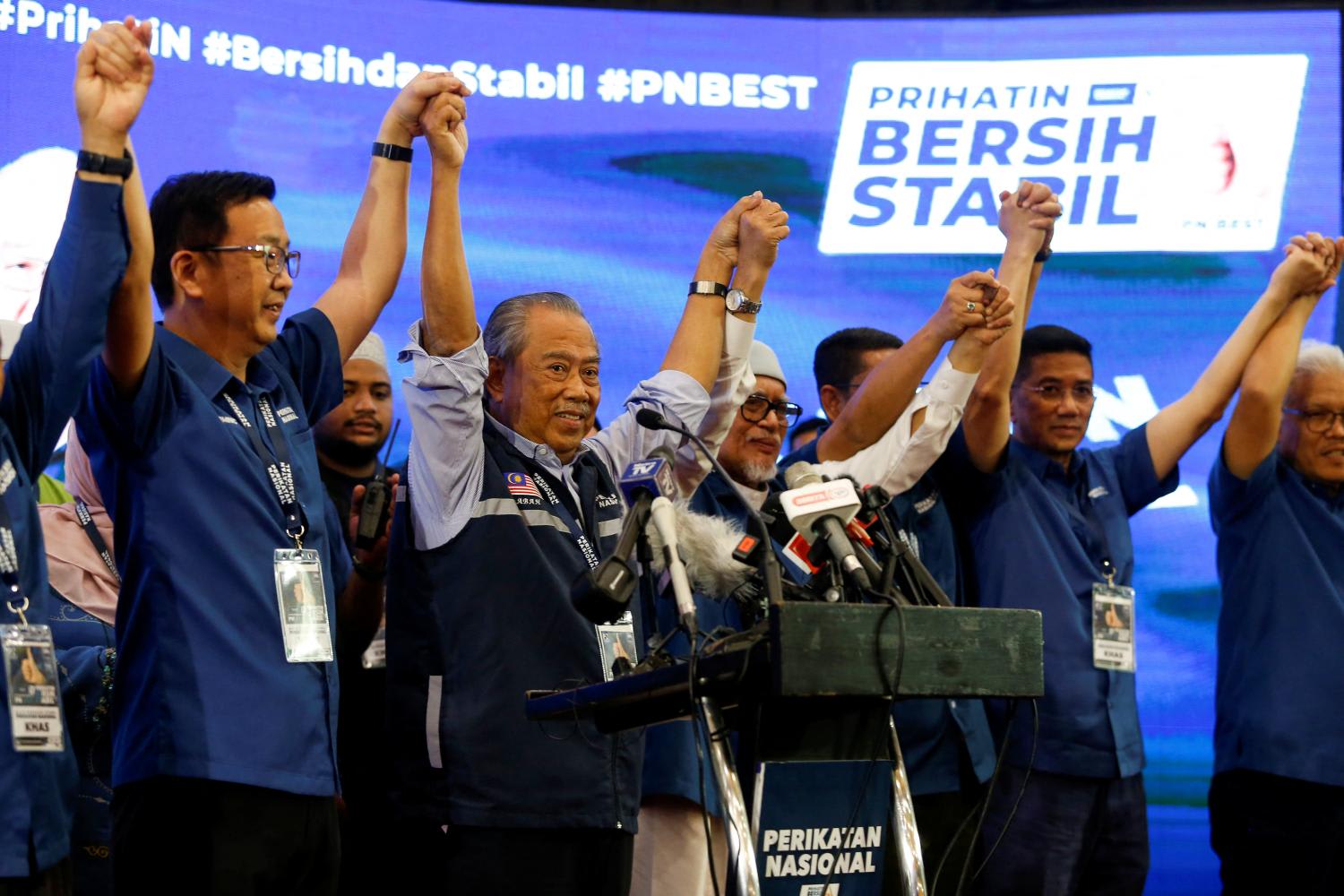 "UNPRECEDENTED" POLITICAL SITUATION
Given the duelling narratives and the lack of details from both coalition leaders, analysts were reluctant to call the election for either of them just yet. 
"This is unprecedented," said Mr Adib Zalkapli, a director from advisory firm Bower Asia Group.
"Very likely there will be more negotiations before the new government can be formed and the king swears in the new Prime Minister."
Dr Oh Ei Sun, a senior fellow with Singapore's Institute of International Affairs, said that while PH would likely have the first bite of the Prime Minister post, it is no guarantee that Mr Anwar will get the role.
The only thing that analysts are confident of is that a PH-PN tie-up is highly unlikely.
One key reason for this is that PN includes the Malaysian Islamic Party (PAS), which runs on a platform of religious conservatism, while PH has run on a platform of racial and religious equality.
"PAS is the embodiment of religious bigotry, so PH supporters would find it repugnant if PH were to form an alliance with PN," said Dr Oh.
But the analysts also noted that the coalitions could form alliances with individual parties within other coalitions. 
While a law was recently passed to forbid politicians from jumping between parties, it does not cover parties switching coalitions.
So technically, PH or PN could "poach with impunity if the whole component party jumps" from their existing coalition, and hence make up the requisite numbers to form the next government, said Dr Oh.
PAS in fact turned out to be the top-performing individual party, with 48 seats won. 
And even though Mr Muhyiddin's Parti Pribumi Bersatu (Bersatu) is seen as the leader of the PN coalition, it won only 24 seats.
Meanwhile, PH's component parties Democratic Action Party (DAP) and the Anwar-led Parti Keadilan Rakyat (PKR) won 37 and 28 seats respectively.
BN'S BACKFIRED PLAN
Barisan Nasional (BN), the coalition which currently heads the incumbent government and includes the United Malays National Organisation (Umno) — the party that ruled Malaysia for 60 years until a shock loss in 2018 — put up a poor showing, garnering only 25 parliamentary seats, all won by Umno.
In a statement issued at around 2am, BN chairman Ahmad Zahid Hamidi said the results of the election was a "big signal" from the electorate to the coalition.
Analysts said the decision to call for the election at this time clearly backfired for the coalition. 
Dr Oh said that the election was held too late, and would have been better for the coalition if it had quickly ridden on its success during the Johor state election in March, which resulted in it taking over the state parliament.
BN also suffered other upsets, including the loss of former Health Minister Khairy Jamaluddin at the hands of PH candidate Ramanan Ramakrishnan. Just days before his loss, Mr Khairy had declared his aspiration to be a Prime Minister in the next five to 10 years, building on his popularity after having led Malaysia's response to the Covid-19 pandemic since August last year.
Over in Kuala Selangor, Finance Minister Tengku Zafrul Aziz lost to incumbent Dr Dzulkefly Ahmad of PH, an opposition veteran.
Tengku Zafrul was not elected as a member of parliament but was appointed an independent senator of the state in 2020 after then-Prime Minister Muhyiddin decided to appoint a non-politician to take up the Finance Minister post.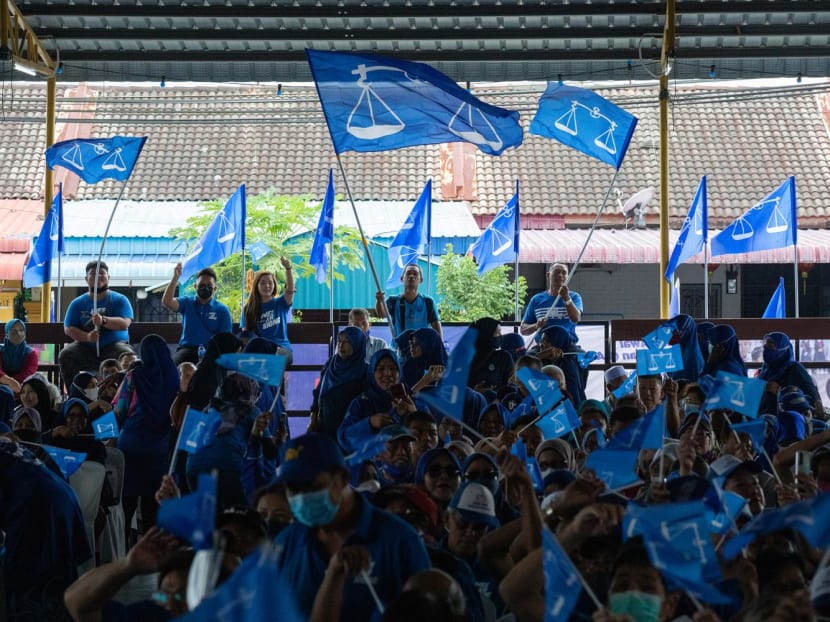 OTHER HOT SEATS
Malaysia's longest-serving prime minister, Dr Mahathir Mohamad, suffered such a great loss in what was seen to be his stronghold Langkawi, that he did not even garner the requisite 12.5 per cent vote to keep his elections deposit.
PH's Nurul Izzah, too, could not defend the Permatang Pauh seat, which was previously held by her parents Mr Anwar and Ms Wan Azizah Wan Ismail at different points in time.
On the other hand, Mr Anwar managed a comfortable win in Tambun, Perak, over incumbent Ahmad Faizal Azumu, who had won the seat in 2018 under PH's ticket before defecting to PN.
The other two prime minister hopefuls in this election, Mr Ismail and Mr Muhyiddin, successfully defended their seats in Bera, Pahang and Pagoh, Johor.
Visit our Malaysia Elections 2022 page for the latest coverage, updates from TODAY journalists on the ground and more.