Malaysia GE2022: Selangor, the richest state, set to be the scene of some of the most bruising electoral fights
IPOH — High-profile figures will contest various seats in Selangor, Malaysia's richest state, in an attempt to wrestle away the stronghold from Pakatan Harapan (PH) in the upcoming 15th Malaysian General Election.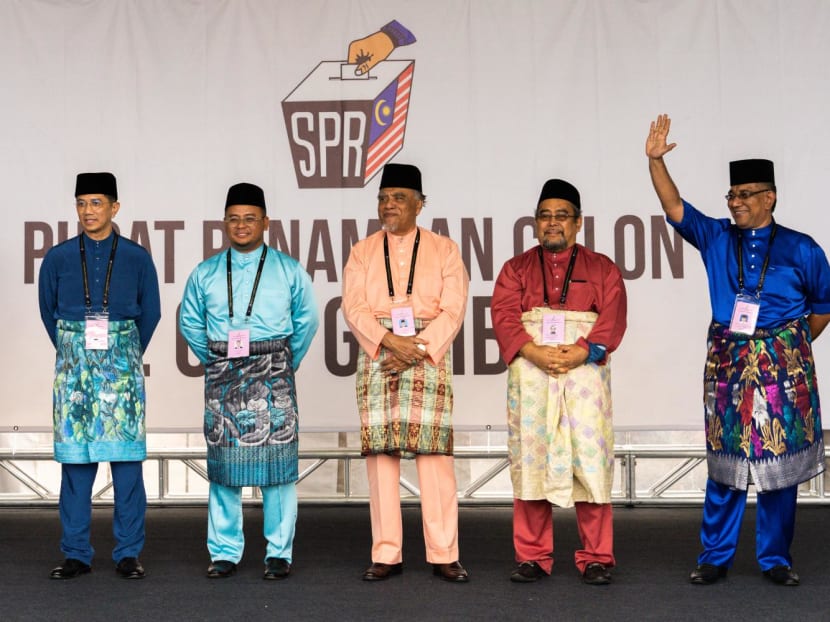 Selangor is Malaysia's richest state and a stronghold of the opposition Pakatan Harapan
It is the most hotly contested state this election, with many of its seats having more than five candidates contesting, and some up to nine
Those jostling over seats include Malaysia's caretaker Finance Minister Tengku Zafrul Tengku Abdul Aziz, for whom this will be his first election
Former Minister of International Trade and Industry Azmin Ali is another candidate in the state
Analysts say voters are most concerned about economic issues, but national and political concerns such as part-hopping among politicians will also be on their minds
IPOH — High-profile figures will contest various seats in Selangor, Malaysia's richest state, in an attempt to wrestle away the stronghold from Pakatan Harapan (PH) in the coming 15th Malaysian General Election.
The state has many seats that are being fought over by more than five candidates, a show of how hotly contested the state is. The parliamentary seat of Ampang, for example, is being fought over by nine candidates while Bangi is seeing an eight-corner contest.
Those jostling over seats include incumbent senator and Malaysia's Finance Minister Tengku Zafrul Tengku Abdul Aziz, who will be cutting his teeth in political elections by contesting against opposition veteran and former minister Dr Dzulkefly Ahmad. 
Tengku Zafrul was not elected as a member of parliament but was appointed an independent senator of the state in 2020 after then-Prime Minister Muhyiddin Yassin decided to appoint a non-politician to take up the Finance Minister post.
Malaysia's Federal Constitution states that members of the Cabinet can only be selected from members of either Houses of Parliament, namely the senators of Dewan Negara (State Council) and elected MPs in the Dewan Rakyat (House of Representatives).
TODAY, which is reporting on the ground in Selangor, spoke to analysts who gave insights on the state of play in the state leading up to polling day on Nov 19.
WHY SELANGOR IS A HOTLY CONTESTED STATE
Selangor, located on the west coast of Peninsular Malaysia, shares borders with the states of Perak, Pahang and Negeri Sembilan. It houses 22 parliamentary seats.
The size of the Selangor electorate is worth noting, with its registered voters having ballooned by over 52 per cent, taking the total to almost 3.7 million, after Malaysia lowered the voting age and passed a law allowing automatic registration of voters.
"This makes Selangor the state with the highest number of registered voters for GE15," said the Selangor Election Commission deputy director deputy director Kamarul Azman Ahmad Sabri in October.
Political scientist Dr Meredith Weiss noted that Selangor is Malaysia's wealthiest state. Penang, also an opposition-held state, is a close second.
It is in these two states that the opposition coalition has gained the most rapid headway, she said.
"These are highly urbanised states, while (BN's) machinery is really geared towards rural areas," said the visiting fellow at ISEAS-Yusof Ishak Institute.
Another key reason the opposition has done well here is that there is more ethnic mix in the cities, she said, making communal politics less effective.
"(Selangor) still a hotly contested area… but at the same time, the assumption is that Pakatan (Harapan) will win again," said Dr Weiss, who added that the coalition has been governing the state for a "long enough" period of time to have a track record. 
In an interview with CNA, Ms Aira Nur Ariana Azhari, the Democracy and Governance Unit Manager at think-tank Institute for Democracy and Economic Affairs (Ideas), noted: "With Kuala Lumpur and Port Klang within its boundaries, Selangor is naturally a state any serious political party would want control over.
"Whichever party that gets to govern Selangor is also able to demonstrate themselves as a 'government-in-waiting' at the federal level," she added.
KEY SEATS AND CANDIDATES TO WATCH
Experts highlighted at least three seats to watch, namely the Perikatan Nasional (PN)-held Gombak seat, Sungai Buloh and Kuala Selangor.
Gombak
Gombak has long been a stronghold of PN's Azmin Ali, who won the seat in 2008.
He was a deputy president of Parti Keadilan Rakyat (PKR) at one point, and held several high-profile portfolios such as Menteri Besar (Chief Minister) of Selangor, Minister of International Trade and Industry as well as Senior Minister for Finance and Economics.
In February 2020, he led a political manuever dubbed the Sheraton Move, which saw several PKR members defecting and causing the downfall of the PH government then.
Naturally, the move remains a sore point among PKR members.
When current party deputy chief Rafizi Ramli was named to the post, he told party president Anwar Ibrahim: "I may be outspoken, but I am not Azmin Ali...I don't sweet talk you and then stab you in the back."
PKR will not be sending one of its own to Gombak. Instead, Selangor's Menteri Besar Amirudin Shari, will be the one facing off against Mr Azmin. Mr Amirudin is a member of Parti Pribumi Bersatu Malaysia (Bersatu), one of the political parties in the PH coalition, which also includes PKR.
Besides Mr Azmin and Mr Amirudin, three other candidates will be contesting the seat: Dr Aziz Jamaludin Md Tahir who will be running under the Pejuang flag, BN's Megat Zulkarnain Omardin and independent candidate Zulkifli Ahmad.
Sungai Buloh
Sungai Buloh will witness a seven-corner fight, featuring high-profile Umno minister Khairy Jamaluddin, who saw Malaysia through the Covid-19 pandemic as Health Minister.
He was shifted away from his former seat in Rembau, Negeri Sembilan to make way for Umno's number two Mohamad Hasan to contest there.
Sungai Buloh is held by PH, but the incumbent Sivarasa Rasiah is not running there. Instead, the PH coalition has replaced him with PKR's deputy information chief, Ramanan Ramakrishnan, a move viewed by many as a risky one given Mr Khairy's national stature.
"In terms of national profile, KJ (Khairy) is ahead of Pakatan's candidate. But sometimes, national profile may not matter, what matters more is what the locals think of the candidates," said Mr Adib.
Other candidates vying for the seat are PN's Mohd Ghazali Md Hamin, Mr Mohd Akmal Yusoff (GTA), Ahmad Jufliz Faiza (Parti Rakyat Malaysia) and two independent candidates, Mr Syed Abdul Razak Syed Long Al Sagoff and Ms Nurhaslinda Basri, 33.
Kuala Selangor
After falling into Pakatan Rakyat's hand in 2008, the Kuala Selangor seat was wrested back by BN in 2013, before returning to PH in 2018 when it was won by Parti Amanah Negara's (Amanah) member, Dr Dzulkefly Ahmad.
Dr Dzulkefly was notably the candidate who won the seat in 2008 and then lost in the following election, though on both occasions he was standing as a member of a Parti Se-Islam Malaysia (Pas) member. He switched to Amanah in 2015.
Malaysian media The Star reported that the veteran had informed his party in June of his desire not to defend his seat this year, but was persuaded otherwise when BN announced that it was fielding Tengku Zafrul here.
In an interview with CNN, Tengku Zafrul said that as a senator, his term in Parliament was limited to a maximum of six years. 
"If you want to continue to serve the nation, you need to be actively involved in politics," he said.
Days before Tengku Zafrul was formally unveiled as a candidate, The Malaysian Insight cited unnamed sources in the BN leadership who said that they felt a fresh face like his might be able to mount a better challenge against PH.
The fight for Kuala Selangor will be a four-corner one, with PN fielding Mohd Noor Mohd Sahar from Parti Se-Islam Malaysia and Parti Pejuang Tanah Air (Pejuang)'s member Mohd Shaid Rosli contesting for the Gerakan Tanah Air (GTA) coalition.
KEY ISSUES AT PLAY
Dr Weiss said an interesting factor in Selangor is how its electoral district boundaries have been drawn.
She said such boundaries can be drawn in ways so as to "crack or pack" voters.
"Cracking" refers to the splitting up of opposition constituencies so that those opposition-leaning voters cannot form enough of a mass to elect their own people.
"Packing" means putting as many opposition-leaning voters into one district as possible, so that if the opposition continues to win there, it only gets one seat. 
"And that's what we find in Selangor," said Dr Weiss. "We have these districts of well over 100,000 voters, whereas we have much smaller districts in places like Sabah and Sarawak or in Putrajaya that may have only 10,000 voters."
Aside from that, Dr Weiss said that economic concerns "should loom the largest" over the voters.
Selangor Journal reported in July that while the state's economy had begun to recover in 2021, it recorded a slight contraction of 0.4 per cent compared with the pre-pandemic levels in 2019. 
Other issues such as party-hopping candidates or the dropping of candidates by the various parties are notable issues as well, Dr Weiss added. 
In recent years, Malaysia's turbulent political scene has seen several politicians switching parties, which has led to the passing of a new anti-party hopping law  that will prevent such activities for this election.
Mr Adib said that voters in urban and developed areas typically take into bigger consideration national issues when voting, as compared to those in rural areas who are more focused on localised issues.
"For urban areas like Selangor, for example, you can safely say they vote (based) on national issues. That's the general rule. Which includes things like the economy, of course," said Mr Adib, who added that issues such as a revolving door government would be more prominent on such voters' minds.
Visit our Malaysia Elections 2022 page for the latest coverage, updates from TODAY journalists on the ground and more.