The Big Read: In Malaysia's polls, BN faces a test of loyalty versus a yearning for change
KEDAH / JOHOR — Rural Malay Muslims have long been a crucial vote bank for Malaysia's ruling Barisan Nasional coalition. But are loyalties changing amid a growing yearning for change at the upcoming election?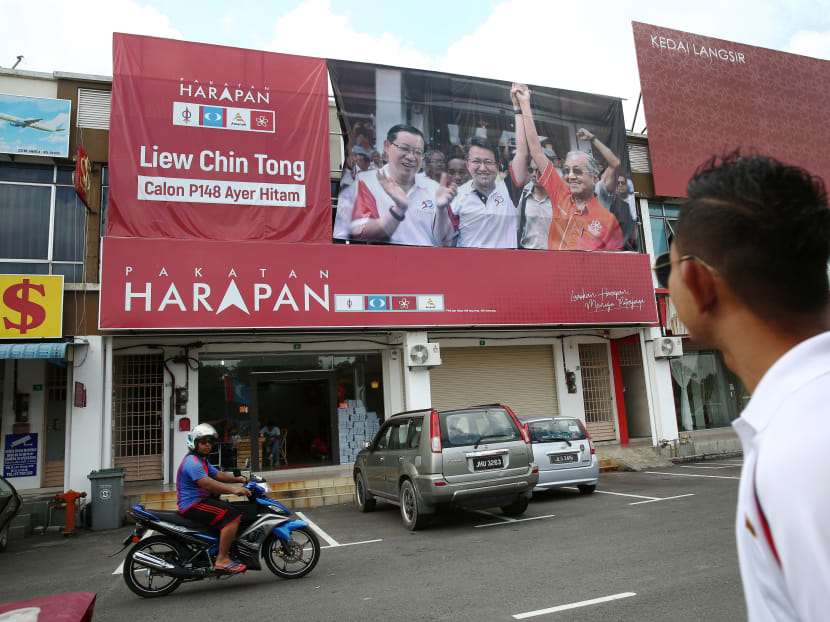 KEDAH / JOHOR — Sipping his second cup of coffee at a small coffee shop overlooking paddy fields that stretch as far as the eye can see, paddy farmer Mohd Rosdi Yahaya suddenly switched the conversation from Malaysian politics to lalang grass.
To the 50-year-old who lives in Kampung Dulang Kechil, a small village in the Yan district of Kedah, there is a correlation.
"Do you know when the wind blows, the lalang grass will bend in whichever direction the wind is coming from," he said.
"The Malays are now like lalang. The winds of change are coming, and we're swaying away from Barisan Nasional," he added, referring to the coalition which has ruled Malaysia since its independence in 1957.
BN has long depended on rural Malay Muslims like Mr Mohd Rosdi as a crucial vote bank in its continuous run as the world's longest ruling coalition.
In the 2013 general election, BN lost the popular vote for the first time but retained power by securing 133 out of 222 parliamentary seats because its vote share among the Malay electorate increased to 64 per cent from the 59 per cent in the 2008 polls.
Mr Mohd Rosdi's comments on Malays - who make up close to 70 per cent of the population - yearning for change are therefore striking.
They also mirror the sentiments of others in the crucial electoral states of Kedah and Johor whom TODAY spoke to, underlining a possible shift in the Malay ground ahead of a hotly contested general election on May 9.
Two key reasons have been cited for this: Rising cost of living that has hurt many lower- and middle-income households and a corruption scandal linked to Prime Minister Najib Razak, which has generated a rising awareness of good governance.
The twin issues have also led to some Malays viewing leaders from the United Malays National Organisation (Umno) — BN's lynchpin party that has been championing Malay rights and interests — as being more interested in safeguarding their own interests rather than of the community.
Wary of losing power, the Najib administration has gone out of its way to tilt the playing field in its favour — from dishing out electoral goodies to temporarily disbanding the opposition party led by former prime minister Mahathir Mohamad and redrawing the electoral boundaries.
BN leaders, including Datuk Seri Najib, have publicly dismissed talk of a Malay tsunami against BN, saying that the mood and sentiment among voters across the country were good.
"(The Malay tsunami) is not going to happen as the Malays are happy with how the government has been caring for them," Deputy Home Minister Nur Jazlan told The New Strait Times in an interview this week.
Observers and opposition politicians say that while there are signs of shifts in the crucial Malay ground, BN still has the advantage of incumbency and can count on the long-term loyalty of many Malay voters based on its long track record.
The election result then could boil down to which of these factors emerge as the dominant ones.
"The voting patterns of the younger people are not the same as the older generation," said Mohd Hisomudin Bakar, executive director of Malaysian think tank Ilham Centre.
"Therefore, the process of erosion of support for BN takes place naturally, and this especially can change the results in areas where BN won with narrow majorities."
SHIFTING SUPPORT AMONG MALAYS
A less than warm reception for BN was evident at a public function attended by Kedah Chief Minister Ahmad Bashah Md Hanipah in the Malay majority Sik parliamentary constituency earlier this month.
As fishermen, farmers, students and imams went on stage to receive awards, cheques and new business lots' keys from Mr Ahmad Bashah, the applause — as each announcement was made — was muted.
Local reporters said this has been the norm lately for many of the state government's functions.
(From left to right) Paddy farmers Jasni Abdul Hamid, Mohd Rosdi Yahaya and Osman Abdul Razak, who live in the Yan District in Kedah. The trio said their support has shifted from Umno to the opposition's PKR.  Photo: Faris Mokhtar/TODAY
Paddy farmer Jasni Abdul Hamid, 54, said that instead of providing one-off assistance, there is a need for long-term solutions to alleviate the costs burden faced by villagers.
"We are also concerned for our future generation. We don't want them to suffer the same fate as us," said Mr Jasni, who intends to vote for Parti Keadilan Rakyat (PKR), one of the four component parties under the opposition Pakatan Harapan (PH) coalition.
In the parliamentary constituency of Ayer Hitam in Johor — some 90km from the state capital Johor Baru — poultry seller Daud Nordin often crack jokes with his customers.
But underneath his easy-going demeanour is a man distressed over the rising costs of living.
His main concern: How to support his 11 children – aged between four and 23 – on a monthly income of about RM 2,000 (S$676).
Previously earning RM 6,000, his income has dropped sharply since the introduction of the 6 per cent Goods and Services Tax (GST) in 2015.
As the prices of his goods started to go up, his customers began to dwindle.
"With a small income, how can I pay for the higher provision costs and utility bills?" asked Mr Daud.
The latest data from Malaysia's central bank reported wage increases in the private and manufacturing sectors.
Wages in the private sector increased 6.3 per cent in the fourth quarter of 2017 from a year earlier, while workers in the manufacturing industry has seen their wages rising by more than 9 per cent since April last year.
Daud Nordin, a poultry seller who lives in Ayer Hitam, Johor, hopes that the opposition could bring change. Photo: Nuria Ling/TODAY
But Mr Daud said Malaysians in the rural areas like him have yet to see their income grow, while inflation has reached an eight-year high.
Pointing to a huge poster of Mr Liew Chin Tong – the opposition Democratic Action Party's (DAP) candidate for the bustling constituency – that hangs on the façade of an office building directly opposite his stall, Mr Daud said that he plans to vote for the opposition this time.
His hope: The opposition could bring change.
"I don't want five more years of the same suffering. Enough is enough," he added.
These sentiments in Kedah and the Umno stronghold of Johor may not be firm indications of a voting trend nationwide, but they nonetheless would be cause for concern for BN.
Both states are seen as key battle grounds, in part due to the influence of Dr Mahathir and former Deputy Prime Minister Muhyiddin Yassin, president of opposition Parti Pribumi Bersatu Malaysia (PPBM).
A BN defeat in these states, even if retains power by winning a simple majority in the 222-seat Parliament, would be a huge setback for the ruling pact and Datuk Seri Najib.
"There will be a Malay swing. How big that will be depends a lot on the election campaign period itself," said Dr Ooi Kee Beng, the executive director of think-tank Penang Institute, citing rising costs of living and Mr Najib's alleged "tainted image" due to financial irregularities at state owned firm 1Malaysia Development Berhad (1MDB) as the key factors.
He said that a swing in Malay sentiment against BN would be reflected in the rising numbers of fence sitters.
"For many Malays, to vote against Umno is quite a radical move, and therefore that shift would be expressed as a rise in fence sitters."
The number of Malay fence sitters have risen from 15 per cent in 2004 to 35 per cent this year, according to surveys on voters sentiments in Malay majority constituencies by Ilham Centre.
Ilham Centre's Mr Hisomudin said areas which were won by BN candidates in the 2013 general election with majorities of 5,000 or less are in danger if there is a swing against BN.
"If there is a 15 per cent Malay swing nationwide, BN seats will be depleted by another 35 to 40 seats from its current tally of 133 seats," and this means the ruling coalition will lose control of Putrajaya, said Mr Liew, the DAP Member of Parliament.
WILL BN'S TACTICS WORK?
Under pressure to deliver an emphatic win for his BN coalition, Datuk Seri Najib faces a tough fight from his old mentor and the country's most seasoned campaigner, Dr Mahathir.
The elder statesman — who governed the country for 22 years and transformed it into an industrial powerhouse — remains an influential figure.
In Kedah, residents still credit him for developing the state and turning the island of Langkawi into a tourist destination.
Paddy field farmer Osman Abdul Razak, 59, who said he will switch his allegiance from BN to PKR noted that residents "did not experience the heartaches they are facing now under Dr Mahathir's premiership".
Umno leaders have poured scorn on Dr Mahathir's reconciliation with his fiercest critic and former deputy prime minister, Anwar Ibrahim, whom he sacked in 1998 and jailed the following year on charges of corruption and sodomy.
Anwar is now serving a second prison term for sodomy, but as the PKR leader, he has signalled his acceptance of Dr Mahathir leading the opposition campaign to oust Mr Najib and BN.
The unlikely alliance initially caused uneasiness among opposition supporters but this seems to have dissipated.
"Anwar is our Father of Reform. If he says he backs Dr Mahathir, then we are fully behind him. We would only feel otherwise if or when Anwar says Dr Mahathir no longer has his support," said Otai Reformis chairman Khairul Anuar Othman.
The organisation champions reforms and was formed shortly after Anwar's sacking 20 years ago.
Malaysia's opposition has long been criticised for its lack of unity, but this time round, the PH pact led by Dr Mahathir has taken several unprecedented steps in recent months to correct such a perception.
Opposition coalition Pakatan Harapan (PH) flags seen in Ayer Hitam, Johor, on April 11, 2018. Photo: Nuria Ling/TODAY
In January, it named Dr Mahathir as its Prime Minister-candidate for the election, and announced that its four component parties have agreed among themselves who will contest each of the 165 parliamentary seats in Peninsular Malaysia.
Last week, when Malaysia's Registry of Societies temporarily disbanded PPBM and banned it from using its logo after it failed to submit some party documents, PH announced that all its candidates will campaign under PKR's logo instead.
The decision, as Dr Mahathir himself noted, was not an easy one for the Chinese-dominated DAP. This will be the first time DAP is not using its familiar rocket logo since it contested in the 1969 General Election.
"This is a great leap in cohesion for the PH parties, gifted to them by the federal government, and it was something PH itself could never have accomplished on its own," said Penang Institute's Dr Ooi.
"What symbol of unity between Dr Mahathir and Anwar can be more poignant than Dr Mahathir campaigning under Anwar's party logo?"
In the face of these developments and the high price it will pay for losing - Dr Mahathir has said that Datuk Seri Najib should be jailed if found guilty of corruption - the Najib administration has pulled out all the stops to ensure it remains in power.
Among others, it has unveiled a 220-page election manifesto chock-full of incentives for ethnic Malays and palm oil operators.
"We still have slightly less than one month to go before polling. BN will do whatever they can to sway the fence sitters," said Professor Ahmad Fauzi Abdul Hamid, a political scientist with Universiti Sains Malaysia.
"This is when the politics of developmentalism comes into play. Having state resources at their disposal, BN politicians are masters in the art of patronage, without necessarily paying regard to financial transparency."
ISEAS-Yusof Ishak Institute fellow Dr Mustafa Izzudin noted that such pork barrel spending has been "a central feature" of Malaysian politics, adding that it is "an effective strategy for garnering votes".
But, Kedah PKR chief Azman Kassim noted that Malaysians are now more discerning.
"These tactics do not hold as much traction as before," he said.
"It has been done so frequently that people can see through their act."
Others tactics perceived by critics to tilt the election in BN's favour include the recent redelineation of Malaysia's parliamentary boundaries by the Election Commission (EC), which created ethnic super-majorities in some seats.
The government also passed new laws against fake news which critics say could be used against the opposition.
The EC's recent announcement that polling day will be held on May 9, a Wednesday, also drew concerns of a lower voter turnout that could benefit the ruling coalition.
The government and election authorities have rejected these accusations.
"This is a blessing in disguise for us as all these moves have made people angry and they will teach BN a lesson at the polls," said Amanah deputy president Salahuddin Ayub.
But, Umno Youth executive committee member Shahril Hamdan said these were unfounded allegations by PH and its supporters to cast a bad light on the ruling coalition.
"The Opposition is trying to create this narrative that the whole thing was orchestrated by BN... if people want to believe it's true, then it is up to them to prove it," he said.
"For us, we will focus on the tasks at hand — namely our manifesto and our track record and I am convinced we will win on that score."
A key advantage for BN going into the polls is the solid support its coalition partners enjoy in Sabah and Sarawak.
The two Borneo states are considered "fixed deposits" — sure wins — for BN.
In the 2013 general election, Sabah and Sarawak delivered about a third of the 222 parliamentary seats to the coalition.
By contrast, DAP and PKR collectively won only nine parliamentary seats in the two states.
Sarawak BN also secured a landslide victory in the 2016 state election, winning 72 of the 82 seats contested.
In both the East Coast and in the Peninsula, BN can also count on a core group of loyal long-time supporters who still see Umno as the party best placed to protect their rights and interests.
A Merdeka Center for Opinion Research survey last year showed that Malay rights still top the list of important issues for Malay voters.
Mr Najib and BN leaders have repeated said that Malays would be "beggars" in their own lands and that Islamic institutions would fall should the opposition take over.
Such rhetoric clearly resonates with certain groups of voters.
"We need to remember that Umno was the first and original Malay party," said farmer Ibrahim Ahmad, who lives in the Felda Ayer Hitam settlement in Johor Bahru.
"So… we have to give our full support to Umno, who has defended our interests for decades."
A Felda settlement in Ayer Hitam, Johor. Felda settlers are traditionally Umno supporters, as they benefited from the massive social re-engineering exercise set up by current Prime Minister Najib Razak's father, Malaysia's second prime minister Abdul Razak Hussein in 1956. The scheme aimed to eradicate poverty and uplift the lives of poor Malay families through the cultivation of rubber and oil palm. Photo: Nuria Ling/TODAY
Some BN supporters also cannot accept Dr Mahathir's switching of camps to the opposition, adding that he may be driven by a personal agenda against Mr Najib and at 93, is too old to lead the country.
"I don't know whether I can trust him. It looks like he switches his position on issues very easily," said retiree Shuib Ismail, 66, who lives in a Felda settlement in Kedah.
Another Kedah resident Madam Ramlah Osman also expressed surprise Dr Mahathir had switched camps, saying: "With or without Dr Mahathir, Umno has always been helping us. They recently helped me to upgrade my house."
First-time voter Mohd Fazril Izham, who works as a mechanic and lives in Ayer Hitam in Johor, said that he will be voting for BN as he believes that it has a greater ability to help Malaysians.
While there has been unhappiness over the government's GST, he said that it is needed to support the country's development.
"If we want the country to progress, there are some bitter pills that we have to swallow," he added.
Even as he is rallying behind BN, Mr Fazril admitted that the Government should be "more honest and clean", given news of its leaders being implicated in corruption scandals.
THE QUESTION OF PAS
The upcoming election is unique in Malaysia's recent history in the number of Malay-centric parties voters can choose from.
Besides Umno, PPBM, PKR and Amanah, the Islamist Part Islam Se-Malaysia (PAS) which runs the east coast state of Kelantan has claimed that it will contest up to 120 seats nationwide.
PAS was formerly part of the opposition but left the pact over disagreement on its push for Islamic criminal law.
Most observers say three-cornered fights have traditionally favoured BN by splitting the opposition votes.
Others, however, have expressed doubts over the impact that PAS will have on the outcome of the election.
Factors such as the ratio of Malays and non-Malays in the constituencies where PAS will contest are important too, they say.
In the northern state of Kedah, the Islamist party is especially strong in seats with over 70 per cent Malays.
Umno leaders there say that their biggest rival is PAS, and not Dr Mahathir or PPBM.
"PAS has always been our enemy here, don't forget they won the state in the 2008 general election," said Kedah Umno youth chief Shaiful Hazizy Zainol Abidin.
He noted that PAS is not only expected to retain its current seven state seats but may add a few more to its tally as well.
PAS had 13 seats in the recently-dissolved Parliament but has publicly said it wants to win 40 seats nationwide this time round to be a kingmaker.  The party had never won more than 30 seats – its best performance ever was winning 27 seats in 1999.
"Every side stands an equal opportunity of winning this election, and we are confident of not only winning but also reaching our targets for GE14," said PAS information chief Nasrudin Hassan in a live broadcast on Facebook on Friday.
PH however is dismissive of PAS' prospects, particularly in seats with less than 60 per cent Malay voters.
"In the best of times, BN and PKR will get 40 per cent of Malay votes, whereas PAS will get only 20 per cent," said PKR vice-president Rafizi Ramli.
"This time, even if PAS manage to get 25 per cent of Malay votes, it is not enough for them to win as much as before as the non-Malay voters will definitely not vote for them, unlike before when there were in the Opposition alliance."
Ilham Centre's Mr Hisomudin believes that PAS has limited political appeal beyond the Northern states of Kelantan and Kedah.
"Malaysian voters are looking at a dual party system and this means PAS will be excluded from most voters' consideration. This was reflected in PAS' rallies where the response is not like before."
As political parties go all out to woo the 14 million eligible voters between now and polling day on May 9, a key question remains.
Will the Malay electorate stay loyal to a familiar coalition — albeit one that is seen as tired and being out of touch with the aspiration of the people — or will it opt for an untested pact that seemed disparate at times?
"There is a definite shift towards PH but is it enough to tilt it to our favour? There are still a lot of factors that come into play," said Penang DAP political education director Steven Sim.