#trending: Man in Malaysia exposed on Twitter for pretending to 'adopt' kittens to feed his pet snake
IPOH, MALAYSIA — A man in Malaysia has found himself in a tight spot after he revealed on Twitter that he allegedly adopts kittens only to feed them to his pet snake.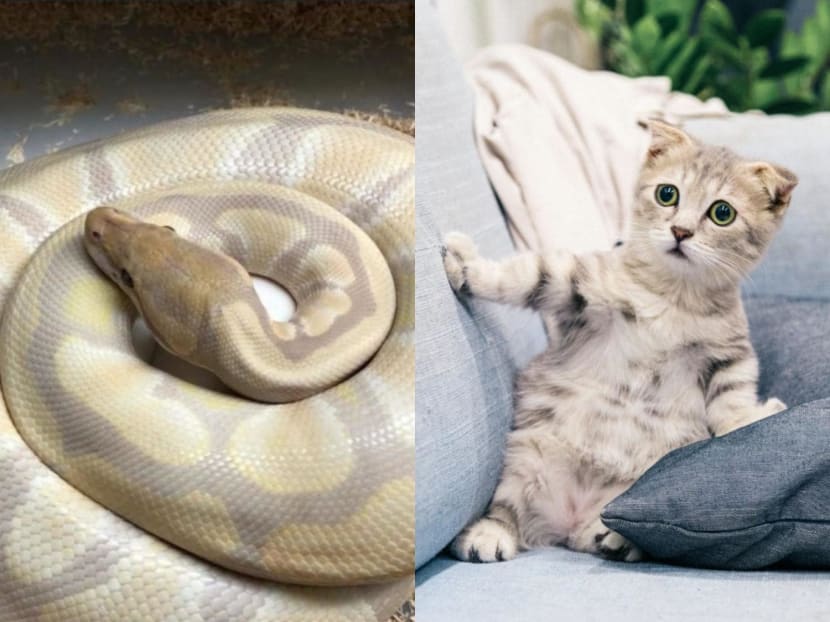 A man in Ipoh, Malaysia has come under fire on Twitter for allegedly adopting kittens only to feed them to his pet snake
The man regularly tweeted requests pretending to look for kittens or rabbits to adopt without revealing his purpose
Online users were mortified by the man's actions, criticising him for displaying cruelty towards the adopted animals
The man has allegedly made a police report after the backlash, claiming it was all a joke
IPOH, MALAYSIA — A man in Malaysia has found himself in a tight spot after he revealed on Twitter that he allegedly adopts kittens only to feed them to his pet snake.
The man, who used the Twitter handle "syazuanism", inadvertently exposed himself in a Twitter thread of a fellow snake enthusiast who was looking to connect with a community of like-minded people in the country.
"Syazuanism" had replied to the thread by user "nolongerskek" saying that he and a friend always choose to adopt kittens or rabbits for free to feed their snakes.
A Twitter user who came across the reply by "syazuanism" then shared a screenshot of it to warn others of his ruse.
In a tweet last Tuesday (Feb 7), user "vvnloll" alleged that a man in his late 20s had been feeding his pet snake with kittens that he pretended to adopt. She also attached a screenshot of a thread from June 6 last year revealing how "syazuanism" supposedly dupes others into giving him kittens.
In his tweet, "syazuanism" wrote: "Hi all, do you know anyone who's looking to let go of their kitten or rabbit? I would like to adopt. My Helga is lonely."
He seemingly left out the mention that Helga is an albino python.
A number of users responded to the tweet offering adult cats instead. However, "syazuanism" turned them down saying that the animals would be "too big".
A third screenshot shows a follow-up tweet by "syazuanism" in which he informed the people who had responded to his thread that he succeeded in finding a kitten for Helga.
"My Helga is happy. Thank you very much for the help. Below is a picture of my cute Helga," he said as he revealed a picture of his pet snake.
Responding to a user who suggested that he should feed pigs to his snake instead, "syazuanism" rebuked the idea by saying that it would be illogical because pigs are too big for snakes to eat.
"The moment when the kitten's mews start to fade as the snake attacks it is something amazing. And the sound of its bones cracking is *chef's kiss*," he added chillingly.
Twitter users were mortified by the man's alleged actions and criticised him for displaying such cruelty towards the kittens he had adopted.
One wrote: "Sick. How the heck (is anyone) okay with going around looking for kittens for adoption to feed (a) pet snake. Go buy chopped chicken or something!"
Others wanted "syazuanism" to be eaten by his own pet one day.
One tweeted: "I can't wait to hear the news that a man was swallowed by his pet snake named Helga."
Some people called for the matter to be brought to the attention of the relevant authorities.
Someone urged: "Everyone please report 'syazuanism' and others like him who scam kitten foster parents by pretending to adopt kittens just to feed those poor babies to their pet snakes."
However, there were Twitter users who defended the man's actions, claiming that cats are the natural prey of snakes.
One questioned: "Why are people so triggered?...Even in the wild, snakes eat cats. It's natural."
To this, another person retorted: "People (give their animals up) for adoption because they want the cat to (go) to a better home, not to end up in a snake's stomach. The guy is lying and you're okay with that?"
MAN CLAIMS IT WAS ALL A JOKE
Following the backlash, "syazuanism" seems to have changed his Twitter handle and disabled both his Instagram and LinkedIn accounts that were exposed by online users. 
A copy of a police report allegedly made by him has also been making the rounds online.
In the report, he claimed that his reply to the thread by user "nolongerskek" mentioning how he feeds his snake with adopted kittens and rabbits was just a joke. 
He discovered that his LinkedIn and Instagram profiles had gone viral last Wednesday after that tweet and wanted to make a police report to clarify that the claim he made was false. He also asserted that he has not once raised a pet snake.
However, some users doubted the authenticity of the document.
One person pointed out that the events mentioned in the text of the report took place in Malacca, but the document was stamped by an officer at a station in Batu Gajah, Perak that is located about 350km away.