More than 22,000 march in teachers' rally supporting Hong Kong's young protesters, organisers say
HONG KONG — Thousands of teachers in black took to the streets of Hong Kong on Saturday (Aug 17) despite heavy rain in a show of solidarity with young protesters, as the city braces for an 11th weekend of demonstrations sparked by the now-shelved extradition bill.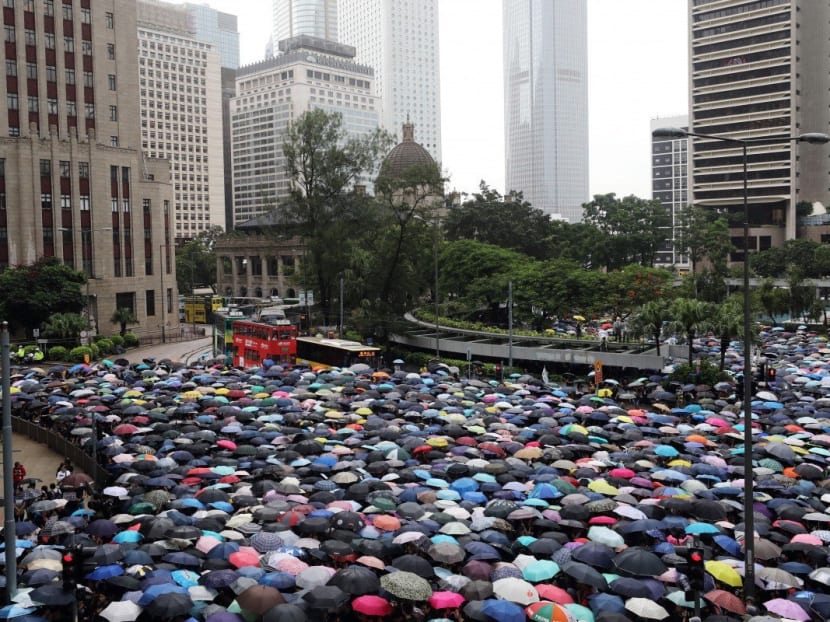 HONG KONG — Thousands of teachers in black took to the streets of Hong Kong on Saturday (Aug 17) despite heavy rain in a show of solidarity with young protesters, as the city braces for an 11th weekend of demonstrations sparked by the now-shelved extradition bill.
The Hong Kong Professional Teachers' Union (PTU), organiser of the event themed "Safeguard the next generation, let our conscience speak", held a rally at Chater Garden in Central before a march to Government House, the residence of Chief Executive Carrie Lam Cheng Yuet-ngor.
Despite the downpour, the organiser said more than 22,000 people attended, while police estimated the march peaked at 8,300.
PTU president Fung Wai-wah noted many of those arrested and injured during protests were students. "This is the first time teachers are joining a march that engages mostly educators in the past two months," he said.
"Young people and students are our future. We need to come out and safeguard them."
The march was among three demonstrations planned on Saturday that have been approved by police.
At 11.15am, the amber rain signal and thunderstorm warning were issued by the Observatory as gloomy skies opened on the city. The march kicked off soon after 11.30am, with the amber rain signal taken down at 12.30pm.
Secondary school maths teacher Chan Hoi-yee, 37, said she joined the protest because she felt the government had turned a deaf ear to demonstrators.
Noting that pro-democracy group Demosisto, co-founded by political activist Joshua Wong Chi-fung, had called for secondary class boycotts every Monday for an indefinite period of time when schools reopen, Ms Chan said she believed that university students had the autonomy to do so if they wanted to join the action.
But she said she would not encourage her secondary school students to follow suit.
"Some of them may not have understood the motives well enough and may be affected by peer pressure," she said. "But if they need to, I will respect them."
An amber rain alert was issued just before the march.  Photo: South China Morning Post
As of noon, because of the sheer number of participants and the weather, bottlenecks in the procession began to form, with crowds packing Central MTR station. The last batch of marchers left the starting point at around 1.15pm.
The night before, thousands of students gathered in Central  for a rally — also at Chater Garden — to call for the United States and Britain to help the city fight for democracy.
Earlier on Friday, Secretary for Education Kevin Yeung Yun-hung sought to discourage  secondary school students from the boycott of classes. A survey by Demosisto and two student concern groups found thousands of them backed such action against the controversial Bill.
The legislation would have allowed the transfer of fugitives to jurisdictions with which Hong Kong has no such agreement, including mainland China, where critics say fair trials are not guaranteed.
PTU said officials had failed to respond to the five demands of protesters over the last two months, including the full withdrawal of the bill, as well as the appointment of a judge-led independent inquiry into police use of force on protesters.
Primary school teacher Mona Li, 47, said students and parents could make their own decisions about joining the class boycott after they were clear about the motives for the action.
But Ms Li criticised Mr Yeung for saying there should not be political interference in schools.
"Politics relates to the lives of everybody," she said. "If he doesn't understand, then he is not qualified to be a minister."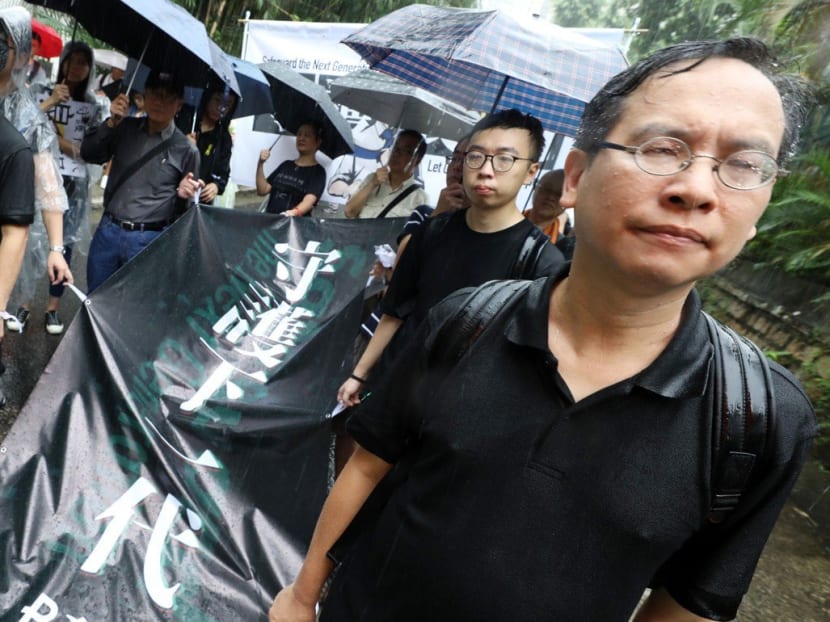 University teaching assistant Michael Cheung, 24, echoed the comments.
"Politics is part of life," he said, adding that teachers could lead students in discussions over political and social affairs.
Mr Cheung suggested that participants for the proposed boycott could take reference from similar activities leading up to the Occupy movement in 2014 , to "boycott class but not learning". That year in September, public lectures were arranged at Tamar Park to allow students to continue their quest for knowledge.
Meanwhile, on the Kowloon side of Victoria Harbour, most shops along a stretch of road near Hoi Sham Park were closed in preparation for a Hung Hom march titled "Reclaim Hung To" at 3.30pm.
Organiser Synergy Kowloon intends to protest against the influx of mainland Chinese shopping tour groups in the area. 
An area in nearby To Kwa Wan, normally flooded with mainland Chinese tourists on a shopping stop, was unusually empty with no signs of tour groups. At Whampoa MTR station, the end point of the march, residents were rushing to finish their errands for the day.
The march was previously banned by police, but received a last-minute go-ahead on Friday night, based on an alternative route from Hoi Sham Park in To Kwa Wan to the Whampoa station, roughly a 1.5km stretch.
In the morning, some shop owners said they were prepared to close early.
At Whampoa 108 mall, a grocer, surnamed Chan, 40, said the place would close at 1pm. Mr Chan, who declined to give his full name, has been operating there for a decade, and said his business would lose about HK$1,000 (S$176.5) because of the early closure.
 "There's nothing I can do," he said. "It's not just today. Recently business has not been good, some parents don't allow their kids to go out and people don't want to go for holidays or shop."
Residents like Chloe Lau were busy getting errands out of the way before the march came to the area.
"I woke up early to come out and buy food, so I can stay home in the afternoon," the 23-year-old said.
Asked if she was concerned about tear gas should clashes between protesters and police occur — as with most marches recently — Ms Lau said she was, because of the many low residential buildings in her neighbourhood, but hoped most people would be able to "shut the windows and stay safe".
Man Fok, 40, a property agent in the area said he would decide whether to close shop later based on the situation, but remained optimistic that the protest would be peaceful.
"I think today is not so dangerous because the government has approved it," he said, adding that in terms of economic impact, the protests over the past two months were still not as serious compared to the Sars epidemic in 2003.
Closer to the starting point of the march, most shops were already shut along Sung On Street.
Community centre manager Ng Sze On said the neighbourhood was particularly quiet over the past week with fewer tours, and that it seemed pharmacies catering to mainland tourists that opened on Saturdays were now closed.
The centre would remain open based on the situation, he said. "If there is any violence, we will close early." SOUTH CHINA MORNING POST