In M'sia, it's time for Hari Raya ads – here are 7 that'll warm or break your heart (with one from S'pore, too)
KUALA LUMPUR — The Eid celebrations – referred to as Hari Raya – are marked by family reunions, visits to relatives, and of course lots of delicious traditional food.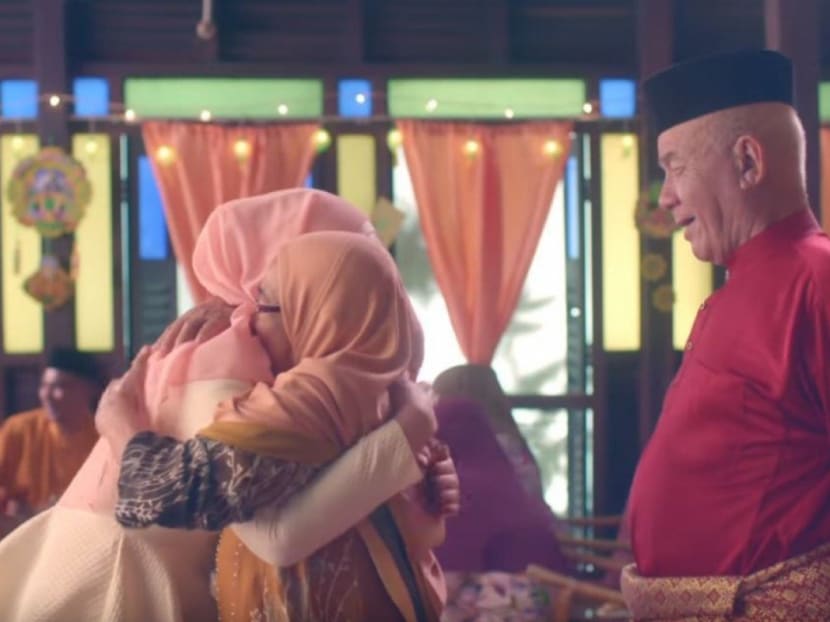 KUALA LUMPUR — The Eid celebrations – referred to as Hari Raya – are marked by family reunions, visits to relatives, and of course lots of delicious traditional food.
Hari Raya is also, according to marketing gurus, a prime period for big brands, telecoms firms and even government-linked corporations, as it's one of the few times a year such advertisements are sought out.
Part of their cult status, says Mr Stanley Clement, managing director of Reprise Digital marketing agency, stems from the work of late Malaysian filmmaker Yasmin Ahmad, who produced wildly popular ads for national oil and gas corporation Petronas. "She did a fantastic job in tugging heartstrings, and people still talk about them today, decades later."
Larger brands such as Petronas or national electricity company Tenaga Nasional Berhad are able to capitalise on being a household name to tell stories with minimal branding, says marketing consultant Syazwina Saw.
"These government-linked companies carry the legacy of festive ads precisely because they can play more loosely with the storytelling," she says.
During the festive seasons, it's not uncommon to see good ads go viral on WhatsApp and social media, with some even treated as pieces of art in their own right. Viewers such as PhD student Zana Fauzi write blog posts or take to Twitter to enthuse about their favourites.
This year, Ms Zana says, has seen more ads centred on Raya celebrations "as a community" rather than the usual ones emphasising filial piety.
"I think we have never seen [this trend] before. We need to show that forgiveness should be two-sided and not only demanded from children," she said.
Other themes spotted this year include road trips, resilience, and compassion.
Here are seven to watch:
1. Petronas
The grande dame of holiday ads, Malaysia's national oil and gas company is known for its sometimes witty, sometimes sad but always touching short films. This Raya, Petronas launched Rendang SoRaya, a webfilm about a girl intent on perfectly reproducing her mother's rendang – a spicy meat stew – and in the process encountering the people close to her mother in an attempt to discover its secret ingredient.
"The webfilm also explores the blessing of having a close-knit community, our support system that not only cares and looks out for us but becomes part of our family," said Zahariah Abdul Rahman, Petronas' senior general manager of group strategic communications.
2. Maxis
In a short film that's bigger than its message, telecoms company Maxis' Raya ad Deria Takbir Raya follows the life of Faiz, a deaf boy who experiences the takbir (call to prayer) during Hari Raya for the first time through a special app.
But this app isn't fictional – in the spirit of inclusivity, Maxis produced an app that converts sound waves into cymatic visuals (patterns made from vibrations) and haptic vibrations, allowing deaf users to follow the Takbir through vibrations and visuals. To perfect it, Maxis teamed up with the Malaysian Federation of the Deaf as well as religious officers.
3. Tenaga Nasional Berhad (TNB)
The short film Konvoi Epik Fantastik (Epic Fantastic Convoy) takes a look at the very Malaysian practice in which several cars take to the highway in a straight line, keeping each other in close sight so as to not get lost.
This is the most efficient way for several carloads of people to visit various relatives homes' during the Eid celebrations, although it can be tiring – especially when it's the visitors' turn to be visited later!
TNB's ads stand out in a landscape of sappy, sad ads, says consultant Syazwina. "They leaned towards the zany, while containing kernels of those resonant cultural moments. That has now become their brand: hilarious, heartfelt, and true to life."
Stanley Clement of Reprise Digital, the outfit that worked on the ad, said it was "based on journeys that we take to connect with long lost relatives, and how these visits are about bringing blessings to each other's homes."
"TNB is very much a nation-builder, so that role has to come out in the ad," he says. "We don't always need sob stories for a message to be touching."
Fun fact: Clement's first brush with these celebratory ads actually came 16 years ago, when he was one of the actors in Petronas' 2003 Boyz In Da Hood Deepavali ad – a Yasmin Ahmad classic which reminded Malaysians to "always be proud of who we are".
4. Public Utilities Board (PUB)
In Singapore, water agency PUB released the short film Kinship, about two orphaned brothers who are separated when the older one is adopted. Spinning off the PUB tagline "make every drop count" and the Malay proverb "air dicincang tidak akan putus" – translating to "water doesn't break when you chop it" – the six-minute ad partly set in the 1960s is a tear-jerker that will remind all viewers that family ties are as fragile as they are resilient. It features a version of the classic Malay ballad Gerimis Mengundang (The Drizzle Invites) and is designed to draw a parallel between water and kinship, according to PUB.
5. Touch'n'Go
Not all Raya ads are sombre or serious – some, like the offering from electronic payment smart card Touch'n'Go, are more tongue in cheek as they take on tricky topics such as dealing with the in-laws. In Bakal Mertuaku Gengster (Future Gangster In-law), a prospective son-in-law deals with a girlfriend's forbidding father – and learns not to judge a book by its cover.
6. Malaysian Ministry of Economic Affairs
As Malaysia deals with turning its economy around, its economic affairs ministry joins in the Raya fun with 31 Cucu (31 Grandchildren), following the heartwarming exploits of a widower who makes and sells dodol (palm sugar toffee) to save up extra cash for duit raya (money given to guests) upon learning his sizeable family will be visiting for the holidays.
7. Plus Highways
Malaysia's largest highway operator tends to feature Malaysia's long, winding roads in its seasonal ads, and this year's Tumpang (Hitch A Ride) is no different. An older truck driver named Pak Man and a city boy go on a road trip after the latter misses the bus to his home state of Johor, rubbing each other the wrong way for most of the trip. But by the end of the journey, the irritable Pak Man learns that not all families may be conventional, but love always endures.