In Myanmar, soaring numbers of smartphone users present business opportunities - and frustrations
YANGON — More than 100,000 people have turned to an app designed in Myanmar aimed at tackling some of Asia's worst maternal mortality rates.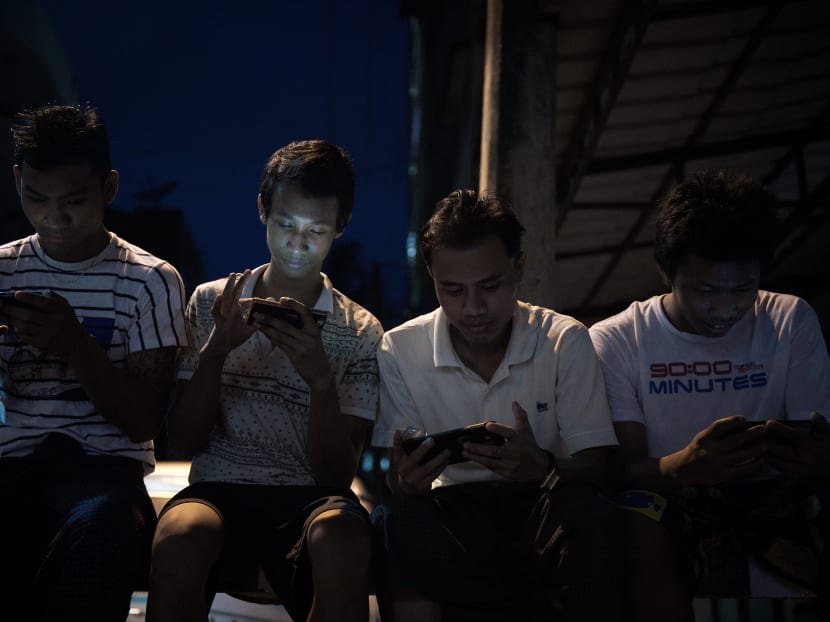 YANGON — More than 100,000 people have turned to an app designed in Myanmar aimed at tackling some of Asia's worst maternal mortality rates.
Since 2015, Maymay has offered services from a pregnancy advice hotline to chat groups for mothers-to-be.
Demand is strong in a country where poverty and inadequate healthcare mean an estimated 227 women die for every 100,000 live births. Yet Koe Koe Tech, the start-up behind Maymay, says the app has missed out on potential growth since its launch.
Maymay has about 105,000 users, but more than six times that number have tried and failed to download it, according to Michael Lwin, Koe Koe Tech's Myanmarese-American co-founder.
A big reason is technical: many people cannot follow the English-language process of creating an email address, meaning they cannot open a Google account to access the Google Play app store.
"This is a huge barrier to entry," Mr Lwin says.
Koe Koe Tech's rapid expansion and frustrations are typical of Myanmar's fledgling technology sector. Even as the country grapples with the legacies of military dictatorship, internal conflict and economic decay, it is emerging as a testing ground for digital services that could one day be rolled out to millions of users in other poor countries.
Such changes are now overshadowed by what a senior United Nations official has branded the "ethnic cleansing" of the Muslim Rohingya minority by the military, in a brutal response to attacks by Rohingya militants on security forces.
Vicious online propaganda against Rohingya has highlighted the darker side of Myanmar's tech boom. It is part of the wider fallout from almost half a century of junta rule, which ended in 2011.
The decades of isolationist dictatorship degraded infrastructure across the country. Consequently, Myanmar's start-up scene is unusually dynamic.
Logistical problems have put a premium on services that can be delivered by smartphone — and do not require face-to-face contact for the delivery of goods.
Smartphone penetration rates in Myanmar have soared in recent years. They account for more than 70 per cent of the country's mobile connections, higher than the Asia-Pacific average of 53 per cent and even the European level of 68 per cent, according to GSMA Intelligence, an international industry body.
Mobile phone services only became widely available to the country's more than 50 million people with the launch of foreign operators' services in 2014.
This has meant most subscribers simply skipped feature phones and went straight to their higher tech successors. Chinese-made handsets can now be bought for less than US$25 (S$33.6), while mobile sim cards that used to cost hundreds of dollars cost less than US$2.
"The ubiquity of smartphones in Myanmar makes it an incredible place to test these ideas," says David Madden, founder of Phandeeyar, a Yangon-based organisation that promotes tech start-ups.
"There is great business to be done meeting the needs of people who are outside the rich world."
Big international companies are already exploring opportunities.
Although the country's per capita income is estimated to be one of the lowest in Asia at about US$1,275 a year, both Uber and Grab, its Southeast Asian rival, saw enough potential to launch ride-hailing services this year in Yangon, the commercial capital.
"It's kind of this perfect cocktail of aspirational tech users who face a lot of transport pain," says Sam Bool, Uber's manager for expansion in the region.
The rapid digital change has also spawned many local start-ups. Impact Terra, a mobile service aimed at farmers and launched last year, says it already reaches 2 million people a month, including through its Golden Paddy app, which offers information such as market price data.
Aung Ye Kyaw, a former doctor, says the White Merak Comics Studio business that he co-founded in 2015 would not have been feasible had it relied on paper. The country's poor road transport network would make it too expensive to distribute a magazine outside the main cities.
Now more than half of his customers — paying 500 kyat (S$0.50) per episode for serials of heroes including Garuda and the Power Ranger-like Sea-Chin — are outside urban areas.
"With digital, it's really easy to target people outside of Yangon and other big centres," Mr Aung Ye Kyaw says.
"You can get into things instantly and almost anywhere."
But there are limits. Myanmar has leapfrogged from an analogue to a smartphone era largely without the intermediate tools, such as personal computers and internet browsers.
Many people use their phones for only a narrow range of services, such as Facebook, Instagram, the Viber chat app — and, inevitably, Candy Crush.
Their only contact with browsers may be to visit landing pages to download apps. Online content in the Burmese language is limited, while mobile data costs are still too expensive for many people.
Another problem is that laws in areas ranging from financial regulation to intellectual property have not always been adapted to the digital sphere.
Chate Sat, a start-up that links employers and freelancers, found it had few remedies when it grappled with a plagiarism case in which a rival launched a site with the same design, colours and font.
"They left comments on our website saying it had a bug and people should come to their site," recalls Honey Mya Win, Chate Sat co-founder and a former telecoms engineer for China's Huawei.
"We were shocked."
And there are still many logistical hurdles, such as the app access problem, perplexing Koe Koe Tech's Mr Lwin.
He says he asked Google more than a year ago to allow accounts to be created using only a phone number.
A Google spokesman referred the FT to a technical support page that explains how a log-in can be amended to number-only, but only after the initial registration has been done with an email address. "Google should stop dragging their feet on this," says Mr Lwin. "That would be a real game-changer for me." THE FINANCIAL TIMES