Pakatan Harapan backs PKR president Anwar Ibrahim to be next PM: Sources
KUALA LUMPUR — Malaysia is poised to have its first minority government as Pakatan Harapan has opted to back PKR president Anwar Ibrahim as the eight prime minister.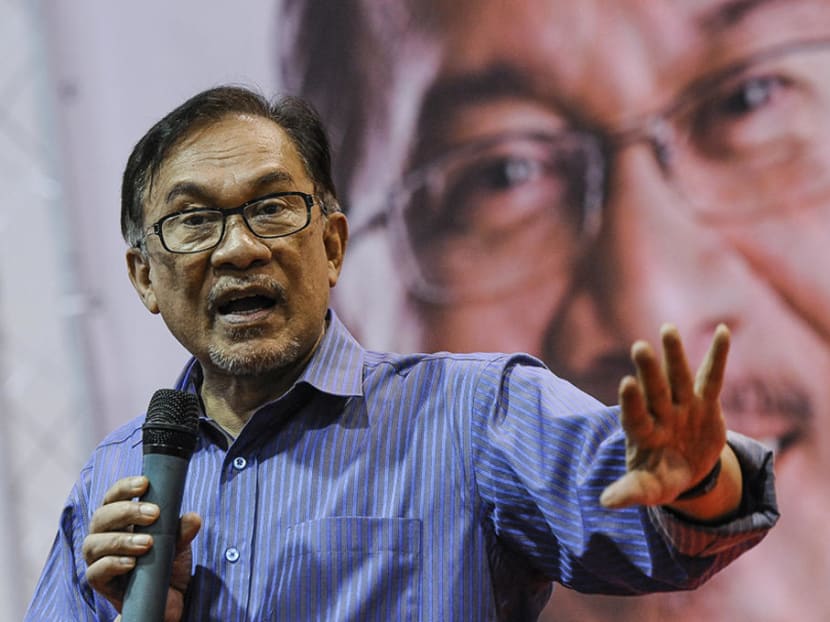 KUALA LUMPUR — Malaysia is poised to have its first minority government as Pakatan Harapan has opted to back PKR president Anwar Ibrahim as the eight prime minister.
Earlier, PKR and DAP party sources told The Malaysian Insight they will vote for Mr Anwar when they meet the king at Istana Negara on Wednesday.
This was verified as Wangsa Maju MP Tan Yee Kew emerged from Istana Negara to say she voted for Mr Anwar.
She said she had signed a statutory declaration supporting the PKR chief.
"We are giving our support to Anwar as the eight prime minister.
"Just now, we signed an SD to this effect and we are fully with Anwar," she said, referring to a statutory declaration.
"I believe Amanah and DAP are with us." 
Meanwhile, PKR's Kuantan MP Fuziah Salleh said the party has the support of enough MPs to form the next government.
Minutes later, PKR secretary-general Saifuddin Nasution Ismail also told reporters that he had voted for "someone from within the party".
PKR communications director and Lembah Pantai MP Fahmi Fadzil also said a press statement would be issued later.
PKR was the first to meet the king on Wednesday, followed by Amanah. DAP leaders have been meeting the king since 2pm.
According to the party sources, the decision was reached on Tuesday night at a PH presidential council meeting after Barisan Nasional and PAS's unexpected decision to call for fresh polls.
The source said that the BN-PAS decision had allowed this possibility.
Up until Tuesday, BN and PAS were expected to back Dr Mahathir before forming a new government with Bersatu.
As it stands, if Bersatu (25), Parti Warisan Sabah and Upko (10), Gabungan Parti Sarawak (18) and the 11 independent MPs led by Mr Mohamed Azmin Ali support Dr Mahathir as prime minister, the 94-year-old will have 64 out of the 222 votes.
If DAP (42), PKR (39) and Amanah (11) throw their support behind PKR president Anwar Ibrahim, the 72-year-old will have 92 votes.
So far, Warisan and GPS have not stated their who they support yet but it is assumed that they will back Dr Mahathir from media reports.
As BN and PAS have opted for fresh polls, they are assumed to have abstained from stating their choice for prime minister. And although there are five other independents from the Borneo states, their decision will not alter the final tally if the voting is as stated above.
By virtue of this, under Article 43(2a) of the Federal Constitution, the Malaysian king will have to appoint Mr Anwar as the eighth prime minister as he could be deemed to command the confidence of the majority of Dewan Rakyat.
As the constitution does not state that the prime minister must have 112 votes (a simple majority of all the MPs), Mr Anwar can now be appointed with this simple support of 90 over 64 votes.
Mr Anwar will then be given the chance to form Malaysia's first minority government.
WHAT IS A MINORITY GOVERNMENT?
A minority government is a cabinet formed under a parliamentary system whereby the party or coalition does not have a majority of the overall seats in parliament.
Minority governments are not uncommon and have occurred in other countries that use a parliamentary system, notably Estonia, Ireland, the Netherlands, Norway, United Kingdom, Belgium, New Zealand and several more.
Leading a minority government would mean Mr Anwar's immediate task would be to seek cross party support in the coming parliamentary sitting so that his government is not defeated in any vote of confidence motion.
He will also face difficulties in delivering PH's reform agenda, especially policies involving amending the federal constitution.
Dr Mahathir made a shock announcement to resign as prime minister at the weekend. Minutes after Dr Mahathir's resignation, Bersatu president Muhyiddin Yasin withdrew his party from PH, throwing the ruling pact into chaos, and resulting in it losing power.
Minutes after Bersatu's pullout, Dr Mahathir announced that he had also quit as the party's chairman. THE MALAYSIAN INSIGHT