Philippines' Davao City upgrading airport, tourism facilities in bid to draw more visitors, particularly from S'pore
DAVAO CITY — Foreigners heading to the Philippines might think of Cebu or Boracay for their sandy beaches, or Manila for business, but another region in the archipelago is hoping to be the next big destination for travellers.
Davao City in the Philippines is looking to attract international tourists to its white beaches, blue oceans and nature parks
It is looking at growing itself as a destination for meetings, incentives, conferences and exhibitions
However, this comes with certain hurdles, the largest being shedding its image as an unsafe place
DAVAO CITY — Foreigners heading to the Philippines might think of Cebu or Boracay for their sandy beaches, or Manila for business, but another region in the archipelago is hoping to be the next big destination for travellers.
Davao City, home to the country's former president Rodrigo Duterte, wants to woo international tourists to its resorts, nature getaways and coral beaches after work — and infrastructure is being upgraded for an expected boom in post-pandemic tourism.
Speaking to TODAY, the Philippines' Department of Tourism's Davao regional director Tanya Rabat-Tan said that the city hopes to become a one-stop destination for Singaporeans and other international travellers.
"They can come here for their meetings, incentives, conferences and exhibitions (Mice) events during the weekdays, and escape from the city with our beaches or nature resorts and activities with their family during the weekends," Ms Tan said of the department's vision for Davao's tourism rejuvenation efforts.
The Covid-19 pandemic has disrupted plans for the city's tourism economy, which had been on a trajectory to receive four million tourists in 2022.
In 2019, before the Covid-19 outbreak, some 4.2 million visitors passed through Davao International Airport, including 2.5 million tourists. The rest were transit travellers.
Davao City received 897,946 tourists last year, of which around 15 per cent were international tourists. The rest were domestic travellers. 
This year, it is targeting 1.8 million tourists. To reach that goal, it is trying to draw Singaporeans and other international tourists to visit its white beaches.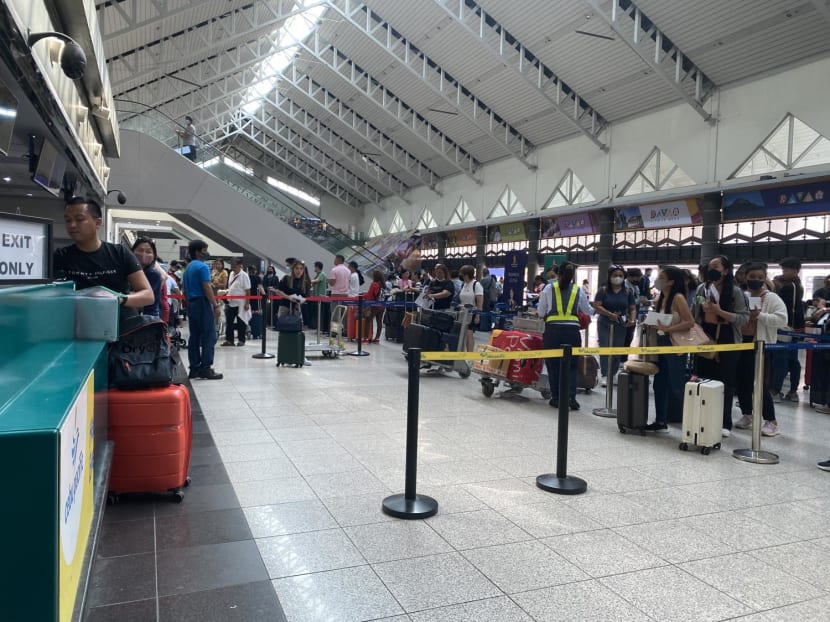 MICE FACILITIES, SANDY BEACHS TO DRAW TOURISTS
A four-hour flight away from Singapore, Davao City has been pushing itself as a Mice destination to attract business travellers to its shores. Just last month, the city hosted various events that brought in "thousands". 
In March, it hosted an annual Mice Conference, a domestic event that brought together some 500 professionals from the Mice sector. 
"We have the venues, the hotels and everything needed. We're ready for more international business travellers," Ms Tan said, adding that she had just met the Asia Development Bank earlier in April and an investment event will be held in the city in the coming months.
Beyond that, the country's largest multipurpose indoor arena KJC King Dome is set to open in the coming months. 
Other investments into making Davao more accessible for tourists are also underway. 
Philippine director-general of civil aviation Manuel Tamayo told TODAY that the government will spend P699.54 million (S$16.6 million) to upgrade Davao International Airport to handle an influx of travellers.
"In 2019, Davao's airport had 4.2 million travellers, but the airport is designed for 1.2 million travellers… We've already upgraded with new escalators recently. But with this latest investment, the airport will have a capacity for 5.2 million travellers annually," Mr Tamayo said.
The upgrading work at the airport, the third busiest in the country, will start in June and is expected to be completed in 2025. 
At Island Garden City of Samal, a popular resort island destination in Davao, a bridge will be built so that by 2027, travellers may drive there in 15 minutes from the main island of Davao City instead of having to take an hour-long boat ride.
With more than 130 resorts, corals that stretch kilometres, dive spots and clear blue oceans, the Island Garden City of Samal hopes that the investment of P23 million will help attract more tourists.
Dr Jed Enumerables, a city councillor who heads its health and tourism committee, said: "We've been a popular tourist destination for people to enjoy our coral reefs and dive. With the bridge, it'll be even easier.
"And this is also attracting investment into malls, shops and real estate, which will hopefully attract more international tourists."
The Island Garden City of Samal is already seeing an influx of domestic tourists due to "revenge travel" in the wake of pandemic restrictions easing, with queues of up to an hour for a boat during popular weekends a norm.
And with hopes that international tourism will further improve the tourism economy, Dr Enumerables sees the bridge as a much-needed addition to meet demand.
Beyond investments, the city is also hoping to tap its improved safety and cleanliness — something that residents repeatedly told TODAY — to attract international tourists. The City Government of Davao said that its index crime of serious crimes such as murder and burglary dropped by 21 per cent from 1,610 cases in 2021 to 1,395 cases in 2022. 
The streets of Davao City are clean of litter, with strict rules against littering and spitting put in place. 
Even past 11pm, the city is still bustling with residents headed towards its central night market or back to their homes. 
The city does have a ban on liquor sales in shops, bars, restaurants and other businesses between 1am and 8am. This, one shopkeeper told TODAY, keeps the youth away from drunken behaviour.
Beyond that, another point of pride for the citizens of Davao is its 911 central hotline, which allows people to dial a single number for any emergency.
Mr Hasan Abangon, 24, the fourth-generation owner of D'landap Gift Shop, said: "We're a safe place, the roads are clean and the buildings are improving. It should draw more tourists from overseas and that will hopefully pick up business even more." 
His shop had moved from a small, one-level street store at the old Poblacion Market Central to a newly upgraded market just two blocks down the road. 
The old building had a flight of stairs leading up to the building. Now it has a new modern exterior with wider walkways between the stores, the novelty of an escalator and proper air-conditioning.
Some charm has remained from the old souvenir centre — shop workers still sit along the walkway on their plastic stools enticing people to buy from their stores, and the souvenir shops still sell items made by the indigenous tribes of the region. 
Mr Abangon said that he has seen his sales double since the move in 2021 and now, he hopes such upgrades would draw international tourists to his shop.
Over at Eden Nature Park and Resort, it is betting on high element activities such as "sky-cycling" where visitors may cycle on an elevated rope to woo crowds.
With accommodation for 400, its marketing manager Jeline G Galagar hopes to attract more tourists to the often half-utilised resort located in the mountains of Davao City.
The air is cold, and activities are catered to children, making it a draw for Singapore's young families seeking to escape the bustling city for a relaxing trip surrounded by nature, Ms Galagar said.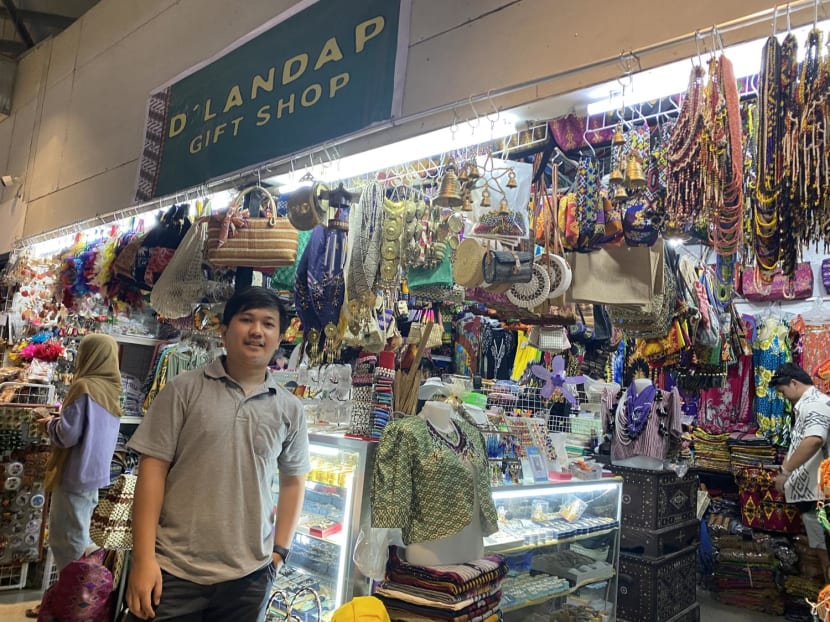 CHALLENGES WOOING BACK CROWDS
When asked what challenges Davao City will face to woo back travellers, Ms Tan said that foreign advisories for the island of Mindanao is a large hurdle.
"We'll like to emphasise that Davao is a really safe place. For the longest time, international and national media only highlight negative stories about Mindanao," she added.
"Mindanao is a very big place — it's not just Davao City."
In an advisory on Aug 4, 2022, Singapore's Ministry of Foreign Affairs "strongly advises" Singaporeans travelling to or residing in Mindanao to take precautions for their personal safety.
This was because the region was still in a state of emergency following clashes with a terrorist group in 2017. Early last year, three cities in Mindanao had bus bombings — though none were in Davao City.
Beyond that, Ms Tan said that there are now only two countries with flights directly to Davao — Singapore and Qatar — which is one reason why the country is hoping Singaporeans would visit.
Cebu pacific airlines, for one, has four flights each week between Singapore and Davao.
However, Davao is also eyeing the greater international market. Beyond restoring direct flights from China, Hong Kong and Indonesia, Ms Tan said that tapping Singapore's international hub could help boost tourism from other countries.
"Ultimately, we think we are ready for international travellers as we grow," she added.