Plastic dumped in M'sia to be shipped back to countries of origin on May 28: Minister
PUTRAJAYA — More than 400 tonnes of imported, contaminated plastic waste in Port Klang, Selangor, will be shipped back to their countries of origin on Tuesday (May 28), signalling Malaysia's effort to take the lead in the global crusade against unscrupulous export of scrap.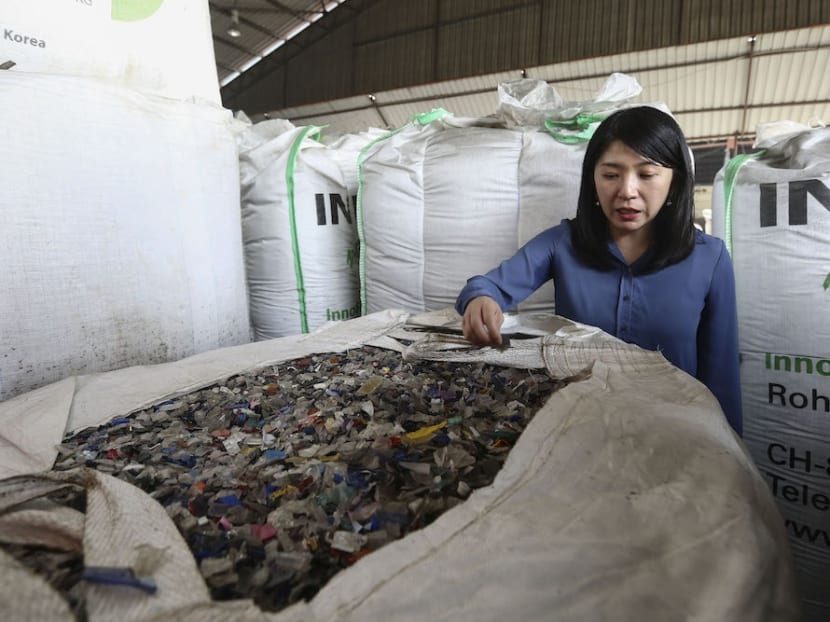 PUTRAJAYA — More than 400 tonnes of imported, contaminated plastic waste in Port Klang, Selangor, will be shipped back to their countries of origin on Tuesday (May 28), signalling Malaysia's effort to take the lead in the global crusade against unscrupulous export of scrap.
The move to send back the gargantuan amount of imported waste also conveys an official stand against irresponsible acts of dumping plastic waste on foreign soil, which took place after last year's import ban by China when the country decided to quit its role as the world's major plastic waste processor.
Malaysia was emboldened in its approach to regulating trans-boundary plastic waste movement after it successfully negotiated the Basel Convention to amend certain annexes, which saw government permission being required for the import of plastic waste from other countries.
Energy, science, technology, environment and climate change minister Yeo Bee Yin told the New Straits Times the war against imported plastic waste was about upholding Malaysia's dignity among developed countries, which have been practising a kind of "recycling myth".
She was tight-lipped on the details of the outgoing waste as most of it would be revealed in a press conference to be held in Port Klang.
However, it was learnt that at least seven containers of contaminated plastic waste would be returned to their countries of origin. The cost would be borne by companies responsible for the export.
"We should not let ourselves become a dumping ground. That's why we want to control it (plastic waste imports). We want to fight back.
"They (other countries) are dumping it on us. We will fight back and send it back to them.
"They have to be responsible for this as it's really not only about the environment, but the dignity and sovereignty of the country," Ms Yeo said in a special interview with the NST at the ministry here.
Ms Yeo said Tuesday's shipment was a continuation of efforts to rid the country of plastic waste imports, which also ended up in illegal plastic recycling factories in several states, including Selangor.
She said as a solution, state governments could enforce the National Land Code against landowners and occupants who allowed illegal plastic recycling factories to operate on their land.
She said this was done in cases that occurred in Selangor.
As a result, many new cases were successfully resolved and the ministry was now receiving fewer complaints of illegal plastic recycling plants.
"There have been cases in Negri Sembilan, Kedah and Penang, but the most serious is in Selangor because it is near Port Klang."
In February, the NST highlighted the sufferings of residents in Jenjarom near Kuala Langat, Selangor, who had to endure the fumes and stench produced by the numerous illegal plastic recycling factories there.
It was reported that those factories processed an estimated 17,000 tonnes of plastic shipped to Malaysia.
Contaminated plastic waste dumping has become a problem worldwide since early last year, when China banned the import of those plastics. The ships (ferrying the plastic waste) which were on their way to China had to be diverted. Many of those ships sailed to South-east Asian destinations. Malaysia, Indonesia and Thailand were affected due to the influx of plastic waste arriving at their ports.
Ms Yeo said to address the problem, the ministry had imposed a freeze on the import of plastics categorised under "HS Code 3915", which involves plastic waste, scrap and parings, since July last year.
The front page of the 'New Straits Times' highlighting illegal plastic waste on May 18.
"We closed down 150 illegal plastic recycling factories, but we realised this was not enough.
"There was a need to curb it at its source, which is at the ports because it (plastic waste) keeps coming in. Then we realised it was entering the country not under the right code. It gets smuggled in as well. Plastic waste gets smuggled in," said Ms Yeo.
She described the discovery of these various layers of violations as something akin to "opening up a can of worms" as it painted a grave picture of the state of waste management not only in the region, but the entire world.
Ms Yeo said it was possible that the illegally imported plastic waste in Malaysia is the highest recorded regionally, but it may also be possible that other countries have an equal or higher number of cases that go unrecorded.
"I think the statistics we are seeing may only be partly reflecting (the reality). I do not want to say anything that might shift this responsibility to others.
"But I think the issue is bigger than what is reported and involves more countries other than Malaysia.
"The Basel Convention is very important in this matter. That's why exporting countries taking responsibility and countries like us setting a good example are important.
"We must seek justice in this. It's not fair for people to dump rubbish on us, and that's why we need to fight."
During the 14th Conference of Parties to the Basel Convention (COP14) held from April 29 to May 10 in Geneva, Switzerland, Malaysia successfully negotiated for the convention to amend the annexes that were related to the transboundary movement of plastic waste.
This move was in support of an original proposal by Norway for unrestricted plastic waste under the convention's Annex IX to be classified under Annex II, which categorised the waste as requiring special consideration in the form of "prior informed consent" (PIC).
This consent would be granted by the importing country before a transboundary plastic waste movement was initiated.
Malaysia has been a party to the Basel Convention since 1993 alongside 186 other countries.
Ms Yeo said the Malaysian experience in its fight against the plastic waste import stood as an example for other countries, and was important to make sure that hazardous plastic waste was not continually shipped to other countries.
"If (the waste) cannot enter Malaysia or Indonesia, it will go to countries that have no control (over such matters).
"Let's say other countries receive it and cannot manage it, and it gets thrown into the ocean. Everybody shares the same ocean, and we will not solve the problem. The whole thing must be solved through an international framework." NEW STRAITS TIMES