Plump but malnourished, health of urban poor Malaysian children a ticking time bomb
KUALA LUMPUR — Nur Hayati Elia, 13, didn't have a proper breakfast and looked worn out as she walked home from school to her flat at the government's People's Housing Project (PPR) in Kampung Baru Ayer Panas, Kuala Lumpur.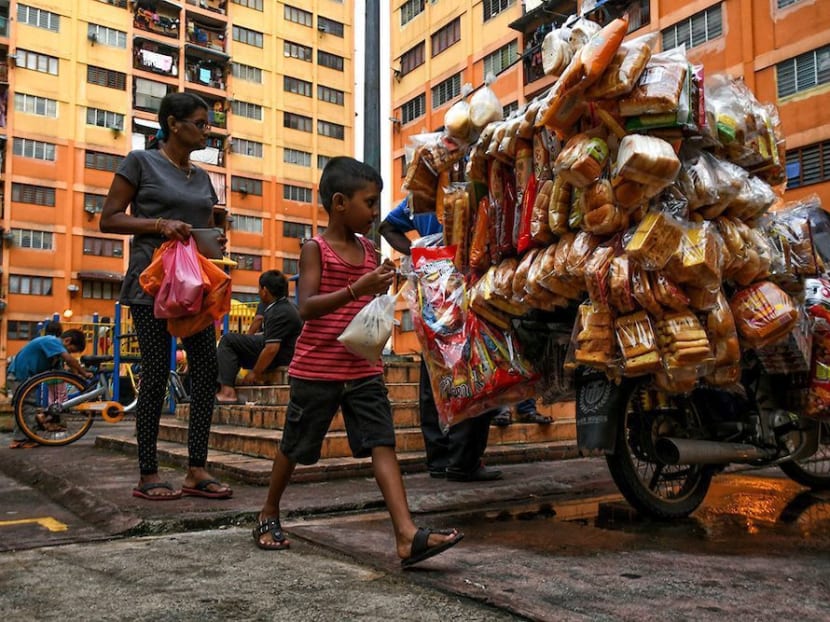 KUALA LUMPUR — Nur Hayati Elia, 13, didn't have a proper breakfast and looked worn out as she walked home from school to her flat at the government's People's Housing Project (PPR) in Kampung Baru Ayer Panas, Kuala Lumpur.
There was no lunch waiting for her either.
Her first proper meal for the day will be dinner that her mother usually brought home after work. But this was her daily routine, she said.
"I'm used to it. After school, I don't have lunch, but my mother will bring some food from her workplace, like chicken curry.
"So I eat after she returns from work after 5pm. After Isha prayers (around 8:30pm), I will eat again," she told The Malaysian Insight.
Though stout in build, Nur Hayati is an example of urban poor children who suffer from poor nutrition but are obese, as found in a recent Unicef study "Children Without", which studied children aged 5 to 17 who live in low-cost flats in Kuala Lumpur.
The report found that children in urban poor environments were "heavier", or suffering from obesity due to a diet that contained larger amounts of refined sugars found in cheap processed foods.
There were more overweight children in urban poor neighbourhoods, at 19.1 per cent of children, compared with rural areas where obesity was recorded between 16.5 per cent and 17.5 per cent of children.
Nur Hayati said she gets RM4 (S$1.35) in pocket money daily from her mother.
As there's no breakfast at home, she buys a packet of white rice, an egg and a drink, costing RM3, for her mid-morning snack at school. She saves the extra ringgit each day.
Her mother works as a cleaner and doesn't have time to prepare lunch for her daughter, while her father is unemployed due to his health, the Secondary One student said.
Asked whether her diet included fruits or vegetables, which could be bought at a supermarket 4km from her flat, she replied: "I save any extra ringgit. When my mother returns home she would bring home nasi campur (mixed rice) with chicken curry. There will be some vegetables."
"I don't eat fruits," she added. If she were to eat fruits regularly, a bunch of bananas at just under RM10, would be deemed too costly.
Nur Hayati has never heard of brown rice, whole wheat bread or organically grown foods; healthy eating options that only those with higher spending power can afford to talk about.
But more critically, Nur Hayati and other children of urban poor families are either unaware of basic nutrition, such as the dangers of sugar and the importance of nutritious food, or if they are, are constrained by their circumstances.
SUGARY DRINKS AND CHEAP QUICK CHOICES
The study by Unicef and local research firm DM Analytics found that 97 per cent of low-cost households earning below RM2,500 said healthy food was too expensive.
The same study found about 23 per cent of children in low-cost flats are either overweight or obese, nearly six times the KL average of 4 per cent.
The report indicated an increasing trend of the urban poor buying their food outside, due to longer working hours and further distances from home.
"Food away from home is associated with higher energy and fat intake and lower micronutrient intake and this could lead to increased prevalence of obesity.
"As processed food becomes more widely available, diet becomes more laden with high calories and sugar. Coupled with an inactive lifestyle, the modern diet is the ideal recipe for chronic diseases especially among the poor," the report said under the section 'Does size matter? Yes, it does'.
Drinks vendor Jamaliah Ahmad, 61, sees this love for sugar all the time at her stall in Kampung Baru Ayer Panas, where children are her main customers.
Because her customers are mainly PPR residents, she sells her drinks at RM1 whereas most vendors who operate outside schools sell for RM1.50 per drink.
"They love sweet drinks. If a child buys soya milk, they'll ask for extra palm sugar to make it sweeter."
Other food vendors in the area sell mixed rice, keropok lekor (fish sausages), banana fritters, and carbonated drinks. The only fruits to be found are those that are pre-sliced and sold in small packets.
Ms Jamaliah said it was common for parents not to cook for their children: "Sometimes they would eat at the nearby food court."
That is about the only time an urban poor child might eat vegetables, according to a Secondary 2 student who wanted to be known as Adi.
The slightly overweight teenager said her mother, a housewife, cooks and includes vegetable on occasion, but at other times would buy nasi campur from nearby stalls.
"Sometimes there are vegetables," she said.
Another teen, Eda Rosanti Misnawi, 16, said she skips breakfast at home but eats a mid-morning meal in school for recess which is usually nasi lemak with chicken, sometimes with an egg, or a burger patty.
Eda Rosanti, who said she weighs 90kg, said her school canteen offered little else in terms of choices. As for fruit, she said they were difficult to find near where she lives.
TAX SUGARY DRINKS
By ethnicity, the Unicef study found the prevalence of overweight and obese children to be at 17.3 per cent for Chinese, Malay (17.2 per cent), Indian (16 per cent) and other Bumiputera (16 per cent).
While the study does not state that urban vulnerable households are likely to have overweight and obese children, it said the issue was becoming more prevalent.
Compared to other countries, Malaysia still led in childhood obesity levels at 13 per cent, exceeding Hungary (11 per cent), Turkey (10 per cent) and Poland (9 per cent).
The study recommended a tax on sugar-sweetened beverages, noting that the World Health Organisation proposed that children reduce their daily intake of sugar to less than 10 per cent of their total energy intake.
"The tax proposal is important. Carbonated drinks and sugar are not healthy but they're cheap and easily found. We need to make them more expensive," said DM Analytics managing director and chief economists Dr Muhammad Abdul Khalid.
"Many places have done so, such as in California, and Mexico, where it was found that the sugar intake has decreased," he said.
Failure to take action can cost Malaysia, where obesity-related issues now comprise up to 20 per cent of all medical costs in the country, or up to 0.8 per cent or RM9.8 billion of gross domestic product, the highest among Asean nations, the report also noted. THE MALAYSIAN INSIGHT