Refugee students face an uphill climb in German schools as teachers struggle to cope with the influx
Zlata Antonuik, 9, has been taking English, Ukrainian language and mathematics lessons in a primary school in Berlin since she fled Ukraine with her older sister and mother in March following Russia's invasion.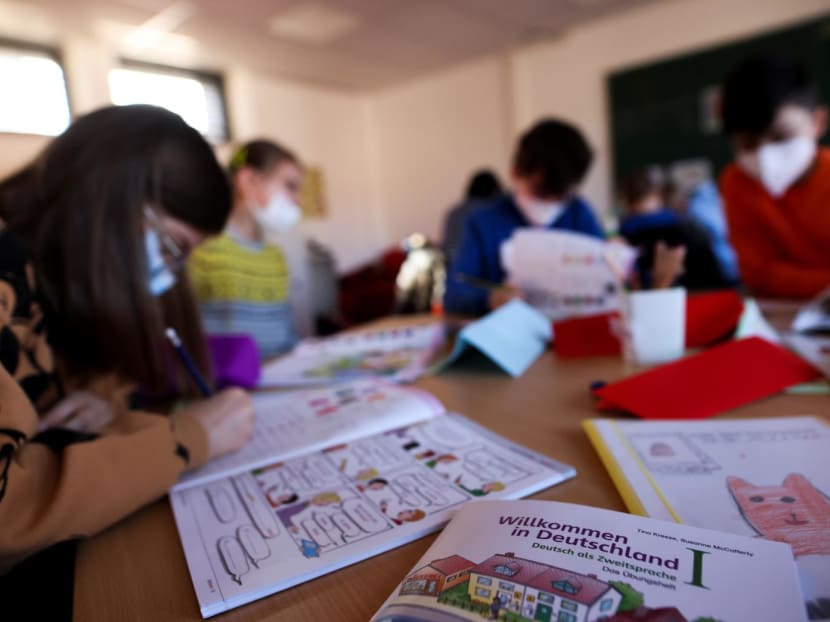 Under NTU's Go-Far programme, journalism students from the Wee Kim Wee School of Communication and Information traditionally get to go abroad to report on issues overseas. This year, 14 of them visited Berlin, Germany to understand the impact of migrants and refugees, and whether the country is prepared for more to come. In this story, the plight of refugee students, including those from Ukraine, shows up gaps in the German education system.
Zlata Antoniuk, 9, has been taking English, Ukrainian language and mathematics lessons in a primary school in Berlin since she fled Ukraine with her older sister and mother in March following Russia's invasion.
While the subjects are not new to her as she had previously learnt them in her home country, she had difficulty getting used to the classes in Germany.
She said: "The rules in school here are different from in Ukraine. Everything is stricter, and we can't play outside freely."
An estimated 160,000 Ukrainian children attended school in Germany this year, according to the German Culture Ministry.
In 2021, nearly half of the 190,800 asylum seekers from countries such as Afghanistan and Syria that came to the country were children aged below 18 years old.
The scramble to leave their war-torn homes did not just disrupt their lives, but also their education.
Germany wants to help these children, but there are not enough teachers, said Mr Udo Beckmann, 70, federal chairman of the Education and Training Association (VBE), a union representing 164,000 educators.
He estimated the current shortage to be about 20,000 to 30,000 teachers countrywide.
"We need more teachers, as we have too many pupils in class," said Mr Beckmann.
In 2020, an average secondary school class in Germany had 23 students, according to the Organisation for Economic Co-operation and Development. This number increased to 24 in 2021, higher than the OECD average of 23.
The stretched German education system took a battering with the coronavirus pandemic, as teachers went on frequent sick leave and were required to be quarantined, or were burnt out from having to adapt to teaching online.
The remaining teachers have difficulties handling the influx of refugee children, who come in with different backgrounds and education levels.
Before these students enter the public school system, schools are encouraged to put them through welcome classes lasting about six to eight months for them to brush up on German language skills.
But Mr Baris Altindag, 35, education coordinator at non-governmental organisation International Rescue Committee (IRC), which focuses on providing healthcare, education and aid to people affected by crises, said the lack of teachers means students are often placed immediately into regular classes instead.
"In many schools, it's just one or two people who are responsible for refugee students," he said.
Mr Klaus Köther, 41, a teacher in Bonn city in western Germany, said having refugee students, who often have different language capabilities, in a class may require more planning on the teachers' end.
"You have to give them tasks that fit their language level," he added.
Mr Köther teaches philosophy in Bertolt-Brecht-Gesamtschule, a comprehensive school for students aged 10 to 19.
About half of Mr Köther's classes are made up of refugees and migrant students. The latter group came to Germany due to their parents' work or other reasons.
Some schools try to overcome the language barrier by hiring migrant and refugee teachers, who can double up as translators.
Bielefeld University's one-year programme, Project Lehrkräfte Plus (Project Teachers Plus), sends teachers with a refugee background to schools for six to seven weeks, as part of its hands-on training.
"We cooperate with the schools and they're happy to get teachers from our programme because they bring various languages and cultural diversity with them," said project coordinator Sabrina Hermann, 42.
But that does not mean a shared tongue is all the teachers need to connect with refugee children.
Ukrainian teacher Valeriia Skisova, 24, came to Berlin in April when Russia invaded her country.
She now teaches part-time at four primary schools in Brandenburg. Her main duty is to help Ukrainian children adjust to German schools, by speaking to each child about their troubles for an hour when she is in school.
It is not an easy task.
"The way they teach in Ukraine and here is very different, which makes it difficult for some foreign children to integrate," said Ms Skisova, who taught Ukrainian and Polish languages back home.
For instance, Zlata Antoniuk said she attended welcome class for three months, but it did not help her fit in with her class.
She said she was bullied a few times by her mostly German classmates, who mocked her for her "funny language".
She added that her teacher also did not help her out when she was stuck on learning certain German words.
"If we don't understand something, we're given books and told to learn German," said Zlata. "(My teachers) don't give us enough attention and speak only in German."
But teachers are trying their best, said Mr Altindag.
His work with IRC includes holding Healing Classrooms sessions in schools, a pilot project by the IRC that allows teachers to talk about their issues in a safe space and deal with their stress.
The stress might stem from the uncertainty of what to do when handling refugee students, and the challenges they face in a new environment after a largely traumatic experience leaving their homes.
"It's not that teachers don't want to support the new students. But there's no real clarity on how to do so," he added.
Mr Köther said teachers play a critical role for refugee students who view them as more than just people who impart knowledge.
"Pupils spend most of their days in school and often teachers are the first and most stable adult contacts they have in Germany," he said.
"You're like the door opener in a way – you can show them the possibilities and make them think about what they really want."