#trending: Japanese tailor climbs Mount Kinabalu in full suit and tie to promote clothing brand
Mr Nobutaka Sada, a tailor from Japan, has gone viral for climbing to the top of Mount Kinabalu in full business attire.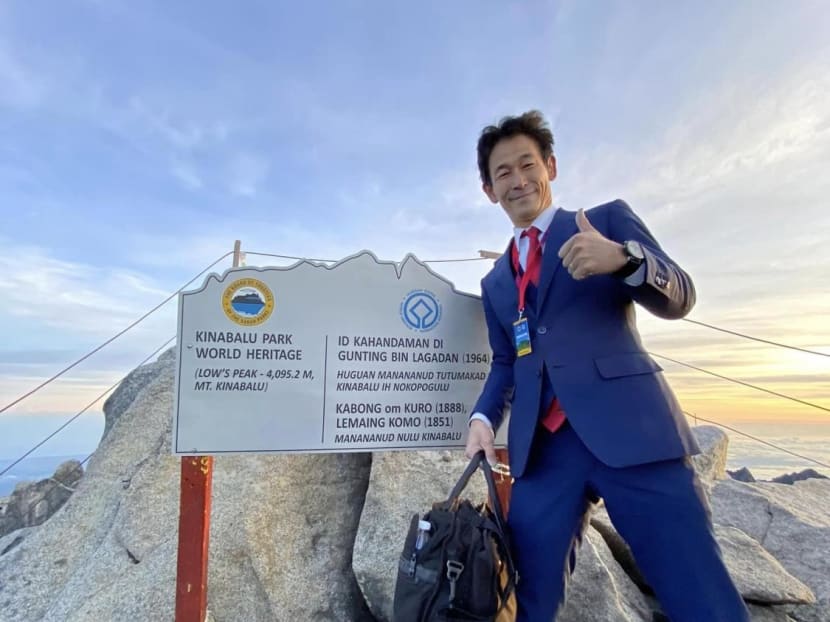 Mr Nobutaka Sada, a tailor from Japan, has gone viral for climbing to the top of Mount Kinabalu in full business attire
TikTok videos of him making the climb were posted by fellow hikers who were amused by the unusual sight
The man later revealed on Facebook that the hike was part of a promotional stunt for his suit tailoring business
Online users praised Mr Sada for the innovative approach to marketing his brand
SABAH, MALAYSIA — A Japanese man has gone viral for taking marketing for his tailoring business to the next level: 4,095m above sea level, to be exact.
Decked out in a full three-piece suit complete with dress shoes, a briefcase and an office identity card, 49-year-old Nobutaka Sada was spotted scaling Malaysia's highest mountain Mount Kinabalu on Wednesday (March 22).
Videos of the Japanese tailor making the climb were posted on TikTok by fellow hikers who were amused by the unusual sight.
In a clip posted by user "iceemin123", Mr Sada sticks out like a sore thumb in his navy-coloured business suit as he walks up a narrow trail alongside other climbers in hiking gear. While the people around him are seen trudging along with trekking poles in hand, Mr Sada marches on steadily while gripping the strap of his messenger bag.   
The video — which has chalked up more than 317,000 views and received more than 1,100 comments at the time of writing — had a cheeky caption that read: "(On the way) to a meeting on top of the mountain." 
One top comment read: "This is the real meeting with higher-ups."
Another quipped: "Maybe the name of the meeting room was Kinabalu."
In another TikTok video by mountain porter "Rogonnabalu_25", Mr Sada is seen resting on a boulder. When asked where he is going, Mr Sada answers that he has a meeting to attend at the top of the mountain. The two men then wish each other good luck for the rest of the hike before parting ways.
Mr Sada is later captured taking in the stunning views after completing his climb in another TikTok video by user "Yokujr". The Japanese businessman seems completely unfazed by the cold weather and strong winds, a huge contrast to the other hikers seen bundled up in thick clothing behind him.
After the hike, Mr Sada shared pictures of himself posing on the mountain summit on Facebook. 
He recounted his experience spending the night in a mountain hut, climbing his way up under the starlight and reaching the summit in time to witness sunrise.
"We climbed an altitude difference of 2,300m in tropical humidity and rain, but Sada's custom-made suits kept us up to the level of being able to attend a business meeting! It is safe to climb Mount Kinabalu in Sada's bespoke suits," he said.
Sada is Mr Sada's eponymous suit tailoring business, of which he is the president and chief executive officer, the company's YouTube channel states.
Mr Sada's Facebook post has attracted more than 13,000 reactions and 4,400 shares.
Many social media users congratulated the man on his successful climb and praised his innovative approach to promoting his brand. 
One Facebook user wrote: "Now that's a power suit. Japanese innovation at its peak (pun intended)."
Another wrote: "An example of a successful entrepreneur. Doesn't need advertising, just needs to go viral." 
Mr Sada's marketing stunt seems to have worked.
Some Malaysian online users have expressed interest in acquiring a Sada suit, even enquiring about the company's international delivery options.
Someone asked on Facebook: "Do you have a shop in Malaysia, sir?"
Another asked: "Where can I get that suit?" 
This was not the first time that Mr Sada has gone to the extreme to demonstrate the quality of his suits.
He regularly posts content on his YouTube channel showing himself taking on various physical challenges such as skiing in Hokkaido, diving in the Genkai sea and running the Tokyo Marathon — all while dressed in a suit, vest and tie.