S'pore chose principles, not sides in Ukraine conflict: PM Lee
NEW YORK — Singapore did not pick sides but chose to uphold principles in its decision to impose sanctions against Russia, said Prime Minister Lee Hsien Loong in New York on Friday (April 1).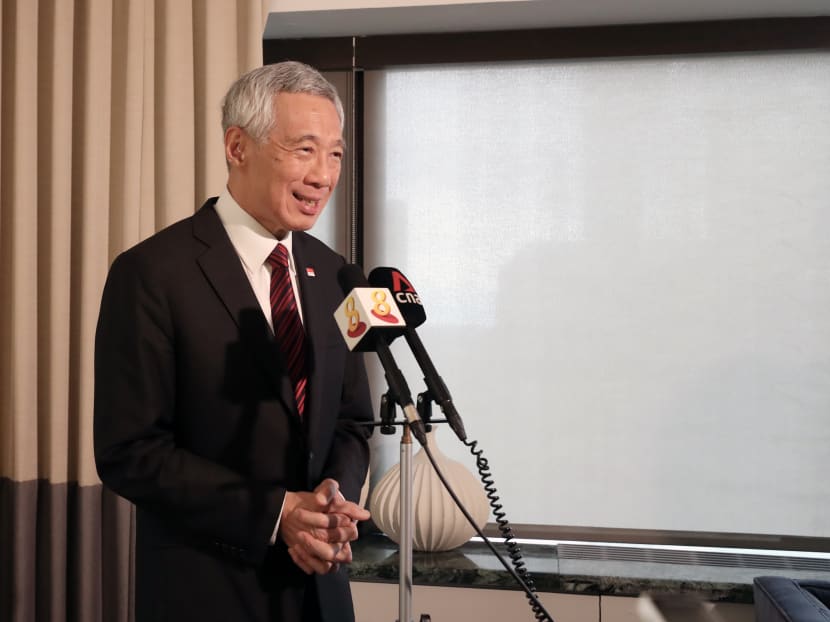 Singapore did not pick a side, but took a principled stand against Russia's actions, said PM Lee
It has done so consistently in the past, including in 1983 when it voted against a US-led invasion of Grenada
He was speaking to Singapore media at the end of his week-long working visit to the US
Singapore must look to its defences and most of all, the people's will to defend what is theirs
NEW YORK — Singapore did not pick sides but chose to uphold principles in its decision to impose sanctions against Russia, said Prime Minister Lee Hsien Loong in New York on Friday (April 1).
"You have to take a stand; you have to have the courage to do this," said Mr Lee. "Because if you do not do this and do not stand up, where will you stand if one day you need help? And you say, 'Please come, fundamental principles are at stake'.
"We have to protect that principle," Mr Lee stressed.
Mr Lee was speaking to the Singapore media at the end of his working visit to the United States, during which he spoke extensively on various occasions about the Ukraine conflict, which is now in its sixth week.
"One of the fundamental principles which we have always upheld has been the territorial integrity, independence and sovereignty of nations, and freedom from being attacked by other countries, which is enshrined in the United Nations Charter," he said, in response to suggestions that Singapore had taken sides in the conflict by sanctioning Russia.
That is what is at stake in Ukraine, he said. "And that is what is at stake every now and again, when such an incident arises between different countries," Mr Lee said.
Mr Lee noted how Singapore has consistently done so in past armed conflicts, voting in the UN against actions that go against these fundamental principles, such as the invasion of Cambodia by Vietnam in 1978, and the US' invasion of Grenada in 1983.
The US had led a coalition of six Caribbean nations to occupy the island nation in order to depose its Communist government which took power after a coup in 1979.
Mr Lee said Singapore voted against the US at the UN, not because the Republic is an enemy of the US, but because Singapore cannot approve of their actions and cannot endorse or condone such violation of the sovereignty of another country.
"That is a reason why we have stood up on the case of Ukraine," said Mr Lee, adding that he sought to explain this basis for Singapore's principled stand to the people he met while in the US.
Condemning Russia's actions, Mr Lee said the invasion was "such an egregious, flagrant, and major violation of the international norms and with such a major consequence for the global order".
Singapore had imposed sanctions against Russia at the start of its invasion of Ukraine to inhibit Russia's ability to do harm to Ukraine, including export controls, sanctions against Russian financial institutions and blocking transactions.
The Republic did so unilaterally after Russia vetoed a UN Security Council draft resolution in February to end its military offensive against Ukraine, which would have resulted in sanctions against Russia if it had passed.
Mr Lee had met with US President Joe Biden and Vice President Kamala Harris during his visit, as well as other lawmakers including a bipartisan delegation of US congressional leaders.
On Friday, Mr Lee also met UN secretary-general António Guterres in the UN headquarters in New York "to show his support for the leadership and the work of the UN, particularly at a time when multilateralism is being tested", his press secretary Chang Li Lin said.
WHAT THE WAR MEANS FOR SINGAPORE
Asked for his take on how the Ukraine war was unfolding, Mr Lee said the conflict has turned out to be a much tougher fight than what people had initially expected, and that both sides of the conflict are not close to reaching an arrangement that would bring about peace yet.
"What it means for us, of course, is as a small country, you have to look to your defences — arm forces, build up the capabilities, well-equipped," he said.
"Most of all, with that will. 'This is my home, I am going to fight for it, if necessary and willing to die for it.' It is that will to defend what is yours and to defend your family and friends that keeps the Ukrainians going and that Singaporeans must have, if we are going to keep ourselves safe in this world," Mr Lee added.
What is also needed are developed institutions in the Asia-Pacific that are able to head off hot conflicts, he added.
Reiterating a point he made earlier at a dialogue on Wednesday, these platforms include the Asia-Pacific Economic Cooperation, the East Asia Summit, as well as the US-led Indo-Pacific Economic Framework.
Said Mr Lee: "We are doing our part to encourage that, but that is something which requires many participants. And to the extent that we have influence, we try to encourage other countries to go in that direction, which is one of the reasons why I am here in the US."
FRAUGHT US–CHINA TIES
Mr Lee said he hoped the US would also improve their relations with China, which he believes would be strained by the conflict in Ukraine.
"The US-China relationship, I think, is fraught – everybody can see that. The issues are difficult. The communication channels, I think they exist, but I am not sure whether they are up to the very demanding subjects which need to be discussed," he said.
Summarising his meetings with the various US leaders, Mr Lee said there is a "certain continuity in basic attitudes" towards China throughout the US "because the mutual trust and confidence is lacking".
"That is a very difficult problem to overcome. But it is something which they are very seized with, and I gave them my views and I was very interested to hear their perspectives. And I hope that it will be possible to make things gradually turn in the right direction," he said.