Thousands rally in KL for Malay rights, showing race and religion still matter in Malaysian politics
KUALA LUMPUR – As early as before sunrise, they came, gathering first in the nearby National Mosque to pray. By the time they dispersed at 5pm on Saturday (Dec 8), over 50,000 people had gathered. They had one message: Malay rights will continue to be preserved, and Islam will continue to be its national religion.
KUALA LUMPUR – There were those who walked. Some drove. Others boarded buses or trains, or even flew in.
Ethnic Malays from all over Malaysia were converging on one spot: The Dataran Merdeka or the Independence Square, a historic landmark.
As early as before sunrise, they came, gathering first in the nearby National Mosque to pray. By the time they dispersed at 5pm on Saturday (Dec 8), over 50,000 people had gathered for the rally, which was peaceful from start to finish. 
They had one message: Malay rights must continue to be preserved, and Islam must continue to be Malaysia's national religion.
The rally was inspired after the Malaysian government said in October that it plans to ratify the International Convention on the Elimination of All Forms of Racial Discrimination (ICERD), in line with the election manifesto of the ruling Pakatan Harapan (PH) coalition. 
The government's announcement came after Prime Minister Mahathir Mohamad told the United Nations General Assembly in September that his new government would ratify all remaining UN human rights conventions as part of its international commitments.
Malaysia is among 14 countries in the world that have not signed or ratified ICERD, alongside others such as Brunei, Myanmar and North Korea.
With close to 70 per cent of Malaysia's population being ethnic Malays, the move by Dr Mahathir's administration prompted an outcry from Malay groups, much like its earlier decision in June to appoint a non-Malay to be the country's attorney-general.
Ratifying ICERD would mean seeing all races as equal and would require amending Article 153 of Malaysia's constitution, which specifies that the Bumiputras – indigenous Malays – will have privileges over other races. 
Following the backlash, the Prime Minister's Office made a U-turn on Nov 23, stressing that the country will not ratify ICERD and will defend its constitution.
The move left human rights and anti-discrimination supporters fuming. They had planned to organise a similar rally on Saturday afternoon, but was told to postpone it due to safety concerns. That rally will take place on Sunday morning instead.
Photo: Najeer Yusof / TODAY
The U-turn by the Malaysian government, which critics described as "embarrassing", did not stop organisers of the anti-ICERD rally from proceeding.
It has morphed from a protest to a celebration by Malay-based groups and opposition political parties, while underlining the continued importance of race, religion and bumiputera rights in Malaysian politics.
With the roads of nine areas blocked, they were filled by Malays dressed largely in white, chanting "Hidup Melayu" ("long live the Malays" in the Malay language) and "Allahu Akhbar" ("God is great" in Arabic).
Some wore the traditional Malay attire, with the males donning a headpiece known as a "tanjak", typically adorned by Malay warriors. Others carried flags inscribed with Quranic verses.
Several stalls mushroomed selling T-shirts, cotton face-masks and headbands imprinted with various slogans in Malay. Among them: "Fight back against ICERD", "PH is a failed government" and "ICERD threatens the position of Islam and Malays".
Nasrul Haniff, 31, and three of his friends drove for close to three hours from the state of Pahang to Kuala Lumpur. It matters that they are here, he added.
"We want to make sure that the government does not make any more U-turns. Malay privileges and Islam are here to stay," said Mr Nasrul, who works at a chemical plant. "Do not provoke us."
But given that ICERD is focused on ending discrimination against races, why is Islam in the equation? Mr Nasrul and several others who spoke to TODAY said: "Malay is synonymous with Islam."
Mr Nasrul added: "Touch one of them and the other is affected."
Mr Mohd Johari Jumri, 35, who runs his own tailoring business and was dressed in a Malay warrior attire, said that he drove from a neighbouring town that is 30 minutes by car from Dataran Merdeka.
"The government is trying to undermine the position of Malays and Islam. We feel threatened by it," he said. "We are pushing back against them. The day they revoke our privileges, all hell will break loose."
By 4pm, the blue sky turned grey. The scorching heat was replaced by a cool wind. Soon, some made their way to the nearest Light Rail Transit station to avoid getting caught in the rain.
Meanwhile, two leaders of the country's biggest opposition parties stepped onto the stage to galvanise the crowd. Mr Ahmad Zahid Hamidi, the president of the United Malays National Organisation (Umno), said the rally illustrates that if provoked, "we will rise to show that we are united".
Housewife Salamiah Don, 52, who took a five-hour bus ride with her husband from the state of Perak, was seen nodding in agreement. "We can live harmoniously with other races. We have done that. Whatever we have, we share with the other races," she said.
"All we ask is not to disturb our position in the society. Look at China, the Chinese have more rights than the minorities. So, why can't the same thing happen here?"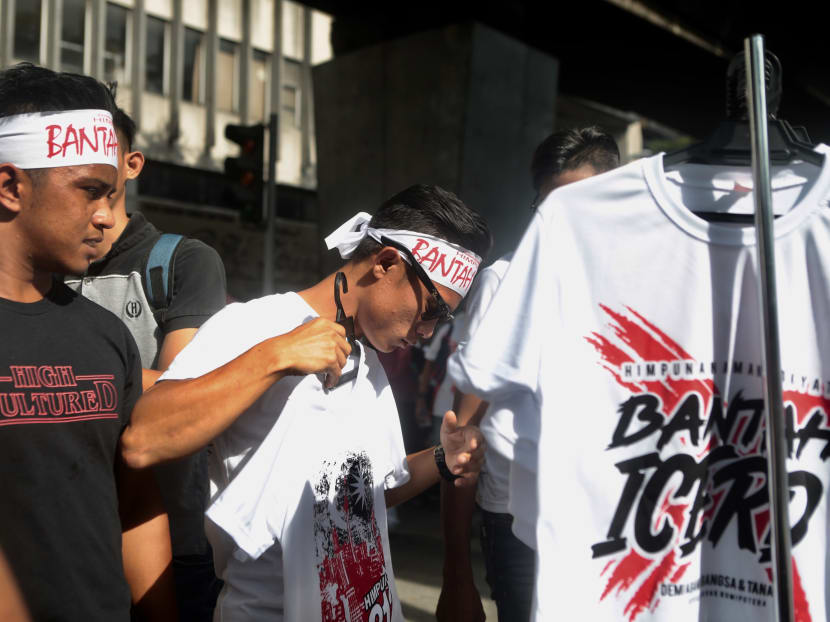 Participants in the rally included supporters of Umno and Parti Islam Se-Malaysia (PAS). Umno is the lynchpin party of the Barisan Nasional coalition, which had governed Malaysia in the last six decades until it lost in the May 9 election to PH.
Once bitter foes, Umno and PAS have been warming up to each other in an attempt to forge an alliance against the PH government. 
As race and religion reared their ugly heads once again in Malaysia, the rally gave them a renewed cause to band together as they seek to regain relevance.
With supporters waving the parties' flags in the air, Mr Zahid said: "Umno and PAS work together over Islamic issues and over issues related to the Malays… I agree with PAS' president that it's more than just a political alliance, but it's an alliance of idea."
PAS president Abdul Hadi Awang told the crowd that the "rise of the people today is really powerful". He added that non-Malays should be grateful to Malay Muslims for being welcomed to the country.
"The migrants were brought here by the colonialists, and it is the compassion of Muslims that accepted anyone... How else could small families of Indians and Chinese live and be treated well in Malay-majority Kelantan and Kedah?" said the 71-year-old Islamist.
"But now there are political parties that want to show off with their simple majority… a victory that came from us."
As Mr Hadi wrapped up his speech, it was already drizzling, but the majority of the crowd did not budge.
Wearing flimsy plastic raincoats and armed with umbrellas over their heads, they continued to march up and down the roads, chanting and posing for photographs.
Though the rally was slated to end at 6pm, organisers told the crowd to disperse by 5pm. They said "it is time to end the rally and go home", adding: "We have made our voices heard."
Despite earlier concerns of possible trouble, Saturday's rally was peaceful.
Food vendor Syabysobree Mohd Yusof, 29, said the calm situation was a reflection of Malay and Islamic values. "We are very peaceful in nature. We are kind, loving and sharing," he added.
"We do not disturb others and all we ask is for the current government not to disturb our rights."