#trending: 'Mean girls' in Italy, US face backlash on Tiktok, doxxed after videos of bad behaviour go viral
SINGAPORE — Hell hath no fury quite like an angry Internet. Five women recently experienced the consequences of getting on the bad side of netizens, after two TikTok videos exposing their bad behaviour in separate incidents went viral online.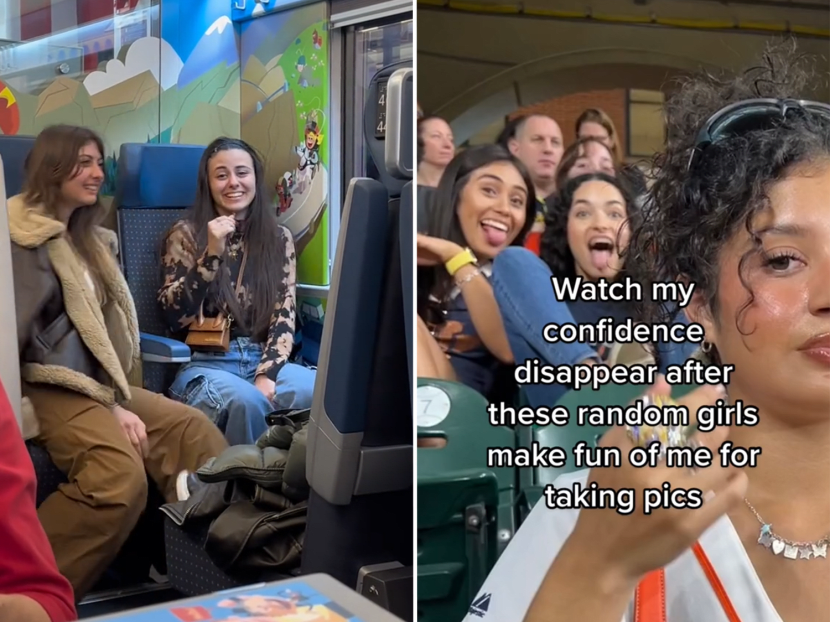 Five women recently faced fierce backlash after their bad behaviour was caught on camera in two separate viral TikTok videos
In one video, three Italian students were recorded being racist to an Asian American family on a train
Another video captured two women making fun of an influencer taking selfies at a baseball game
The "mean girls" were slammed by the online community and their personal information subsequently leaked
SINGAPORE — Hell hath no fury quite like an angry Internet.
Five women recently experienced the consequences of getting on the bad side of netizens, after two TikTok videos exposing their bad behaviour in separate incidents went viral online.
In addition to receiving public backlash, personal information of the women including their identities, social media accounts, places of work and schools were tracked down and posted online, exposing them to direct hate.
ITALIAN STUDENTS MOCK ASIAN FAMILY ON TRAIN
In the more recent of two incidents, three Italian university students were captured in a viral video mocking and laughing at an Asian American family on a train.
TikTok user Mahnoor Euceph said that she was on vacation in Italy with her half-Chinese boyfriend, his Chinese mother and Caucasian father when they encountered the three women on the train from Lake Como to Milan on April 16. Ms Euceph herself is Pakistani.
In the recording, the female trio can be seen laughing as they repeatedly say the words "ni hao" (hello in Mandarin) while staring in the direction of Ms Euceph and her group.
Ms Euceph claimed that the women had been more "obnoxious" and "aggressive" before she began filming them.
"Never in my life have I experienced such blatant racism. My boyfriend said the same thing. I expected better from the younger generation," she wrote in the video's caption.
"After I shared this on Instagram, many of my Asian friends shared their stories of experiencing racism in Italy and Europe. America may have its race issues, but Europe is 20 years behind."
The video was uploaded to TikTok on Monday (April 24) and has since chalked up more than 19.6 million views. 
Many online users expressed sadness and disgust over the students' actions, while others shared that they also had experienced racism while in the country.
One person wrote: "The fact that they think being a mean girl is what, cool? It's sad. Karma will spin the block."
Several commenters called for the Internet to "do its magic" and expose the identities of the women.
Not surprisingly, the Internet delivered.
Just two days later, Ms Euceph reposted the same video but with the TikTok and Instagram accounts of the students as well as their universities.
UNIVERSITIES RELEASE STATEMENTS, A STUDENT APOLOGISES
Following the viral incident, all three universities the women allegedly attend in Milan released separate statements on their official Instagram accounts to condemn the actions of their students.
IULM University, Università Cattolica del Sacro Cuore and The University of Milano-Bicocca reiterated their schools' values of respect and inclusion, and rejected all forms of racism and discrimination. 
IULM University, however, stated that it will not be expelling the student involved as the institution believes that "the ultimate goal of a university is not to punish, but to educate its students".
"Our student involved in the video that went viral has spontaneously and publicly apologised for the gesture she made, taking full responsibility for her actions. 
"To those who have called for her expulsion from the university, IULM replies that, just as our university condemns all forms of racism, we cannot tolerate such fury, which hides within itself the equally serious germ of totalitarianism," the statement read.
In a third TikTok video on Wednesday, Ms Euceph updated that one of the students had reached out to her via direct message on Instagram to apologise. The woman claimed that she had "no intention of making fun of (Ms Euceph), let alone (her) ethnicity or nationality."
The student, identified as Margherita Gentile, wrote: "I assure you that we repudiate racism just as much as you do and I think that all the tags and the comments we're receiving are just carrying it forward rather than opposing it.
"The hate and the bullying we're receiving are just giving real racist people the chance to pour their hate on us without hearing explanations."
Ms Euceph found the apology to be insincere and accused the woman of "trying to manipulate and gaslight" her.
"You and I both know that the worst of your behaviour is not even on the video," she replied. 
"Next time I hope you'll think twice before you scream 'ni hao' at Chinese people or call a brown person a monkey or try to intimidate and mock foreigners.
"You ruined your personal reputation and as a representative of your country, you ruined your country's reputation. You also ruined our trip… I hope you will learn from this and take responsibility for how you acted."
Many viewers agreed with Ms Euceph, saying that the woman was "only sorry for getting caught". 
WOMEN MOCK INFLUENCER FOR TAKING SELFIES AT BASEBALL GAME
In a similar case of bullying caught on camera, two women were captured mocking an influencer while she was taking selfies during a baseball game.
A TikTok user who goes by "jackielabonita" posted a video on Sunday (April 22) showing her posing for photos in the stands of a sports stadium. She later notices two women seated two rows behind her laughing and gesturing at her.
In the on-screen caption, "jackielabonita" wrote that her confidence disappeared after the "random girls" began pulling faces behind her. One of the women stuck her middle finger up at the camera and seemed to record the influencer on her own phone, calling her "lame".
"Jackielabonita" said that she felt "super self-conscious" and wanted to cry after she realised that the women were talking about her. In the video's caption, she wrote "Please be nice", and included the hashtags #meangirls and #meangirlvibes.
The TikTok video has amassed over 46 million views and counting. The two women have been dubbed the #astromeangirls, in reference to the baseball team, the Houston Astros, which they were apparently supporting at the game that day.
Although "jackielabonita" turned off the comments to her video, multiple online users have reposted the clip on their own accounts to weigh in on the incident.
One user said she was "hurt" seeing women being "mean" to other women while others called the women's behaviour "deplorable" and accused them of bullying.
The video has caused a stir on Twitter too, with even American rapper Cardi B giving her two cents.
Some online users went so far as to track down the identities of the women, exposing their social media accounts, home addresses and places of work online.
'MEAN GIRLS' RELEASE THEIR OWN VIDEO
On Wednesday, the two women came out with a video to give their side of the story.
Identifying themselves as college students Litzareli Madrigal and Alondra Poullet, the women said that it was "disgusting" how some netizens had leaked their personal information.
They also claimed that they were not bullying "jackielabonita" but had felt "uncomfortable" as the influencer's husband, who had allegedly been helping to take the video, had aimed the camera towards them for several minutes.
They also said that they received death threats following the incident. 
Although some viewers expressed support for Ms Madrigal and Ms Poullet, many did not believe their version of events and simply accused them of "gaslighting".
"Jackielabonita" has yet to respond to the women's claims.