Tired of your cubicle? Try a trade
​NEW YORK — After Hannah Grey of Pittsburgh earned an undergraduate degree in interior design, she spent several years working for an architectural firm as a commercial interior designer. "I enjoyed it," she said, "but it was definitely more of a desk job."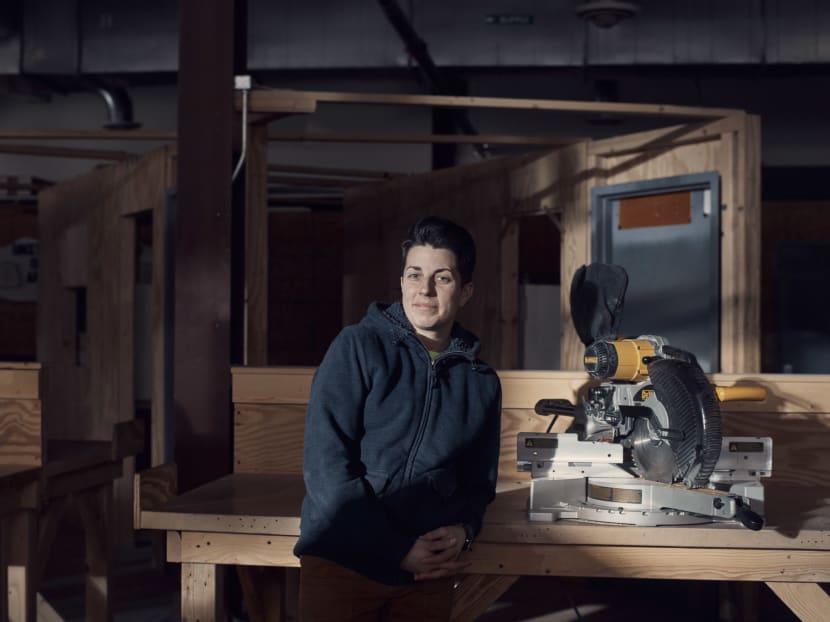 NEW YORK — After Hannah Grey of Pittsburgh earned an undergraduate degree in interior design, she spent several years working for an architectural firm as a commercial interior designer. "I enjoyed it," she said, "but it was definitely more of a desk job."
Then she participated in a workshop for architects and designers. "The basis of the programme was to show us how the blueprints we design actually translate to real life," said Ms Grey, 38. It kicked in her memories of growing up in Bedford, Massachusetts, in a mansard-style house built in 1840 and learning from her father how to repair and restore woodwork.
"It was a fun thing I did with him, working with my hands and helping him fix things," she said.
So in 2014 she decided to pursue a career as a carpenter, and she is now on the cusp of completing her fourth year in a carpentry apprentice programme at the Keystone Mountain Lakes Regional Council of Carpenters in Pittsburgh. Her skills fit the job: She is detail-oriented, which is crucial to making accurate cuts. She is adroit with hand-eye coordination and is at ease with the math skills required to gauge measurements.
Switching from a white-collar position to learning a trade is a path that is getting more traction these days. "I have met a lot of people in the programme who have college degrees, worked in office jobs and have decided to do this," Ms Grey said.
A report from the Bureau of Labor Statistics said that growth in the economy and population would increase demand for new buildings, roads and other structures, which would create jobs in construction and extraction occupations. That translates to a need for workers who have these skills in many regions across the country.
In western Pennsylvania, for example, nonresidential construction is booming, and there is no sign of lessening, said Jeff Nobers, executive director of the Builders Guild of Western Pennsylvania. "And starting in 2022, we're going to begin losing some 15,000 people over a five-year period to retirement."
Mr Nobers said he was seeing more people who had graduated from college and started a white-collar career moving into the trades. "They got out and worked for a few years and determined they didn't like what they were doing or realised there was no real upside future," he said.
Most transitioning workers learn the trade through an apprenticeship. These programs generally run from three to five years, based on a 2,000-hour year. That breaks down to 10 per cent in the classroom, or 200 hours a year, where apprentices learn specific trade skills along with local building codes, blueprint reading, mathematics and more. The bulk of their time, 1,800 hours, is on the job, Mr Nobers said.
There are people at all ages going through a career with a mundane job who have been unexcited about going into work and are looking at these skilled-trade jobs with increasing interest, said Bryan Kamm, a workforce consultant who is leading an apprenticeship programme in Florida's Cape Kennedy area called the Space Coast Consortium Apprenticeship Initiative.
"These manufacturing apprenticeships are no longer blue-collar work," Mr Kamm said, "but require highly technically advanced skills that include a great command of mathematics, physics, hydraulics, robotics and information technology."
United States employers have been saying for years that they have a tough time finding workers to fill many skilled blue-collar jobs. A 2015 report from the Manufacturing Institute, for example, found that 7 out of 10 executives reported shortages of workers with adequate technology, computer and technical training skills.
By 2025, nearly 3 1/2 million manufacturing jobs will likely need to be filled, and the skills gap is expected to result in 2 million of those jobs going unfilled, according to the analysis. Factors contributing to the gap: baby boomer retirements and economic expansion.
Employment of plumbers, pipe fitters and steamfitters, for instance, is projected to grow 16 per cent from 2016 to 2026, much faster than the average for all occupations, according to the Bureau of Labor Statistics. New construction, building maintenance and the repair of homes and offices are expected to drive demand for these workers.
There is not a lot of hard data to suggest a big shift from white-collar workers into blue-collar jobs, but there is a strong push to recruit them.
"If you talk to manufacturers, they will tell you they are working hard to change the image of manufacturing jobs from dirty, dangerous jobs to being quasi-white collar," said Paul Osterman, a professor at the Sloan School of Management at the Massachusetts Institute of Technology and co-director of the MIT Sloan Institute for Work and Employment Research. "And today many of these workers need to be skilled with computers and statistical quality control processes. In some sense, manufacturing looks a lot more white-collar-ish than it used to."
Anthony Carnevale, director of the Georgetown University Center on Education and the Workforce, said there was not a clear pathway to go from white collar to blue collar. "You've got to have some transferability between the skills you did in one job that transfer to the next job," Mr Carnevale said. "For most people, there is very little transfer between white-collar work and, say, plumbing. There is some transferability, but it's rare."
Scott Lacerra, 37, of Rockford, Illinois, has a bachelor of science degree from Drake University, where he majored in finance. After college he worked as a credit analyst, but he said he was miserable crunching numbers on a spreadsheet all day and sitting in a cubicle.
Three and a half years ago, he walked into a local manufacturing shop looking for new opportunities.
He landed the job at RG Manufacturing and Machining in Machesney Park, Illinois, and soon enrolled in the employer-sponsored apprenticeship programme. He takes classes each weeknight in topics such as blueprint reading and AutoCAD at Rock Valley College, along with 20 other apprentices in the Rock River Valley Tooling & Machining Association programme.
Mr Lacerra started as a part-time operator running a computer numerical controlled heavy machine. Soon he was driving a forklift, making steel deliveries and training apprentices. "I didn't have any experience, but I showed up every day, and after a couple of weeks, I realised I really enjoyed it," he said.
In May, he will complete his apprenticeship and be awarded a journeyman certificate as a CNC precision machinist. "We pay for the classes and the books, which run US$650 (S$855) a class for 10 classes," said Ed Schroeder, the owner of RG Manufacturing and Machining. "He already had a college education, and people who have that can see the value in it and of striving to do more."
Ms Grey said that as a college graduate and someone who had a job at an architecture firm, she was very proud to tell people that this is what a woman in construction looks like. "It's not Bob the Builder," she said.
STARTING FRESH WITHOUT STARTING OVER
For Susan Golden, 64, flinging on a backpack filled with books and rambling around the Stanford University campus in Palo Alto, California, for a year in 2016 was "like drinking from a fire hose," she said. "There was so much to learn, so many classes and lectures I could attend."
She graduated that year from the Stanford Distinguished Careers Institute, operated in partnership with the Stanford Center on Longevity. Each academic year 25 fellows, who have had two or three decades of a successful career, are selected to attend the programme and to enrol in classes across the university.
Ms Golden had been a partner in a venture capital firm that specialised in health care investments and took a break to care for her two daughters and ageing mother. "For me, the programme was an ideal way to restart my career," she said. "It totally reset my clock, and I felt like I was in my 20s and 30s again."
Harvard's Advanced Leadership Initiative, a yearlong programme for corporate executives and professionals interested in applying their skills to social problems, operates with a similar concept. The programme's fellows (for 2018, 48 were selected from more than 550 applicants) get to audit courses at the university and its graduate schools and develop independent projects with professors and fellow students.
Rosabeth Moss Kanter, a Harvard Business School professor who is director of the leadership initiative, said the programme was started "to deploy a new leadership force of people transitioning from their main career to their next years of service."
Todd Fisher, 52, a fellow in Harvard's programme, was ready for a new challenge. He was a global chief administrative officer and partner of the private equity firm Kohlberg Kravis Roberts & Co and, he said, "I wanted to fundamentally shift my career."
When Mr Fisher turned 50, he heard about the programme and started to make his plan. "I was nervous about finding my new career," he said. "I'm the type of guy who wants to go get things done. I felt it would be valuable for me to be in a stimulating environment, where I had to develop different routines and to detox, or reprogram."
This semester, Mr Fisher is enrolled in a course on community colleges and another on leaders and leadership in history at the Harvard Kennedy School. His aim is to figure out his "next direction, to have a little bit of fun, make some new friends and to broaden my perspective and life," he said. "I did not retire in the classic sense of the word. I do want to throw myself into something else: a true second career."
In addition to the Stanford and Harvard programs, there are a handful of other educational programs for Gen Xers and baby boomers eyeing a second act.
Later this year, for example, the University of Notre Dame will start the Inspired Leadership Initiative, a one-year programme for "accomplished leaders at the end of their careers."
The University of Texas at Austin will also welcome later this year its first cadre for its nine-month Tower Fellows Program for those who "have built a career of major accomplishments (20 to 30 years) and who now seek to deepen their knowledge and/or embrace new fields." THE NEW YORK TIMES