#trending: Chinese influencer, 34, dies within 12 hours of drinking 4 bottles of hard liquor during livestream
JIANGSU, CHINA — An influencer on Chinese short-video platform Douyin has died less than 12 hours after livestreaming himself downing four bottles of Chinese baijiu, a clear liquor with a very high alcohol content.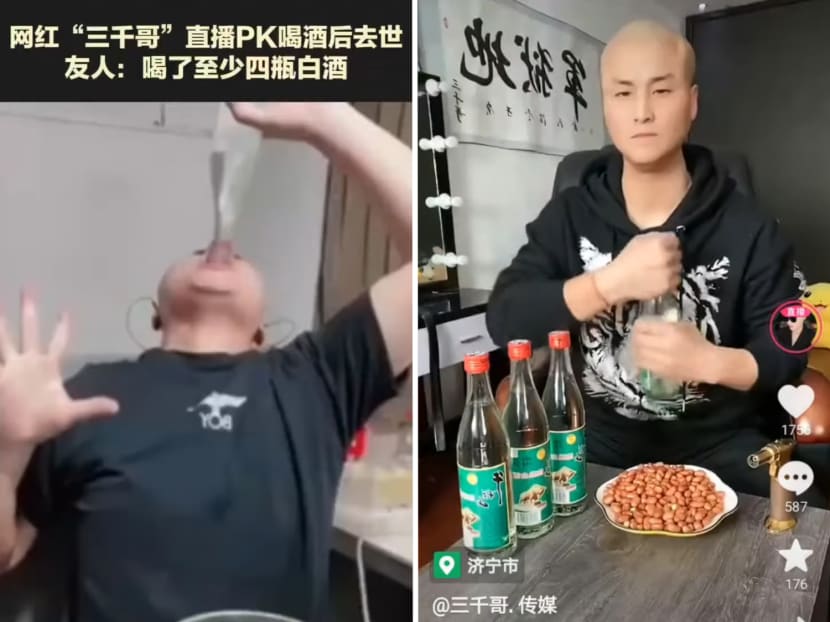 An influencer reportedly died within 12 hours of downing at least four bottles of the Chinese liquor baijiu while livestreaming
The 34-year-old man was reportedly engaged in an online contest with other drinkers
His death has reignited a debate over the ethics of livestreaming acts of self-abuse as online figures seek wider audiences
JIANGSU, CHINA — An influencer on Chinese short-video platform Douyin has died less than 12 hours after livestreaming himself downing four bottles of Chinese baijiu, a clear liquor with a very high alcohol content.
Wang Moufeng, 34, known as "Sanqiange" or "Brother 3000" on the platform, reportedly began a drinking challenge on the live broadcast at about 1am last Tuesday (May 16).
He was found dead at 1pm that same day in a friend's home.
Last Saturday, Shangyou News confirmed that Wang died of excessive drinking and had been cremated that morning.
The case has attracted huge interest in China and has provoked soul-searching over the ethics of allowing extreme conduct such as self-abuse on livestreaming platforms as online figures go all out to attract larger audiences.
HOW MUCH DID HE DRINK?
Though the original livestream, reposts and most of Wang's social media accounts have since been taken down, numerous media reports in China said that the influencer drank "at least four bottles" of baijiu during the livestream.
It is possible, however, that Wang drank up to seven bottles of the liquor, which typically contains between 35 and 60 per cent alcohol by volume (ABV). By comparison, rum and vodka contain about 40 per cent ABV.
A good friend of Wang's, known as Mr Zhao, told Shangyou News: "He was just PK-ing."
The term "PK" is an online gaming acronym for "player kill". In China, it is commonly used as a slang term to denote a showdown or challenge between multiple parties, similar to the word "versus" in English.
Another livestreamer known as "Grandpa Ming" started his own broadcast last Saturday afternoon, in which he described Wang's "PK" or live drinking challenge in detail.
"He played a total of four rounds of PK," Grandpa Ming said. "In the first round, he (drank) one. In the second round, he (drank) two, plus three Red Bull (the energy drink).
"In the third round, he didn't lose. In the fourth round, he (drank) four.
"In total, he drank seven (baijiu) and three Red Bull."
It is unclear what units of measurement Grandpa Ming was referring to in his comment. However, Mr Zhao, who said that he watched the end of the livestream, appeared to imply that Wang was drinking straight from 500ml bottles of baijiu.
Mr Zhao said: "I don't know how much he drank before that, but in the later part of the video, I saw him drink about four jin (2kg).
"First, he drank three bottles without throwing up, and then he drank the fourth bottle..."
Going by Grandpa Ming's account, Mr Zhao would have watched the last round of Wang's challenge.
Shangyou News also stated that a viral clip of this last round showed that Wang was "obviously a little unwell" after the first three bottles.
Instead of stopping, he simply pointed at the camera and said: "I decide my fate, not heaven", before downing the last bottle.
'NO CHANCE OF SALVATION'
Last Sunday, several unnamed sources who claimed to be Wang's former friends and classmates told Jimu News that Wang had left behind an elderly and ill father as well as a teenage daughter.
Wang was accustomed to drinking alone, Mr Zhao said, and this time was no different.
His friends called him a "very good person" who was straightforward and always made people happy. He attracted fans for being honest and not cheating during his live drinking broadcasts, but friends had reportedly been urging him to cut back on his alcohol intake.
Mr Zhao said: "Recently, (Wang) hasn't been drinking. When he has nothing to do, he just plays mahjong with his classmates and keeps healthy.
"He has already been trying to drink as little as possible, I don't know why he drank again on the 16th."
Media outlet Red Star Video reported on Tuesday that Wang had borrowed a neighbour's room in the late night of May 15 to do his livestream. Jimu News reported that this neighbour is one of his former classmates.
The next day, the neighbour opened the door to find him lying face-down and motionless.
The incident took place in a private house in Qidaogou village, located in Guanyun county of Lianyungang city, Jiangsu province.
The director of the village committee known as Mr Lin told the media outlet that the house was just over 100m from Wang's own house, where he lived alone.
"He has always been like this," Mr Zhao said. "He can't keep people around. When there are people by his side, he can't help but scold them.
"When (his) family found him in the afternoon, he had already passed away. Not even a chance of salvation was given."
Wang's family members were not present at his funeral last Saturday. Mr Zhao said that they were all "very sad" and refused to attend.
Also absent: The competitor or competitors who had contested in the fatal PK with Wang. There is no information for now on how many other parties were involved or their identities.
WHO'S TO BLAME?
Since the news broke last Saturday, the hashtag #网红三千哥直播PK喝酒身亡# ("Internet celebrity Sanqiange livestreams PK drinking and dies") has received 7.6 million views on Chinese microblogging site Weibo.
Similar older videos of Wang chugging multiple bottles of baijiu consecutively have also resurfaced, reigniting a debate on the ethics of livestreaming and social media platforms.
In recent years, the rise of livestreaming in China has led to more acts of self-abuse — overeating or drinking, high-altitude parkour and even self-mutilation — in order to gain attention and engagement from viewers.
While many online users felt that the livestreamer "deserved it" for his irresponsible actions, others felt that it was "obviously the responsibility of the platform" to moderate or prevent such content.
One top comment on Weibo read: "Although the liquor was drunk by himself and not poured (down his throat) by others, I think it is this era of abnormal development and self-media that indirectly killed him.
"For this kind of life-threatening live broadcast room, shouldn't the platform intervene immediately?"
Under Douyin's livestreaming code of conduct, consuming liquor during a live broadcast is a "level three violation".
This gives the platform the right to give warnings, stop the broadcast or ban the livestreamer's broadcasting permissions for one to seven days. The platform may also impose restrictions on other account permissions and functions for this period.
However, several Weibo users claimed that Wang's original stream had been "blocked as soon as (a drinking scene) came out". Instead, he turned to other accounts to continue the live drinking broadcast and "fought guerrilla warfare" with those who tried to report him.
Another top post under the hashtag read: "For someone who wishes to die like this, you can't really blame the platform.
"All other things aside, with his (rapid-fire) drinking method, death from drinking is completely deserved."
Still, others felt that the entire phenomenon of social media and livestreaming has numbed not only content creators such as Wang to such dangerous acts, but also their viewers.
As one Weibo user put it: "The viewers are immoral and the ones who livestream drinking are also immoral."
At one point, more than 100 viewers were said to be watching Wang's stream. Yet none of them raised any concerns in the live chat.