#trending: Influencer shares daily routine as 'stay-at-home girlfriend' of multi-millionaire, gets mocked online
PUERTO RICO — Influencer Kendel Kay, 25, has gone viral on TikTok for her vlogs about her daily life as the "stay-at-home girlfriend" of a multi-millionaire entrepreneur. Many people have responded with criticism and derision, calling her life "dull" and "boring", with "no dignity".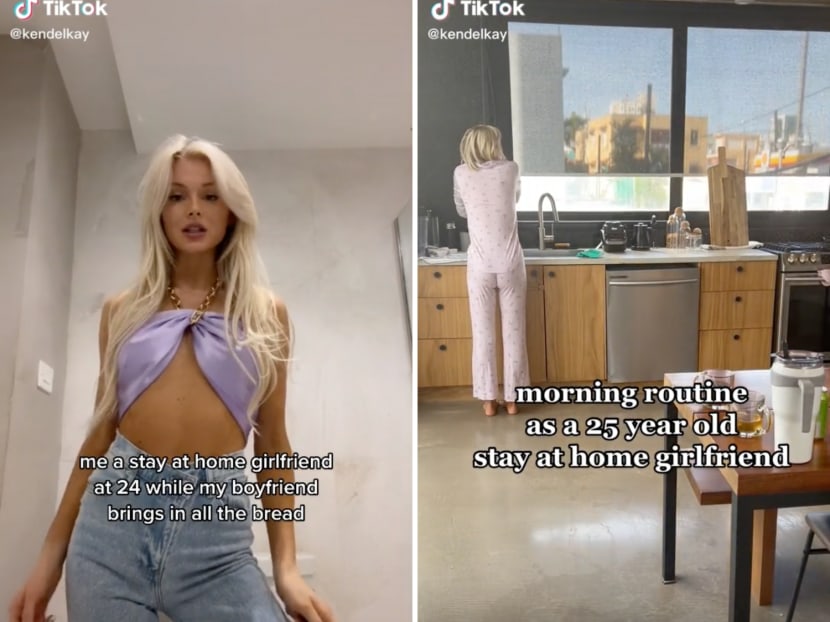 American influencer and model Kendel Kay, 25, has recently gone viral on TikTok for her vlogs about her daily life as a "stay-at-home girlfriend"
Some netizens are envious of her leisurely lifestyle, while others feel it is dull and unfulfilling
Her 22-year-old multi-millionaire boyfriend, Luke Lintz, said he has always believed in a "very 'traditional' relationship"
PUERTO RICO — American influencer and model Kendel Kay, 25, has gone viral on TikTok for vlogs about her daily life as the "stay-at-home girlfriend" of an entrepreneur whose net worth in 2021 was reportedly more than US$8 million (S$11.3 million).
Though she receives her fair share of envious comments for her seemingly carefree, self-proclaimed "life of leisure", many people have also responded with criticism and derision, calling her life "dull" and "boring", with "no dignity".
Her 22-year-old boyfriend Luke Lintz is the chief executive officer of HighKey Enterprises LLC, a digital branding company based in Puerto Rico, a Caribbean island that is an unincorporated United States territory. In his Twitter feed, he also states that he has investments in cryptocurrency and real estate.
The controversy began on Aug 17, when Ms Kay posted a TikTok video titled "Morning routine as a 25-year-old stay at home girlfriend". It went viral with 8.4 million views and 13,500 comments.
In the roughly one-minute video, Kay narrates a montage of the following activities:
Filling water bottles

Making a green juice for herself — presumably as sponsored content for a tagged health and beauty supplement brand — and an iced latte for Mr Lintz

Tidying the bedroom and making the bed

A "very long" 20-minute skincare routine and ice-roller facial massage

Five-minute journalling

Taking a walk on the beach to get coffee and working out with Mr Lintz
Making smoothie bowls and a matcha latte with supplements
Planning out the rest of the day in her planner
Online users quickly flooded the comment section with sardonic jabs at her routine, dubbing the video: "Morning routine as an unemployed person who does everything for Luke."
The term "stay-at-home girlfriend" also ruffled more than a few feathers, with one TikTok user commenting: "It's called unemployment... y'all want to glamourise everything with green drinks and lattes."
For some, rather than the apparent lack of a conventional job, it was the "boredom" of the routine that they took issue with, as half the video appeared to be focused on "a beverage tour".
One top comment joked: "Anyone else wondering what she writes in her planner?"
Another replied: "She writes which drink is next."
In response, supporters pointed out that this particular video showcased only Ms Kay's morning routine, and she might have gone on to work or partake in other hobbies later in the day. In this age of remote work, "stay-at-home girlfriend" is not necessarily inconsistent with some kind of employment.
Others also said that even based on the information in the video, calling her unemployed was inaccurate, since she earns her own income from content creation and sponsorships.
The model's Instagram account, her primary social media outlet, is now deactivated. It is unclear whether or not this was a deliberate move on her part.
Before the deactivation, her Instagram account boasted about 432,500 followers. She also maintains 424,600 followers on TikTok and 250,400 on Twitter.
On Wednesday (Sept 14), Ms Kay retweeted a cryptic tweet that hinted at the messy situation.
It reads: "Oversharing is how you leak the energy, privacy is protection. Stop telling people more than what they need to know. The less you reveal, the more people can wonder."
Despite the backlash, the young influencer has gone on to continue her "stay-at-home girlfriend" vlog series as she and Mr Lintz travel around different US cities. These videos more or less revolve around the same steps outlined above.
Speaking to British tabloid the Daily Mail, Ms Kay agreed that the original video was "pretty controversial".
"Some people highly disagree with my lifestyle choices and some people are backing me up and admitting they, too, wish they could live a life of feminine leisure," she said.
"Social media and content creation is how I create my income but it doesn't take up much of my time — I spend most of my time being a house girlfriend.
"My afternoons usually involve a long walk in the neighbourhood, some cleaning and making lunch for my boyfriend, Luke."
She also confessed that she has been "staying out of the comment section" as it is better for her mental health.
"I don't handle negativity well so I've restrained (myself) from reading the comments... sometimes ignorance is bliss."
As for Mr Lintz, who has 1.1 million followers on Instagram, he is a strong proponent of their "traditional" dynamics.
"I love Kendel being a stay-at-home girlfriend," he told the Daily Mail. "I've always believed in a very 'traditional' relationship.
"I believe the man in a relationship should be doing the masculine work and should make enough to provide for the household, while his woman can rest in her feminine energy."
The couple met on an influencer trip in Tulum, Mexico in 2020 and "have been together practically every day since", he added.