#trending: 'Metro guy' at World Cup in Qatar becomes internet sensation who is 'more famous than Messi'
Qatar's "metro guy" at the World Cup has captured the hearts of fans and tourists, with TikTok videos of him have massed thousands of views. In these viral videos, he was filmed giving directions with a foam finger and megaphone and calling out "metro, metro, metro". His fans said that his presence has brought smiles to many and lightened up the atmosphere.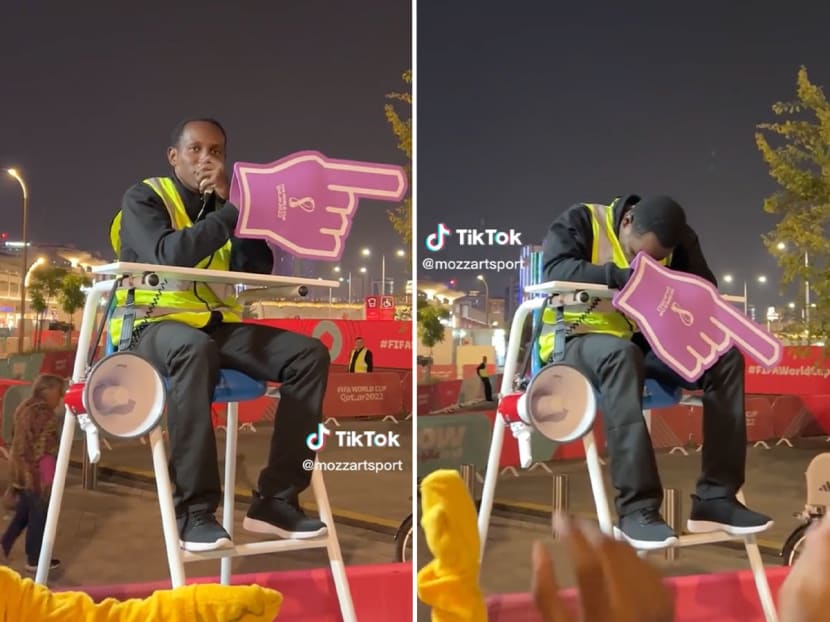 An employee tasked with the job of directing World Cup fans to a metro station won the hearts of tourists and fans for his enthusiasm in performing the job
Known as the "metro guy", the hashtag has been viewed 12.4 million times on TikTok and videos of him on TikTok has racked up millions of views
People were praising his ability to bring smiles to many, with some even paying him a visit in person to cheer him on
QATAR — Some fans watching the World Cup football tournament in Qatar were bowled over by a charming World Cup employee who quickly became an internet sensation. 
The employee, who was tasked to direct World Cup fans to the Souq Waqif Metro Station, became a hot topic online for his enthusiasm in performing the seemingly mundane job.
Sitting atop a high chair, the man, who is reportedly Kenyan, guided crowds towards the metro with a large foam finger while chanting the word "metro" on his megaphone with gusto.
People were enthralled by his enthusiasm, with countless TikTok videos being published on him. The hashtag "metro guy" — as he is dubbed — has been viewed 12.4 million times on TikTok. 
In many of the videos, the man is seen chanting "metro" animatedly, with a group of newfound fans echoing "this way" after him.
In another TikTok video, the "metro guy" seemed tickled by the amount of attention he was receiving, bursting into laughter as supporters cheered "metro, metro, metro" around him.
A mascot stands next to him waving towards the direction of the metro, while he resumes his chanting of "metro" to the loud cheers of fans. 
The TikTok account "metro_man001" that the employee started on Monday (21 Nov) has already exceeded 35,000 followers in three days.
In one of his videos, someone asked why he does not just play a recording of "metro" in a loop instead.
The man replied: "I have a pre-recorded one but I choose to speak with my voice." 
Adoration for the "metro guy" was evident, judging by the the comments sections of TikTok videos featuring him.
One TikTok user pointed to the number of people who had gone to see the man, taking selfies and filming him, fuelling his popularity on social media: "Came to Qatar to see Messi ❌ Came to Qatar to see Metro man ✅."
Another said that he is "more famous than Messi", referring to Argentinian footballer Lionel Messi.  
One user summed up why many people are loving the "metro guy": "This guy knows how to put a fun touch to your work! What a way to make fans laugh while showing them how to get to the subway."
Some people have even seemingly cosplayed as the "metro guy". A TikTok video showed a group of fans wearing bright yellow vests and pointing to the metro with light sticks. 
The World Cup employee was shown on social media being awarded for his efforts by his employers in an informal award ceremony. He was presented with gifts including a pair of sports shoes and what seems to be World Cup merchandise.
The heartwarming accolade for him came in the midst of controversies surrounding the World Cup in Qatar — including complaints about the accommodations and disputes on human rights issues.