#trending: Japanese mum convinces 9-year-old daughter to have double eyelid surgery to look 'beautiful'
KAGOSHIMA, JAPAN — A Japanese mother has come under fire for convincing her nine-year-old daughter to undergo an invasive double eyelid surgery to become more "beautiful".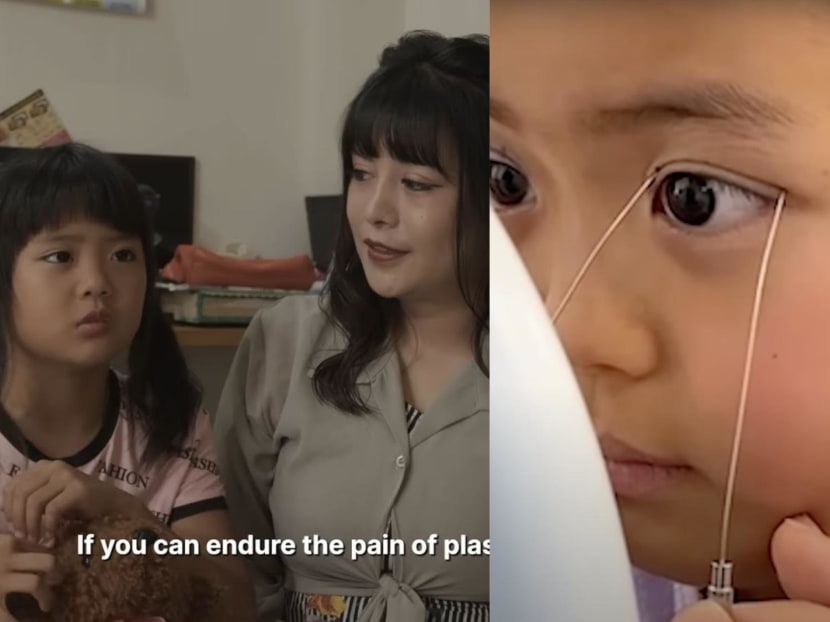 A mother has been slammed online for making her 9-year-old daughter go through a double eyelid surgery to look more "beautiful"
In an interview on YouTube, the woman insisted that girls "need" double eyelids as they are seen as the beauty standard
In Japan, it is legal for anyone under the age of 18 to undergo plastic surgery with the consent of their parents or guardian
Online users have dubbed her actions as "child abuse" and urged the mother to stop projecting her own insecurities and trauma onto her child
However, the woman has defended her actions and hopes for her daughter to undergo more procedures in future
KAGOSHIMA, JAPAN — A Japanese mother has come under fire for convincing her nine-year-old daughter to undergo an invasive double eyelid surgery to become more "beautiful".
The woman, who requested to be identified only by her online nickname "Rucchi", claimed in an interview with Vice World News' Deadly Beauty series that the feature was necessary to be considered attractive.   
"A girl needs double eyelids. I have never seen a girl with monolids who I thought was pretty," she told the programme, which explores dangerous beauty trends from around the world.
"Double eyelids are beautiful. Double eyelids are the beauty standard. I say this again and again."
The woman's views had clearly rubbed off on her daughter Micchi, who agreed to go under the knife because she believed her "narrow" eyes made her seem like she was always "glaring" at others. 
The mother reportedly urged her daughter to choose the more expensive option for her procedure — which required a surgical cut on the creases of her eyelids to trim sagging skin — instead of the less invasive option, Asian American news site NextShark reported.
Rucchi said: "Micchi wanted to make them look natural. But I thought if I was already paying 400,000 yen (S$3,916) for it, we might as well go all the way."
In Japan, it is legal for anyone under the age of 18 to undergo plastic surgery with the consent of their parents or guardian.
A video of Micchi's surgery was published on the mother and daughter's YouTube channel, where the duo regularly discuss plastic surgery and makeup.
In the video, the girl can be seen sobbing and having a panic attack on the operating table when the anaesthetic did not take effect. The procedure, which usually takes about 20 minutes, ended up stretching for more than two hours due to complications.
In spite of all that, Micchi claimed in the interview that nothing much had changed in her life after the surgery. Her mother, however, pointed out that people have approached her daughter to say that she looks "much cuter" after getting double eyelids.
MOTHER'S BELIEF ABOUT LOOKS
Rucchi, who is a mother to two girls and three boys, is convinced that the success of her daughters relies almost exclusively on their looks.
She recalled how, in the past, women in her neighbourhood would fawn over her younger sister due to her "amazing big eyes", while she was ignored because she had monolids.
"Everyone thought my younger sister was much cuter than me. Women in the neighbourhood blatantly called my sister cute and gave her sweets. I've never been told anything like that."
She believes that plastic surgery is a means to boost one's self-esteem and wanted to make her daughter's life easier by conforming to "an objective beauty and cuteness standard". 
However, Rucchi's stance on plastic surgery for her young daughter has drawn intense backlash from the general public.
She said that she had been accused of "child abuse" and being a "toxic parent".
Some comments on Vice Asia's video on YouTube urged Rucchi to stop projecting her own insecurities onto her child and advised her to seek therapy instead.
One viewer wrote: "That mother has projected all her insecurities onto her daughter and now (the girl) has internalised all of it and will be incredibly insecure for the rest of her life. Instead of telling her to be a good person or telling her to focus on school, she placed importance on her looks."
Another person said: "I'm speechless. And nauseated. If your own mother doesn't think you're the most beautiful child in the world, that there's still room for 'improvement', I really don't know how plastic surgery is going to benefit the child's self-esteem."
Despite the harsh criticism, Rucchi stands by her decision.
"What's bad about getting her double eyelids? I just wanted her to look cuter…You could say that she's a rank up now," she said.
Rucchi also admitted that not having plastic surgery was never an option for her daughters and insisted that plastic surgery is best done at a young age.
"I had plastic surgery when I was 18, but I wished I had done it sooner. If you do it at a young age, you lose your memory of being ugly before. You can make memories of yourself being cute with double eyelids from an early age."
She added: "If you do it later, people around you will call you out on it and say, 'Oh, you had plastic surgery'. If you do it when you're still small, people will think you've always looked like that."
Rucchi hoped that the double eyelid procedure would prevent her daughter from growing up with a complex about her looks.
Looking ahead, the mother said that she would like her girl to have a nose job and said that she would encourage her daughter to undergo breast augmentation surgery if she is ever unhappy with her chest size in future.
MINORS UNDERGOING PLASTIC SURGERY ON THE RISE
Micchi is among a growing number of children in Japan opting to go under the knife.
Toru Aso, a cosmetic surgeon in Tokyo, told Vice World News that he has personally witnessed the increase in minors visiting his clinic in recent years. 
"Ten or so years ago, I had about one underaged client a month. Now, I have one minor visiting every day," he claimed.
In 2021, a Japanese clinic found that nine in 10 respondents in their teens wanted plastic surgery to address their insecurities. This was an increase from about seven in 10 just two years before. 
The country is ranked fourth in the world for having the most number of plastic surgery procedures.