#trending: Muslim veterinarian in M'sia goes viral on TikTok for treating dogs despite stigma
SELANGOR, MALAYSIA — A Muslim veterinarian in Malaysia is challenging the stigma around treating and caring for dogs one TikTok video at a time.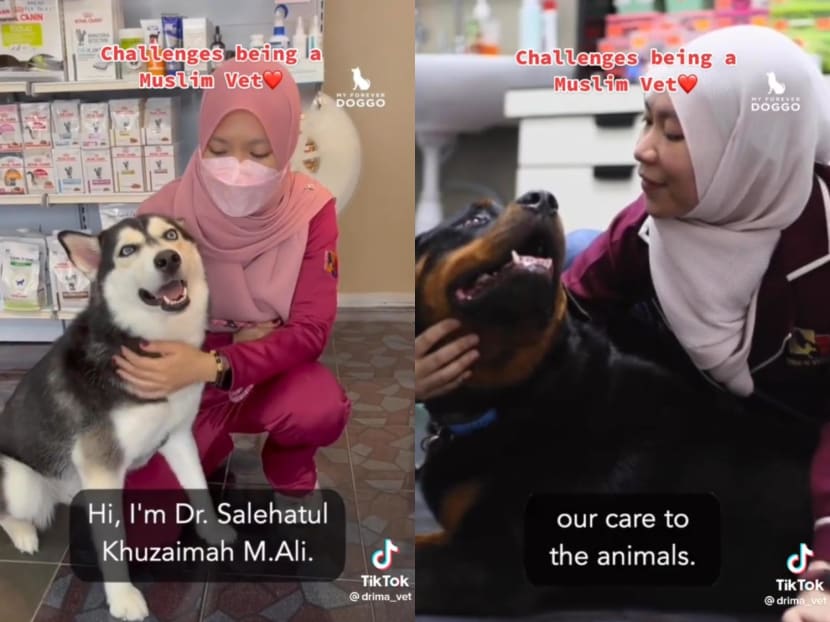 A Muslim veterinarian in Malaysia is taking the taboo topic of dealing with dogs head on via social media
Dr Salehatul Khuzaimah Mohamad Ali, or Dr Ima, had gone viral recently for sharing her experiences as a vet
This included how she handles dogs as a practising Muslim
Dr Ima's TikTok videos have been met with harsh criticism by some online users
Unfazed, the vet hopes that her videos will help educate the public and promote greater compassion towards the animals
SELANGOR, MALAYSIA — A Muslim veterinarian in Malaysia is challenging the stigma around treating and caring for dogs one TikTok video at a time.
Dr Salehatul Khuzaimah Mohamad Ali, or simply Dr Ima as she is known online, regularly shares content regarding her daily experiences as a veterinarian to her close to 280,000 followers on the social media channel.
Her TikTok videos cover a variety of topics — from doling out advice on how to care for pets, to debunking falsehoods regarding animals as well as videos on the treatments she carries out at her clinic, including how she handles dogs as a practising Muslim. 
In a recent interview with Malaysian dog adoption platform, MyForeverDoggo, Dr Ima discussed the challenges of being a Muslim vet.
Saying that treating animals is her passion, Dr Ima admitted that not every person would appreciate her "fight" to promote kindness and compassion towards dogs. 
"As a Malaysian, as a Malay, as a Muslim, we have been taught (that) touching dogs or having dogs is forbidden. If I'm not in this field, I probably would still have the same stigma as other people," she said.
Dr Ima confessed that she sometimes still feels afraid around the animal but will observe its body language to decide if it is safe to approach it.
The 37-year-old mother of three also revealed that the biggest challenge she faces as a Muslim vet who deals with dogs is the stigma.
HOLDING DOGS NOT A SIN IN ISLAM
The Islamic Religious Council of Singapore (Muis) has stated that touching and holding dogs is not against Islamic law and is not a sin.
However, any area that comes into contact with the animal's saliva or excrement has to be cleansed once with water that is mixed with soil, followed by clean water six times in a method referred to as "sertu".
Dr Ima's constant exposure to dogs' saliva or excrement as a veterinarian is often a point of contention for many keyboard warriors. However, she explained in the video that she had already consulted various religious scholars regarding the issue.  
"I will stand firmly on what I practise," she said.
Dr Ima goes on to claim that people who have a fear of dogs have a higher tendency of mistreating them, such as by throwing rocks at the animal or hitting them with sticks.
She also said that she receives a lot of harsh criticism from the online community because of the content she publishes on social media.
"There are certain people who ask me to change my job, or (say, perhaps) you can choose your patients," she recalled. 
"(Others say,) 'There are many other animals, why do you choose to treat dogs?'"
To this, Dr Ima explained that she cannot simply pick and choose the animals she treats, especially in emergency situations where she may be required to attend to the canines urgently.
Dr Ima, who runs two veterinary practices in the cities of Shah Alam and Bandar Sri Damansara, also expressed her hope that more Muslim vets will step forward to promote animal welfare in the future. 
"We are trying to educate our future generation. I hope I can be one (to) inspire people to at least show care to the animals," she said.
"If you don't like animals, it's okay but please don't harm them."
The video interview has chalked up more than 68,000 views since it was posted to her TikTok account "drima_vet" on Oct 9. 
Malaysian TikTok users from all races and creeds flooded the comments section to express their support for the veterinarian.
Many offered words of encouragement and urged Dr Ima to ignore her "haters".
One TikTok user wrote: "You are so professional in what you do, Dr. This topic is always so controversial in Malaysia but you educate us and (break) the stigmas." 
Another added: "Thank you so much, Dr. I am heartened and respect your thinking and principles. Dogs are also God's creations. I hope more people will think like you."
MUSLIM VET IN SINGAPORE
Dr Aidil Haziq Md Nordin, a Singaporean veterinary surgeon, also grapples with the taboo surrounding the handling of dogs.
In an interview with Malay current affairs programme Detik, Dr Aidil said that it was his "responsibility" as a vet to provide "the best" treatment for every animal in his care.
He revealed that he, too, performs the cleansing ritual after coming into contact with canines and that most dog owners here are generally accepting of a Muslim veterinarian caring for their pets.