#trending: Nun faces backlash for donating S$1.13 million instead of helping daughter in debt
CHINA —  A Chinese nun is getting heat online for refusing to help her daughter in debt and choosing to donate her wealth instead.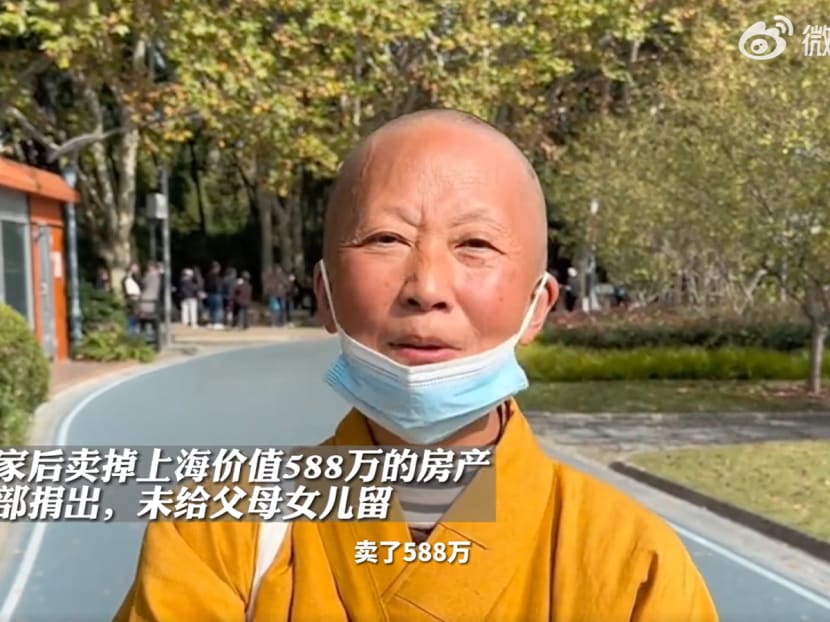 A nun in China has received backlash online for her refusal to help her daughter in debt but choosing to donate her wealth instead
In a viral video, the nun revealed that she had donated all the proceeds from the sale of her S$1.13 million property in Shanghai
Many criticised her actions, saying it is her responsibility as a mother to help her daughter before helping others
CHINA —  A Chinese nun is getting heat online for refusing to help her daughter in debt and choosing to donate her wealth instead.
In a video interview with a vlogger, the woman said that she sold her property in Shanghai for 5.88 million yuan (S$1.13 million) after she became a nun.
Without leaving a single cent for her parents or daughter, she donated all her money to charity.
She elaborated that her parents were empathetic towards her decision and said that it is her money and how she chooses to spend it is her "personal affair". 
However, her daughter was less understanding. The nun said that her daughter had gotten student loans for university and was planning to further her studies after graduation. 
"When she's older, she will get married and buy a house," the nun said. "So she hopes that her mother could support her financially." 
"My parents and daughter are still members of the secular world," the nun added.
That was why they reacted with "suspicion and unhappiness" when she decided to be a nun and donate her wealth.
The nun ended off the interview by saying that she is now living in "a quiet corner in the woods". 
The video, which has since received 12 million views within three days of posting on Chinese social media platform Weibo, had thousands of people debating about the nun's decision of not helping her daughter financially. 
The hashtag "Nun donates all of 5.88 million yuan without leaving a cent for family" on Weibo had 1.16 million views on Friday (25 Nov).
Social media users were split into two camps. Many felt that the nun should have supported her daughter financially since it is within her means.
One Weibo user said: "I don't agree with this approach. After all, you should take care of your children."
Another agreed, saying that "she (the nun) thinks she is selfless and sees (past) the world of mortals, but (she) doesn't even fulfil her obligations (as a mother)".
One other person remarked: "(She) can't even help her own family members, how can she help other people?" 
However, some Weibo users felt that her decision and belief should be respected.
One said: "This is a great (act of) kindness. We should support it with positive energy."
Others were less critical and a Weibo user said this of her actions: "She's a good Buddhist... but I don't know if she's a good mum."