#trending: Malaysian para-athlete says he was 'humiliated' by Qatar Airways staff member over travelling alone
KUALA LUMPUR, MALAYSIA — Malaysian para-athlete Daniel Lee said that he was left feeling "humiliated" after a recent interaction with a Qatar Airways staff member at Cairo airport who challenged his right to travel unaccompanied.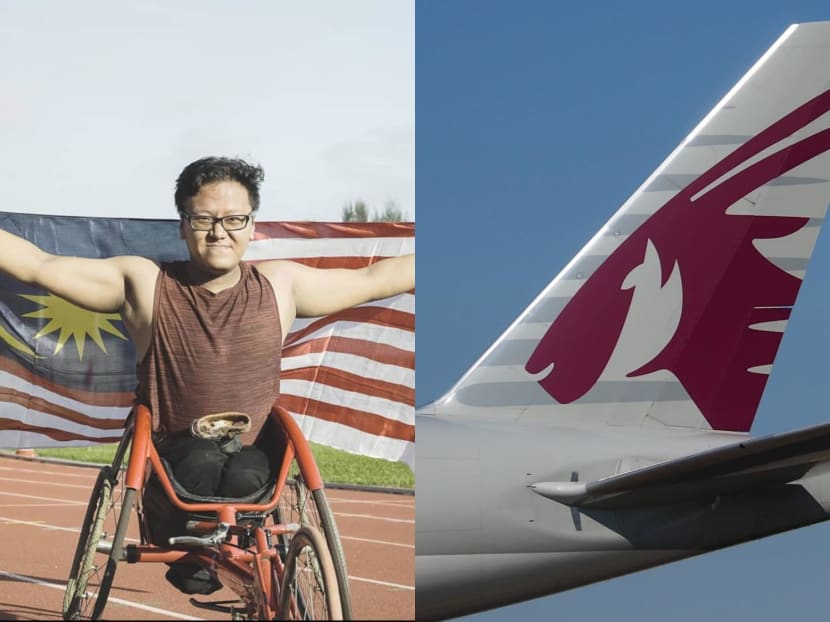 A Malaysian para-athlete has alleged on social media that he received discriminatory treatment from a Qatar Airways manager prior to a recent flight home 
The staff member had initially disallowed Mr Daniel Lee from boarding as he required an inflight wheelchair but was travelling without a companion
Despite Mr Lee offering to forgo the wheelchair, the manager was reluctant to allow him onboard claiming that it 'may not be safe'
Mr Lee said that the incident left him feeling 'humiliated'
KUALA LUMPUR, MALAYSIA — Malaysian para-athlete Daniel Lee said that he was left feeling "humiliated" after a recent interaction with a Qatar Airways staff member at Cairo airport who challenged his right to travel unaccompanied.
Recounting his experience in a lengthy Twitter thread last Friday (Oct 7), the 31-year-old wheelchair racer said that he has travelled on flights by himself for close to a decade without incident.
Mr Lee wrote that he was about to board a Qatar Airways flight back to Malaysia from Cairo, Egypt when a staff member he described as a "manager" from the airline asked him if he could walk on his own.
The manager then explained that a person with disabilities who requires the use of a cabin wheelchair must travel with a companion according to the airline's policy.
To this, Mr Lee asked the staff member if it meant that people with disabilities do not have the right to travel alone. 
The manager allegedly replied: "Not all disabilities (are banned from flying alone). Someone who's deaf can (do so)."
Mr Lee was then told by the manager that he might not be allowed onboard because it "may not be safe" for him.
'INSENSITIVE, DISMISSIVE'
Mr Lee claimed that while the manager maintained a friendly demeanour, he did not seem to be listening to Mr Lee's explanation. 
Mr Lee tweeted: "When I said he didn't understand my disability, he quickly retorted with 'I do!' before I could even tell him what it was. He simply asked if I could walk or not."
Mr Lee said that the manager then looked at his legs and pointed out that he could move them, seeming to imply that Mr Lee could walk.
Explaining his condition, Mr Lee wrote that he suffers from osteogenesis imperfecta or brittle bones disease as it is more commonly known. He said that he is able to walk following a few surgeries, but he still experiences pain and risks breaking his bones if he overexerts himself.
That was why the answer to the manager's question of whether Mr Lee can walk was not a simple "yes" or "no".
Growing increasingly frustrated and just wanting to return home, Mr Lee told the manager that he would forgo the cabin wheelchair as long as he could be allowed onboard.
He said that he would crawl to the lavatory if necessary.
Despite this, the manager insisted that crawling is not allowed and told Mr Lee that the crew was still undecided on whether to allow him on the flight.
Bewildered, My Lee wrote: "It's so weird that the cabin crew is allowed to assist me if I walk (even with difficulty) but not with a cabin chair. But they won't give me a chair even if I (were to) push (it) myself, nor do they allow me to crawl?" 
"Is the prerequisite to travelling safe the ability to walk?" he continued.
Mr Lee alleged that the manager was "insensitive" and "dismissive" throughout the ordeal but was careful with his words after he realised that Mr Lee was taking notes of their dialogue on his phone.
Summing up, Mr Lee said that the "horrible experience" had put the spotlight on airline policies that could be non-inclusive and discriminatory towards people with disabilities.
He also claimed that it was "disgusting" to suggest that he was incapable of travelling alone because of his condition.
'HUMILIATED, DISRESPECTED'
Malaysian news sites reported that Mr Lee was eventually allowed to take the flight after a lengthy discussion between the manager and cabin crew.
However, the incident had left him feeling "humiliated" and "disrespected", social news site Says reported.
"A lot of assumptions are made about what a person with disabilities can or cannot do. Even after I clarified that I am perfectly capable of caring for myself, even if the cabin crew weren't allowed to assist me, I could have used the cabin wheelchair on my own," he told Says.
"I have always used cabin wheelchairs during flights and flown alone 95 per cent of the time for almost 10 years. Mostly with Qatar at that. I'm super disappointed," he added.
Reacting to Mr Lee's repost of his Twitter thread on his Instagram page, social media users called the incident "horrible" and "unacceptable". A number of users tagged Qatar Airways' Instagram account in the comments section and demanded an apology as well as an explanation over the incident.
TODAY has asked Qatar Airlines for comment on the matter, and has also reached out to Mr Lee to enquire if a formal complaint has been lodged with the airline.
TRAVELLING WITH COMPANION NOT REQUIRED BY MOST AIRLINES
A quick survey by TODAY of the websites of other major airlines including Emirates, Singapore Airlines and Lufthansa revealed that passengers who require mobility assistance are not required to travel with a companion, although they are advised to do so.
While flight attendants of these airlines are able to assist such passengers with stowing away their luggage and moving around within the aircraft, they cannot carry or lift these passengers should the need arise.
Passengers who need extra assistance in the lavatory, with eating or with administering medication, are advised to fly with an assistant.