#trending: Sanya's Covid-19 lockdown turns paradise destination to 'holiday hell' for UK vlogger
SANYA (China) — An English tourist who was planning on having a beach holiday in Sanya, "the Hawaii of China", has found himself trapped in the city on the southern tip of Hainan island under an indefinite Covid-19 lockdown.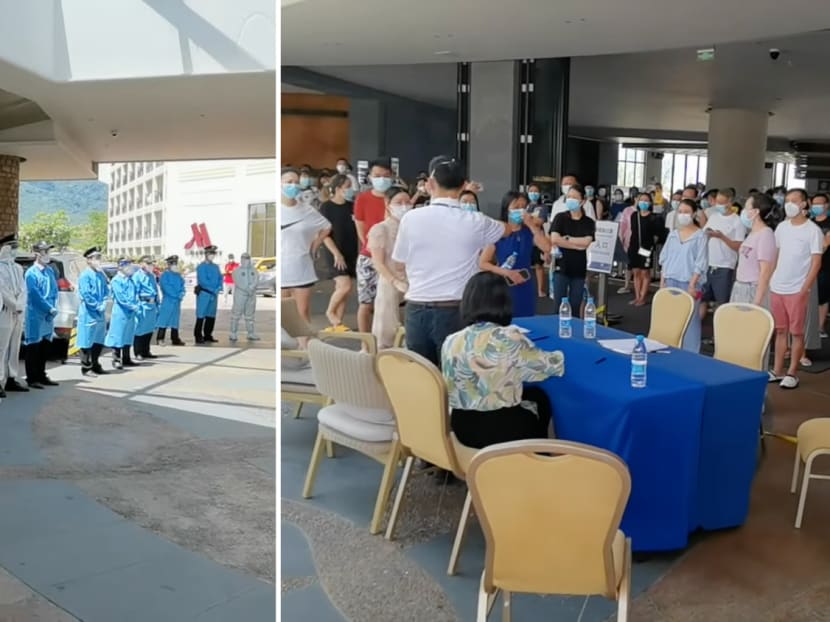 SANYA (China) — An English tourist who was planning on having a beach holiday in Sanya, "the Hawaii of China", has found himself trapped in the city on the southern tip of Hainan island under an indefinite Covid-19 lockdown.
Last year, the Hainan island province recorded just two local symptomatic Covid-19 cases, but had its biggest outbreak this month, with Sanya reporting more than 10,400 cases from Aug 1 to 17.
The vlogger, who goes by the name of "Araf" and lives and works as an English teacher in Jiangyin of Jiangsu province, is only one of many people now stranded in Sanya due to China's strict "zero-Covid" policy.
In the past two weeks of lockdown, Araf has been posting daily updates of his situation and his videos have gone viral on social media.
He appears to have arrived in Sanya on Aug 3, just a few days before the Sanya government officially imposed a lockdown on Aug 6.
In a TikTok video posted on Aug 6, he says: "(We) got here yesterday. There were a lot of people rushing, like, out of the hotel, getting taxis and stuff. Didn't think anything of it.
"Woke up the next morning and apparently the city... has the most Covid cases in the whole of China, so... mass lockdown is coming to the city."
He later confirmed this with an update in the comments section, stating that buses — which had left for the airport in the morning — were turned back by the police because no one was allowed to leave the island.
"I don't know what's going on," Araf laments in the video, having already been through a two-month lockdown in Jiangyin.
"I don't even know why I'm laughing, this is a nightmare."
Turning the camera around, he shows off his deserted surroundings in Sanya Marriott Yalong Bay Resort & Spa.
"It's paradise, but it's a ghost town."
Over the next week, the situation in Sanya seemed to get worse with each new video posted by Araf:
Snaking queues for daily mass Covid-19 testing, even in pouring rain
The steady closure of all hotel facilities and restaurants, including putting the beach and sea off limits
Even a video of fresh fish and shrimp being swab-tested by workers in full-body personal protective equipment, reposted from Chinese microblogging site Weibo
"I saved up two years to come here, because it's quite an expensive hotel. Two years!" Araf cries in one of his TikTok videos. "I've spent thousands on this holiday.
"But the worst thing is if... we have to stay on the island for, like, a month or two... I can't really afford to stay in this hotel for that long."
Though he tried to keep his spirits up, his energy was clearly flagging after a week. In a video posted last Saturday — his most popular one yet with more than 1.1 million views — the hotel confirms his worst fears with a letter.
Araf says in the video: "Positive cases have been confirmed in the hotel... So it's basically saying everything's closed and we have to stay in our rooms from now on."
Guests will have to be quarantined in the hotel, then in another hotel back in their home cities, then isolate for a period in their homes as well.
In his next couple of videos on TikTok and YouTube, Araf told of "absolute madness". Hotel guests were shown crowding the hotel entryway, yelling in protest as people in protective suits — said to be the local authorities — stand guard across the compound.
"This is so scary," the vlogger says to the camera in the midst of the chaos. "Absolutely crazy. I think this is because there have been 11 staff that have tested positive for Covid, so people want to move out (of) this hotel because they don't want to catch it."
Testing positive in China is a nightmare for many people, it seems. Araf claimed that positive cases will be taken away to a centre for a few weeks and "it's not a nice process".
Safely back on his balcony, he says that the experience "shook him up".
"It's crazy because they're protesting about Covid, but they're all together... It's just a weird situation, you don't know what's right and what's wrong any more. It's like something (out) of a movie."
His next update came in a video posted last Sunday: The Sanya government had taken over the hotel as a result of the protests, and put all the hotel workers under quarantine, meaning that the food served to guests was different since there were no chefs available at the hotel.
"It's great," Araf remarks in the video as he tries a spoonful of watery porridge, "if you like being in prison".
It might have been a joke at the time, but prison did not seem so far off the mark in his next video on Tuesday.
Filming construction materials such as wooden boards, cables and metal rods, he claims that the authorities have begun to physically "board the hotel up" in case guests try to "escape".
In another letter issued by the hotel to guests, there was another positive case within the premises — thereby restarting the 10 days of quarantine for all guests.
However, in a YouTube video posted on Tuesday, Araf celebrates the return of the hotel workers from quarantine, praising their great meals and service over the past two weeks.
Thankfully, he says, he was also not required to pay for the hotel room beyond his allotted stay.
"As strange as it sounds, I definitely would come back to this hotel — if I ever came back to Sanya."
In the video, he also acknowledges that it is "far from" the worst lockdown he has been in or heard about, such as the painful two-month lockdown in Shanghai that ended in June this year.
"It's just the frustration of coming on holiday, wanting to do everything ... dreaming of all these moments, and then being locked in. And then now, I have to go back home and back to work," he adds.
As of his latest TikTok video on Wednesday, it appears that Araf is still stuck in the Marriott.
Though the situation is still unclear since the hotel is considered "high-risk", Araf hopes to be able to leave Sanya on Friday, which would be the 10th day of his quarantine.
In another incident that went viral on social media last weekend, shoppers at Ikea Shanghai were seen rushing for the exits when authorities ordered the store to be locked down after a positive Covid-19 case was traced to the location.