#trending: Social media abuzz with questions and jokes after HK's Jumbo Floating Restaurant sank into watery grave
HONG KONG — Hong Kong's famous Jumbo Floating Restaurant has been trending on social media after it capsized in the South China Sea on Sunday (June 19). Social media users have dubbed it "the perfect metaphor" for the city's democratic decline, with many being sceptical about the circumstances of the sinking.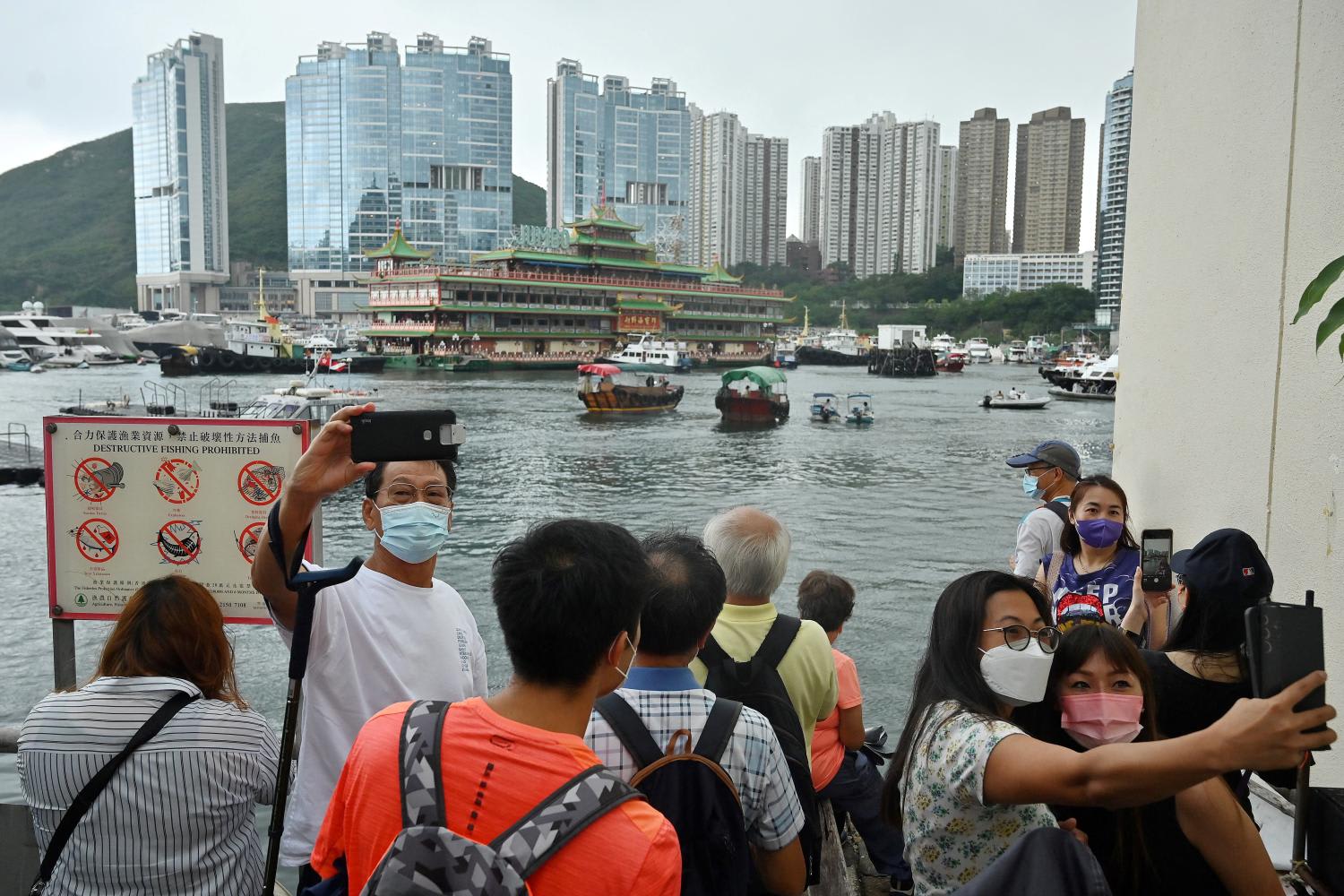 HONG KONG — Hong Kong's famous Jumbo Floating Restaurant has been trending on social media after it capsized in the South China Sea on Sunday (June 19).
Social media users have dubbed it "the perfect metaphor" for the city's democratic decline, with many being sceptical about the circumstances of the sinking.
Aberdeen Restaurant Enterprises Limited (Arel), the parent company of the restaurant, said in a statement on Monday that the vessel encountered "adverse conditions" as it passed the Paracel Islands last Saturday, which caused water to enter and tip the boat.
It eventually capsized the next day. The company said that it is "extremely difficult" to salvage the vessel because the water depth at the location is above 1,000m.
Last month, following severe financial difficulties, Arel announced that Jumbo will be permanently closed and will leave Hong Kong.
Last Tuesday, it was towed out of Aberdeen Harbour, its home for the past 46 years, to the sound of boat horns blaring in tribute.
HOW IT ALL BEGAN 
Jumbo's story began in the 1960s as an ambitious new project by businessman Wong Lo-kat after his success with the Tai Pak Floating Restaurant, Hong Kong daily South China Morning Post reported. However, a deadly fire broke out on board during construction work, leaving Mr Wong with a wrecked vessel and not enough money to continue investing in it.
Macau's "godfather of gambling", late casino mogul Stanley Ho, then stepped in to take over the business. The product of more than HK$30 million (around S$6 million) and four years of craftsmen's labour, Jumbo finally opened its doors to the public in October 1976.
Built in the style of a Ming dynasty imperial palace, it was 76m long, occupied 45,000 sqf over three storeys, and could seat 2,300 diners. Its main attractions included a dragon throne, which took sculptors two years to carve, and a mosaic mural valued at HK$6 million.
In its 1980s heyday, three vessels made up the "Jumbo Kingdom", including Tai Pak and The Sea Palace, both of which Mr Ho had acquired after opening Jumbo. The Sea Palace was relocated to Manila Bay in the Philippines in 1999 and ended service in 2008.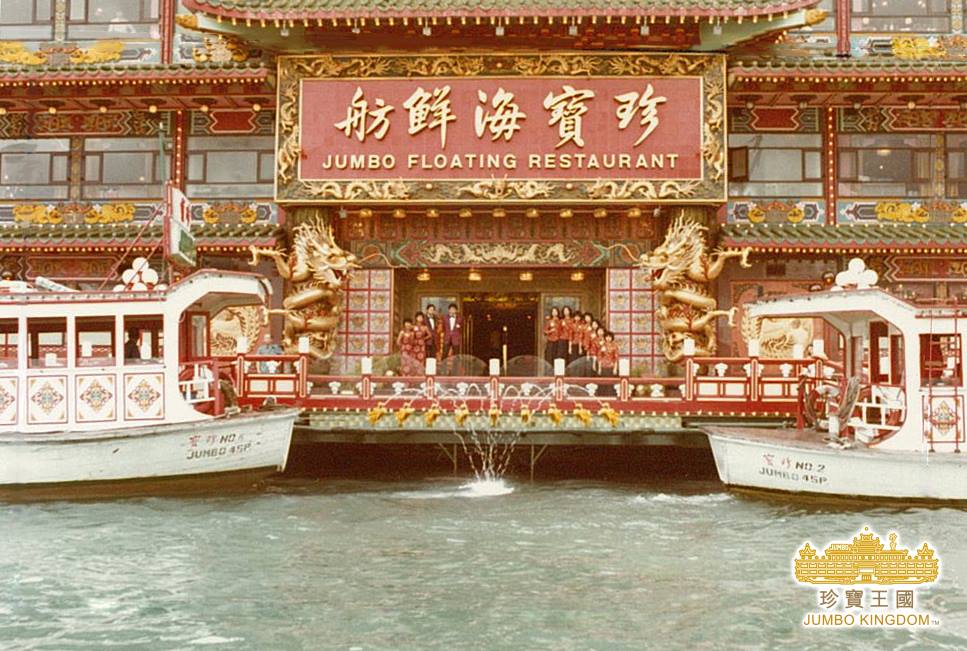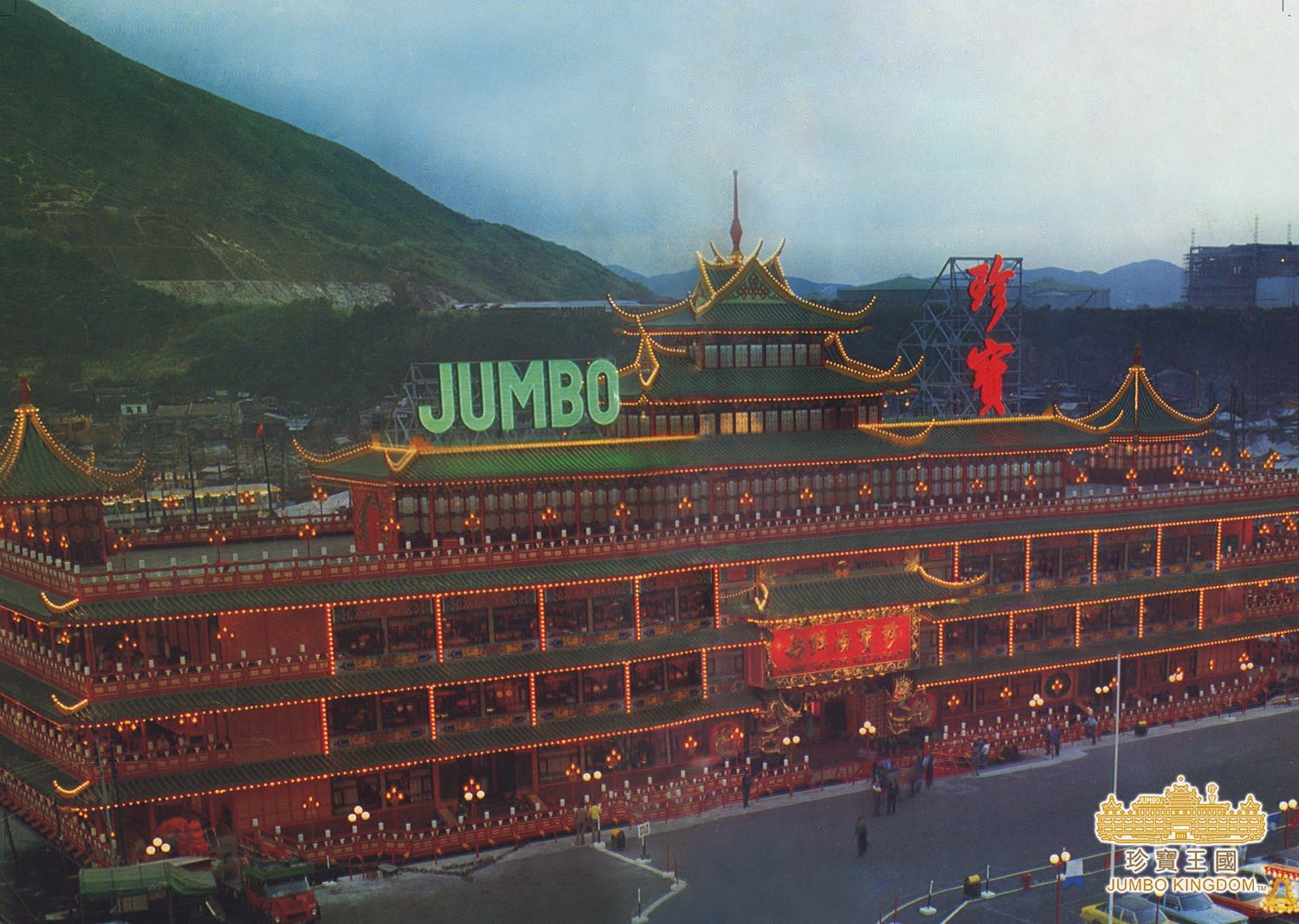 THE HEYDAYS 
For almost 50 years, the lavish Jumbo Floating Restaurant attracted dignitaries and celebrities from far and wide, from Queen Elizabeth II of England to movie stars Tom Cruise and Gong Li, its website stated.
Once the largest floating restaurant in the world, Jumbo's own movie credits included appearances in domestic and foreign blockbusters — most famously for Hongkongers, Stephen Chow's 1996 comedy The God of Cookery.
Others included Jackie Chan's The Protector (1985), Infernal Affairs II (2003), James Bond flick The Man with the Golden Gun (1974), Godzilla vs Destoroyah (1995) and Contagion (2011).
Jumbo was also used as a pit-stop in American reality show The Amazing Race, and has been recreated in popular video games such as Battlefield 4 and the Fatal Fury series.
WHERE THINGS WENT DOWNHILL
Sadly, in 2019, the social unrest building up in protest-hit Hong Kong began to take a toll on its tourism industry — Jumbo's main market — and "the business had not been profitable since 2013", the restaurant operator said last month.
When the Covid-19 pandemic hit in March 2020, the Jumbo Kingdom was forced to officially close its doors. However, maintenance costs continued to pile up during its closure, with Arel reporting losses of more than HK$100 million.
Due to the high costs of its upkeep, around a dozen businesses and organisations had "declined an invitation to take it over at no charge".
Fans and lawmakers called for the government to help save the landmark, but to no avail. Earlier this month, Hong Kong Free Press reported that Chief Executive Carrie Lam had "backtracked on her 2020 vow" to revitalise the restaurant.
WORLDWIDE REACTIONS 
In the wake of Arel's announcement of Jumbo's departure from Hong Kong, fans from all over the world took to social media to mourn the loss of the restaurant.
In an uncanny foreshadowing of its eventual fate, some artists even depicted it sinking to represent its closure.
Sure enough, it sank after leaving Hong Kong. Since the news of its capsizing, such fan art has been resurfaced by online users, who have also likened the incident to the city's fight for democracy.
One Hong Kong resident said on Twitter: "Genuinely distressing. This was a landmark, a local institution, a collective fond memory for most of Hong Kong.
"Towing it away and letting it sink to the bottom of the ocean feels like a horrible metaphor how HK is getting treated in general."
Another agreed: "As a metaphor, it's a bit on the nose."
Many further expressed suspicions that the sinking was no accident, pointing to how Arel had refused to disclose the vessel's destination.
One Twitter user asked: "So that's the 'undisclosed location' it was heading to?"
Another remarked: "Accident? How convenient."
Twitter user "krislc" posted photos comparing the transport of The Sea Palace in 1999 and that of Jumbo last week, questioning why Jumbo capsized and not the other vessel.
Despite Arel's statement that Jumbo had been cleared for towing beforehand by professional marine engineers, some social media users claimed that Jumbo was "definitely not sea-worthy", implying that it was a purposeful sinking.
One user on online forum Reddit wove a yarn in a sardonic tone: "Owner of floating restaurant is losing money hand-over-fist due to pandemic with no likelihood of things improving quickly.
"Owner has floating restaurant (one of only assets) towed out into deep sea where it sinks in 1000m of water. Too deep to be salvaged... Owner collects insurance.
"If only there was some kind of narrative that made sense of these events."
The now-permanent loss of the iconic restaurant has inspired a fresh wave of fan art and nostalgic recollections from past visitors, who have called it "the end of an era".
Some online users have made light of the incident as well. One, for instance, left a review on Jumbo Floating Restaurant's TripAdvisor page, titling the review, "More like Jumbo Kingdom Sunken Restaurant".
"I think the term floating restaurant is very misleading!" the review said. "Food was cold and restaurant understaffed. Still waiting for the sampan to get back."
Another resident joked on Twitter: "Jumbo still made it further out of Hong Kong than most of us have for three years."
One Instagram user commented simply: "Rest in pieces."
In its statement on Monday, Arel confirmed that the company is "very saddened" by the accident and is "now getting further details of the accident from the towing company".