#trending: TikToker harassed with fake AI-generated nude photos of herself, begs abusers to stop
SINGAPORE — A TikTok user has shared her harrowing experience at the hands of anonymous social media users who have used artificial intelligence (AI) tools to generate fake nude images of her before sending these images to her and other online users.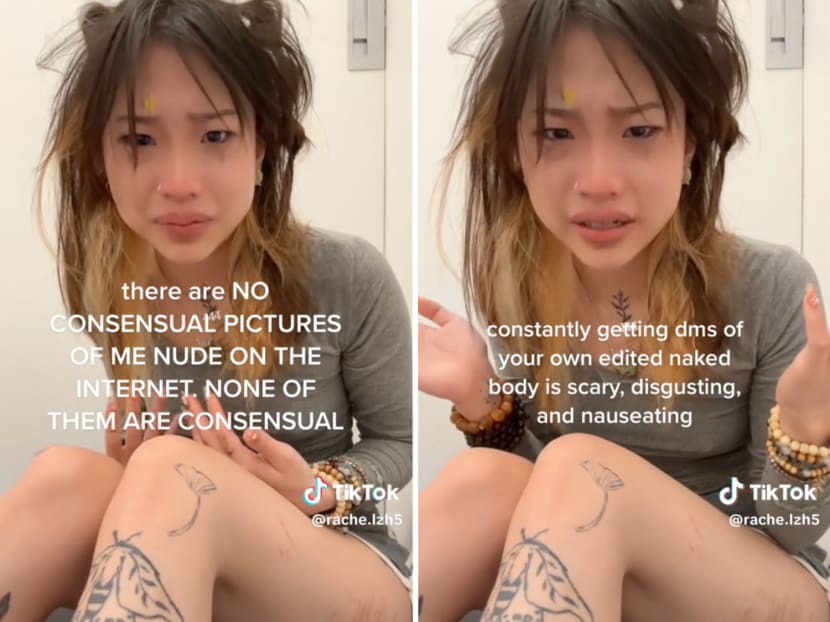 In a series of posts last week, a TikToker detailed her experience of being harassed by anonymous social media users with fake, AI-generated nude images of herself
The initial creator of these images had used photos from her public profile and deepfake technology
The young woman's most recent video post shows her in tears as she begs her abusers to stop
Social media users said what is happening to her is "sickening" and "terrifying"
It has sparked a debate on how AI should be regulated and whether it should be banned if its ethical use cannot be guaranteed
SINGAPORE — A TikTok user has shared her harrowing experience at the hands of anonymous social media users who have used artificial intelligence (AI) tools to generate fake nude images of her before sending these images to her and other online users.
Going by the name "Rachel", the young woman, whose nationality is not clear, has 14,900 followers on Instagram and 51,500 on TikTok. She speaks with a slight American accent.
She first addressed the situation in a TikTok video posted on April 23 (April 24, Singapore time), stating that she had received a message request on Instagram the day before.
The direct message (DM) contained photos that she had posted on her public profile, which the anonymous Instagram user had presumably run through a "deepfake AI programme" to create fake nude images.
Deepfake technology, which allows users to convincingly manipulate a person's likeness, has been a hot topic recently after high-profile Twitch streamer Brandon "Atrioc" Ewing was in January caught browsing non-consensual deepfake pornography of other popular streamers.
In a second video posted last Thursday, Rachel explained: "It was pictures of me that I had posted. Fully clothed. Completely clothed.
"They basically photoshopped me naked."
Though the TikToker was "genuinely weirded out", she simply ignored the message, she said in another photo post last Thursday. But this was far from the end of her ordeal.
The next day, she received "dozens of DMs" containing the AI-generated nudes of herself, this time from multiple users.
Even worse, the images were now missing the watermark of the AI programme that the initial anonymous Instagram user had used.
This quickly led Rachel to conclude that the creator of these fake images had paid to have the watermark removed in order to "pretend (they were) real", and then distributed the non-watermarked nude images to other online users.
In her first video, Rachel initially adopts an exaggerated, aggressive tone common in dramatic comedy rants, declaring: "At least make them accurate. Y'all know how I look, y'all know how I'm built. Don't give me huge ****ing tits, that's not even proportional."
This appeared to downplay the effect that the incident had had on her and attracted joking comments that made light of it.
One of the top comments that are still present on the April 23 video was: "He wanted some feedback on the accuracy 💀".
Others joked: "You sound more upset that it was inaccurate 😭" and "That's creepy but what you said at the end is so funny 😂".
More disturbing comments suggested that Rachel should "release the real ones so no one believes the fake ones".
In stark contrast to her first video, Rachel appears visibly upset in her April 27 video, with dishevelled hair and streaky makeup from crying.
After giving updates and repeating that she "does not have any (nude) content" online, she audibly chokes up as she addresses the negative comments.
"It's even more gross because the first time I tried to post about this... all of the comments were so disgusting, like actually vile," she says. "They made me want to throw up, multiple times.
"They were all like, 'Now you gotta post the real ones', 'Where's the link?', 'Obviously you want more people to see this, that's why you're posting about it.'

"No, it's because I want you to know they're not real," she sobs. "Please, stop."
Cutting to another take, Rachel then says that she also received accusatory comments after posting the April 23 video.
"'You did this to yourself, you asked for it'," she mimics. "By what? Posting picture of me with clothes on? How is that asking for it in any ****ing way?
"The only reason why you would want these pictures of me is because I don't want them out there. The only reason why you would want these pictures of me is because you like that it's (non-)consensual. You are a ****ing rapist."
Her April 27 video has since been viewed 1.2 million times and reposted on Twitter, where a screenshot from the video received 14.9 million views, 40,800 retweets and 4,000 comments.
Posted by user "V0RESY0U", the tweet reads: "People are using AI to turn normal pictures of women into fully naked pictures of them and y'all want us to believe there's a way to ethically introduce AI into society yeah ok."
Online users have called Rachel's story "sickening" and "terrifying".
One Twitter user responded: "That was so hard to watch, my heart is breaking for this poor girl. She's right, this is rapist behaviour.
"It's the fact it's not consensual and distressing to her that gets them off and it's so frustrating how many men will fight you tooth and nail on the topic of these deepfakes."
Others were worried about the potential for more nefarious uses of deepfake tools, including child porn.
On the other hand, another camp argued that AI tools should not be held accountable for "those who use it improperly".
Similarly, some people felt that the problem was the lack of protection against such such sexual harassment, rather than the regulation of AI technology as Twitter user "V0RESY0U" had implied.
Several people said that they did not see the difference between using AI tools and traditional digital editing software such as Adobe Photoshop to achieve the same outcome of fake nude images, while others said that "photorealistic nudity with this level of ease is new".
Twitter user "V0RESY0U" said in a follow-up tweet: "I need some of y'all to understand that there's a difference between taking hours to photoshop someone's face on a body vs taking a few seconds to put a picture through a programme that is accessible to literally anyone who knows how to use the internet."
Ultimately, though defenders of AI technology also agreed that it has great potential for such malicious intent, they felt that AI should not be completely banned because certain tools can still improve lives as long as they are properly regulated and curated.
For the critics, especially given the widespread growth and accessibility of AI tools over the past year, the cons — such as harassing women with fake, photorealistic nude images of themselves — simply outweigh the pros.