Trump's anniversary wish for China: Congratulations, but we will beat you in trade war
HONG KONG — US President Donald Trump wished China a "happy birthday" on Monday, while vowing at the same time to prevail in the trade war and berating Beijing for not accepting an earlier drafted deal.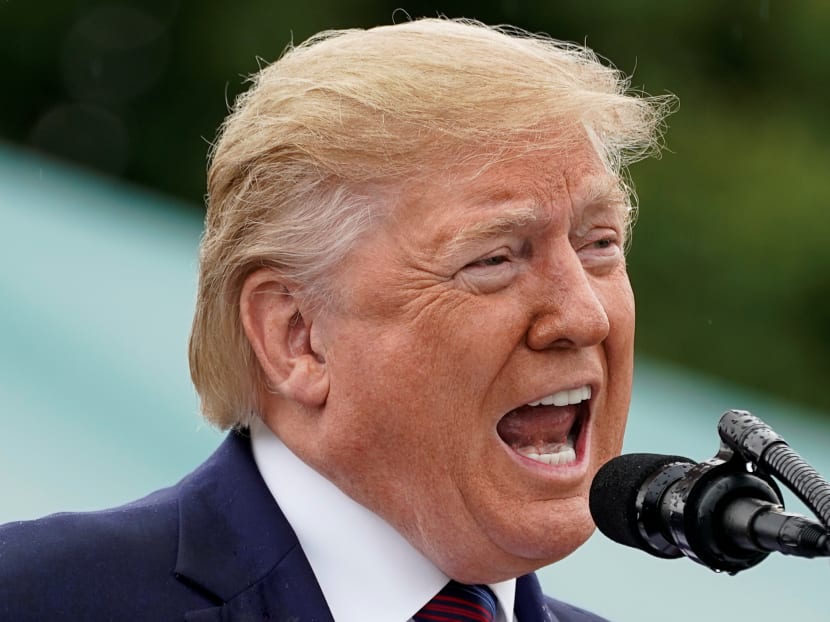 HONG KONG — US President Donald Trump wished China a "happy birthday" on Monday (Sept 30), while vowing at the same time to prevail in the trade war and berating Beijing for not accepting an earlier drafted deal.
"We are winning, and we will win," Mr Trump wrote in a Twitter post, one day ahead of celebrations in China marking the 70th anniversary of the country's founding.
"They should not have broken the deal we had with them," Mr Trump tweeted. "Happy Birthday China!"
The US leader's jibe appeared to have been prompted by a morning appearance on the Fox Business Network by author and China expert Jonathan Ward, who said the US was waking up to Beijing's plans to "surpass [the US] as the dominant, economic and military superpower in the 21st century".
Mr Trump roughly quoted Mr Ward in his Monday tweet when the author said Washington's response to China's growing power was "taking shape in trade, it's taking shape in military competition and it's going to start potentially taking place in financial markets".
Since Bloomberg reported on Friday that the administration was considering restricting US investment in China, White House officials have sought to play down the prospects for such a move.
Mr Trump's trade adviser Peter Navarro denounced the reports as "fake news" while the Treasury department said the government had no plans to ban Chinese companies listing on US stock exchanges "at this time".
In his tweet, Mr Trump cut the quote short to omit Mr Ward's mention of Washington's strategy hitting Beijing in the sphere of financial investment.
Mr Trump's birthday message to China came as Chinese negotiators prepare to travel to Washington for high-level talks to resolve a confrontation that began over a year ago and has seen most goods that flow between the two countries subject to punitive and retaliatory tariffs.
Mr Trump's tweet referred to US negotiators' disclosure earlier this year that a deal was "90 per cent" complete before talks broke down. Washington has accused Beijing of reneging on several critical components of what was an evolving agreement.
Beijing rejected the accusations, saying it was entitled to continue negotiating any terms before a deal was signed.
Vice-Premier Liu He is to lead China's delegation to the US for a round of talks set to take place on Oct 10 and 11, CNBC reported last week, citing several sources close to the talks.
Stakes for those talks are high, with the US entering the holiday season and the Trump administration planning to increase tariffs on US$250 billion (S$346 billion) of Chinese goods from 25 to 30 per cent on October 15, just days after the discussions are expected to wrap up.
Addressing the United Nations General Assembly in New York last week, Trump said he would not accept a "bad deal for the American people", but told reporters a day later that an agreement could be reached "sooner than you think".
The coming tariff increase was initially scheduled for October 1, but the Trump administration agreed to push it back by two weeks at Beijing's request, to mitigate the potential embarrassment for the Chinese government of having America's punitive actions clash with China's National Day festivities.
The celebration will feature a military parade through Beijing and a speech by President Xi Jinping.
The anniversary will give Beijing an opportunity to flex its military muscle after years of reform in its armed forces, as Xi is expected to inspect dozens of infantry squads and more than a dozen airborne squadrons.
Mr Trump's own effort to imbue America's Independence Day celebrations with a demonstration of US military might resulted in a flyover by F-18 jets and a handful of M1 Abrams tanks sitting on truck beds to avoid damaging the roads in Washington.
Besides wishing Beijing a "happy birthday", Trump used his Monday tweet to congratulate himself on his administration's tough response to China's global ambitions, inserting a "thank you President Trump" into the middle of Mr Ward's quote.
Mr Trump has not taken kindly to others taking liberties with their own characterisations of his remarks.
On Monday, he called for the arrest of House Intelligence Committee chair Adam Schiff, who is heading part of a House impeachment inquiry, for reading a parody of a call between Trump and Ukranian president Volodymyr Zelensky.
The parody, which Mr Schiff delivered during a Thursday hearing on Capitol Hearing, had Trump asking Zelensky several times to "make up dirt" on a political opponent, a reference to Democratic presidential hopeful Joe Biden. Mr Schiff emphasised during he hearing that he was illustrating a point.
Mr Trump suggested Mr Schiff could be tried for treason, which in the US carries a maximum penalty of death. SOUTH CHINA MORNING POST