Unusual pairing of Jokowi and fiery Muslim cleric likely to focus on domestic issues
SINGAPORE — Mr Ma'ruf Amin, 75, is a firebrand Muslim cleric who has, in the past, hit out at religious and social minorities and galvanised protests against former Jakarta governor Basuki Tjahaja Purnama over blasphemy.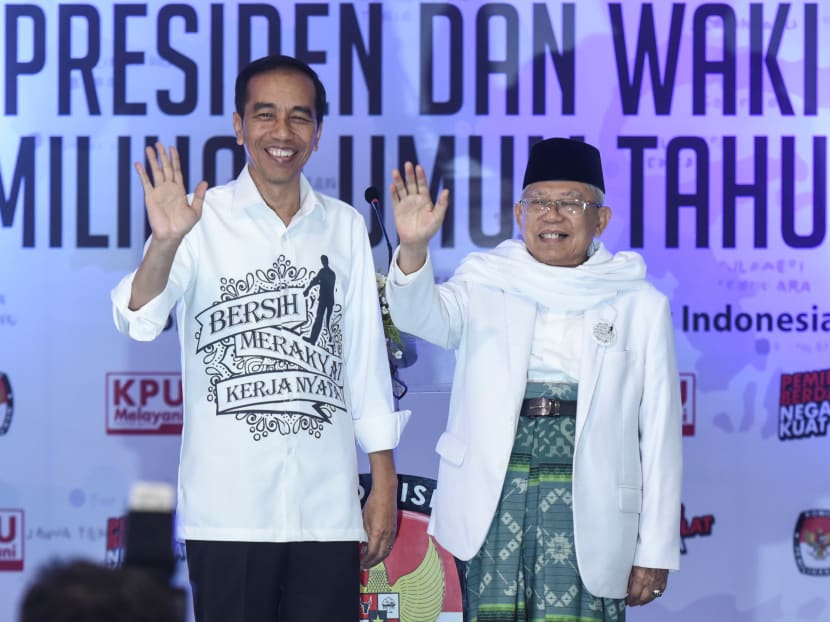 SINGAPORE — Mr Ma'ruf Amin, 75, is a firebrand Muslim cleric who has, in the past, hit out at religious and social minorities and galvanised protests against former Jakarta governor Basuki Tjahaja Purnama over blasphemy.
Last month, he was named as the running mate of Indonesian President Joko Widodo in next April presidential election, catching observers by surprise.
Mr Widodo, 57, more popularly known as Jokowi, is reform-minded and pro-development, as opposed to his running mate. Rights groups believe Mr Amin has played a pivotal role in the rise of intolerance in the world's largest Muslim majority country.
Analysts interviewed by TODAY said Mr Widodo and Mr Amin are likely to focus their firepower on domestic issues, including the economy, sectarianism and Syariah law in the coming months.
It remains to be seen whether the pair will have any strong agenda on the foreign policy front.
ISLAMIC CREDENTIALS
Mr Amin is the head of the Indonesian Ulama Council (MUI) and under his leadership, the organisation has issued fatwas (religious decrees for Muslims) condemning Islamic sects Ahmadiyah and Shia Muslims.
He has backed a wide-ranging anti-pornography law, while criticising the Constitutional Court last year for rejecting a petition to criminalise gay sex.
During last year's election for Jakarta governor, Mr Amin condemned Purnama as a blasphemer and testified against him in a trial. Purnama, an ethnic Chinese Christian and an ally of Mr Widodo, was jailed for two years after losing the election.
"By settling for Ma'ruf Amin, Jokowi hopes to strengthen his candidacy's Islamic credentials and win the votes of the conservative and moderate Muslims," said Dr Ahmad Najib Burhani and Dr Deasy Simandjuntak, visiting fellows at Iseas-Yusof Ishak Institute in their Tuesday (Sept 4) report on the matter, adding that Mr Amin will function more like a "shield" against the prospect of a bitter sectarian campaign.
"The appointment of Ma'ruf, who appears to be acceptable to both the moderates and the conservatives, thus seems to be a safety move by Jokowi's camp," they wrote.
The duo will be challenged by former general Prabowo Subianto and his vice-presidential candidate pick, the deputy governor of Jakarta, Sandiaga Uno in the April polls.
But it is not guaranteed that the partnership with Mr Amin will win conservative votes for Mr Widodo. The report noted: "Despite not daring to openly taunt Ma'ruf, some conservatives seem steadfast in their support of Prabowo". The military man has been openly courting the conservatives.
There is also the risk that Mr Widodo's non-conservative voters may be disillusioned by the choice of Mr Amin and not turn up to vote, the authors added.
Additionally, there are questions over whether Mr Widodo will be able to effectively manage his working relationship with Mr Amin.
''I am not sure whether Jokowi will be capable of controlling and limiting the influence of Ma'ruf Amin, but if he cannot do that, then the rise of conservatism will gain a new momentum in Indonesia," Dr Ahmad told TODAY.
"It will certainly affect the discourse of pluralism and tolerance in the country."
DOMESTIC PREOCCUPATIONS
Despite Mr Widodo's pro-development agenda, the Indonesian economy is headed towards turbulence. The battered rupiah is trading around 14,940 against the US dollar as of Tuesday, its lowest level since the Asian financial crisis in 1998. The currency has lost around 9 per cent this year.
Mr Widodo has blamed "a barrage of external factors" for the rupiah's fall to 20-year lows and said the priority is to increase investment and exports to contain the current account deficit.
Dr Alexander Raymond Arifianto, a research fellow with the Indonesia Programme at S Rajaratnam School of International Studies (RSIS) told TODAY that if Mr Widodo and Mr Amin eventually prevail, things are likely to remain status quo.
"Jokowi will likely continue his economic development agenda focusing on infrastructure development. As Jokowi's VP, Ma'ruf is likely to shape Jokowi's policy towards religious/Islamic affairs," he said.
This means Indonesia may see religion playing a more prominent role in the government and in determining social, political, and economic discourses.
Mr Amin is a strong believer that Syariah should be implemented in Indonesia through constitutional processes, noted the Iseas report.
Citing sources from Mr Amin's inner circle, Mr Syafiq Hasyim, a lecturer at State Islamic University Syarif Hidayatullah Jakarta said the religious leader is likely to promote a Syariah-based economy. He is likely to push for strengthening Syariah banking and Syariah-based investments as well as the halal industry, as an alternative growth model.
"Ma'ruf will adopt a populist-oriented approach by empowering and providing market access to small-time Muslim entrepreneurs," said Mr Hasyim.
Looking ahead at the campaigning rhetoric for next year's elections, analysts say the situation is unlikely to degenerate into the bitter sectarian campaign seen during the 2017 Jakarta gubernatorial election.
The turbulent campaign featured mass rallies led by the hardline Islamist movement against Purnama, after he said his political rivals were deceiving people by using a verse from the Quran to say Muslims should not be led by a non-Muslim.
"Unlike in Jakarta, there is no blasphemy charge that the hardline and conservative groups can anchor on. Secondly, Ma'ruf Amin is a respectable senior Islamic scholar who can be accepted by both the moderates and conservatives," Dr Simandjuntak of Iseas told TODAY.
She also noted that Mr Subianto, 66, has not followed advice to choose an Islamic scholar as his running mate. His current running mate, Mr Uno, is a 49-year-old entrepreneur.
"For these reasons, it will not be as easy for the conservatives to mobilise a 'united' support for Prabowo and/or against Jokowi."
Moreover, Mr Widodo has been steadfast in his stance on religious tolerance and unity in diversity - two very important principles enshrined in the country's constitution and state ideology, Pancasila.
"His main support also comes from the moderate Muslims, potential voters who believe in the importance of tolerance, as well as the minorities themselves, so if the President wins the election, I think he will have to make sure that his policies reflect his commitment to religious tolerance," added Dr Simandjuntak.
When asked how the duo would fare on the foreign policy front and possible implications for bilateral relations with Singapore, analysts said it was too early to tell.
"The Indonesian Ministry of Foreign Affairs will continue to be the primary policy driver in regards to Indonesian foreign policy so I expect that the current government will retain the status quo in regards to Indonesia-Singapore relations," said RSIS' Dr Arifianto.
 
WHAT YOU NEED TO KNOW ABOUT MA'RUF AMIN
Islamic cleric Ma'ruf Amin is not an unknown or an inexperienced leader. The 75-year-old is considered one of Indonesia's most influential religious leaders, chairing the Indonesian Ulama Council, the country's top Muslim clerical body with about 140 million members.
He is also the rais aam or supreme leader of Nahdlatul Ulama (NU), Indonesia's largest Muslim organisation which is viewed as a champion of moderate Islam.
Born near Jakarta when the Dutch East Indies was under Japanese occupation, Mr Amin has degrees in Islamic law and Syariah economics and has written books on Islamic banking and economics, the meaning of jihad, terrorism and fatwas.
He served as a lawmaker in local and national legislatures, representing the Islamic-based Partai Kebangkitan Bangsa or National Awakening Party. The party is affiliated with NU.
His first brush with politics came in 1971, when as a 28-year-old, he was elected to the Indonesian parliament.
Mr Amin has been advisor to two Indonesian presidents, Abdurrahman Wahid and Mr Susilo Bambang Yudhoyono. AGENCIES