Explainer: US battleground states and why polls predicting a Biden victory over Trump don't show the full picture
SINGAPORE — A blue wave is building in the United States, as the country gears up for Election Day less than two weeks away, on Nov 3.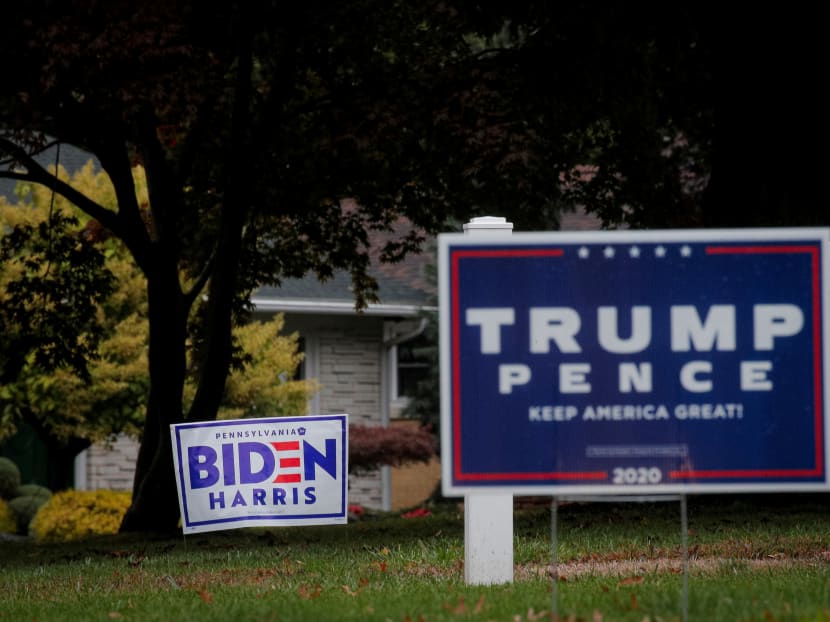 Polls show Biden is ahead of Trump in the popular vote and marginally in front for the key battleground states
Florida is an important battleground state to watch, and the handling of Covid-19 could sway how senior voters vote in the state popular with retirees
Rust Belt states, instrumental to Trump's 2016 election upset, is once again expected to play a major role in election
Each poll is a snapshot of the election and does not account for late "October surprises", said one analyst
SINGAPORE — A blue wave is building in the United States, as the country gears up for Election Day less than two weeks away, on Nov 3.
Several opinion national level polls have, in recent days, shown a commanding 10-plus percentage points lead by the Democratic Party's Joseph Biden over the Republican Party's Donald Trump.
But polls at the state level, which play a far more important role in the US election due to its electoral college system, show a closer contest between President Trump and former Vice President Biden. The latter leads marginally in most of the key swing states.
In the US, voters do not vote directly for their president. Instead, they choose the party for their state, the party then picks the electors to sit in the 538-strong electoral college, and the electors pick the president and the vice president. Hence, 270 electors are needed to declare a winner.
Professor Mark J Rozell, dean of George Mason University's Schar School of Policy and Government, explained that every election hinges on the decisions of swing states, since there is little competition in other states that are mostly already decided.
"So, it ends up making a national contest for the presidency actually look like several statewide contests, with candidates spending a lot of time talking about state and local issues in those parts of the country," said Prof Rozell.
TODAY takes a closer look at how the contest in key battleground states is shaping up, as part of a programme by the US State Department's Foreign Press Centres.
Both candidates are set to face off on Oct 22 (Oct 23, 9am Singapore time) in Nashville, Tennessee, for their second and final debate. Early and mail-in voting has commenced in many states.
THE SWING STATES
Since 2000, only 13 of the 50 US states have voted for both Democratic or Republican parties.
Mr Jon McHenry, vice president of North Star Opinion Research, defines battleground states as those that flipped sides in the previous election, as well as those where the victory margin was 5 percentage points or less.
Using that definition, there are 14 such states for the current cycle, loosely grouped as follows:
Ohio, Michigan, Wisconsin and Pennsylvania — Rust Belt states whose industrial economies are facing a decline. Against expectations, Michigan, Wisconsin and Pennsylvania flipped in 2016 and helped Mr Trump win, based on his economic promises

Florida, Iowa — states that flipped in 2016 to vote for Mr Trump

Arizona, Nevada, Colorado, Minnesota, New Hampshire, Maine and North Carolina — states which had a close result in 2016 (less than 5 percentage point difference), but did not flip

Nebraska and Maine's second congressional districts (NE-2 and MA-2) — Unlike most other states with a winner-takes-all system, each elector in Nebraska and Maine follows his electorate's choice at the district level. In this cycle, the voting results of the second districts of both states could differ from other districts, based on recent polls
Based on averaged polling data from Real Clear Politics, Mr Biden leads in most of the above states, albeit marginally. The exception is Ohio, which gave Mr Trump a slim 0.2 point lead.
Arizona: Biden +3.1

Colorado: Biden +9.5

Florida: Biden +1.6

Iowa: Biden +1.7

Maine: Biden +11 (MA-2: Biden +0.3)

Michigan: Biden +7.2

Minnesota: Biden +6.3

NE-2: Biden +7

Nevada: Biden +5.2

New Hampshire: Biden +11

North Carolina: Biden +2.3

Ohio: Trump +0.2

Pennsylvania: Biden +3.5

Wisconsin: Biden +6.3
HIGHLIGHT: FLORIDA
Of all the swing states, Florida is arguably the most important.
It has the most number of electors among the swing states — 29 — due to its larger population in the 2010 census, which is used to determine how many presidential electors each state has. Florida had voted for Mr Trump in 2016 by a slim margin of 1.2 percentage points.
Except for the 1992 election, the state has voted for the winning side in every presidential election since 1964. No Republican president since 1924 has won an election without winning Florida.
Among the various factors influencing how Florida votes, analysts say that senior voters are shaping up to be an important demographic in the state this time — Florida is a favoured retirement state for Americans.
While seniors tend to favour the conservative Republicans, Professor Brian Fonseca from Florida International University said the handling of Covid-19, which is more dangerous to seniors, could affect how they vote.
Mr Wellian Wiranto, an OCBC economist, added: "Trump's cavalier attitude towards Covid-19 has reportedly put off the senior voters there, who command more than one-fifth of the state's population. If he loses Florida, his path to re-election would narrow considerably."
On the other hand, Hispanic voters appear to swing towards Mr Trump since 2016, despite his anti-immigration policies.
Prof Fonseca said most Hispanic voters in Florida are not new immigrants, but later generations of Latino Americans who are more concerned about the economy and other issues.
"Polls (of Latino voters) are showing that it's neck and neck... and so these demographics are a focal point for both parties as they try to win the state," he said.
Come election night, Mr McHenry said how Florida votes could be indicative of the final result. The actual result will not be confirmed on Nov 3, but much later when all votes are counted.
"The cheat sheet is if President Trump hasn't won Florida, while it might not be time to go to bed, it's certainly time to brush your teeth and put on some pyjamas because it is very tough for him to win re-election if he doesn't win in Florida," he said.
THE RUST BELT: OHIO, PENNSYLVANIA, MICHIGAN, WISCONSIN
While the Rust Belt states handed the White House to Mr Trump in 2016 on the back of his promise of economic revival, analysts said that the economic situation has not improved significantly from the previous election.
Said Prof Rozell: "Donald Trump had a very different kind of political appeal than the typical Republican party candidate, and he was able to appeal to some voting constituencies that typically vote Democrat in elections.
"This is particularly on his populist economic policies related to trade and opposition to globalisation, and the impact that globalisation has had on the manufacturing sectors of our economy."
With Covid-19 piling on the pressure, forcing the closure of small businesses and hampering manufacturing industries in these states, the political situation looks worse for Mr Trump since US elections are generally seen as a referendum on the incumbent administration.
Unemployment rates have also climbed, though some voters may remember that before Covid-19 hit, the US achieved a 3.5 per cent unemployment rate in late 2019 — the lowest in about 50 years.
Mr Chad Livengood, senior editor at publishing group Crain's Detroit Business, said: "(In 2016, President Trump) spoke to, sort of, a common man who felt that the (politicians) and business leaders of the country have essentially sold out the working class people, and that helped Trump win… in areas where manufacturing has been the lifeblood of the economy.
"This election is different… Michigan actually had a net loss of about 70,000 manufacturing jobs during President Trump's time in office."
The key demographic in these states are white, working-class Americans who have a tendency to vote conservative. About half of all white voters in the US lean towards the Republicans, while around 40 per cent lean towards the Democrats. Minorities mostly feel closer to Democrats, surveys have shown.
But Ms Margie Omero, principal of political consultancy GBAO Strategies, believes that the gender factor in these upper midwest states could play a bigger part in this election cycle.
"What is changing in a variety of states is college educated women and how those voters are overwhelmingly now voting Democratic... It started in 2016 and really happened in the 2018 (congressional elections). President Trump has made very little effort to win those voters back," said Ms Omero.
On the other hand, tax and environmental policies are another factor for these Rust Belt states that could play to Mr Trump's hand.
Mr McHenry pointed to the talk about fracking — a method to extract natural gas from shale rock using a high pressure liquid — in Pennsylvania. Opponents of fracking say it has a pollutive impact on the environment and entrenches the use of fossil fuels, while supporters said the economic benefits outweigh the cons.
"You can sort of argue back and forth about whether fracking is a good thing or a bad thing, but it does create a lot of jobs in Pennsylvania, which is why you see (Democratic Vice President candidate) Senator (Kamala) Harris saying, 'Oh no, I'm not against fracking', when she very certainly is," he said.
ARE OPINION POLLS RELIABLE?
In 2016, most state polls predicted that the Democratic candidate Hillary Clinton would trounce Mr Trump in the election, expecting that Michigan, Wisconsin and Pennsylvania would fall in line with what poll numbers showed and vote for the Democrats.
The three states had been traditionally Democratic, but Mr Trump won them with a slim margin of around 107,000 votes altogether.
While the national popular vote matched closely to national polling averages, the same cannot be said for state polls. Wisconsin, for example, voted for Mr Trump by a 1 percentage point difference, even though polls had forecast Ms Clinton to come ahead by 6 points.
Dr Doug Schwartz, director and vice president of the Quinnipiac University Poll, said a major reason for the upset was that "late deciders" in those states wound up supporting Mr Trump.
Some pollsters in 2016 had also underestimated white voters without a college degree. As a result, pollsters in this cycle are starting to weigh their samples by education, whereas they had not done so in the past, Dr Schwartz added.
He also stressed that such opinion polls are "snapshots" of the election, which could change with time.
With the US heading towards a record turnout for early voting due to the Covid-19 pandemic, some may argue that these polls are incorporating the results of actual votes in the poll data, and are hence more accurate.
Dr Scwartz, however, noted the possibility of an "October surprise", an event close to Election Day that could change how some people vote at the last minute. In 2016, the former Federal Bureau of Investigation director James Comey's letter on the investigation of the Clinton emails, sent to Congress around 10 days before Election Day, was seen as such.
Polls would not have captured such a sudden shift, said Dr Schwartz.
"For this campaign, some people are saying, well, we're already having October surprises. For example, the president's Covid-19 diagnosis. Nobody would have ever expected something like that, but we'll see," he said.