High-level presence at Singapore Airshow shows US' commitment to South-east Asia: Top official
SINGAPORE — The high-level American representation at the Singapore Airshow underscores the United States' deep commitment to the region, said Ms Tina Kaidanow, the top US diplomat responsible for foreign military sales on Monday (Feb 5).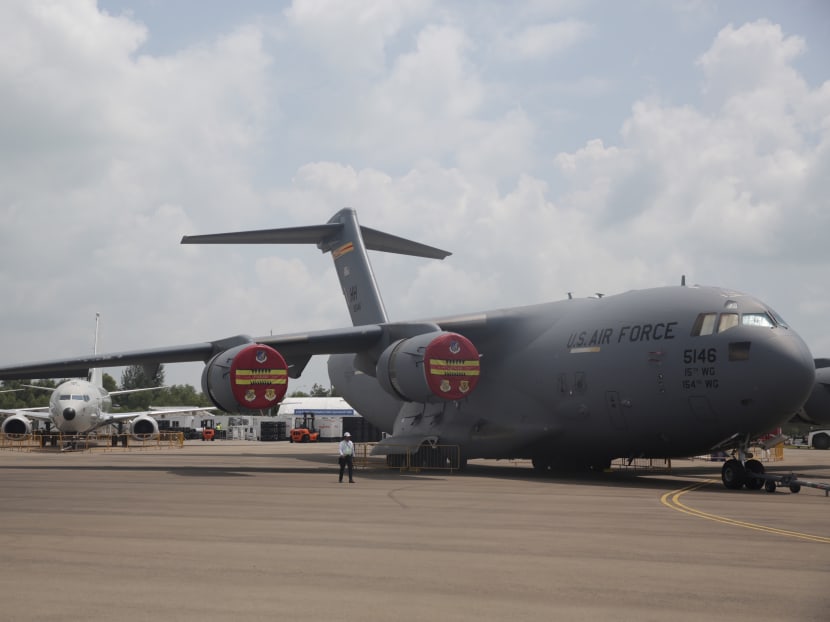 SINGAPORE — The high-level American representation at the Singapore Airshow underscores the United States' deep commitment to the region, said Ms Tina Kaidanow, the top US diplomat responsible for foreign military sales on Monday (Feb 5).
Ms Kaidanow is the first-such diplomat to attend the biennial aerospace event in its current iteration, where the US is the largest delegation with over 170 exhibitors.
"This is an increasingly important region in the world for us," she said in a conference call with regional journalists.
"This is something we are really committed to developing, in partnerships both in the bilateral sense and also in the multilateral sense… with Asean, via Asean," she added, referring to the 10-member Association of South-east Asian Nations.
She noted that American leaders from President Donald Trump to Secretary of State Rex Tillerson and Pentagon chief James Mattis have visited the region in the past year, and that Washington's engagement in the region spans from military to counter-terrorism cooperation.
"Asean is an incredibly important forum. We want to support it. We've committed ourselves at the highest level of our government to this region, to stability in the region," she said.
"This is a deep, deep, deep commitment on the part of the United States government," added Ms Kaidanow, who is principal deputy assistant secretary in the State Department's Bureau of Political-Military Affairs.
"My presence here is a part of it, but certainly not the biggest part of that."
The US' delegation to the airshow includes senior officials from the State Department, Defence Department, Commerce Department and the Federal Aviation Administration.
The 170-plus American exhibitors will take up nearly 30 per cent of the show's total 40,000 sq m of indoor exhibit space.
A cross-section of US military aircraft and equipment will also be on the showcase through static displays and aerial demonstrations, including the C-17 Globemaster III, RQ-4 Global Hawk, E-3B Sentry, KC-135 Stratotanker, B-52 Stratofortress, P-8 Poseidon, AH-6 Little Bird, F-35B Lightning II, F-22 Raptor, F-16 Fighting Falcon, and F-18 Super Hornet.
During the 2016 airshow, there were more than 140 US exhibitors.
The US Pacific Air Forces said in a statement that through its participation in air shows and regional events, the US "promotes interoperability" and creates "lasting relationships with international audiences to strengthen the bonds that support partnership building throughout the Indo-Pacific region".
Lieutenant-General Charles Hooper, Director of the Defence Security Cooperation Agency, added that America "delivers not only the most effective defence systems" but also offers a 'total package' approach through the provision of training, maintenance and sustainment to support its partners in the long run.
The presence of Ms Kaidanow and the large American delegation at the air show from Feb 6 to Feb 11 is aimed at boosting sales for US arms manufacturers such as F-35 jets made by Lockheed Martin Corp and missile manufactured by Raytheon Company.
The Trump administration is nearing completion of a new "Buy American" initiative that calls for US military attaches and diplomats to play a much bigger role in the sale of billions of dollars more in business overseas. Foreign arms deals require State Department approval.
The US exported US$49.5 billion (S$65.2 billion) of aerospace and defence products to Asia-Pacific in 2016, compared with the European demand of US$49.8 billion, according to US Commerce Department data.
Asked if the US is concerned about competition from China and Russia for a slice of the arms exports pie, Ms Kaidanow said: "No I don't think so… We truly believe that we have the best products around."
She added that while it is her job to make the case for US military products, she usually "does not have to try that hard" given their "indisputable" reputation.
"We find a lot of receptivity among our partners for purchasing our systems. They know the value of the American product."
She also lauded the US' defence ties with Singapore as "very, very strong", adding that the Republic is a "very productive partner for us".
She did not, however, directly address a question on whether there is any update on whether Singapore has decided to purchase of the F-35 all-weather stealth multirole fighter.
"It's a function of discussing with them what we can do for them, what they need. These are their sovereign decisions," she said.
"I don't want to comment for them. We are committed to giving them the full information that they need in order to make these types of decisions," she added.
"I believe strongly that both for interoperability sake, for the sake of regional stability… we believe we give the best product."