Wet markets in China: More than a shopping venue, they're a way of life
BEIJING — China's food markets are once again in the spotlight as Beijing conducts a blanket search to identify people who have been to the city's Xinfadi market, the epicentre of a new coronavirus outbreak in the capital.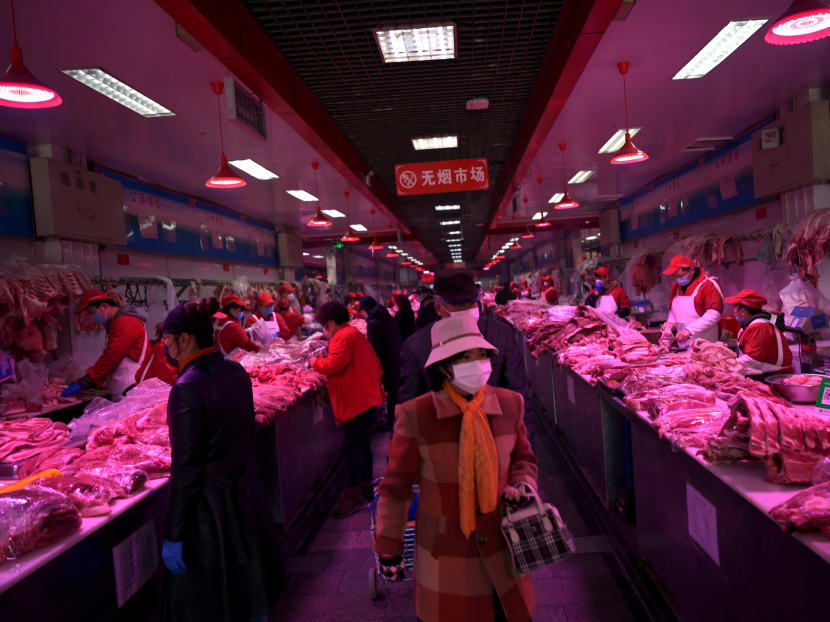 BEIJING — China's food markets are once again in the spotlight as Beijing conducts a blanket search to identify people who have been to the city's Xinfadi market, the epicentre of a new coronavirus outbreak in the capital.
After 56 consecutive days of reporting zero locally-transmitted Covid-19 cases, Beijing recorded 106 new community cases from Thursday (June 11) to Monday, most of them linked to Xinfadi.
Xinfadi is Asia's largest wet market, selling meat, seafood, fruit and vegetables in Beijing's southwest district of Fengtai.
Unlike the wet markets in Wuhan and Guangzhou, where wild animal sales were suspected to be linked to the first cases of the new coronavirus last winter and the severe acute respiratory syndrome (Sars) outbreak in 2003, there is no evidence of a wildlife trade in Beijing's Xinfadi wholesale food market.
While the source of transmission in Beijing is not yet known, the outbreak has generated a new wave of worries over the risk stemming from China's wet markets.
Dr Wu Zunyou, chief epidemiologist of the Chinese Centre for Disease Control and Prevention told state media CCTV on Monday that the cold and wet market environment might be virus-friendly.
And Dr Zhang Wenhong, an infectious disease expert with Huashan Hospital in Shanghai, said the "strikingly huge" volumes of food traded at Xinfadi market could make it a hotspot for the virus to spread.
Among China's more than 4,600 farm produce wholesale markets, the Xinfadi market has ranked top in volume and value for 17 consecutive years. Last year, it recorded 17.5 million tonnes (19.2 million tons) of farm produce amounting to 131.9 billion yuan (S$25.9 billion).
Hosting thousands of farmers and dealers from Beijing and other places, the market distributes more than 3,000 pigs and 1,500 tonnes of seafood a day, generating a seemingly endless flow of trucks and people.
Covering 112 hectares (276 acres) or an area as large as 157 football fields, it has around 2,000 fixed stalls and satisfies 80 per cent of Beijing's demand for farm produce. Though it is named "wholesale market", like its peers across the nation, it is open to all kinds of customers from wholesalers with neighbourhood vegetable and meat stores to buyers from restaurants and price-sensitive retail shoppers.
Daily traffic was more than 15,000 people before the Beijing municipal government ordered a shutdown for its Covid-19 investigation. Authorities have so far identified nearly 200,000 people who have visited the market in the past two weeks.
Similar to farmers' markets in the United States and Europe, China's wet markets provide produce which is deemed fresher and cheaper than those sold in supermarkets.
In China, supermarkets and e-commerce-based modern grocery vendors have been gaining market share in recent years as consumers embrace convenience.
While sales in supermarkets more than tripled from 2005 to 2019, traditional grocery wet markets report small but stable sales growth. Wet market sales accounted for less than one third of China's grocery spending as of last year, according to Euromonitor International, a market research agency.
Ms Tong Nizhu, a 58-year-old Beijing resident, said wet markets were a shopping paradise for her and dozens of neighbours.
"When I heard Xinfadi was closed because of the coronavirus, a strong sense of loss took hold of me, instead of fear," Ms Tong said. "I shopped there frequently and I felt satisfied when I bought fresh vegetables at good prices."
Twice a week, Ms Tong takes a 40-minute bus ride from her home to the Xinfadi market together with several neighbours and a small two-wheeled cart. She usually has a list of friends' orders and even though buying for others makes the shopping load heavier, she believes buying in bulk increases her bargaining power.
"We usually buy potatoes, carrots and other vegetables that don't go bad easily," she said, "And we are familiar with several vendors in the market where we can get a good price, sometimes 30 per cent cheaper than those sold in supermarkets.
"I like the sight of vegetables, whether they are wet or muddy. I also enjoy the freedom of selecting from unpackaged vegetables, bargaining and making small talk with the vendors I know," she said. "This is life, isn't it?"
Mr Wang Shouye, a 62-year-old retired accountant in Beijing, said he took a one-hour journey to Xinfadi once a week, usually early in the morning to secure the best price.
"The prices at the wholesale market are more affordable," Mr Wang said. "My wife and I are both retired, with no children living with us. Living expenses are so high in Beijing nowadays. With our pensions of just several thousand yuan, we have to save."
China had 600 million people living on a monthly income of 1,000 yuan (S$197), Premier Li Keqiang said late last month in Beijing. It means more than 40 per cent of its 1.4 billion people are still living on less than US$5 (S$7) a day.
"It's barely enough to cover monthly rent in a mid-sized Chinese city," Mr Li said, shedding light on the predicament of ordinary people in the world's second-largest economy where the wealth gap has been widening in recent decades.
Mr Hu Xingdou, an independent political economist in Beijing, said wet markets played a very important role in making life affordable for ordinary people, especially people on low incomes.
"A saving of 20 to 30 per cent on the daily expense of fresh foods means a lot to ordinary consumers. Without wet markets, their living cost will rise," Mr Hu said.
"Wet markets are also important because a large number of farmers and dealers have a small business and make a living there.
"These are social stability issues. It's impossible for China to ban wet markets. However, China should improve management of the markets to ensure food security, sound ventilation and to catch up with the requirements of epidemic prevention," he said. SOUTH CHINA MORNING POST