Who are Jho Low's 4 'lieutenants' in 1MDB scam?
KUALA LUMPUR — While Low Taek Jho is the best-known name linked to the 1Malaysia Development Bhd scandal, details of four other individuals jointly charged with the Penang-born businessman at the Kuala Lumpur Sessions Court on Tuesday (Dec 4) remain sketchy.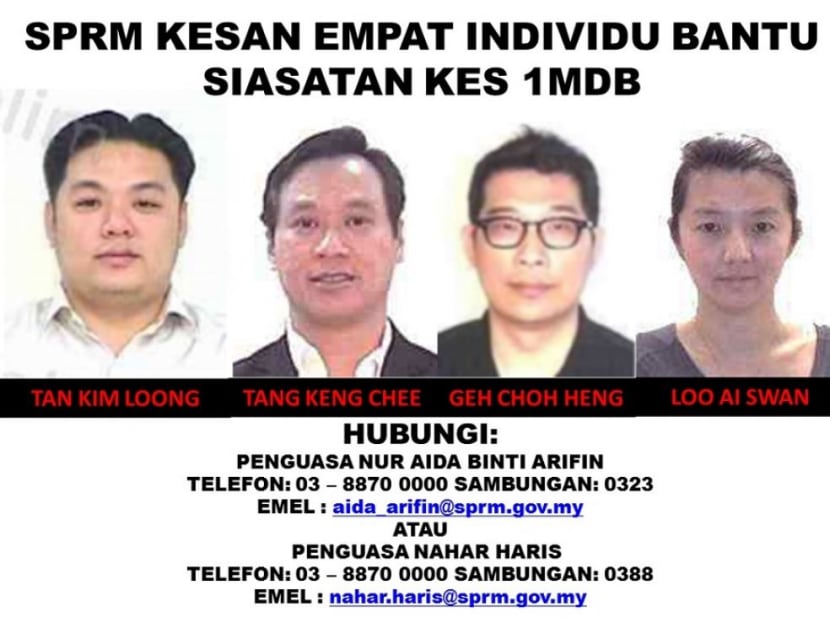 KUALA LUMPUR — While Low Taek Jho is the best-known name linked to the 1Malaysia Development Bhd scandal, details of four other individuals jointly charged with the Penang-born businessman at the Kuala Lumpur Sessions Court on Tuesday (Dec 4) remain sketchy.
The four — Tang Keng Chee, Loo Ai Swan, Geh Choh Heng and Tan Kim Loong — may not enjoy Low's infamy but have been on the wanted list of the Malaysian Anti-Corruption Commission (MACC) for a long time.
The hunt for the four individuals began in June when the MACC sought them for questioning over investigations into the embezzlement of 1MDB funds.
And after efforts to locate them failed, the Kuala Lumpur magistrates' court yesterday issued fresh arrest warrants against all five.
Below are briefs on Low's, better known as Jho Low, "lieutenants":
Tang Keng Chee
Also known as Casey Tang, the 53-year-old was formerly 1MDB's business development executive director for three years until March 2011. It was reported that he was already involved with the investment fund when it was known as Terengganu Investment Authority (TIA).
Due to his history with TIA, Tang fitted the description of "1MDB Officer 1" in the US Department of Justice's filing in 2016.
The DoJ alleged that "1MDB Officer 1" misled banks and hid certain facts from the 1MDB board of directors to transfer US$700 million (S$956.15 million) to Good Star Ltd, a company allegedly owned by Low.
In 2015, Bank Negara sought Tang to assist in a probe under the Exchange Control Act 1953 but he never turned up for questioning.
Loo Ai Swan
Also known as Jasmine Loo, she was 1MDB's general counsel and group strategy executive director between 2012 and 2013.
Loo, 45, who studied law in the UK, knew Low before joining 1MDB. She reportedly worked as the compliance and legal executive director at Utama Banking Group (UBG) Berhad, a company linked to Low.
In the DoJ filing, she was identified as "1MDB Officer 3", who served as 1MDB's liaison with Goldman Sachs, the bank that helped the state investor raise US$6.5 billion.
The court filing also stated that "1MDB Officer 3" was an authorised signatory of a bank account held in the name of Tanore Finance Corporation. The account was used in March 2013 to transfer US$681 million to an Ambank account held by "Malaysian Official 1", of which US$620 million was returned around August 26 that year.
"Malaysian Official 1" was identified as former prime minister Najib Razak, who was also finance minister and chairman of 1MDB's advisory board.
It was also reported in the court filing that Loo received a transfer of US$5 million, among dozens of other payments.
Like Tang, Loo was also wanted by Bank Negara in 2015 to assist investigations under the Exchange Control Act 1953. She never showed up.
Tan Kim Loong
Also known as Eric Tan, 40, the man is said to be Low's family friend and a front for his banking transactions, making him a key figure in the money trail involving 1MDB and its former subsidiary, SRC International Sdn Bhd.
Tan was the stated beneficial owner of several bank accounts at RBS Coutts and Falcon Bank into which misappropriated 1MDB funds were transferred.
On September 30, 2009, he instructed RBS Coutts in Singapore to transfer US$20 million to a JP Morgan account of PetroSaudi International (PSI) Ltd chief executive Tarek Obaid.
The payment was made two days after 1MDB signed a joint venture deal with PSI and a day after US$1 billion was transferred overseas by 1MDB.
Low's Good Star Ltd (Seychelles) received US$700 million from the amount without 1MDB board of directors' approval.
Obaid and Saudi prince Turki Abdullah were PSI shareholders, with which 1MDB lost US$1.8 billion. Much of the money reportedly has been traced to bank accounts of Low and Patrick Mahony, another PSI director.
On October 1, 2009, Tan emailed Mahony on an investment management agreement. The latter would be paid 2 per cent for managing a sum of US$85 million for Good Star.
Tan was wanted by Singaporean authorities in May 2016, along with Low, following investigations into 1MDB-related funds which flowed through the city-state's financial system. When the duo could not be found in Singapore, Interpol was contacted for help and subsequently, red notices were issued against them in October 2016.
The Edge reported in May 2016 that Tan's name also surfaced in a Singapore court when a former BSI private banker Yeo Jia Wei was charged over his role in the 1MDB scandal.
Yeo, who has since been sentenced to 54 months' jail, was accused of fraudulently facilitating the payment of US$11.9 million from the BSI account belonging to SRC International (M) Ltd (British Virgin Islands) in Switzerland to a DBS Bank account in Singapore belonging to Tan's company, Affinity Equity International Partners Ltd, in December 2013.
SRC (BVI) was a subsidiary of SRC International, which ceased to be a 1MDB subsidiary after it was transferred to the Minister of Finance (MoF) Inc in February 2012.
Yeo facilitated the payment using an "intermediary" by investing in the BVI-based Pacific Harbour Global Growth Fund AA4.
Geh Choh Heng
Also known as Terence Geh, the 47-year-old was 1MDB's executive director of finance as at October 2015, according to the Public Accounts Committee's 2016 report on 1MDB's governance management control.
His name popped up in the local news this year when the MACC went after him with the other three.
Geh's name had also come up in documents furnished as evidence in Yeo's trial in Singapore in 2016, according to The Edge.
The documents showed that Geh and then SRC managing director Nik Faisal Ariff Kamil approved the transfer of payment and investment in the Pacific Harbour fund.
Another document showed an email Geh forwarded to Yeo, Nik Faisal and others at BSI. Yeo asked Nik Faisal in the email to sign off on documents to proceed with the investment in funds managed by Pacific Harbour. THE MALAYSIAN INSIGHT