WHO declares Covid-19 outbreak a pandemic
GENEVA — The World Health Organization (WHO) declared the coronavirus outbreak a pandemic on Wednesday (March 11), saying that cases outside China have increased 13-fold and the number of affected countries has tripled.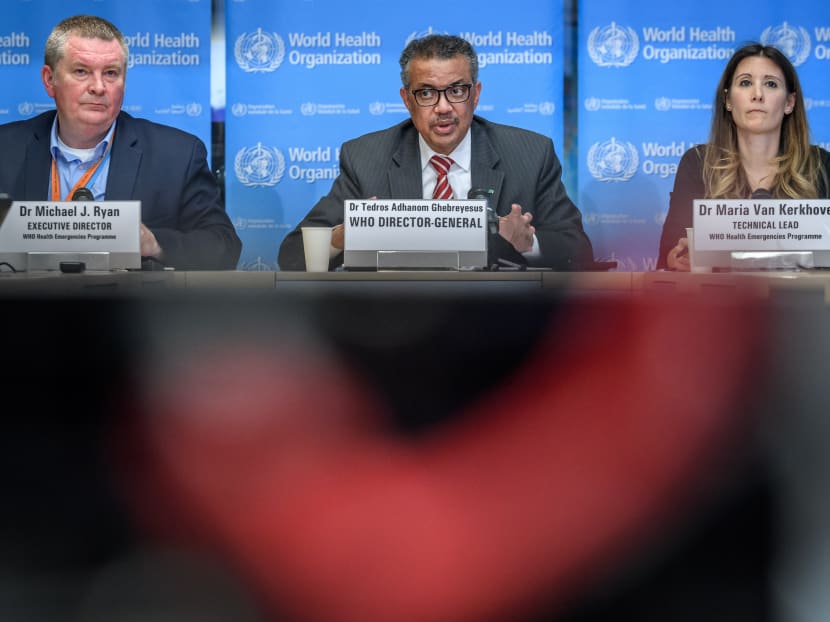 GENEVA — The World Health Organization (WHO) declared the coronavirus outbreak a pandemic on Wednesday (March 11), saying that cases outside China have increased 13-fold and the number of affected countries has tripled.
WHO's chief Tedros Adhanom Ghebreyesus said at a news conference in Geneva, Switzerland: "Covid-19 can be characterised as a pandemic. 
"We have never before seen a pandemic sparked by a coronavirus."
The head of WHO said that the organisation is "deeply concerned both by the alarming levels of spread and severity and by the alarming levels of inaction". 
"We have rung the alarm bell loud and clear," Dr Tedros said. "We cannot say this loudly enough, or clearly enough, or often enough: All countries can still change the course of this pandemic."
He also said: "This is not just a public health crisis, it is a crisis that will touch every sector... So every sector and every individual must be involved in the fights."
The deadly new coronavirus has infected more than 120,000 people globally and killed more than 4,300 across more than 110 countries.
An outbreak reportedly began in Wuhan, China's Hubei province in December last year at a seafood market that also sells live animals and it has since spread worldwide in a couple of months.
An epidemic is explained as an outbreak of an illness that spreads unexpectedly within a specific community. By contrast, WHO defines a pandemic as a worldwide spread of a new disease.
Before Covid-19, the H1N1 outbreak in 2009 was the last pandemic declared by WHO.  
DEADLIER THAN SEASONAL FLU
Dr Anthony Fauci, director of the United States' National Institute of Allergy and Infectious Diseases, told lawmakers that the pathogen is 10 times deadlier than the seasonal flu.
Disease experts told AFP it is estimated that each Covid-19 sufferer infects two to three other people. That is a reproduction rate up to twice as high as seasonal flu, which typically infects 1.3 new people for each patient.
Dr Robert Redfield, director of the US Centers for Disease Control and Prevention, told a congressional committee that the virus has spread to at least 38 states.
"Right now the epicentre — the new China — is Europe," he said. "And there are many people coming back and forth from Europe that are now starting to seed these communities," he said in a USA Today report.
New York announced 20 more cases. The state will ask businesses to consider staggering shifts and allowing employees to work from home, Governor Andrew Cuomo said. Washington recommended that all large gatherings be cancelled in the nation's capital.
Britain announced a US$39 billion (S$54.3 billion) stimulus package, hours after the Bank of England cut interest rates, Bloomberg reported. 
German Chancellor Angela Merkel pledged to do "whatever is necessary".
Italy vowed to spend up to 25 billion euros (S$39 billion) to fight a coronavirus epidemic that has killed 827 people and put the country's hospitals and economy under intense strain, AFP reported.
On Wednesday, Singapore announced that eight of the newly confirmed cases are imported from overseas, the largest number of such cases reported in a day by far.
DIFFERENCE BETWEEN AN EPIDEMIC AND A PANDEMIC
Professor Lawrence O Gostin, who specialises in global health law at Georgetown University in the US, told the New York Times last month: "Typically, an outbreak becomes an epidemic when it becomes quite widespread in a particular country, sometimes in a particular region, like (the mosquito-borne disease) Zika. 

"Whereas a pandemic is thought to be a wide geographic spread of a disease on many parts of the world, many continents."
DOES IT MATTER WHAT IT'S CALLED?
Dr Jennifer Nuzzo, a senior scholar at the Johns Hopkins Center for Health Security, told New York Times that the terms "epidemic" and "pandemic" imply different approaches to a health crisis.
An epidemic suggests that the virus may be geographically limited and that intervention by health agencies could help stop the spread.
For a pandemic, where many places could be affected, there may be consequences for how many people or how much money or supplies are available, she said.
When an outbreak covers the globe, international groups such as WHO and the United Nations have to divide their resources across greater territory than during a regional epidemic, she said. That would make a pandemic far more difficult to manage.
The approach to dealing with the pathogen could also be different, Dr Nuzzo said.
If cases are everywhere, the authorities might stop trying to prevent it from entering a country and focus instead on trying to treat illness, slow the pathogen's spread and protect vulnerable people. AGENCIES