The Big Read in short: Capital no more, will Jakarta sink or swim?
Each week, TODAY's long-running Big Read series delves into the trends and issues that matter. This week, we look at the problems facing Jakarta and whether they would be eased or worsened by the Indonesian government's move to relocate its capital. This is a shortened version of the full feature.
Each week, TODAY's long-running Big Read series delves into the trends and issues that matter. This week, we look at the problems facing Jakarta and whether they would be eased or worsened by the Indonesian government's move to relocate its capital. This is a shortened version of the full feature, which can be found here.
JAKARTA — Mr Appe Novian Caniago, 48, calls his six-square-metre rented quarters in central Jakarta a "kost for jailbirds". 
His rooftop "cell" heats up like an oven in the day. 
Occasionally, fights break out with noisy neighbours as the walls are porous. 
And the common toilet and bath area he shares with the other tenants — including a couple with a young child — is so often choked that he had inscribed a warning in Bahasa Indonesia on the wall that says : "Don't litter because if it is clogged, we will all be flooded. Be a little smart, okay?" 
Despite his austere surroundings, the musician-turned-street busker is not going anywhere. 
"I don't need a comfy place. I just need a warm place that makes me want to wake up early to pursue my unfulfilled dreams," said Mr Appe who left his hometown on Borneo island when he was 18 with high hopes of making it big as a singer-songwriter in Jakarta which sits on Java island, the centre of Indonesia's political and economic life. "We are here for the struggle." 
Mr Appe's story offers a glimpse into the enduring appeal of Jakarta, warts and all. Despite its well-documented multitude of problems – from notorious traffic jams, clean-water crisis to choking pollution — millions of Indonesians from all over the sprawling archipelago still flock to the capital with hopes of finding the proverbial pot of gold at the end of the rainbow. 
More than just Indonesia's administrative capital, the overpopulated city of Jakarta is the centre of the country's economy, education institutions and culture.
To ease the multifaceted burdens that a literally sinking Jakarta has had to bear for decades, Indonesian President Joko "Jokowi" Widodo announced on Aug 16 plans to move 1.5 million civil servants to a future capital city in East Kalimantan. The yet-to-be-named capital will be built on a 180,000-hectare space three times the size of Jakarta.
If everything goes as planned, the relocation may start as early as 2024, when Mr Jokowi's second and last five-year term ends.  
How will things change when Jakarta loses its capital city status? Not much as far as their daily lives are concerned, said Indonesian residents interviewed by TODAY.
They felt that Jakarta will continue to play an important role, along with its many troubles, and complement the new capital — like New York to Washington DC, Brasilia to São Paulo, or Kuala Lumpur to Putrajaya.
And Jakarta residents like Mr Appe will continue to live in a kost downtown to avoid wasting time in traffic jams. Others, like architecture student Masitha Nurul Fadhila Sekardini, will still have to factor in four to five hours' of commuting time in their daily schedules. 
UNENDING TRAFFIC NIGHTMARE
Twenty-year-old Masitha, who hails from Bekasi – Indonesia's most populous satellite city on the eastern border of Jakarta – has to wake up at 5.30am for school at Binus University, which is 21km away. Any later, the crowd at Jatibening bus terminal would get out of hand, delaying her commute.
On her way home, she often makes five transits: An ojek (Indonesian for taxi bike) takes her from her campus in West Jakarta to Senayan. Then, a TransJakarta bus towards Dukuh Atas. Walk five to 10 minutes to Sudirman railway station, where she will board a train to Manggarai station. Next, a transfer train to Bekasi railway station and finally, another ojek to get to her doorstep.
A more direct way would be a bus that goes straight to Bekasi, but more often than not, commuters have to stand in a packed bus for two hours – not something that Ms Mashita is keen on doing after a long day at school.
For drivers, an "odd-even" policy — applied at major roads during rush hours from 6am to 9am and 4pm to 9pm on weekdays at the moment — regulates that cars with licence plates ending in odd numbers are only allowed on odd-numbered dates, while even licence plate holders can only travel on these roads on even-numbered dates. 
But the lack of comfortable alternative transport options have led to drivers resorting to navigating narrow and windy roads referred to as "jalan tikus" — or rat streets — jamming up kampung areas beyond the main roads. And richer city dwellers are known to have two cars, one with an odd licence plate and the other even, to get around the regulation. 
Jakarta's population density is easily twice that of other South-east Asian cities such as Singapore, Kuala Lumpur and Bangkok. But the Indonesian capital currently has only one MRT line with a daily ridership of 95,000, and a bus system serving some 600,000 passengers daily.
THAT SINKING FEELING IN MORE WAYS THAN ONE 
Traffic woes aside, Jakarta, a low-lying city, has also been sinking slowly. 
While climate change has caused sea level around Jakarta to rise by 6mm a year, it is not the main contributor to the problem. 
The bigger culprit is unregulated groundwater extraction, which has caused parts of Jakarta — particularly the northern belt — to sink up to 4m since the 1970s, at a rate of up to 25cm a year.
Since only about 30 per cent of the city's residents get water from the pipe, more than 60 per cent resort to wells that extract water from natural aquifers beneath the city. 
Think of the resulting "swiss cheese" in the ground with some 630 million cubic metres of ground water being pumped out annually.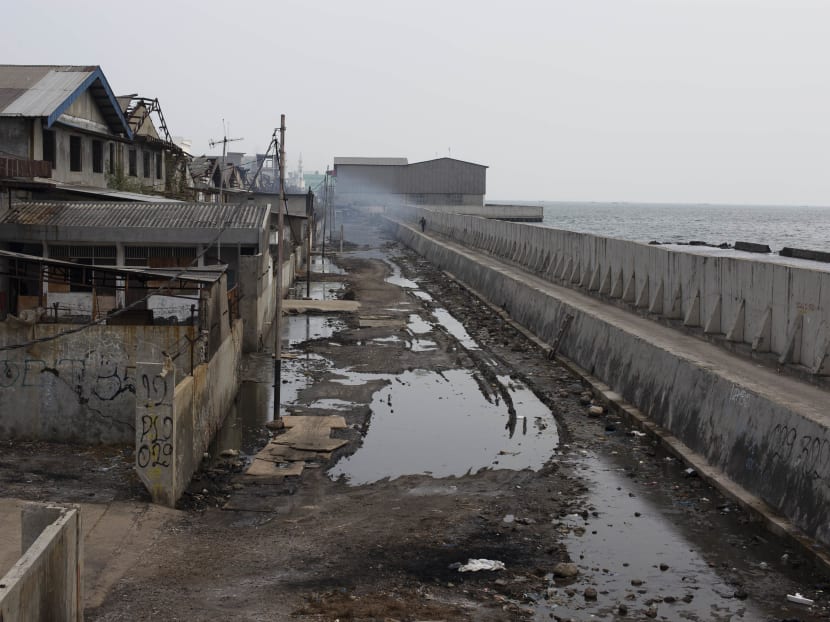 Although the Jakarta administration had unveiled plans to build multiple reservoirs across the city to create more water absorption sites amid the threat of floods across the city — 40 per cent of which now lies below sea level — progress had been sluggish due to land clearance issues.
The electricity infrastructure also has its weaknesses, as the massive blackout that hit Jakarta last month revealed.
The blackout had prompted the state electricity firm PLN to commit to building a one-trillion-rupiah 101 megawatt diesel-fired power plant in central Jakarta to provide emergency electricity for the city's new MRT system. This means air quality would continue to suffer.
Jakarta's air pollution has already overtaken pollution black spots in China and India on some days. The existing sources of pollutants includes numerous nearby coal-fired power plants, transport emissions, construction and road dust and open waste burning.
CAPITAL SHIFT: BOON OR BANE FOR JAKARTA? 
Many residents whom TODAY spoke to doubted that the relocation of the capital would solve its myriad of problems. 
They pointed out that even if millions of Indonesians relocate from Jakarta to the new capital, they would be replaced in no time by even more people from other parts of the country, seeking better fortunes in the city.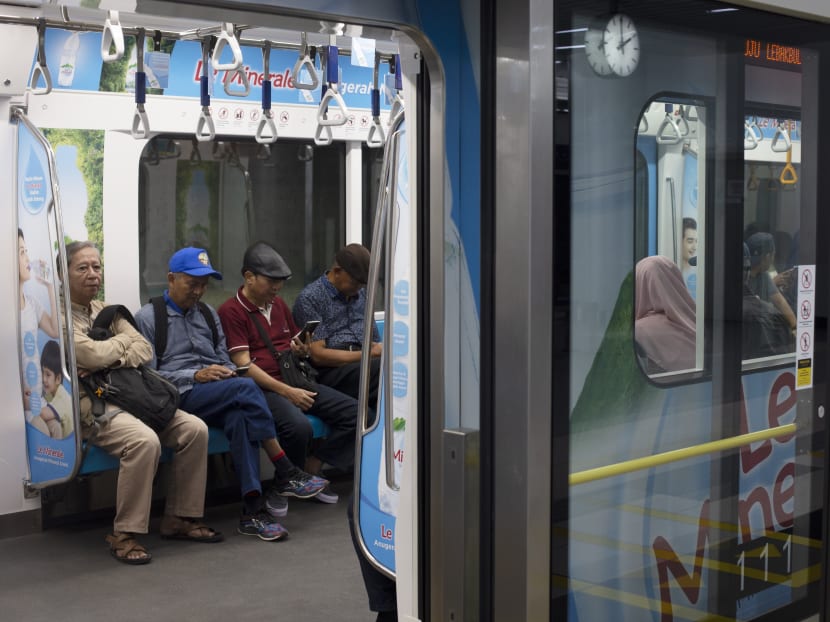 Still, there were those who hoped the relocation of the capital would result in a mindset change in the next generation — from the current Java-centric view, which has been deeply embedded since colonial times, to a more Indonesia-centric perspective where more attention can be paid to the other parts of the country which are lagging far behind.
Meanwhile, many in the business community — including Singaporean investors — whom TODAY spoke to are looking forward to the relocation. 
One of them is Mr Andy Hidayat, 56, who co-founded meal delivery app Kulina. 
Politics-related activities in Jakarta, such as protests, have disrupted his businesses four times a year on average. He is relieved that commerce and politics will soon be separated.
"Politics is supposed to be separated from everyday life. It needs a separate space, so you can do politics more effectively, lobbying, drafting new regulations. The government can be more focused on the policies (in the new capital) than in a very complex city like this," he said. 
Singaporean Kenny Tan, 52, chief executive of IT logistics and warehousing solutions firm Keyfields who set up an office in Jakarta last year, said there's still a lot that the city can offer. 
In his firm's first year there, Keyfields closed five deals, doing better than its branch in Yangon, Myanmar, where they only closed six to seven deals in two years.
Fellow Singaporean, Mr John Tan Wei Min, 63, will remain in the city as long as the multinational companies he supplies to — for exports to overseas markets — remain concentrated in Jakarta. 
He owns Preshion Engplas, a company manufacturing plastic components for the automotive and electronics industry in West Java's Purwakarta.
"(The move) will only affect local officials who work in the government office. In fact, it is better for us if some activities or people move out of Jakarta," said the 63-year-old, alluding to the city's traffic congestion which affects logistical flow.
FACTS & FIGURES
Jakarta was never envisioned as Indonesia's capital when the country gained independence from the Dutch in 1949. 
Originally a low-lying coastal swamp area, it was first developed by the Dutch in 1621.
And while Indonesia's first president Sukarno took it as the de facto capital post-independence, he had laid the foundation for a new capital at Palangkaraya in Central Kalimantan.
But the plan was not implemented, and Jakarta was granted official status as a special capital region in 1966.
Jakarta has a population of about 10 million, translating to approximately 15,000 residents per sq km. In comparison, Singapore's population density is about 8,000 residents per sq km.
The city is forecast to add 4.1 million people between 2017 and 2030, according to a Euromonitor report. 
The Greater Jakarta area comprises Jakarta, Bogor, Depok, Tangerang and Bekasi, collectively referred to by locals as "Jabodetabek", which takes the first letters of each city. In all, 30 million people live in Greater Jakarta.