The Big Read in short: Food delivery is hard work without prospects or benefits. Still, some do it for years
Each week, TODAY's long-running Big Read series delves into the trends and issues that matter. This week, we speak to some food delivery riders who see the job as their best shot in life, despite its downsides. This is a shortened version of the full feature.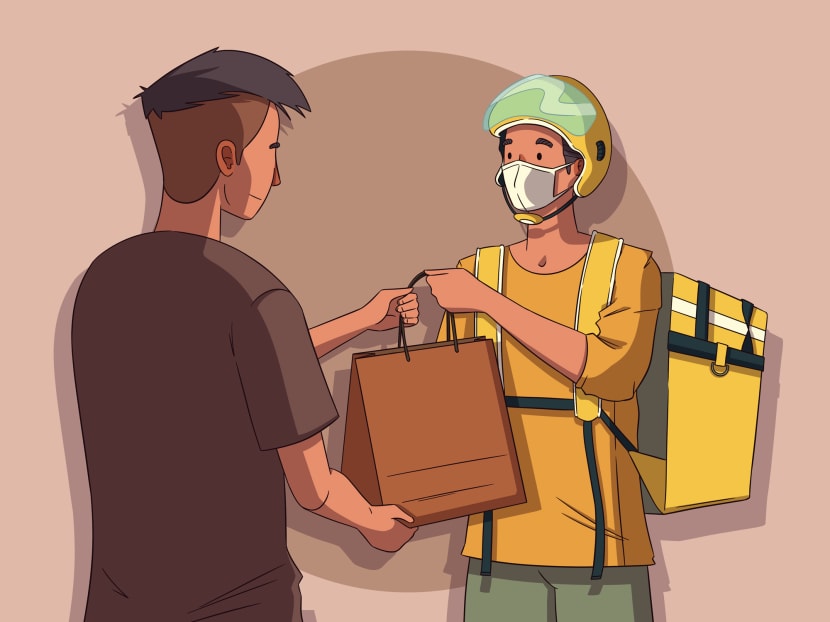 Each week, TODAY's long-running Big Read series delves into the trends and issues that matter. This week, we speak to some food delivery riders who see the job as their best shot in life, despite its downsides. This is a shortened version of the full feature,​ which can be found here.
With its low barriers to entry, the food delivery industry has become the gig of choice for those looking for flexible working hours and quick cash
As the number of food delivery riders continues to grow, their well-being was among the issues raised during the National Day Rally in August
However, the job comes with many downsides including the lack of basic benefits and having to brave the elements while on the road
Despite the downsides, some food delivery riders have decided to remain in the industry for the long haul for various reasons
These riders, who have been in the line for several years, have also witnessed how the industry has changed due to Covid-19   
SINGAPORE — For over a decade, Ms Yati was a homemaker who relied on her husband, who was a taxi driver, as the sole breadwinner of their family.
But in November 2018, his health started to decline due to a heart condition and he could work only for about two to three hours each day, before he would begin to feel breathless and return home. At that time, Ms Yati felt that she needed to step in to help pay for their living expenses, including the monthly rent for their one-room flat.
The 59-year-old, who wanted to be known only by a shortened version of her name, decided that she would take on food delivery on her personal mobility device (PMD).
"I've got no other choice. I cannot do a cleaning job because I cannot see dirty things, I will vomit," said Ms Yati, who dropped out of school in Secondary Two. "And I have no experience in (the) office line. My education is not that high. So this is the only job I think suits me."
For nearly the past 3 years and counting, she has been delivering food six days a week.
For Mr Zhang, another food delivery rider who declined to give his full name, the job allows him to "start making money immediately at the start of the day" and it is hard for him to find a job that pays the same. Each month, he aims to earn about S$3,000.
The 38-year-old, who has been working as a full-time food delivery rider since December 2018, had previously held a variety of jobs, including in telemarketing and sales as well as working as a private hire car driver.
He added: "I can also save money in this job. It's the way you see how money is earned too. Making S$5 to S$7 at a time compared to S$3,000 at a time (at the end of the month) makes you think twice (about spending)."
With its low barriers to entry, the food delivery industry has become the gig of choice for many looking for flexible working hours and quick cash. In the past year, the industry has also offered a temporary lifeline to people who suddenly find themselves without a job due to the Covid-19 pandemic.
But food delivery riders do not enjoy the same basic benefits or job prospects as most employees. The job also comes with its fair share of negative encounters and challenges — namely dealing with unreasonable customers and vendors, grappling with bad weather, travelling on crowded and dangerous roads, and getting injured as a result.
Apart from the lack of basic benefits, some food delivery riders have also seen their earnings affected during the ongoing pandemic despite the boom in demand.
During the circuit breaker last year, while food delivery platforms saw an increase in deliveries, some riders reported they started earning less from the platforms, with weekly incentives also falling. They attributed it partly to the influx of new riders who had lost their previous jobs.
The well-being of food delivery riders was among the issues raised during Prime Minister Lee Hsien Loong's National Day Rally (NDR) speech on Aug 29.
PM Lee pointed out that these gig workers have no employment contracts and thus, they lack basic job protection that most employees have, such as workplace injury compensation, union representation and employers' contribution to the workers' Central Provident Fund (CPF).
He also noted that more people have been taking up this type of work, especially amid the pandemic.
Last year, there were a total of 11,300 car and light goods vehicle drivers, who included food delivery riders, according to the Ministry of Manpower's (MOM) Labour Force in Singapore 2020 report. This was 3,500 more from the figure in 2019, when such data was first reported.
MOM has set up an advisory committee to study how to support self-employed persons who work for online platforms.
With changes afoot in the industry, TODAY looks at why some food delivery riders have decided to remain in it for the long haul, even relying on the job as their only source of income, despite the downsides.
THE DOWNSIDES
For the riders interviewed by TODAY, keeping safe while on the road and making deliveries is the biggest challenge they face daily.
"There's always a safety concern. You never know if today's the day you don't get home," said Mr Zhang, who does his deliveries on a motorcycle.
Another delivery rider who wanted to be known only as Mr Lee, 35, added: "You can be predictable on the road but sometimes other motorists are not." He has been delivering food full time on his bicycle since January 2019.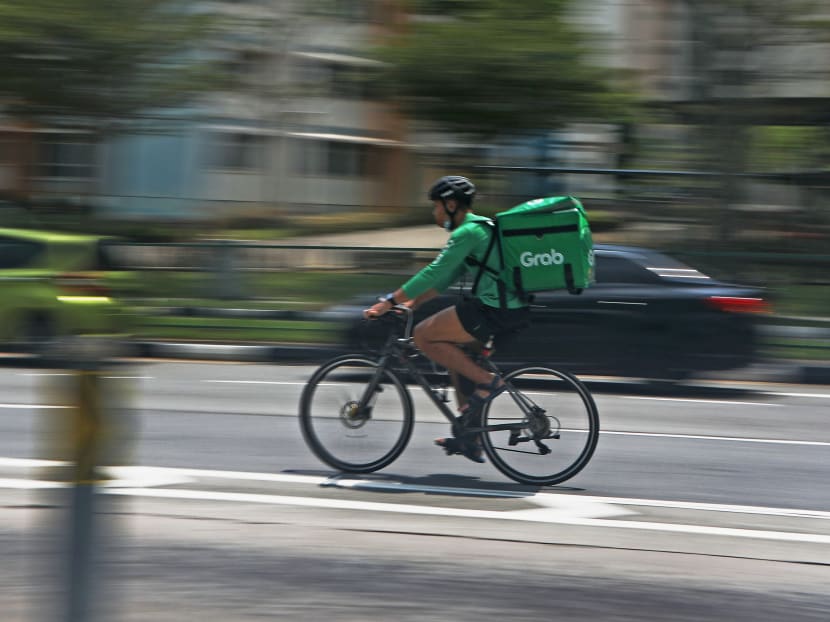 Ms Yati, who rides an electric bicycle to make deliveries after the ban on PMDs in 2019, has been hit by a taxi while on the job but escaped with light injuries.
Mr Rafael Sriram, a 32-year-old food delivery rider, said: "As e-bike users, we always face drivers who have no patience and they don't give way to us. We get horned (at) sometimes and get stared (at) if we try to cut lanes." 
He was a part-time food delivery rider from 2015 to November 2019, working on all weekends, or about eight times a month, before he left his job in the food and beverage (F&B) industry and decided to pursue the gig full-time.
"Weather is also one of the toughest (challenges). Especially when it rains, it is more dangerous for us (on the road). Humid weather during the mid-year, like in March, April and May where it's super humid, sometimes we get heat rash and dehydration," Mr Rafael said.
Long waiting times at F&B merchants are also a bane for many.
It is the "most frustrating thing", said Mr Zhang. "Plus I don't get paid for waiting in restaurants. That's just wrong."
Then, there is having to deal with impatient and unreasonable customers and sometimes merchants too.
"Basically riders are more or less treated like punching bags. Yes we can retaliate but once we retaliate and people complain about our bad behaviors (to the delivery platform), the company takes serious actions on us," said Mr Rafael. "Our account can get suspended hence we won't be able to work. Length of suspension depends on a case-by-case basis. So basically delivery riders are more or less a patty in a burger — compressed up and down."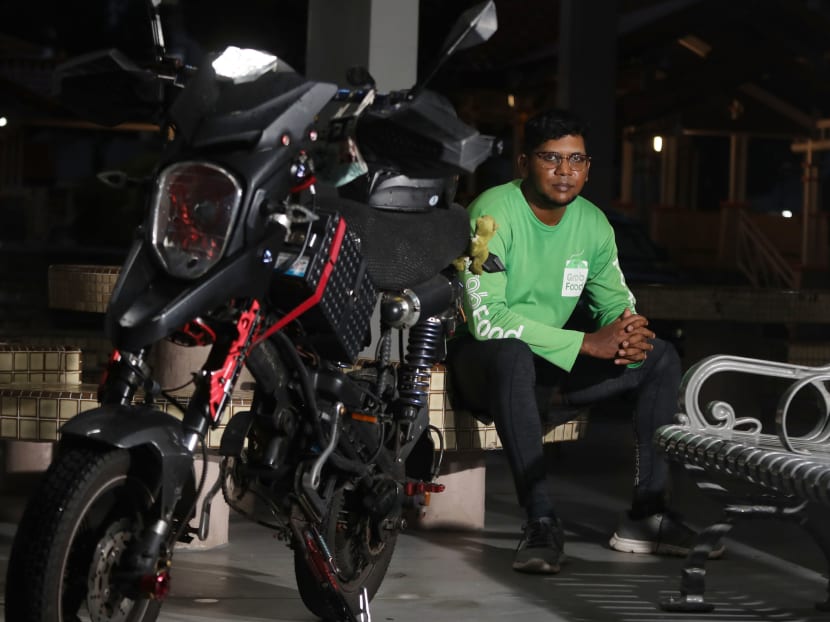 HOW COVID-19 HAS CHANGED THE INDUSTRY
Those who have been delivery riders for a few years now noted that the industry — like many other aspects of life — has changed due to Covid-19.
"There are too many (new riders) now. Last time, I could bring home S$1,000 a week. Now it's maybe only around S$400 for working the same hours," Ms Yati said.
She works six days a week from 8am to noon, when she will take a break before continuing from 5.30pm to 9.30pm.
"Foodpanda is also paying us less. Last time I would get S$7 per order, now it's maybe S$3 or S$4," she said.
Mr Lee, the 35-year-old rider who primarily works on the Foodpanda platform, noticed that the fee structure has changed from fixed fees to being based on distance instead. 
"So now when you go nearer, fees are even less than what was the fixed amount before. And it's only increased for those who go further. Also… they don't take into account that sometimes we need to go one big round to get somewhere.
"With more riders now, I also feel like the platform has the bargaining chip to push down fees even more. It's like, if you don't want to do it, we have other riders who are willing," he said.
On its website, Foodpanda said that its fee structure was changed from June 23 last year. It added that the changes were in response to feedback from riders to be "compensated fairly for longer travel, to have the ability to choose which order to accept and to have complete transparency on how much you can make per order".
On distance-based fees, it said: "We understand that some orders are farther than others, and we want to fairly incentivise our riders for their exceptional effort."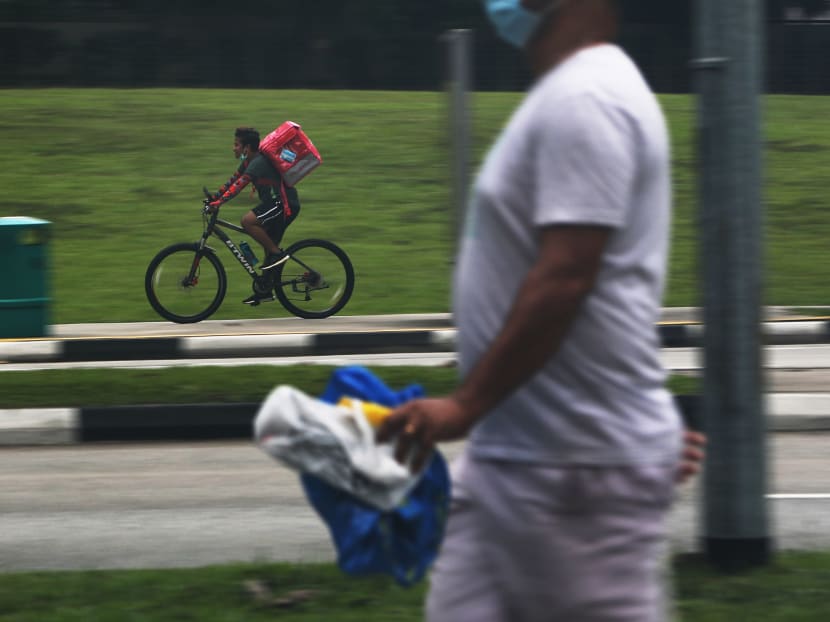 Mr Lee, who lives in the West and used to make deliveries around the region, said he has had to go elsewhere because his area has become "overpopulated" with other riders, making it hard to get jobs.
He now leaves his home every morning five days a week and takes the train to Orchard where his bicycle is parked to deliver orders in the central areas.
"I'm not earning less per se, I'm just working harder," said Mr Lee, who declined to say how much he earns typically from delivering food.
The former merchandising executive said that what keeps him going is his love for cycling and the fact that he can earn a decent amount of money as long as he puts in the hard work.
For Ms Yati, her job as a food delivery rider gives her a sense of independence.
"My children are married with their own children. They have their own responsibility and they need to support their own family so I don't want to bother my children," said the mother of four. "As long as I'm still strong, I can cycle, I can move, I will proceed." 
Mr Rafael, who earns up to S$5,000 a month working everyday between 6am to 3pm, sees himself staying in this line for at least the next two years. After that, he hopes to open his own cafe.
"Food delivery is good money. Secondly, it's a foolproof job where you don't have to think too much. The only hurdles are that you have to wait a lot and when it rains, there are (safety) risks. Food delivery platforms will never die. Everyone needs to eat," he said.