The Big Read in short: No mid-year exams — how everyone (including tuition centres) is reaping the benefits
Each week, TODAY's long-running Big Read series delves into trends and issues that matter. This week, we look at the impact of the scrapping of mid-year examinations on all the stakeholders, including tuition centres. This is a shortened version of the full feature.
Each week, TODAY's long-running Big Read series delves into trends and issues that matter. This week, we look at the impact of the scrapping of mid-year examinations on all the stakeholders. This is a shortened version of the full feature, which can be found here.
SINGAPORE — When she had to sit for examinations during primary school, Amirah Prisca, 13, recounted that she used "to get fever, vomiting and anxiety".
The Secondary 1 student at Assumption English School is glad that she does not have to go through that experience again at this time of the year, when the majority of students across the Primary and Secondary levels are busy mugging or sitting for the mid-year exams
Students in Sec 1 this year and their parents — fresh from the stress of the high-stakes Primary School Leaving Examination — are among the first to reap the benefits of the Ministry of Education's (MOE) moves to reduce stress and emphasis on grades, and to inculcate the joy in learning.
"I feel less stressed. It gives me a little more play time and I will also have more time to study for the year-end examinations. That is still important because it tests how well you are doing," she added.
Her mother Priscilla Ramachandran, 35, who works as a preschool educator, said that the removal of mid-year exams "has been a great relief". "I still monitor her progress as usual and keep encouraging her," she said.
Read also
Starting this year, as announced by Education Minister Ong Ye Kung last September, schools have done away with mid-year exams for Sec 1, as well as all graded assessments and examinations for Primary 1 and 2 pupils.
Mid-year exams will also be removed in phases over the next three years for Pri 3, Pri 5, and Sec 3.
Apart from Sec 1, some schools have gone ahead to remove mid-year exams for other levels this year ahead of the impending changes.
Among other things, the scrapping of mid-year exams has freed up about two weeks of curriculum time which means more opportunities for students to engage in self-discovery through lessons within and outside the classrooms.
It also means less anxiety and stress for parents. For the teachers, they say they now face less pressure to rush through the syllabus before the mid-year exams. They also have more time to come up with creative lessons, and do not have to be saddled with marking of exam scripts.
MAKING LEARNING FUN
Following the removal of the mid-year examinations for its Sec 1 to Sec 3 students", Hua Yi Secondary School has expanded its learning festival for students.
Previously, carnival rides and games were held as part of the one-day programme.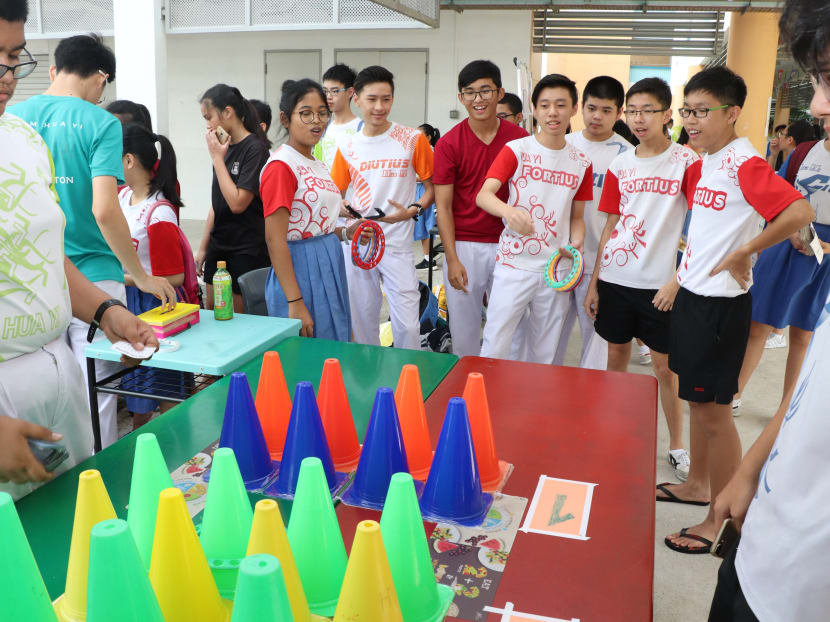 This year, the programme will take place later this month over five days. With a greater emphasis on learning, students will have the chance to demonstrate their understanding of topics such as robotics.
For instance, some students are organising a fashion show relating to healthcare technology.
They can also participate in programmes and activities such as sand-art animation and wushu.
At Zhonghua Secondary School, the additional free time is used to teach Sec 1 students to write Haiku poems and fiction by the Singapore River. Students in the school's art elective programme also visit the National Gallery to learn the history of the artefacts exhibited there.
At Waterway Primary School, which has removed its mid-year exams for Pri 3 students, these pupils now get to learn science through an investigative study on "man and its environment" where they present their findings via skits and drama.
Principals and teachers said that teachers now have more time to come up with creative lessons, gauge students' interests and bounce off ideas with their colleagues.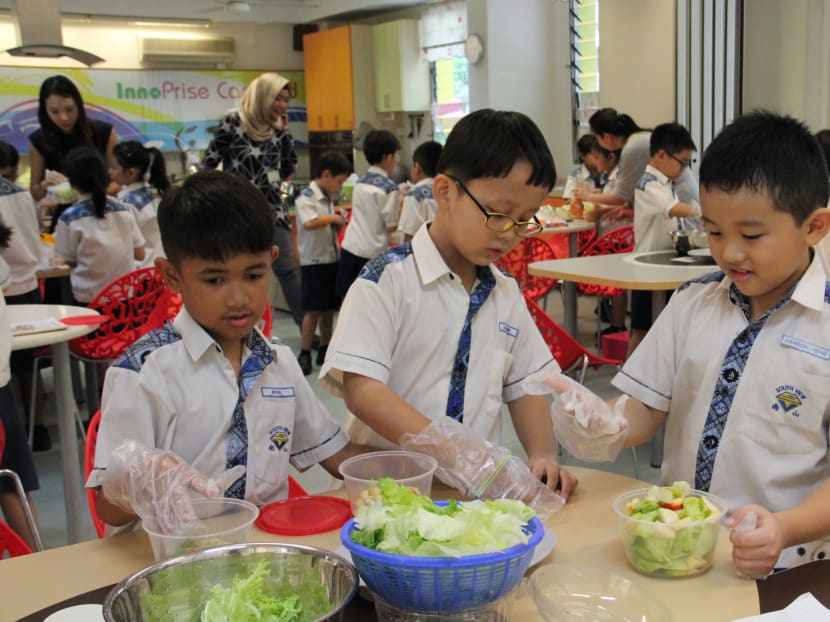 A 37-year-old science teacher from a secondary school in the east said that in the past, she had to rush through six topics prior to the two weeks of revision before the mid-year exams.
But this year, for instance, she managed to get her Sec 3 biology students to create a website to explain how osmosis and diffusion work, using animation and other methods. "Previously, I don't have the time to let students do that," she added.
'LESS STRESS, MORE JOY'
Dr Jeremy Lim, a father of three children aged between 10 and 16, said his family has "piles of exam worksheets and assessment books which the children go through over the year".
But since his son, who is in Sec 1, does not have mid-year exams, ploughing through the study materials will be "more spaced out".
"That said, without the mid-year exams to prepare for, there is more time to spend on enrichment activities like going to the park, visiting the zoo and bird park, watching plays and musicals," said Dr Lim, who is a partner at the global consultancy firm Oliver Wyman.
For Ms Wang Hanqing, a mother of two boys in Pri 1 and Pri 3, the removal of exams provided "some relief". More importantly, it gives her "a bit more space to focus on the process of learning" and not to be fixated on grades.
Read also
"I just teach them (her children) the value of putting in consistent work," said the 37-year-old freelance writer whose kids do not have any tuition.
MOE previously said that from this year, all students from Pri 3 to Sec 4 or Sec 5 will not have more than one weighted assessment per subject per school term.
Schools can still conduct assessments, although the scores will not count towards overall results.
To gauge students' learning progress, schools use various assessments such as class work and homework, the MOE spokesperson told TODAY.
The spokesperson said that by gathering feedback from parents and students, the ministry will continue to evaluate the effectiveness of the changes and identify areas of support needed by schools.
HOW TUITION CENTRES ARE ADAPTING
Mr Lim Wei Yi, who is the co-founder and managing director of Study Room, said that his tuition centre has slowed down its pace of teaching, in line with what the schools are doing.
Even so, his centre is still teaching ahead of the syllabus taught in schools, he added.
While students could be less stressed now without having to sit for mid-year exams, it also means that the stakes for the year-end exams could be raised, he said.
"As they may not have been consistent with their work, there is a higher likelihood of a last-minute scramble then, which results in even more stress for the child," he added.
But principals and teachers disagree.
Read also
A secondary school teacher, who declined to be named, said that while the pace of teaching has been reduced, learning is now done with more depth.
And teachers still have to cover the syllabus within a certain time frame, she added.
South View Primary School principal Sharida Batcha Sahib noted that the removal of mid-year exams for a particular level cannot be seen in isolation.
"We look at learning in its totality, throughout the six years in (primary) school. So, when students are exposed to a consistent pace and what the exam format is like, they won't feel stressed out," she said.
TODAY had previously reported about some tuition centres rushing in to fill the gap and soothe anxious parents, by introducing more classes and assessments.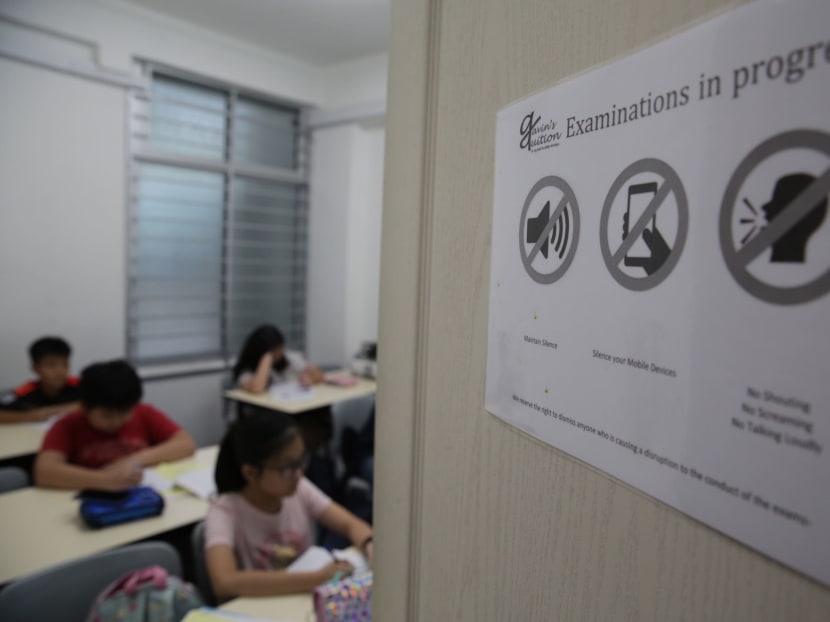 Tuition agency Kent Ridge Education said that following Mr Ong's announcement last year, its enrolment has increased by 10 per cent.
The centre's principal Max Wong said this was driven by parents who were worried that they would not be able to get a good gauge of their children's progress in school, following the scrapping of the mid-year exams. They were also concerned that their children could become complacent, and as a result, struggle with the year-end exams, he added.
Some parents whom TODAY spoke to admitted that they were worried about the new policy.
The scrapping of mid-year exams might make it harder for them to gauge their children's academic performance, they said. This is especially so for working parents, who might not have the time to coach and monitor their children's progress.
Still, Ms Joscelin Kwek, a 37-year-old managing director of a public relations firm who has two boys including one in Pri 1, reiterated that working parents should not depend on exam grades to determine their child's progress.
Instead, they should gauge their children's learning through homework and assessments, she added.