The Big Read in short: Is 'pandemic drinking' a problem in Singapore?
Each week, TODAY's long-running Big Read series delves into the trends and issues that matter. This week, we look at whether the 'pandemic drinking' problem, which has emerged in several countries, has also afflicted Singapore. This is a shortened version of the full feature.
Each week, TODAY's long-running Big Read series delves into the trends and issues that matter. This week, we look at whether the 'pandemic drinking' problem, which has emerged in several countries, has also afflicted Singapore. This is a shortened version of the full feature,​ which can be found here.
Studies in some countries have uncovered the problem of 'pandemic drinking', where people drink to cope with the boredom and stress of Covid-19
In Singapore, community restrictions to curb the spread of the virus have seen people turn to drinking alone at home
Alcoholic products are also easily available via online delivery services, which operate till as late as 3am
While there is no study on pandemic drinking in S'pore, some say they have been drinking more to cope with coronavirus-induced worries
Pressures from the pandemic, a lack of social outlets and habitually drinking alone could be a "fast track" to alcohol addiction, say experts
SINGAPORE — When Singapore entered the circuit breaker period in April last year, Jolene found herself thrust into a world of uncertainty.
At 20, she was about to graduate from the polytechnic and was anxious about entering the working world, especially during a time when employers were reluctant to hire.
Her parents' business too, had been hard hit by Covid-19 and they were raking in less than S$2,000 at one point to support a family of six.
There was also the boredom from being cooped up at home during the restrictions, said Jolene, a popular gaming YouTuber who is better known by her online moniker tokaku.
"During Covid, you have nothing to do. You feel like you're going nowhere. People are unsure about their jobs. For me, I had no job. YouTube is a job but it wasn't a 'real' job and I felt it wasn't going anywhere," said Jolene, who declined to give her full name.
To forget about her problems, she turned to drinking vodka, progressively increasing her solo drinking sessions at home from thrice a week during the partial lockdown to alternate days even after Singapore eased the restrictions in June last year.
In each sitting, she would down more than half of a 750ml bottle of Absolut Vodka, to the point that she was "completely knocked out".
She noted how she could conveniently order drinks via food delivery platform Grabfood even as late as 3am. She would spend up to S$500 a month on alcohol.
"Covid-19 really felt like the world was ending. Everyone was at home and I felt down, bored and aimless...I didn't want a reason to be around and awake, so I drank to not be awake," said Jolene, adding that she was already a heavy drinker even before the pandemic.
Her experience echoes the findings of studies done overseas which show that more people around the world have turned to drinking their problems away amid employment worries, burnout and boredom during the Covid-19 crisis.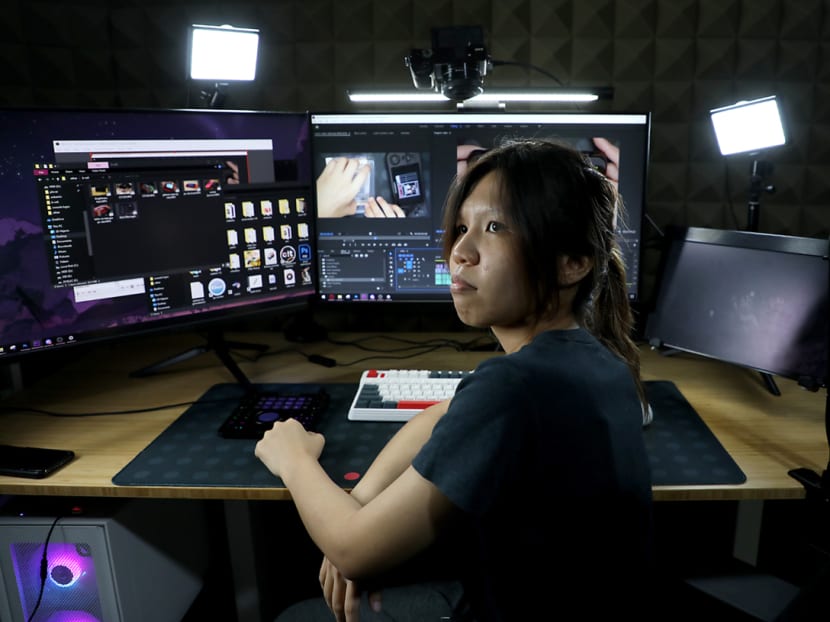 There has been no similar study on "pandemic drinking" done in Singapore. Anecdotally, some Singaporeans told TODAY that they are consuming more alcohol amid the protracted Covid-19 crisis, and at least one addiction recovery centre said it has observed a rise in the number of people turning to it for help with alcohol addiction.
We Care Community Services said it had seen a 20 per cent increase in people engaging its services such as counselling and support for alcohol addiction since October last year.
Ms Tham Yuen Han, the centre's executive director and clinical director, noted that social restrictions imposed since Covid-19 first struck in January last year have led to a build-up of stress in people, resulting in alcohol addiction among some.
This is especially so among young professionals who used to drink socially before the pandemic, and then started to drink more at the start of the pandemic due to work stress and social isolation.
"And over time, they notice that they are drinking more and more to the extent that it's affecting their work, health and relationships," said Ms Tham.
There is limited, up-to-date data on alcohol consumption in Singapore and overall sales during the pandemic would be hit by the restrictions on pubs, bars and other food and beverage establishments.
Credit intelligence firm Fitch Solutions estimated in its March report that the total volume of alcoholic drinks consumed here contracted by 9.3 per cent year-on-year in 2020 due to Covid-19-related restrictions. The figure takes into account all sales channels of consumption, including food and beverage (F&B) premises.
The restrictions included the prohibition of dining in at F&B premises over various periods in the last one-and-a-half years.
Under the current Covid-19 "stabilisation phase", alcohol on any F&B premises must be sold and consumed by 10.30pm.
This is on top of existing laws limiting the sale of liquor at retail outlets and consumption of liquor in public places between 10.30pm and 7am.
The restrictions have transformed Singapore's drinking landscape over the last year, said drinkers and experts.
While some are drinking less due to the curbs imposed on their favourite watering holes as well as the caps on social gathering sizes throughout the pandemic, others have taken to drinking alone or in small groups at home. The latter group now has easier access to alcohol round-the-clock via online liquor stores and delivery platforms, with several home delivery services specialising in alcohol products sprouting up during the pandemic.
At least one online grocery delivery service here said it had seen a "small growth" in sales of alcohol products to homes since last January.
Declining to provide specific numbers, e-grocer RedMart said that demand for sparkling wine and champagne has increased by 15 per cent since pre-pandemic. A company spokesperson added that sales for soju have more than doubled and there is also "strong demand" for sake due to active efforts to promote these products.
OVERSEAS STUDIES UNCOVER 'PANDEMIC DRINKING' PROBLEM
Studies in other countries have uncovered a "pandemic drinking" problem, where people turn to booze to cope with the stressors brought about by Covid-19.
In the United States, several studies have suggested that Americans were drinking more often during the Covid-19 pandemic.
One survey of more than 800 respondents found that 60 per cent reported drinking more during the pandemic than before. The top three reasons they gave were: Increased stress, greater availability of alcohol and boredom.
The study was conducted in May last year by researchers from the Johns Hopkins Bloomberg School of Public Health and the University of Maryland.
Similar findings emerged in several other countries in a survey conducted by Britain-based independent research organisation Global Drug Survey from May to June last year.
Findings from the survey of more than 55,000 people from Australia, Austria, Brazil, France, Germany, Ireland, the Netherlands, New Zealand, Switzerland, the United Kingdom and the US showed that 36 per cent of them increased their consumption of alcohol.
While there has been no study done on pandemic drinking in Singapore so far, earlier studies conducted before Covid-19 struck have pointed to a steady increase in alcohol abuse here, with the risk higher among youths.
The last major study conducted in Singapore on alcohol use was the Singapore Mental Health Study, which was carried out in 2016 and published in late 2018 by the Institute of Mental Health (IMH) in collaboration with the Ministry of Health and Nanyang Technological University.  An earlier version of the study was conducted in 2010.
The studies showed that the lifetime prevalence of alcohol abuse among the Singapore resident population aged 18 and older rose from 3.1 per cent in 2010 to 4.1 per cent in 2016.
In both studies, alcohol abuse emerged as the second most common mental disorder in Singapore among the conditions assessed.
Responding to TODAY's queries, IMH's National Addictions Management Service (Nams) said that it has not seen any significant increase in alcohol addiction cases during the Covid-19 pandemic.
Nevertheless, Dr Desmond Wai, a liver and gastrointestinal diseases specialist at a private hospital, said that he has been seeing more alcoholism cases since the circuit breaker period between April to June last year. On average, there has been one new case every month since.
These cases tend to be pre-existing alcoholics who have been drinking more as they had little social interaction with friends and less social support to help curb their drinking.
Dr Wai noted that the effects of alcohol on the liver takes several years to manifest and it would be hard to deduce whether alcoholism has been on the rise during the Covid-19 crisis. "For us to find out if alcoholic abuse is more or less prevalent during the pandemic would require a similar population study," he said.
DANGERS OF DRINKING ALONE
Those who started drinking more frequently during the pandemic spoke of how the absence of social drinking with friends led them to drinking alone at home and over time, it became a habit.
John, 26, similarly developed a habit of regular drinking as the pandemic raged. In the past, drinking was always done in the company of friends and he would rarely drink while on his own.
Out of boredom while being cooped up at home during the circuit breaker period, the then fresh university graduate started drinking at home — about 12 standard drinks a week — to pass the time.  
It became a routine when he started work as a public servant in July last year and he now drinks about four times a week — a bottle of beer on weekdays and up to three on Fridays and weekends.
"It's how I unwind at night, after work and exercise, by watching shows and drinking beer. I'd much rather hang out with friends instead of drinking, but it's hard because of the Covid-19 restrictions," said John, who declined to give his full name.
Although drinking has become a habit for John, he maintains that he is not overusing alcohol and reckons that his new routine is less unhealthy than when he was binge drinking in university, when he would sometimes get blackout drunk.
John said he would get his alcohol delivered to his home from duty-free store iShopChangi, which offers a variety of international brands on its website.
"I've taken a liking to trying different beers so drinking has also become like a mini-hobby to me," he said.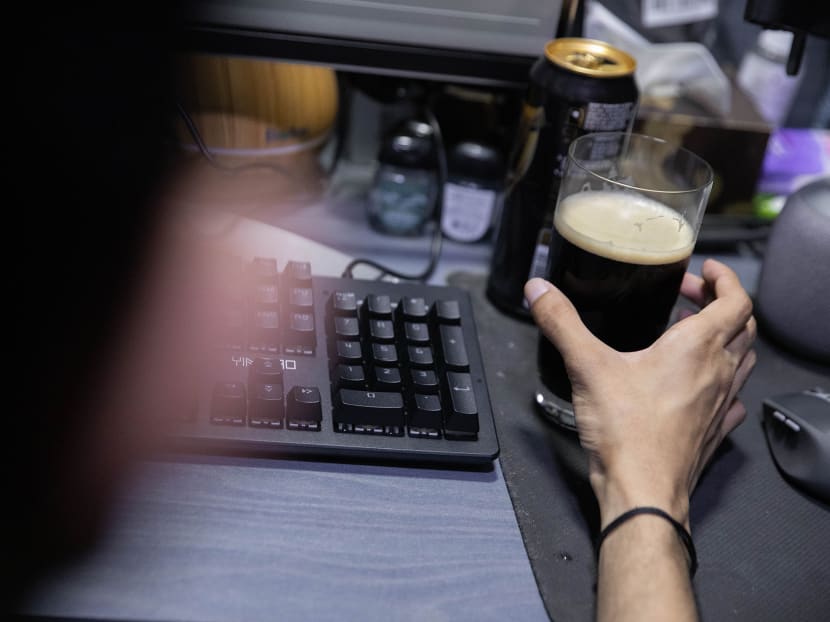 Many people partake in recreational drinking, typically in a social setting such as a drink or two with close friends over a meal. But when a person starts drinking alone, it could indicate that alcohol has taken a greater prominence in the person's life over the social and recreational aspects of drinking, said Dr Charles Mak, a consultant at Nams.
He noted that this is the usual progression for patients with alcohol use disorder, where people abuse or become dependent on alcohol to varying degrees.
With alcohol delivery services becoming more commonplace, people now have greater access to alcohol at home. Add to that the pressures from the pandemic and a lack of social outlets, and the progression towards an alcohol use disorder becomes "fast tracked", as habitual solo drinking becomes a convenient way of coping with stress and replaces normal social activity, Dr Mak said.
KICKING THE HABIT
For some of those who spoke to TODAY, it was not easy to kick their drinking habit even after they realised how harmful it was.
Jolene decided to quit drinking when she realised how it was depleting her savings and she had to borrow money from friends. In December last year, she documented her journey to quit alcohol in 30 days in a YouTube video.
Despite her initial success in kicking the habit, Jolene turned to alcohol again in April, as she tried to cope with financial stress.
With her drinking leading to strained relations with her loved ones, she tried to quit again, and has been alcohol-free since May.
Dr Wai, the liver and digestive diseases specialist, said that as a general guide, having no more than 14 drinks a week is safe. Anything more, however, may result in a person developing liver problems, he added.
The Ministry of Health's HealthHub website similarly recommends that men drink no more than two standard drinks a day, while women should drink no more than one standard drink a day. It defines a standard drink as a can (330ml) of regular beer, half a glass (100ml) of wine or a nip (30ml) of spirit.
Ms Tham from We Care reiterated that factors such as individuals' health as well as psychological and mental state could also make them vulnerable to alcohol abuse.
Those who find themselves drinking more as they work from home should establish boundaries between their personal and work lives, she suggested.
She added that they should also reintroduce healthy routines which they used to follow before the pandemic, such as exercising after work, spending time with family or pursuing hobbies that bring pleasure.
WHERE YOU MAY SEEK HELP
Alcoholics Anonymous Singapore: 8112 8089, or help [at] singaporeaa.org
National Addictions Management Service: 6 RECOVER or 6 7326837 (8am-11pm)
We Care Community Services: 3165 8017 (Monday to Friday, 10am-7pm), or help [at] wecare.org.sg
Samaritans of Singapore: 1 767 (24 hours)
Singapore Association of Mental Health: 1800 283 7019 (Monday to Friday, 9am-6pm)
Emergency Helpline (Institute of Mental Health): 6389 2222 (24 hours)
Care Corner Counselling Centre (Mandarin): 1800 353 5800 (10am-10pm)
Tinkle Friend: 1800 274 4788 (Monday to Friday, 2.30pm-5pm)