The Big Read in short: Shops, eateries struggle to stay afloat amid Covid-19 outbreak
Each week, TODAY's long-running Big Read series delves into trends and issues that matter. This week, we look at the substantial impact of the Covid-19 outbreak on the retail and food and beverage sectors, and how it has affected service staff. This is a shortened version of the full feature, which can be found here.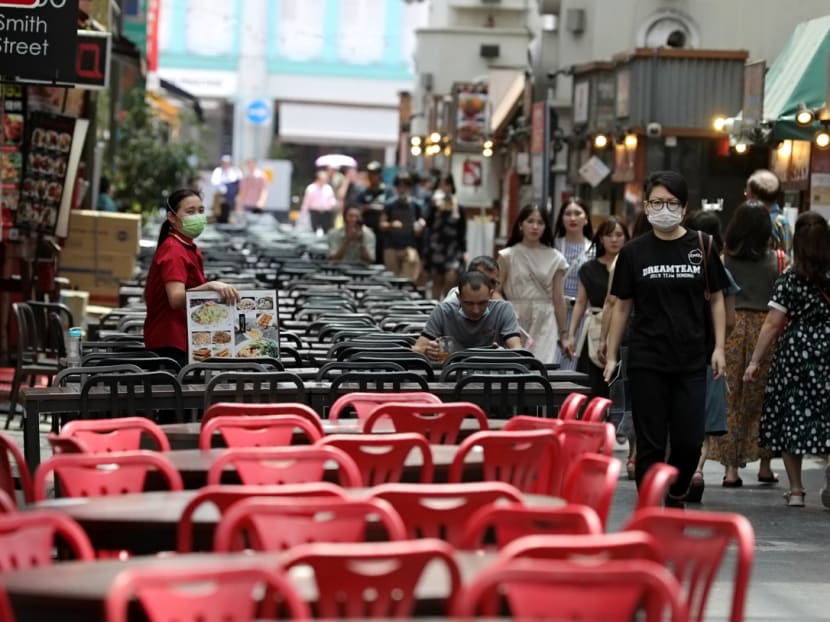 Each week, TODAY's long-running Big Read series delves into trends and issues that matter. This week, we look at the substantial impact of the Covid-19 outbreak on the retail and food and beverage sectors, and how it has affected service staff. This is a shortened version of the full feature, which can be found here.
SINGAPORE — It has been just about a month since the first case of Covid-19 landed in Singapore, but Ms Patricia Zhuang has already had her pay cut by half, to just under S$1,000 a month. 
The 37-year-old sales staff at Vivy Boutique, an apparel store at Novena Square, was converted from a full-time employee to a part-time staff as part of her company's cost-cutting measures. 
"Now, I'm only earning my pocket money," said Ms Zhuang. 
The novel coronavirus, now officially known as Covid-19, originated from the Chinese city of Wuhan and has now spread to 29 other countries and territories, with Singapore reporting 86 confirmed cases as of Friday (Feb 21). 
Not only has the virus infected close to 75,000 individuals globally and caused more than 2,000 deaths, mainly in China, it also left a trail of economic casualties. 
As the authorities in Singapore try to curb the spread of the virus through various measures, such as a travel ban on non-residents who have been to China recently, businesses in the retail and food and beverage (F&B) sectors have borne the brunt of the sharp drop in tourist arrivals and weak consumer spending among Singaporeans. 
The virus-related blow comes on the back of an already challenging retail environment, which has been buffeted by continuing US-China trade tensions and e-commerce competition. 
HALF-EMPTY MALLS, STREETS
With travel restrictions imposed on non-residents who have been to China in the last 14 days, it is unsurprising that tourist spots have been hit the hardest.
When TODAY visited the Chinatown Food Street on Wednesday afternoon, it was possible to see one end of the road from the other, lined with rows of empty tables. Tourists were few and far between, with some restaurants serving only one table of customers, or none at all. 
One elderly worker could be seen dozing off at an empty table.
Staff and business owners of several establishments in Chinatown said that sales had gone down by 80 per cent. 
Earlier this week, TODAY reported that some Chinese workers, businesses in Singapore — including those in Chinatown — are being shunned, amid discrimination faced by some Chinese nationals here. The discrimination stems from anxiety over Covid-19, which originated in the city of Wuhan in China.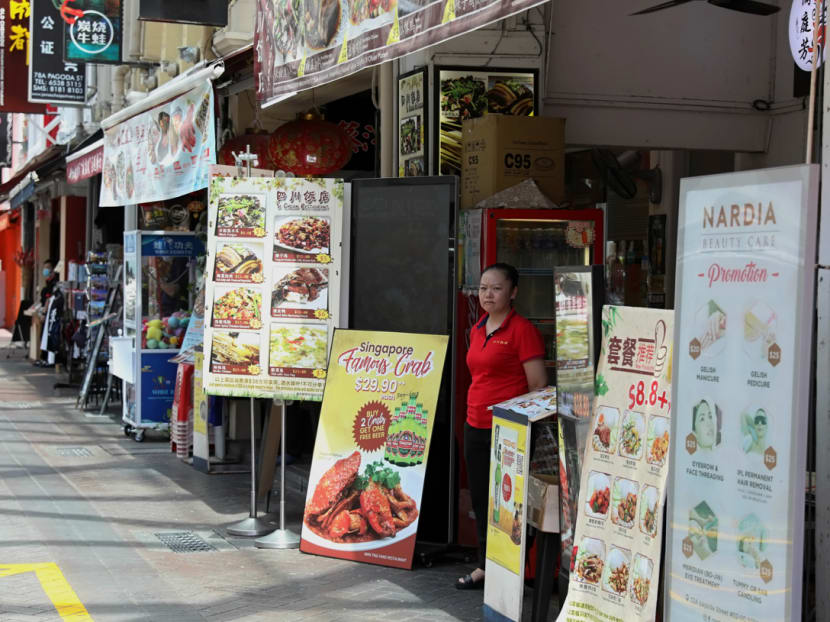 But the retail slump goes beyond that — consumers are also avoiding retailers and F&B outlets elsewhere. 
At Jewel Changi, sales staff said that business had gone down by as much as 70 per cent. Queues at fast-food outlets Shake Shack and A&W were also visibly shorter.   
And it is not just retail outlets at tourist spots that have been affected. Businesses in the heartlands from Simei to Jurong East also reported a slump in sales.  
Mr Kelvin Wai, owner of Evergreen Handphone Shop at Simei, said the travel restrictions had also affected his business as 20 per cent of his customers were Chinese tourists who bought mobile phone SIM cards. He has stopped ordering new stock with business down by 40 per cent. 
Reports of confirmed Covid-19 cases at Marina Bay Financial Centre, as well as companies' directive for staff to work from home, have also turned the Marina Bay Link Mall into a "ghost town", said Ms Lyn Lee, founder of Awfully Chocolate. 
Sales of her two stores at the Marina Bay area have been particularly affected, she said. 
SHORTER OPENING HOURS, STAFF ASKED TO TAKE NO-PAY LEAVE 
With sales dropping by 80 per cent, Ms Chao Jun, manager of Japanese restaurant Kuishin Bo at Suntec City, said staff had been asked to clear leave as there was no longer the need to have the usual manpower strength of five servers on a weekday. 
"Now I only plan for two people to work. Even two people also got nothing to do… only standing there waiting for customers," she said.
Across the island, several business owners said they have started similar cost-cutting measures, such as reducing the number of part-time staff, or shortening the working hours of their full-time staff, inevitably affecting the income of these workers. 
Several workers also voiced fears about losing their jobs if their companies continue to be battered over the next few months. 
All three employees of Mr Joe Chen, a director of two apparel stores at Novena Square, have been asked to take turns to go on no-pay leave. As a result, they end up up working only three to four days a week. 
He has applied for them to go for skills upgrading courses on the days that they are not working.
SOME LANDLORDS EXTEND A HELPING HAND
Amid mounting calls for help from the retail and F&B sectors, Deputy Prime Minister Heng Swee Keat unveiled a $4 billion package to help businesses cope with the crisis during his Budget speech on Tuesday (Feb 18).
It includes:
Flexible rental payments for tenants and lessees renting from Government agencies

Waiver of one full-month of rent for tenants at National Environment Agency-managed hawker centres and markets.

Waiver of half-month rent waiver for tenants under Government agencies, such as HDB. 

A 15 per cent property tax rebate for Changi Airport and commercial properties.
"I strongly urge landlords to pass this on to their tenants by reducing rentals," Mr Heng had said. 
Several landlords, such as Suntec Real Estate Investment Trust, CapitaLand, GuocoLand, AsiaMalls and Frasers Property, have said that they will pass on the full savings of the tax rebates to their tenants, in response to TODAY's queries. 
Marketing campaigns and free parking for visitors, among other initiatives, have also been introduced by some developers to help their struggling tenants. 
BUSINESSES SAY THEY NEED MORE HELP 
On the Budget measures, several businesses told TODAY that they would have preferred more direct help on rental rebates — such as how Jewel Changi is offering a 50 per cent rebate on rent for its F&B tenants for the months of February and March — instead of leaving it to the landlords' discretion whether to pass on savings from tax rebates to them. 
Mr Vincent Tan, president of the Restaurant Association of Singapore (RAS), said that passing on savings from a tax rebate is "way below" a 50 per cent cut in rents for three months that the association is asking for. 
"In fact, the 15 per cent rebate (announced during Budget) comes from the Government. The developers (are not going to) sacrifice a single cent," Mr Tan said.  
Passing on the savings of a tax rebate may also not be as timely as compared to a direct rebate, said Mr Freddy Ng, operations manager of Wang Tian Kitchen at Outram Park. 
"If for now, I keep paying the same rent, so at the end of the year, the landlord say, 'I rebate you 15 per cent'. What's the point? It won't help already. The thing is already over by then," he said, whose restaurant has experienced a 30 per cent decline in business. 
A STRUGGLE TO HANG ON
With no end in sight to the Covid-19 outbreak yet, and consumers continuing to shun the malls and eateries, businesses are worried about the prospect of closures should the situation drag on longer than expected. 
Mr Heng has repeatedly assured businesses and households that the Government is watching the situation closely, and it will not hesitate to do more if needed. 
Mr Chen, the apparel store director, said that he has an emergency fund that would be able to tide him through this crisis for the next six months, at most. 
"If worst comes to worst, if after six months and we're still making losses, then we may have to close one of our stores. Instead of two, we would just run one," he added. 
Mr R Dhinakaran, president of the Singapore Retailers Association said that most retailers would probably be able to hold the fort for only the next two to three months, while RAS' Mr Tan said most F&B outlets would be able to sustain business under current conditions for the next three to six months. 
In the meantime, for service staff like Ms Zhuang, they would need to tighten their belts and watch their spending — setting off a spiral of reduced consumption which would further hit retailers and eateries. 
"Right now, having a job is not bad already," said Mr Rex Xu, a manager at Ker's Hair Salon at Jurong East, who has seen his income halved as the number of customers dwindled.