The Big Read: Through the frontliners' eyes, what went well and what fell short in Singapore's Covid-19 fight
SINGAPORE — Singapore has come full circle since its first Covid-19 case surfaced in January 2020, from a lockdown, shuttered borders, ever-changing permitted group sizes, mass vaccination programme, to a mask-lite existence in recent days.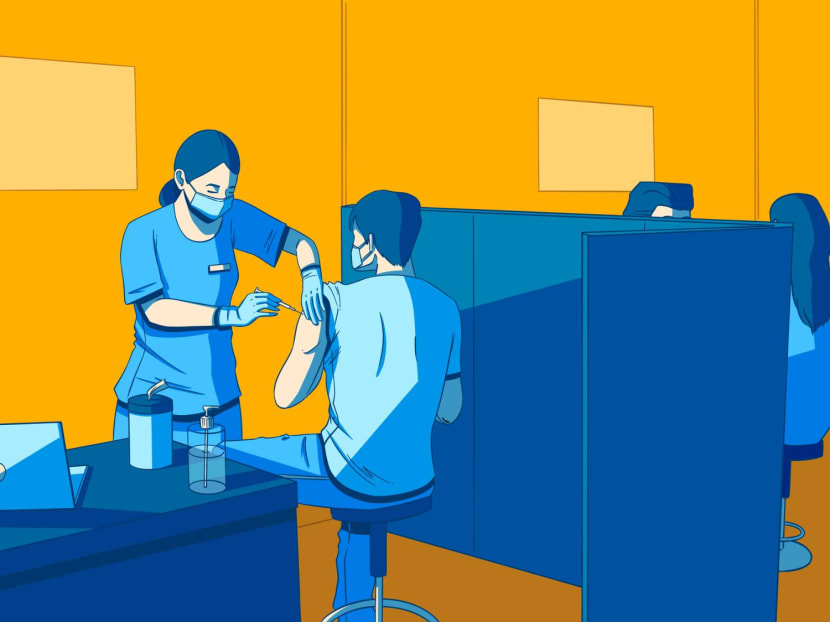 After three years battling Covid-19, Singapore this week exited the acute stage of the pandemic 
Singapore's efforts at battling the unprecedented pandemic has won international applause
Experts said one area Singapore did well in is its rapid procurement of Covid-19 vaccines and test kits
But there were also missteps in the handling of the pandemic
One of them was the Government's response to the outbreak in migrant worker dormitories
SINGAPORE — Singapore has come full circle since its first Covid-19 case surfaced in January 2020, from a lockdown, shuttered borders, ever-changing permitted group sizes, mass vaccination programme, to a mask-lite existence in recent days. 
Along the way, its efforts at battling the unprecedented pandemic has also won international plaudits.
In May 2021, Singapore topped the Bloomberg Covid Resilience Ranking — which considers factors ranging from Covid-19 case numbers to freedom of movement — knocking out New Zealand which had ruled the chart for months.
Bloomberg cited Singapore's efficient vaccination programme compared to the slow rollout in New Zealand as the chief reason for the change in position.
Singapore was also one of the countries where a majority of its people feel more united than before the pandemic, according to a survey by American think tank Pew Research Center last year.
Only 22 per cent of Singapore respondents said that the country is more divided, compared with a median of 61 per cent among the 19 countries polled.
The survey also found that a majority in Singapore feel that it is very important to get the Covid-19 vaccine in order to be a good member of society, and this opinion translates to higher rates of vaccination across the population.
While Singapore's overall handling of the pandemic is deemed successful by international standards, there were also missteps, said infectious diseases experts. One such lapse was the Government's response to the Covid-19 outbreak in migrant worker dormitories.
Singapore this week exited the acute stage of the pandemic, with the country's Disease Outbreak Response System Condition (Dorscon) lowered from yellow to green and mask-wearing requirements largely removed.
The population has also achieved 92 per cent vaccine coverage for the primary series and the lowest mortality rate for Covid-19 infections in the world.
Infectious disease expert Leo Yee Sin, who has been at the forefront of Singapore's Covid-19 battle, told TODAY: "Barring unexpected surprises by the rapidly evolving Sars-CoV-2 virus, Singapore has reached a significant milestone of 'normalcy' with remarkable achievement."
Thus, it is now time to reflect on areas of deficiency and learn from the lessons to further strengthen Singapore's capability to take on emerging infections, added the executive director of the National Centre for Infectious Diseases (NCID). 
As a Government review of its Covid-19 response remains underway, TODAY speaks to infectious diseases experts and those at the front lines to take stock of a crisis that is without parallel in recent memory. The areas highlighted in this feature are those that they largely agreed on. 
AREAS WHERE SINGAPORE DID WELL
 1. Procurement of vaccines and test kits
Singapore has been lauded for its high vaccination coverage, which has shielded the population from new variants of the coronavirus, such as the Omicron XBB variant which emerged last October.
The Government rolled out a bivalent vaccine after it was found to be more effective against Omicron variants and used the lull period between Covid-19 waves to increase healthcare capacity and surveillance. 
Infectious diseases experts largely attributed Singapore's high vaccination rate to the rapid procurement of Covid-19 vaccines and test kits, which helped reassure the public and healthcare professionals.
Prof Alex Cook, from the National University of Singapore (NUS)'s Saw Swee Hock School of Public Health, said that the Government's success in reaching deals to get enough supplies of vaccines enabled the mass vaccination to start quickly, so that Singapore could move out of containment as early as possible. 
"You can compare outcomes to other countries that did well in containment in the first year, like Thailand: They managed to contain the pandemic until the middle of 2021, when Delta took off, but was months behind Singapore in vaccination, and thus had many more deaths during that Delta wave," said Prof Cook.
Prof Cook's work in infectious disease modelling and statistics was critical in the determination of the adequacy of Singapore's healthcare capacity and whether safe management measures needed to be tightened or relaxed.
Healthcare workers whom TODAY spoke to also said that community-level testing was effective in the early detection of Covid-19 waves and the availability of antigen rapid test kits enabled the community to test and isolate or seek medical treatment swiftly. 
It also helped that the test kits were sent to each household and all Covid-19-related healthcare costs for residents were borne by the Government. 
"When the virus first broke out, we had people declining to get themselves tested and treated because they were worried about how much it would cost, or if it would be covered by their insurance, et cetera," said a medical officer who works in a public hospital in central Singapore.
The 34-year-old declined to be named as he was not authorised to speak to the media. 
"I think that was one of the reasons why Singapore was so successful in its handling of the pandemic… no one was denied basic healthcare because they could not afford it," he added.
2. Science-based approach
One of the hallmarks of the Government's approach is to put a strong emphasis on epidemiological reasoning when formulating policies, the experts noted.
Deputy Prime Minister Lawrence Wong, who co-chairs the multi-ministry task force (MTF) handling the pandemic, had said earlier that the Government's decisions have always been based on data, evidence and science, and stressed that the guiding priority throughout Covid-19 has always been to keep the community safe. 
Prof Cook said: "As someone who has been involved in that process, through generating data or making sense of data, and providing it up to the Government for their review, I've been able to see first-hand that 'the science' has been considered seriously when policies are put in place."
Dr Paul Tambyah, president of the Asia Pacific Society of Clinical Microbiology and Infection, said Singapore generated key scientific data, including the first study to conclusively show pre-symptomatic transmission of the coronavirus, as well as the benefits of vaccinating children.
Professor Dale Fisher, a senior consultant at National University Hospital's division of infectious diseases, also said: "Health authorities and leaders adapted to the pandemic gearing to apply new knowledge as it arose. Singapore followed the science and was able to make good non-politically founded decisions as was seen in other countries."
As a result, the community showed "great trust" in decisions made by the Government, which allowed the measures to be rolled out, he added.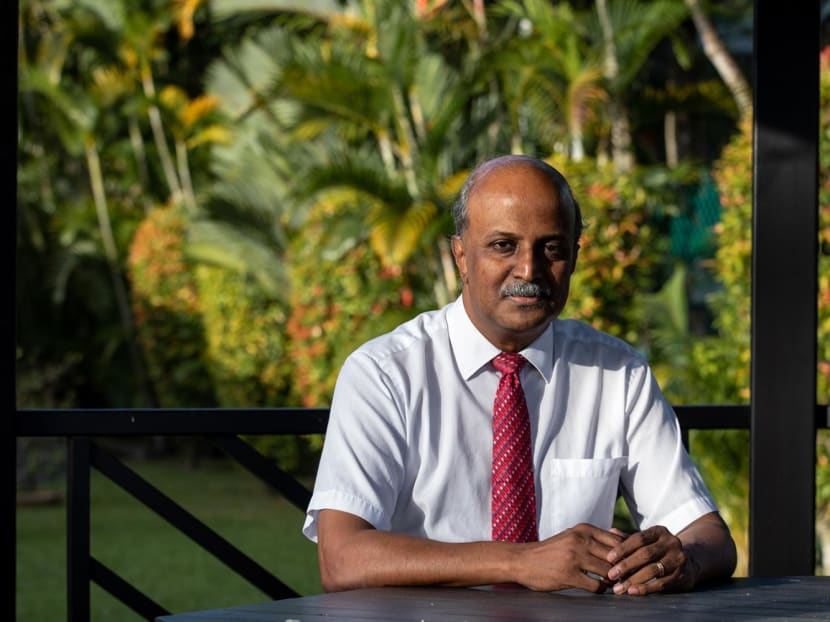 3. Whole-of-Government response and communication
In guiding the public and communicating the rationale behind certain Covid-19 measures, the MTF had undoubtedly a massive role to play, said the experts.
The MTF was set up to coordinate interventions and messaging during the Severe Acute Respiratory Syndrome (Sars) outbreak in 2003. It was tested in 2009 during the H1N1 pandemic and again in 2016 during the Zika outbreak. It was reassembled in January 2020 for Covid-19. 
Prof Fisher said a critical aspect of Singapore's response was community engagement — the authorities strategically communicated with residents through a variety of media and spokespeople, from the Prime Minister to the MTF, relatable cultural leaders and television personalities. Academics also regularly gave commentary. 
"The end result was that Singapore residents were reliably informed with explanations given, describing the objectives and reasons behind interventions. This was critical in enabling the success of efforts," said Prof Fisher.
He added that many other countries did not establish a mechanism for "united and synchronous" whole-of-government response and certainly not before they had Covid-19 cases. 
Still, despite the high compliance among the population, experts said that communication, which was clear and reasoned for the most part, broke down at times, such as when testing protocols became overly complicated or when there were flip-flopping of measures.
Associate Professor Hsu Li Yang, vice-dean of Global Health at the Saw Swee Hock School of Public Health, said this happened during the Omicron wave in February 2022, where instructions for infected individuals and their close contacts grew so confusing that most people, including healthcare workers, were unable to understand or cope.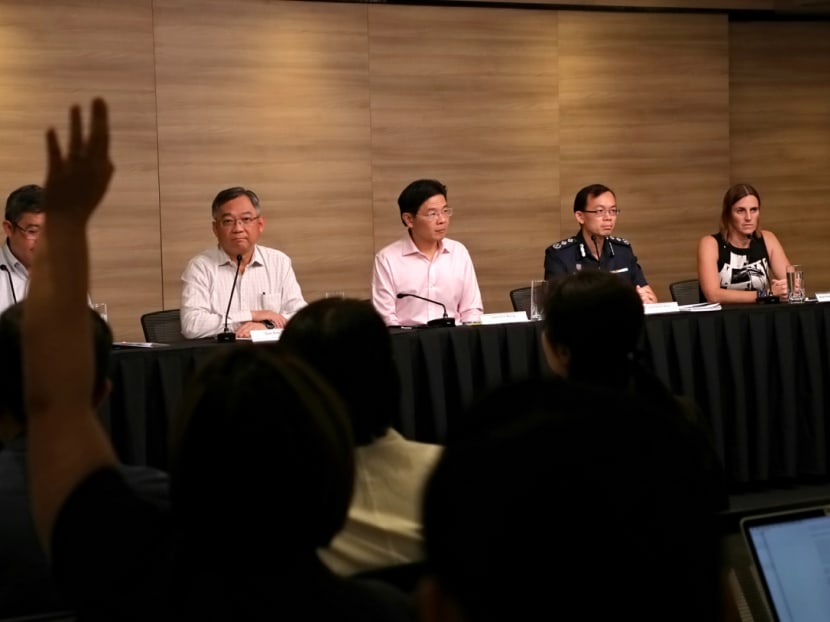 Dr Ling Li Min, an infectious disease specialist from Rophi Clinic at Mount Elizabeth Novena Specialist Centre, said it did not help that there was also an information overload along with news fatigue.
Dr Ling said confusion over stop-start measures or logistical issues with isolation protocols also resulted in a decline in positive sentiments, which was concerning at a time when daily cases were beginning to climb into the thousands for the first time. 
The MTF said at that time that the Government was staying nimble enough to implement new measures amid constantly changing conditions and uncertainty. 
Dr Tambyah said that frequent changes in policies such as the two person, five person, eight person group sizes rules were also confusing and demoralising. 
DPM Wong had said in November 2021 that as much as Singapore has tried to avoid a "start-stop" approach in tackling Covid-19, the country still had to make constant adjustments to prevailing measures.
"We understand that it is not always easy for people to keep track of the changes in our measures, and from time to time it also creates frustration because of the perceived flip-flops in our Covid-19 strategy," he said then. 
AREAS WHERE SINGAPORE FELL SHORT
1. Handling of outbreak in migrant worker dormitories 
In  April 2020 — when Singapore entered the circuit breaker period  —  more than 1,000 new Covid-19 cases were identified in dormitories daily and the rate of infection forced the Government to impose strict curbs on the movement of migrant workers.
They were not able to leave the grounds of their densely packed dormitories nor allowed to go to work.
A spate of attempted suicides involving migrant workers cast a spotlight on their mental health and Singapore's treatment of this community. 
Many of the experts interviewed agreed that this was a major area in which the Government fell short, with Prof Cook saying that the dorm outbreaks are a "big black mark" on Singapore's record.
"If you look at the fraction of the total population in the dorms and general public to be diagnosed as infected, we kept pace with the United States over the first six months of 2020 — that's how bad it was," he said.
"There wasn't much that could be done once the outbreaks had started — what could be done to re-house 300,000 men in low density accommodation at short notice?
"But what I found most disappointing is what happened afterwards: The tight control over their day-to-day lives imposed for over a year afterwards. This came despite most dorm residents having been infected already and thus at lower risk of another infection," he added.
Dr Tambyah said it would most likely have made a difference if the early outbreaks in the dormitories had been recognised. However, the dorms were a blind spot for the authorities as they were simultaneously grappling with large numbers of returnees from North America and Europe who were infected.
"This (dorm outbreak) was unfortunately predicted by scientists in March 2020 and by migrant worker NGOs (non-governmental organisations) some time ago," he said.
"The reforms are welcome but I am not sure if they are adequate to prevent other outbreaks in the future. Even before this pandemic, we had measles in the same dormitory which had a large Covid-19 outbreak."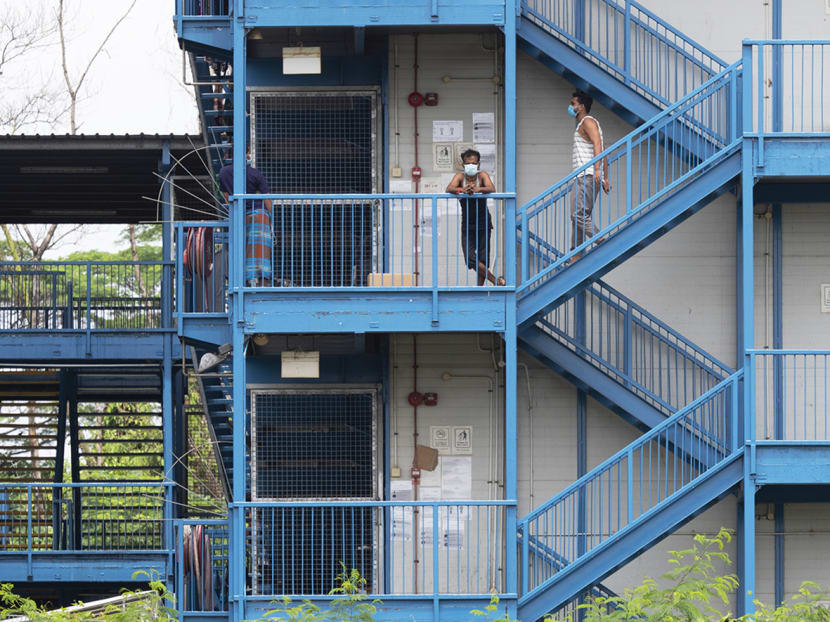 The Singapore authorities announced in September 2021 that living standards of foreign workers would be improved, after a year-long review and a pilot scheme in quick-build dormitories to reduce density in existing dormitories.
Dr Tambyah said that access to healthcare remains an issue for migrant workers.
He suggested that Singapore could return to the system it had in the past where these workers were entitled to subsidised medical care in the public healthcare system, "which is appropriate given their extremely low wages and their major contributions to building our country".
2. Well-being of healthcare workers
The healthcare system was not equipped at the start to deal with an outbreak as large scale as the Covid-19 pandemic, and that trickled down to healthcare workers battling the coronavirus on the frontlines, the experts said. 
Assoc Prof Hsu said: "I think there is no way that any healthcare system is able to do so right from the beginning, as the cost of keeping 'spare capacity' for pandemics like Covid-19 will be too great for any country, including Singapore."
Prof Leo said there were many "extremely challenging moments", such as:
Expanding the ICU (intensive care unit) capacity when the Delta variant circulated in October 2021 by upgrading negative pressure rooms in the NCID
Conducting "just-in-time" training for healthcare workers before they can be deployed in the ICU units
Changing mindsets and operations of the public and healthcare workers when moving from an absolute containment approach to home isolation
Tapping Swab and Send Home clinics to reduce load at the NCID screening centre and emergency departments of public healthcare institutions
Noting that healthcare systems all over the world were not nimble enough to deal optimally with the pandemic, Dr Tambyah said: "As a rich country, we were able to plug gaps with locum medical staff but not nursing staff unfortunately, and ensure that there were enough medical supplies."
Indeed, several nurses on the front lines told TODAY that many of them suffered from excessive burnout, and that caused some of their peers to leave the profession.
A 24-year-old Singapore General Hospital nurse, who was deployed to a Covid-19 ward at the height of the pandemic, said: "It was a psychological battle…because for a very long time, there was no light at the end of the tunnel."
Some of the nurses also recalled how they were initially shunned by the public as possible carriers of the virus. In fact, one Sengkang General Hospital nurse and his family were even harassed by his neighbour because of his job.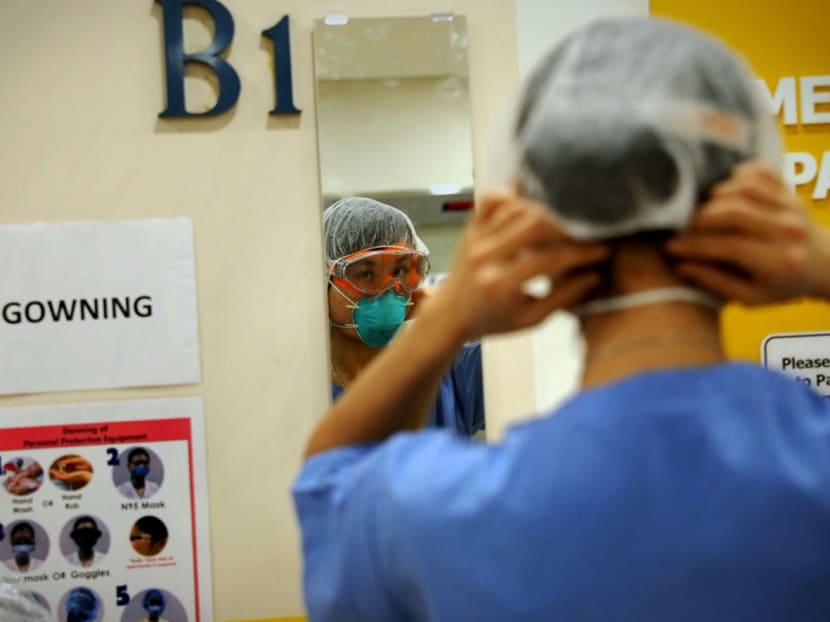 To be sure, Prof Fisher noted that there were also many efforts to support the stressed-out healthcare workers  — from cash bonuses to tokens of appreciation such as free food. Occupational health and specific mental health services were also provided, he added. 
"I don't believe more could have been done to mitigate this adversity. The truth is no one else could do what was a task of healthcare workers. I don't believe healthcare workers were let down by health leadership. Of course, there are likely to be anecdotes where support did fall short and I can't speak for every facility," he said. 
Agreeing, Assoc Prof Hsu said: "I think healthcare workers have done a lot and sacrificed a lot in this battle against the pandemic and their work should not be taken for granted."