Three uncertainties behind Jokowi's lead in presidential race
With less than a week to go before 192.8 million Indonesian voters pick their president, opinion polls are showing that incumbent President Joko "Jokowi" Widodo has a commanding lead over his opponent Prabowo Subianto. Yet there are a number of factors that can dent Mr Widodo's lead.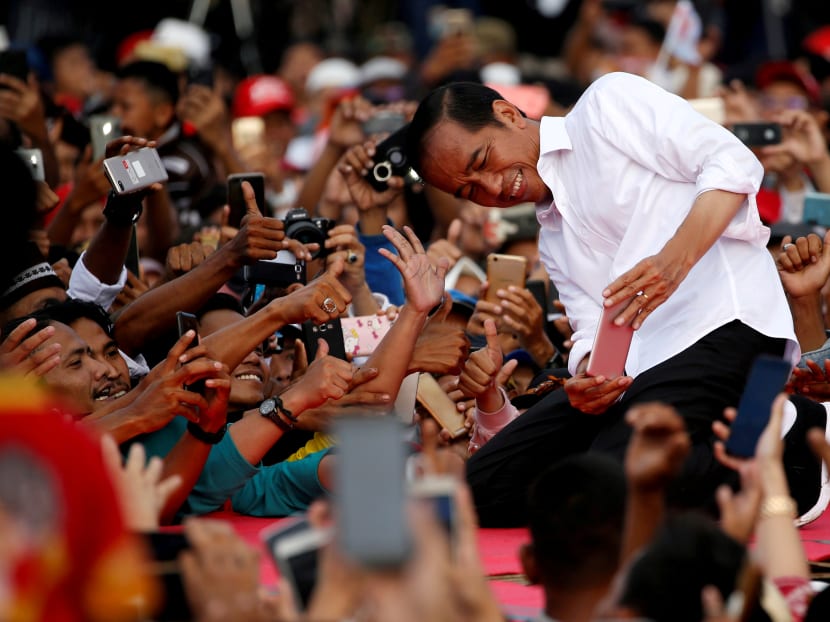 With less than a week to go before 192.8 million Indonesian voters pick their president, opinion polls are showing that incumbent President Joko "Jokowi" Widodo has a commanding lead over his opponent Prabowo Subianto.
There was some concern among Mr Widodo's supporters when the Litbang Kompas survey released in late March suggested that Mr Widodo's support rate had fallen below 50 per cent (at 49.2 per cent), and his lead over Mr Subianto had narrowed to 11.8 per cent.
However, subsequent surveys by institutions such as the Center for Strategic and International Studies (CSIS) had found that his support rate had returned to more than 50 per cent, and his lead over Mr Subianto had remained steady at 18-20 per cent.
Yet, no matter how sophisticated these surveys are, it is the voters who cast their ballots on polling day that determine who occupies the office of the President for the next five years. As the campaigns heat up before the final debate between the presidential candidates on April 13, there are a number of factors that can dent Mr Widodo's lead.
The first is voter turnout. As polling day is close to the Easter weekend, there is a high likelihood that many voters will take the opportunity to go for a holiday. The CSIS survey had found that around 7 per cent of voters (potentially 13 million people) will go on vacation starting on polling day.
Of these holidaymakers, 21.4 per cent are Christians (Protestants and Catholics). As this group of voters is known to be strong supporters of Mr Widodo, their absence will cost him a significant number of votes.
Another challenge is the sheer complexity of the balloting process. For the first time, the presidential election will be combined with the legislative election. What this means is that voters will be required to choose not just their president and vice president, but also four different levels of legislative representatives at the same time.
Read also
An average voter will have to pick from among four to five hundred candidates on five separate ballot sheets. Given how onerous the voting process can be, voters may be disinclined to go to the polling stations, or they may not be able to cast their votes within the allocated six hours (7am to 1 pm).
To be sure, this is a problem that can afflict both the Widodo and Subianto camps. The key is who can do a better job of voter socialisation, i.e. familiarise supporters with the voting process, and mobilising voters to cast their votes.
This will depend on the ground strategies of the respective campaign teams and party machineries supporting the presidential candidates.
Here, Mr Widodo may be at a slight disadvantage, since voter socialisation and voter mobilisation will be more challenging in rural and remote areas.
These are areas where Mr Widodo has a stronger support base, according to exit polls during the 2014 election and the many opinion polls conducted since nominations in August 2018.
Third, while most surveys forecast a win for Mr Widodo, there may be a "blind spot" neglected by these studies. One segment of the electorate that is very influential, but whose political inclinations are fairly unknown, is state employees.
So far, only one survey conducted by Charta Politika has looked into this constituency, and it has found that 44.4 per cent of civil servants will vote for Mr Subianto, while only 40.4 per cent will vote for Mr Widodo.
When it comes to village officials, the gap is even wider at 53.8 per cent for Mr Subianto versus 30.8 per cent for his opponent.
Why are bureaucrats more supportive of Mr Subianto rather than their President? Our field research indicates that bureaucrats are disgruntled with the sweeping changes in government systems brought about by the push towards a more clean and efficient government.
The Indonesian bureaucracy is huge, amounting to 4.3 million people in 2016, or 5.5 million people if we add the military and police.
Read also
Together with their family members, this constituency is not only significant in number, but also in terms of their influence over how communities vote. To win over these voters, Mr Widodo has promised civil servants (including the military and police) a 5 per cent pay rise and bonuses equal to two months' salary, which will be paid by mid-April.
Mr Widodo has also been increasing the quantum for village funds (Dana Desa) in a bid to draw support from the most fundamental political units in Indonesia – the village.
These funds, largely used to build village infrastructure, have been increased by 16 per cent this year. It now amounts to a sum of US$5 billion, and each village will receive US$90,000-100,000 per year.
However, these funds are disbursed through village officials, a significant proportion of whom are aligned with Mr Subianto or political parties in his coalition.
Villagers may therefore not be aware that they are beneficiaries of Mr Widodo's policies. The same may be said of Mr Widodo's social assistance programmes for the rural poor.
This is why even in this age where much of politics is done through social media, door-to-door campaigning still plays an important role in Indonesia.
Mr Widodo's camp will have to inform voters of not only his policies, but convince them not to go on vacation, and get them to vote on polling day.
Thus, although Mr Widodo has been doing well in the opinion polls, his victory is far from being secure. This is the nature of politics in a country as diverse and complex as Indonesia.
ABOUT THE AUTHORS:
Made Supriatma is visiting fellow at the Iseas Yusof Ishak Institute where Hui Yew-Foong is senior fellow and coordinator of the Indonesia Studies Programme.