Commentary: Why taking a long view on Singapore's defence spending will reap security dividends over time
Defence planning, expenditure, and acquisition are necessary tasks that require exercising "the art of the long view", to use the term by famous futurist and scenario-planner Peter Schwartz.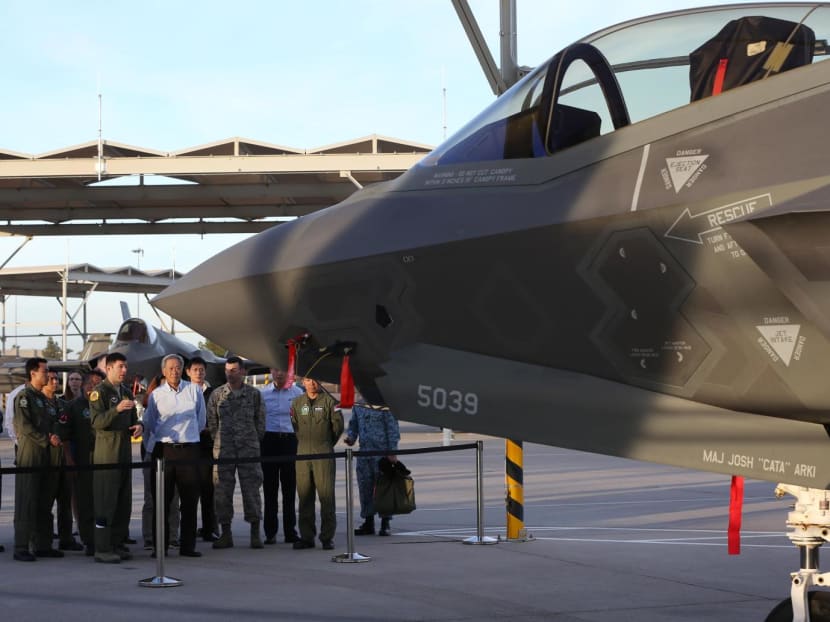 Defence planning, expenditure, and acquisition are necessary tasks that require exercising "the art of the long view", to use the term by famous futurist and scenario-planner Peter Schwartz. 
This year's debate on the budget of the Ministry of Defence (Mindef) serves to reinforce once again that our defence spending remains prudent and balanced, and is based on "the long view", to ensure that Singaporeans can continue to enjoy adequate security from external threats, as they have in the past. 
This is a dividend which, unfortunately, cannot be consistently derived in many countries, particularly those across Europe.
One need not look further than the current situation in Ukraine, which marked the first anniversary of Russia's invasion on Feb 24. 
Against this backdrop, it's important that Mindef and the Singapore Armed Forces (SAF) remain committed to the course of transformation to stay ahead of evolving threats.
The modern systems and platforms operated today are fruits of a deliberate and long-term investment in national defence over multi-year horizons. 
Take for instance, the ministry's announcement of acquiring more F-35Bs, which comes after a series of comprehensive evaluation efforts to replace its ageing F-16s that will become obsolete in the near future. 
It also underscores a strategic necessity to constantly look and plan ahead to ensure that Singapore's defence capabilities remain nimble, current and effective in the face of increasingly sophisticated threats. 
DESPITE PEACE, KEEP YOUR GUARD UP
It's a different picture elsewhere.
With the break-up of the Soviet Union and the end of the Cold War in 1991, governments across that region assessed that the Soviet Armed Forces was no longer a tangible threat. 
Consequently, the collective European defence spending saw incessant slashing in the ensuing two decades. Several European countries also ceased mandatory military conscription. 
Under the leadership of President Vladimir Putin, Russia's move to annex the Ukrainian region of Crimea in March 2014 marked an inflection point in Europe's benign stance on the importance of national defence. 
Yet, the actual appetite to invest more in military capabilities remained tepid until Russia's full-scale military invasion of Ukraine in February 2022.  
Russia's waging of war against Ukraine has offered an indisputable reason for European countries to revise their defence policies since an imminent attack on them is now easier to imagine. 
However, most European countries remain ill-equipped to stave off foreign military aggression.  
They are also vulnerable to the rise of non-traditional threats in the form of cyber attacks and disinformation campaigns that have characterised Russia's "grey zone" operations with its hybrid approach of mixing conventional and unconventional military tactics.   
Even though the Ukrainian military is only recently coming to expect an influx of medium battle tanks from donor countries to help bolster its defensive operations against Russian forces, these assets will take several months to arrive.  
In many areas of fighting, these long-awaited tanks could arrive too late for the Ukrainians.  
The takeaway from this cautionary tale is that the engine of national defence is not something that can immediately be geared up after years of down-throttling. 
Typical defence procurement cycles for cutting edge conventional weapons systems — such as fighter aircraft, naval vessels, and tanks — can take up to several decades.  
FUTURE-READY NATIONAL DEFENCE
As the ongoing Russia-Ukraine war has demonstrated — through the innovative use of technology and the creative application of tactics in the battlespace — warfare today has become even more fluid and opaque. 
Real threats in the digital domain are constantly evolving, affording undue access to bad actors, a diabolical range of cyber tools and techniques. 
This is why the recent establishment of the Digital and Intelligence Service in October last year is a crucial and timely shoring up of Singapore's cyber defences through the growth of our digital capabilities.  
It is clear that Singapore's defence budgetary firepower has taken into consideration the need to overcome capability gaps and disruptive threats through nimble research and development, over and above forward-looking procurement strategies. 
This approach ensures that the SAF is equipped to guard against both conventional and emerging threats over the next few decades. 
Such an SAF can also be counted on to contribute to humanitarian and disaster relief where it is needed in the region and beyond. 
It is also evident from Mindef's latest and preceding defence budgets that strategic investments into personnel — both National Servicemen and "regulars" alike — form the cornerstone of military expenditure. 
The SAF's hardware and software systems that underpin the country's land, sea, air, and digital forces are only as effective as the people who manage them. 
Investments by the SAF into human capital will only get more critical for the command and control of complex digital systems, especially in face of declining birth rates. 
While artificial intelligence will lead to increasing automation, decisions to engage enemy threats will always be made by trained human operators. 
Humans and intelligent machines will be working closer together, and Singapore's limited number of soldiers are being taught the requisite digital skills to meet the demands of this partnership. 
What is compelling is that Mindef and the SAF will invariably be achieving more while spending less over time, such as the procurement of big-ticket items or defence projects with long gestation projects that are essential in addressing evolving threats. 
A long-term approach to defence spending also means that Singapore invests in the region's capacity to address security challenges that are common to the island-state and its neighbours across Asia Pacific.  
A healthy defence budget allows Mindef and the SAF to strengthen multilateral cooperation to address common security problems together through important initiatives.
These include the Asean Defence Ministers' Meeting Cybersecurity and Information Centre of Excellence, and support for the upcoming 20th iteration of the Shangri-La Dialogue as one of Asia's top defence summits. 
This year's 5.6 per cent increase in defence spending from FY2022 is necessary to build up the SAF's ability to counter non-traditional threats, on top of addressing heightened inflationary pressures and closing gaps on delayed projects caused by the pandemic. 
The Defence Ministry has stated before that if Singapore's post-Covid recovery keeps pace, the public can expect its budget to eventually stabilise and return to a growth trajectory of about 3 to 4 per cent of nominal growth a year. 
STRONG DEFENCE A PRECURSOR TO SOCIO-ECONOMIC STABILITY
Singapore has no enemies. Its long-held foreign policy position is to forge and maintain cordial and harmonious relations with all countries. 
Still, the ancient Chinese strategist Sun Tzu also suggests that we "rely not on the likelihood of the enemy's not coming, but on our own readiness to receive him" should adversarial relationships ever materialise in the future. 
For deterrence to work, adequate military capabilities are required in order to make one's defence "unassailable", to quote Sun Tzu again.
Observers who question Singapore's acquisition of advanced tanks, ships, and aircraft when there are no wars to fight, may actually be missing the point.  
Associate Professor William Inboden, writing for The Heritage Foundation just after Russia's annexation of Crimea, has repackaged ancient wisdom for our times. 
He observed from the historical record that "economic development efforts are most successful and most enduring when undertaken in a context of peace and stability, which is most often provided by a guarantor of security underwritten by military power".
This view reaffirms the long-held wisdom that sustained yet balanced financial investments into national defence is necessary for preserving a stable environment.
That stability is instrumental towards driving socio-economic development and achieving an even better quality of life that the rest of a country's national budget seeks to support and help make happen for all citizens.
ABOUT THE AUTHOR:
Dr Graham Ong-Webb is an adjunct fellow at the S Rajaratnam School of International Studies, Nanyang Technological University.