Gen Y Speaks: I am a 25-year-old NUS graduate, and this is why I became an artist
I graduated from the National University of Singapore (NUS) in May and am a full-time artist, having held various group and solo exhibitions since 2013 and winning the UOB Painting Of The Year silver prize in 2016.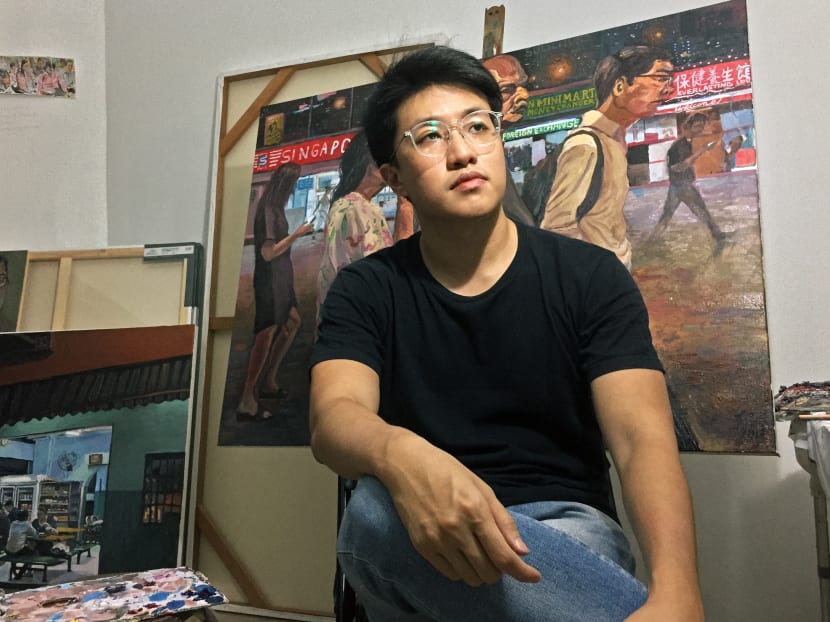 I graduated from the National University of Singapore (NUS) in May and am a full-time artist, having held various group and solo exhibitions since 2013 and winning the UOB Painting Of The Year silver prize in 2016.  
My decision to become an artist was perhaps one that was never made in the first place — I don't remember making any decision, I simply did stuff.
Having found my love for painting in junior college, I painted labouriously through the free time during my National Service days.
Not coming from any local art schools or having any fancy accolades, I learned the meaning of having a thick skin when I went up to people in the art community at events or online and made conversation for networking.
A lot of such determination came not just from that cliched idea of passion but also fear; fear that I wouldn't get to do what I've always wanted to do; fear of a future regret.
I knew from the age of 18 that if this was what I wanted to do in my life, I had to start early.
And I've been lucky. After showcasing some paintings in a small café in town, the work eventually got noticed by an art gallery Utterly Art, and I eventually did several editions of the Affordable Art Fair with them.
It was during this period that decent sales of my work boosted my confidence in art as a career. It gave my parents a little more confidence in the path I was seeking to take. A path quite different from my older sister, who is a teacher in a secondary school.
The decision to be anything comes perhaps not in a loud declaration but small acts that inch their way to making a difference eventually.
I matriculated into NUS in 2015 and chose to major in South-east Asian studies a year later.
My heart and mind were set on art as a career, but I didn't opt for local art schools because I didn't like their programmes and my parents didn't have the financial capability to send me overseas.
As an undergraduate, I led a double life: A student attending lectures and writing essays on some days, and on others sweating away in the heat making paintings.
I am often asked what my university education has to do with my art career that was happening consecutively. As much as I try to offer some connection that will make sense to the curious, the truth was that I wasn't so sure myself either.
Some even thought I was suffering all through the four years, doing something I didn't like to do for the sake of a degree, which cannot be further from the truth.
READ ALSO:
Gen Y Speaks: At 20, I ran a business with six-figure revenue. Here's what I learned.
One day, I found myself watching a YouTube video of a public dialogue between American comedian Conan O'Brien and a professor of his alma mater Harvard University.
Having studied literature and history at a top university and going on to become a comedian on television, there was the question of a link between his education and career choice.
"Absolutely nothing," he said. In the same uncomfortable way I often try to explain myself to people, he continued on about these things that are seemingly unrelated to one's career as "fuel".
How reading American history had nothing to do with the jokes he cracked on television, but somehow it helps him as a person.
I have never found a better explanation for the things I've felt about education — not only as a tool to secure employment, but also, in that unSingaporean romantic notion of nourishment for the mind and soul.
For the tangible things that have helped me with my life and art, I studied Bahasa Melayu in NUS and now use it often.
The study of the language also aided my interest in studying Singapore's closest neighbour, Malaysia, as I began making more and more frequent trips to different states there and eventually wrote my dissertation on Johor and Singapore.
Studying South-east Asia has been one of the most meaningful things that has happened to me. I have learnt how people, societies and livelihoods have shifted throughout history, giving me a much better appreciation of home.
My paintings thus evolved too. In my latest solo exhibition, A Lack of Significance, at iPreciation, I chose to portray not only a less orderly and glamourous side of Singapore, but also confused that notion of Singaporean-ness by mixing in paintings of places that look like Singapore but aren't Singapore.
I think I am lucky that I am able to support myself and contribute to my family's household expenditures with the income from the sale of my paintings.
My parents are supportive of what I do as they can see that this is a financially viable career choice.
I now write this in a small studio I rent with another artist tucked away in one of Singapore's industrial estates.
Outside are the sounds of construction, lorries and forklifts. It's always noisy here. Construction workers are busy at some roadworks as the 5 o'clock sun blazes down on their backs, and white-collar workers begin walking to the nearby MRT station after work.
On my desk, amid my sketches and other junk, Rehman Rashid's Peninsula sits on my table — it's been a great read. Behind me the paints, canvas and brushes sit, waiting.
I am working on a scene of tired office workers scrolling on their iPhones and Galaxies on the bus. Art and life are inseparable.
ABOUT THE AUTHOR:
Yeo Tze Yang won the UOB Painting Of The Year silver prize in 2016 with an oil painting titled Ah Ma's Kitchen, depicting his grandmother's kitchen which he has known since young and still frequents.