Gen Y Speaks: Three things I learned running a business to curb food wastage
I could have been a corporate lawyer or go into finance. But I chose neither. I wanted to be an entrepreneur and the germ of an idea came when I saw my family throwing out consumable but expiring surplus food from our refrigerator.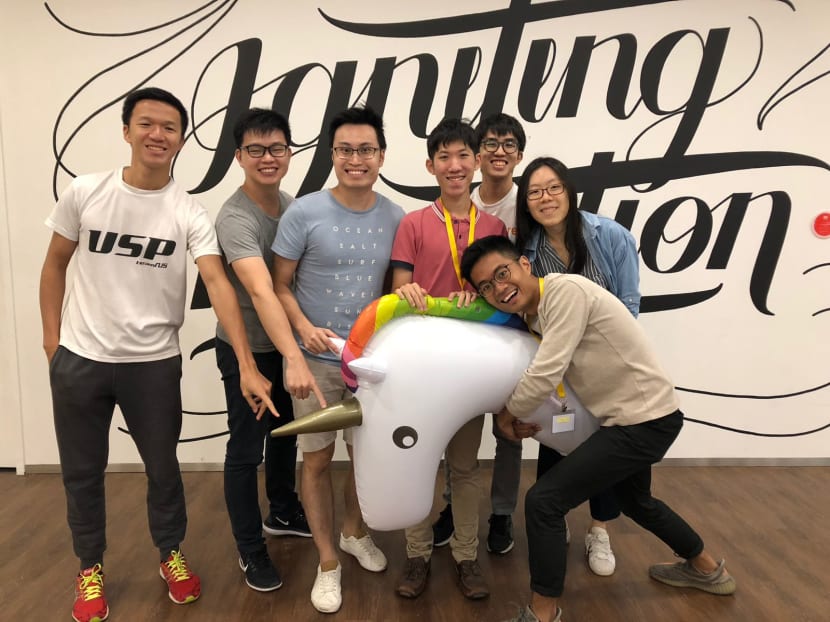 Three years ago, in my final year of the graduate law programme at the National University of Singapore (NUS), many of my friends wondered if I would become a corporate lawyer. After all, my first degree was in business administration (accountancy) from NUS.
The other ideal pathway was to venture into the finance world with a legal mind, and climb up the corporate ladder. But I chose neither.
I was searching for something that could marry both disciplines and harness my personal interests and skill sets. At that point, encouraged by the growing local startup ecosystem, I explored entrepreneurship as an alternative path.
The germ of an idea came when I saw my family throwing out consumable but expiring surplus food from our refrigerator. A thought sprung to mind: could I build a platform to sell or share surplus food items?
After doing more research, I discovered the staggering magnitude of food wastage in Singapore — around 800,000 tons a year, over 40 per cent higher than a decade ago. While there were charities doing good work in reducing food wastage, I surmised that a solution involving technology could create greater impact.
With a leap of faith, I founded Treatsure in 2016 to get more businesses and consumers to treat food as treasure. Our company became one of the pioneer startups in the nascent surplus food space.
But little did I know what I was getting myself into. Long hours, no salary, a social distance from friends who were climbing corporate ranks, and emotional struggles which my supportive sister and close friends helped me overcome.
Meanwhile, my parents expressed concerns about my livelihood and this industry, and it took them some time to give their support.
After nearly a year of market research, app development and sales pitches, Treatsure was launched as Singapore's first mobile reservation app for surplus food.
READ ALSO:
Singapore uses insects to gobble up food waste
In 2018, we created Asia-Pacific's first takeaway buffet-in-a-box concept in collaboration with over 10 hotels, including Grand Hyatt, Swissotel, Novotel and Hotel Jen. Our app users can purchase a takeaway box in the last 45 minutes or so of different buffet meal slots and pack what they like in the hotel, DIY-style.
The goal is to help hotels reduce wastage as the surplus food would otherwise be discarded after the buffet.
This year, we ventured into delivering surplus fruits and vegetables from UglyFood and packaged food items by tying up with several distributors.
There are at least three lessons I have learnt in my entrepreneurship journey thus far.
First, you need a team to knit a dream. Although I could wear multiple hats (at one point I was concurrently our lawyer, accountant, salesman, content creator, operations manager and designer), I soon realised a one-man show would not have taken this idea far.
We especially needed technology talents to build our app. I am thankful to have my university buddy, Kenneth Ham who was then an NUS Computing undergraduate, join in as a technical co-founder and architect. Thereafter, we hired our first software engineer Jo, who helped firm up our technology.
Over 10 interns, volunteers, friends, meanwhile, offered their time and talents to help build Treatsure from scratch, despite our financial constraints. I began to appreciate each individual's talent and hidden potential.
Second, striking a balance between different business objectives is more important than striking it big overnight. While startups often seek to grow fast or fail fast, it was not the case for Treatsure.
READ ALSO:
Most S'porean households recycle regularly, but many can't differentiate between 'recyclable' and 'reusable'
Being a marketplace platform with users and merchants, we managed a delicate balance between the growth of both stakeholders. An accelerated upside of either at an early stage would only be to the detriment of the other; we would have failed horrendously.
Yet another important balance is between user acquisition and product development. In a resource-constrained environment, we had to carefully ensure that both marketing and product development efforts were moderate in costs and moving in tandem.
At the earliest stage, we had many product feature ideas, but we stripped them down to keep it cost-effective to build. On hindsight, this "minimum viable product" could still have been simplified.
For user acquisition, I remember our humble beginnings of recruiting users through NUS booths and approaching street passers-by to keep acquisition costs low.
An early startup also needs a balance between success and failure. Overly chasing or driving targets and metrics of success at the expense of room for growth and experimentation (and failure) will stifle innovation and enterprise, while dampening morale and passion.
Third, never be dejected when you're rejected; be humble, don't grumble. Instead, I learnt to reject rejections and bounce back from there. When we first pitched our buffet-in-a-box idea to an initial few hotels, most turned us down, saying it was not feasible.
We then spoke to Grand Hyatt, whose visionary managers saw potential in this creative idea. It became our first adopter, and subsequently other groups like AccorHotels, Shangri-La, Carlton, Far East Organisation and Furama lent their support.
What was "not feasible" became an operational reality in hotels, with keen interest from the public.
With Singapore designating 2019 as the Year of Zero Waste, we hope to expand our food waste reduction footprint through new solutions and create new business value propositions.
Someday, with greater financial resources and opportunities, we aspire to be a leader in the Asia-Pacific surplus food space and the emerging sustainability sphere.
This is one journey that I will be treasuring for life.
ABOUT THE AUTHOR:
Preston Wong is the CEO & co-founder of Treatsure, a homegrown startup tackling the problem of food wastage with technology and new solutions.