Make mental health education mandatory in Singapore schools
The second Singapore Mental Health Study by the Institute of Mental Health released in 2018 found that one in seven Singaporeans experience a mental health condition in their lifetime, up from one in eight in 2010.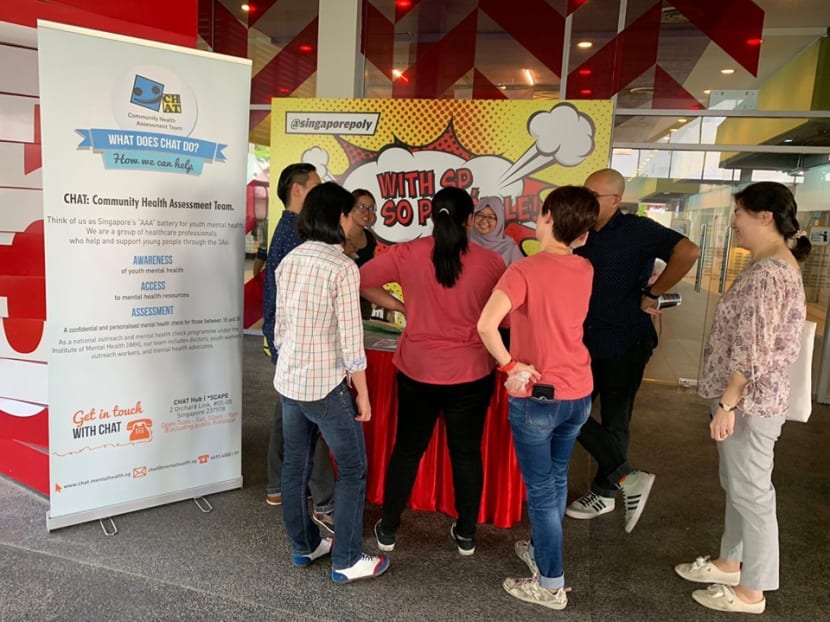 The second Singapore Mental Health Study by the Institute of Mental Health released in 2018 found that one in seven Singaporeans experiences a mental health condition in their lifetime, up from one in eight in 2010.
What is alarming is that these numbers continue to rise — especially amongst youth, who are most at risk of suffering mental health disorders — according to the same study. 
The number of young Singaporeans between the ages of 16 and 30 who sought help from IMH's Community Health Assessment Team from 2015 to 2017 has jumped by an alarming 190 per cent.
Furthermore, the number of children between five and nine years of age calling the hotline increased by more than five times in less than three years. Suicide is also the leading cause of death for those aged 10-29.
These rising rates of mental health issues among children and youths is a pressing national challenge.
The Government is taking the lead in addressing this through the SG Youth Action Plan for Mental Health. Youth Corps Singapore recently started a mental health cluster facilitating youth leaders in galvanising like-minded volunteers to do more in this area.
There has also been a groundswell of efforts from the youth community, like Tapestry Project, CampusPSY, Limitless, Acting Up, Your Head Lah!, The SOAR Initiative and #YoungXHush (a youth movement under Hush TeaBar, Singapore's first silent tea bar to promote mental wellness and inclusion, which I founded). 
While these efforts are encouraging, we must go further upstream to integrate mental health education into our schools because, according to global studies, 50 per cent of mental health conditions develop in children aged 14 and below. 
Mental health education plays a big role in re-scripting the public narrative surrounding mental health. Without such education, we find misconceptions that mental illness is "contagious" or a "weakness". With greater understanding and support, help-seeking need not be shrouded in secrecy or looked upon as being shameful. 
Mandating mental health education in our schools and Institutes of Higher Learning is the surest signal to normalise mental health. The New York and Virginia education systems have made mental health education mandatory without imposing hard-coded curriculum modules. The United Kingdom will mandate mental health education in 2020.  
We can do more beyond the occasional assembly talks on mental health, optional enrichment classes on wellness and offers of counselling as interventions for behaviour modification (which in any case is often construed as punishment by students).
Simply introducing an additional period to the formal curriculum for mental health education will not necessarily be effective and will most certainly increase the workload on our teachers. We must think outside the box. 
One way is to expand the current physical health education curriculum to total health education. This will help ingrain in students the idea that there is no health without mental health.
We should, for example, include in our traditional line-up of sports during PE periods, somatic movement exercises where students will be taught to focus mainly on the internal sensations of certain slow and deliberate movements.
In addition, we should extend the education of physical injury and what to do/where to seek help to include psychosocial distress as well as integrate mental health hygiene into the health and nutrition modules.
Another way is to assimilate mental health education into co-curricular activities (CCAs) for students to learn through experience and empathy. I am heartened by the Ministry of Education's (MOE) introduction of the peer support programme in all schools which equips students with skills to identify distress among their friends and provide them with support. 
Several community practitioners and I have also come together recently to create a menu of innovative and experiential mental health education programmes that could be adopted by schools and IHLs as CCAs.  
The #YoungXHush programme, which has been made a CCA by schools like SJI Malcolm Road and adopted by many schools and IHLs, is an example. Students express an array of emotions through learning to sign them from deaf facilitators — which inadvertently also promotes inclusion and empathy.
They are also taught stress reduction breathing techniques and silent reflection to better appreciate values such as gratitude, resilience and courage. The end goal is for students to be encouraged to form their own self-led clubs and conduct their own peer community outreach with support from the deaf.
Other organisations that are well placed to provide co-curricular programmes to ensure mental health education in every school include:
Acting Up, a social enterprise that provides multi-modal, arts-based interventions for emotionally vulnerable, at-risk youth
CampusPSY, a non-profit organisation which focuses on mental health advocacy and peer training
Limitless, a non-profit organisation that provides therapy and support
Over the Rainbow, a non-profit organisation that has different programmes on youth mental wellness and
Touch Youth Intervention's Do You M.I.N.D, which helps students learn about mental health through adventure-based Virtual Reality.
Schools can consider developing service learning programmes with community partners such as Silver Ribbon or Singapore Association for Mental Health's Creative Hub for students' Values-in-Action programmes.
Service learning is an educational approach where students learn values and skills through community service over a period of time and not through one-off volunteering encounters.
These immersive programmes can perform the double duty of imparting key messages about mental and emotional well-being to our young ones while fostering more organic interaction with those with mental health conditions..
Mental health education is not complete if we do not include parents and families.
We must provide training and support structures for parents and families to be equipped with emotional management and mental health first aid skills to help their children and themselves better navigate stress in this relentlessly volatile and uncertain world. 
Mental health education cannot and must not be MOE's responsibility alone. It is our society's responsibility.
However, because schools are where children and youths spend a lot of time, that is where education and intervention can be better organised.
A clear and robust mental health education policy will also fortify the impact of the switch from streaming to subject-based banding come 2024 as we continue to focus on student well-being and potential.
Mental health education should not be "hidden" but must be clear and deliberate in order to dispel the stigma and send a strong signal of its high priority to the nation. 
Franklin Roosevelt famously said: "We cannot build the future for our youth but we can build our youth for the future".
Mental health literacy must not be optional. How and how much we invest in mental health education in schools and communities for our children and youth, and their families, will most certainly determine the future of Singapore. 
ABOUT THE AUTHOR:
Anthea Ong is a Nominated Member of Parliament, a social entrepreneur and author of 50 Shades of Love. 
CORRECTION: An earlier version of this piece stated: "The number of young Singaporeans between the ages of 16 and 30 who sought help from IMH's Community Health Assessment Team from 2015 to 2018 has jumped by an alarming 190 per cent." This is incorrect. The years in question should be from 2015 to 2017.