Reaching out to persons with invisible special needs, with the help of a label
Those with special needs can be distilled into two categories - the visible and the invisible. The invisible are special needs such as autism, attention deficit hyperactivity disorder, learning disability - conditions that are unobvious to passers-by. Parents of children with invisible special needs half-jokingly call themselves the unlucky ones. Because for them, empathy is often elusive.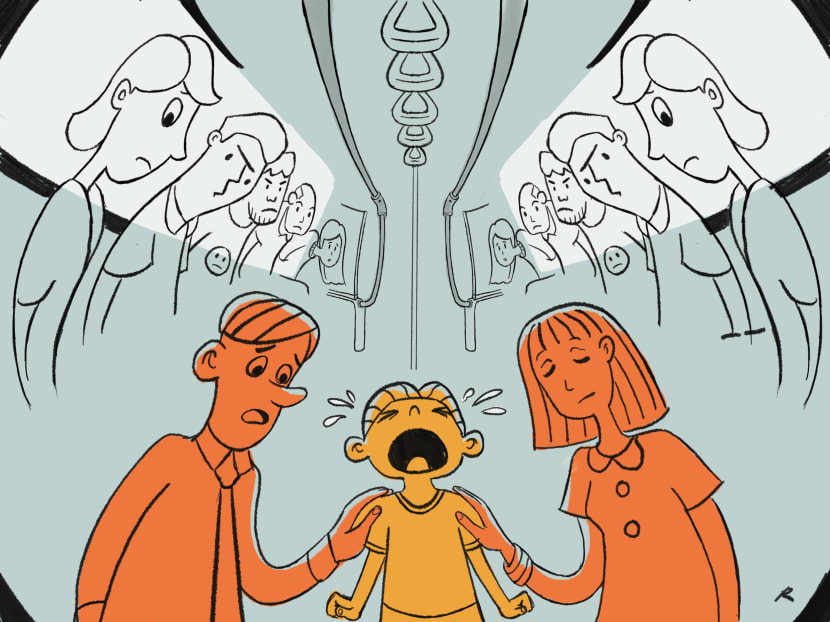 It is not often that a virus is exterminated in the world of social media.
Viral videos travel far and fade away only when pretty much the whole world has seen it.
But last month, a viral video met an unexpected, premature end.
A video of a boy masturbating on the MRT while looking at a female passenger went viral, unsurprisingly.
But the U-turn came when it was unexpectedly made known that the boy was autistic.
The taunts stopped, the viral video was deleted, and public disgust turned into an outpouring of empathy.
But it was too late. The harm had been done.
Too often, the road to inclusion is marked by U-turns like this – a premature judgement, an oops moment, and a sudden, dreadful realisation that we have, in our folly and glee, turned into monsters.
We make a U-turn, correcting our attitudes and move on with our lives.
For most of us, redemption requires little effort.
For many parents of children with special needs, however, these U-turns are a daily, hurting reality.
But it keeps happening. Here's why.
Special needs is an alphabet soup: ASD, ADHD, GDD, CP, ID, MD, etc.
But the list of special needs can also be more simply distilled into two categories - the visible and the invisible.
The visible are special needs such as cerebral palsy, muscular dystrophy and Down's Syndrome - conditions which are immediately obvious to others.
The invisible are special needs such as autism, attention deficit hyperactivity disorder, learning disability - conditions that are unobvious to passers-by.
Parents of children with invisible special needs half-jokingly call themselves the unlucky ones.
Because for them, empathy is even more elusive.
Their children are mistaken for brats, dimwits or, in the case of the MRT video incident, perverts.
And they, in turn, get judged as incapable, negligent parents.
It is hard to tell which is more hurting.
A parent I know refers to himself and his wife as the Sorry Sorry Parents.
"Because everywhere we go, we just say sorry, sorry," he said.
Their son has autism. But people can't tell.
During Christmas one year, Dad took the boy out alone to IMM mall, after taking months to muster up the courage to do so.
All was going swimmingly well. Dad was so happy. He felt he and his family had reached a new milestone.
That was until the boy got excited at the sight of a Christmas Tree made of colourful boxes, yelled "bowling!", and swiped the tree down.
Dad scrambled to his knees and turned into Sorry Sorry Parent under the glare of shocked shoppers and an angry shop assistant.
After the tree was hastily rebuilt, the boy again screamed "bowling!" and swiped the tree down.
Exasperated, Dad blurted out to the shop assistant, amid a barrage of more "sorry sorrys", that his son is autistic.
That was the moment the U-turn came.
The shop assistant's anger dissipated immediately.
She knew what autism was and insisted that Dad leave her to do the cleaning up, and go take care of his son.
But the outing was long over.
Dad took his son back to the car.
He cried, fingers clenching the steering wheel, with his son still yelling "bowling, bowling!" in the backseat.
Mum didn't have better luck.
Once, after months of dry runs and mustering up the courage, she took the boy to ride a public bus for the first time.
It went well at the start, until the boy got increasingly overwhelmed by the excitement of the bus ride.
To the growing despair of Mum, who was trying to get her son to behave, passengers started staring.
A granny nearby cast a dirty look and whispered to her grand-daughter, deliberately just loud enough: "Don't grow up to be like that boy."
It was just a sentence, but it crushed Mum's spirit at the very moment a simple smile from a stranger would have given her the encouragement to persevere.
She dragged her son out of the bus at the next stop, in tears.
The mother of the boy on the MRT must have experienced the same dejection.
He has a job and travels long hours on public transport to his workplace.
It must have taken a Herculean effort on his mother's part to get to this point of normalcy before it all came crushing down.
This burden of facing up to public judgement is one of the reasons why, although about 5 per cent of Singapore's population is estimated to have special needs, we do not see 5 per cent of people in our malls, hawker centres and MRT trains with special needs.
They live in a parallel universe.
Many prefer to stay at home.
Going out requires a heart of steel and deep pockets (unless you can brave the public bus).
For them, inclusion is not simply a matter of raising public awareness, because the special needs of their child is invisible to begin with.
For them, inclusion requires the public to possess a profound level of kindness and restraint of judgment.
That is not realistic. We need a solution that is more blunt.
A universally-recognised visual code may work.
As a society, we can decide on a way for parents of children with invisible special needs to identify themselves in a discreet way in public.
It can be an apparel of a distinct colour pattern: A wrist band, scarf, cap or badge.
When a meltdown occurs, the public knows through the apparel that the child has special needs, and responds appropriately - just like the shop assistant at the IMM mall did.
People will not choose to be a monster if they know. We will keep one another accountable in our responses.
Our public campaigns can then have a more targeted focus on making this identifier well-known among the public, instead of raising general awareness.
Is this labelling? Absolutely.
But in a good way.
It is voluntary self-labelling.
A "special needs" identifier is also little different from a wheelchair, a pair of crutches, a hearing aid, or a blind person's walking stick.
They serve as visual signifiers to the public of a person's needs.
There is nothing wrong with that.
Singaporeans are generally helpful to people with visible special needs.
Why should it be different for people with invisible special needs?
After all, while we can moralise all we like now, incidents like the one on the MRT continue to happen daily.
It's just that we don't hear about it.
It doesn't have to be this way, because the problem is not that people are bad.
The problem is that people don't know.
ABOUT THE AUTHOR:
Ng Tze Yong is a former journalist.