Gen Y Speaks: My work as a Covid-19 swabber to support myself through school has completely changed me
I have been working as a freelance personal trainer to support myself through my part-time studies, and the circuit breaker affected me badly. So I was glad to take up a job as a Covid-19 swabber in June, working up to 42 hours a week at foreign worker dormitories, hotels and Changi Airport. My experience has changed me as a person.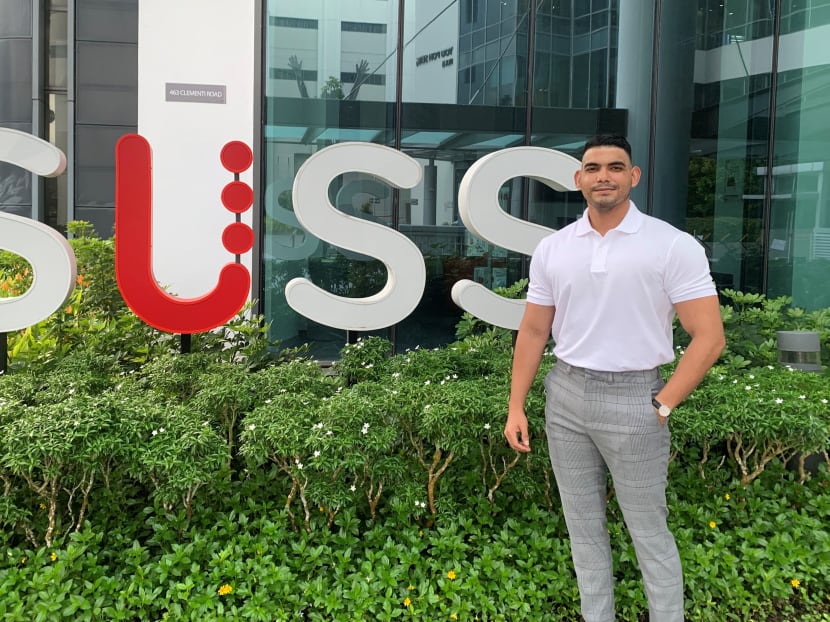 My mother is a single parent and works as a technician.
As an only child, I started doing part-time jobs at age 16 as a waiter and a receptionist to partly support myself through school.
Since young, I have had a passion for sports and dreamt of carving out a career in fitness training.
So after completing my National Service (NS) in 2017, I joined a gymnasium as a full-time customer care representative before becoming a personal trainer there and also enrolled into a part-time sports and physical education degree course at the Singapore University of Social Sciences (SUSS).
After gaining some work experience in the gym, I decided to quit at the end of last year to branch out on my own as a freelance personal trainer. 
Everything seemed fine, until Covid-19 struck.
The circuit breaker affected me badly as I could not meet up with my clients for their training. With no income and mounting uncertainties, I knew I had to grab whatever opportunity that came along.
So when I saw an advertisement looking for Covid-19 swabbers, I quickly applied for it.
Having served as a medic in NS, it seemed natural to me to play a part in the fight against Covid-19.
I was hired in June as a full-time swabber attached to the Health Promotion Board on a six-month contract and have been deployed to various foreign worker dormitories, hotels and sites such as Changi Airport.
The work is quite tough, in part because I have to don personal protective equipment for up to three hours at a stretch.
Being outdoors under hot and humid conditions, I am often completely drenched in perspiration.
But I feel a sense of accomplishment for helping to clear the dormitories and other sites in the community.
Each day, my colleagues and I swab scores if not hundreds of foreign workers and those serving stay home notice.
I like to spend some time talking to the foreign workers, especially familiar faces whom I recognise from time to time.
One particular conversation with a foreign worker left a deep impression on me.
As part of our protocol, I asked him how he was feeling and if he had done the swab test before.
He replied: "Tired, brother. So many times doing swab test. More than 10 to 12 times already. Always come out negative but don't know why need to keep doing and doing.
"Now also cannot go back to work, cannot go out, stuck inside the room with many people. When will this Covid finish?"
I could not help but empathise with him and his fellow foreign workers confined to their dormitories as part of the precautionary measures to contain the pandemic here.
It pains and irks me to read negative comments about foreign workers, particularly from those who are against dormitories or temporary housing for the workers being built in their estates.  
From my exchanges with the foreign workers, I find them to be extremely friendly.
Most just want to work again so that they can send money back to their families.
Some of the foreign workers here are as young as 19 years old, even younger than me. Migrant workers have helped to build many of Singapore's infrastructure projects and they deserve our respect, not discrimination.
The author exercising in a gym earlier this year. He says working out helps him to clear his mind. Photo courtesy of Mirosh Singh
GIVING BACK TO SOCIETY
Covid-19 and my stint as a swabber for up to 42 hours a week have not only toughened me up, they have made me a different person with a broader outlook of life.
I do not have a fixed weekly work schedule as my deployment is usually confirmed only the night before.
This has posed some challenges for me in meeting my school assignment deadlines and managing my own revision schedule.
To make matters worse, I was taking the maximum four modules a semester.
This meant staying up past midnight on most days and even studying while commuting to work, especially during my examination period earlier this month.
Despite a high level of stress and anxiety, I have persevered and learned not only to be adaptable but also to better manage my emotions.
I do so by going to the gym and for runs to clear my mind.
I am proud of how Covid-19 and my stint as a swabber have made me a more caring and woke person.
Seeing online comments that were racist and xenophobic made me better appreciate the importance of promoting tolerance and understanding, especially in these uncertain times.
I also became more aware of mental health issues and made efforts to read up more about them.
Reflecting on the scourge of racism and the pitfalls of mental illness, I strongly felt the urge to step up and do my part through various means such as volunteering and promoting better understanding of these issues.
Before 2020, I was not involved in giving back to the community or in any of my university's community events due to my busy schedule as a personal trainer where I would work six to seven days a week and up to 12 hours a day.
But in recent months, I decided to start an SUSS student project to raise awareness on the topic of racism within our society through focused group discussions within the university.
I have also joined non-governmental organisation OnePeopleSG as an advocate for racial and religious harmony by participating in its experiential conversations with like-minded individuals, as well as attended its facilitator course so that I may one day be able to facilitate such conversations outside my school.
Furthermore, I participated in my first volunteering experience with Youth Corps Singapore by packing self-care packs to be distributed to participants of a mental wellness campaign in September.
The author volunteering to pack boxes for self-care packs for participants of a mental health campaign. Photo courtesy of Mirosh Singh
I was also recently accepted into the Youth Corps Leaders Programme, which lasts nine to 12 months, where I would help conceptualise and start ground-up initiatives to address community needs with various national agencies and community partners.
I want to help raise awareness about youth mental health and post-traumatic stress disorder as well as depression, which is a driver of suicide among young adults here.
I am glad I was able to help a close friend of mine to deal with his depression and suicidal thoughts after he went through a break-up of a long-term relationship.
I showed him that his feelings are important to me and advised him to seek professional help while constantly checking up on him to see how he is coping.
While these may be little gestures, they could mean a lot to him.
Before Covid-19, I think most of us, including myself, have the tendency to just go about our daily life without stopping to notice what is going on around us.
There are less privileged individuals in our community that we can help.
I hope to inspire others to step out of their comfort zone, to try new things, and to give back to the community as well as to be involved in conversations about social issues.
Although I work in a high-risk environment, my loved ones have been supportive of my job. They are also happy to see how I am now more responsible and always looking forward to making a change in society, as compared to previous years where I was less woke and more focused on myself and developing my personal trainer career.
Although it was a stressful situation for me in the beginning of the year, it now feels like there is a silver lining.
My contract as a swabber ends in mid-December and I hope to find a new job.
I know it won't be easy given the current economic situation.
But the challenges I have overcome so far this year and the lessons I have learned along the way give me some optimism that I will be able to cope, come what may.
ABOUT THE AUTHOR: 
Mirosh Singh, 25, is a part-time Bachelor of Sports and Physical Education with Management student at Singapore University of Social Sciences.