Gen Y Speaks: Caring for my ill mum was stressful and a reason I care about youth mental health issues
I joined a national youth mental well-being network earlier this year as I wanted to help fellow millennials tackle one of the top issues we are concerned about. My motivation stems from my own fight against mental stress previously and from my subsequent experience helping residents as a grassroots leader.
I joined a national youth mental well-being network earlier this year as I wanted to help fellow millennials tackle one of the top issues we are concerned about.
My motivation stems from my own fight against mental stress previously and from my subsequent experience helping residents as a grassroots leader.  
I went through the most challenging period of my life during my university days about 12 years ago, not because of my studies, but because my mother's health was deteriorating.
It coincided with me, then aged at 21, having to take on more responsibility for the family together with my elder sister and father.
My mother was diabetic and had to be hospitalised several times in my first year in university because her sugar levels were not consistent.
Her condition did not improve, and doctors had to amputate three toes of her right foot due to infection.
We believed things would get better, but that only marked the beginning of an arduous journey.
Soon, she had to undergo another amputation below the knee for the same leg.
She went through emotional hell as she could not accept losing her leg and having to rely on a wheelchair.
It was equally hard for me and my family because we had to visit her at the hospital regularly despite our own workload.
Every time the doctor told us about her treatment options and surgery, we were never sure of what to do and where to seek advice — even as we had to make quick decisions to save her life.
After the two surgeries, she got a prosthetic leg to help her move around and I thought things would settle down.
But she fell ill again and had to amputate the other leg — straightaway above the knee this time. It was yet another crushing blow for my mum and our family.
I felt helpless and thought it was the end of the world.
I was overwhelmed with anxiety each time the nurse or the doctor approached me to speak about my mother's condition.
No matter how hard I tried, I could not get negative thoughts out of my mind as I kept wondering if she needed more surgery or treatment.
I was fortunate though that I did not have to seek professional help to deal with the mental stress, as my extended family offered crucial emotional support.
They understood what we were going through and chipped in by taking turns to visit my mother in hospital so that my family and I could take breaks.
My maternal uncle, whom I always look up to and confide in when I face difficulties, was a pillar of strength for me particularly.
He kept assuring us that all would be well. These heart-to-heart conversations with someone I trust lifted my spirits.
Shuttling between school and hospital non-stop for about six months was mentally draining.
I found it hard sometimes to focus on lectures and tutorials. But I kept telling myself that this was just another obstacle I had to overcome, and that once I completed my degree, I could help  support my family the same way my parents did when I was growing up.
When my mother returned home after her surgeries, we had to change the home environment to make it more conducive for her while giving her a sense of normalcy where she could help with some simple housework such as folding and ironing clothes.
It was then that I finally understood what it meant when people said that caregivers need to be mentally stronger than those they are caring for.
Over the next decade, my father, elder sister, my mother's siblings and I took turns to care for her at home.
It can be both mentally and physically draining but the family support, including emotional support, was critical in keeping me going.
She passed away a year ago at the age of 58.
No words can describe my sadness at her sudden death. Till today, tears will roll down my cheeks whenever I think of her.
It is especially painful that she could not see me get married recently on Sept 4.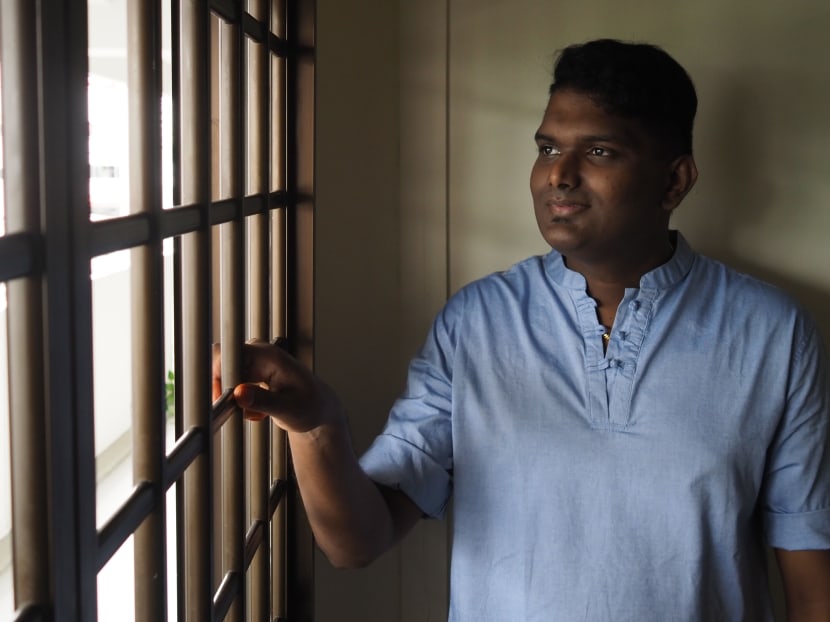 Because of my personal experience, I began to wonder if there was mental wellness support available in the community for those struggling to cope with stress.
Moreover, as a grassroots volunteer since 2008, I have come across many families seeking short-term financial assistance due to unforeseen circumstances.
In 2017, I met a mother who had to care for three young kids all under the age of five because her husband was in prison.
Beyond providing financial support to the family, we knew it was more sustainable for her to take up a job.
But she was reluctant to do so as she felt that as the primary caretaker of her children, she should not leave them in the care of others.
She was clearly stressed and emotionally drained.
Thankfully, with the support of a family counsellor, we convinced her to send her children to a nearby childcare centre.
It is easy to think that such cases could be solved simply with money.  
But my own experiences have taught me what it would be like trying to cope with difficult circumstances in the family.
Cases involving financial difficulties often must be dealt with holistically to cover mental wellness.
There are many more examples of mental stress that I have come across in my community work.
I have always been eager to do more to help.
So, I was glad to hear then Minister for Social and Family Development Desmond Lee made an open call early this year for youths to join a new Youth Mental Well-being Network.
The network is open to anyone and aims to improve youth mental well-being in an organic way.
Rather than being directed by the Government, the network members will decide how best to identify gaps and opportunities, and come together as a community to drive efforts that complement existing initiatives.
More than 1,000 individuals, including youths like myself, have since signed up.
So far, I have taken part in several focus group discussions with fellow members. I look forward to working on some pilot projects such as enhancing mental health literacy in the community to reduce the social stigma surrounding the condition.
I believe there is much that we can do to create three levels of support for youth as follows:
Build emotional resilience from young so that our youths can better handle difficult situations and cope with stress themselves.
Encourage families, especially parents, to engage youths on mental health issues.
Build an eco-system of professional support at the community level.
My hope is that youths who feel the same mental stress I felt when my mother was fighting diabetes would know how and where to get help.
I call upon fellow Singaporean youths to come on board the network so that we can work together to shape a stronger and brighter future for all of us.
ABOUT THE AUTHOR:
Jagathishwaran Rajo, 33, is an industry training officer with the National Trades Union Congress' Administration and Research Unit. He has been a grassroots leader since 2008.
This article is written in partnership with the National Youth Council. Do you have ideas to address gaps in the mental well-being landscape? Take part in the Youth Action Challenge. Part of the SG Youth Action Plan, it brings together youths and empowers them to pitch their ideas for a better future.