Gen Y Speaks: Why I still use a physical planner in these uncertain times
"The most useless purchase of 2020: A 2021 planner." Such statements were trending on my Facebook and Instagram newsfeed at the start of 2021, garnering many "likes" and "haha" emoticon responses.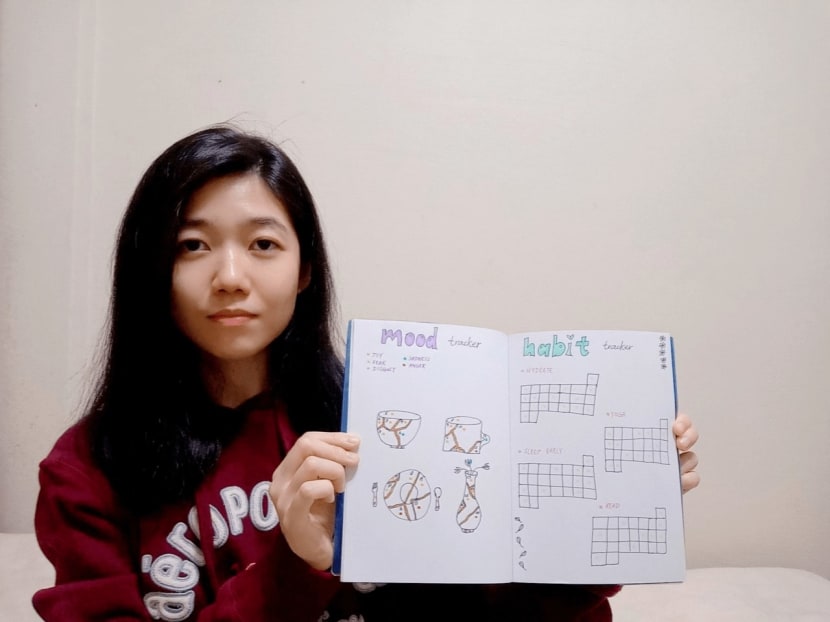 "The most useless purchase of 2020: A 2021 planner."  
Such statements were trending on my Facebook and Instagram newsfeed at the start of 2021, garnering many "likes" and "haha" emoticon responses.   
Countless friends around me were also lamenting how pointless it was to do goal setting, bullet journalling — a method of personal organisation — and charting of New Year resolutions, since most plans such as work or travel plans were largely jeopardised by Covid-19. 
Despite the pandemic wreaking havoc in our lives, resulting in almost nothing going according to plan, I continued to have a planner for 2020 and 2021, which I must say has been nothing short of satisfying. 
I first started goal setting in my secondary school days. Thereafter, the planners I have used daily or every few days at least include ready-made and personalised planners. 
These days, I would use a sketchbook or jotter book with blank pages or dotted lines and personalised it using pens and markers.  
For instance, besides drawing out spreads of weekly and monthly calendars, I would add more sections that I enjoy, such as a mood tracker and habit tracker. 
A mood tracker is a page used to track my mood each day of the month or year with different colours, such as joy, fear, disgust, sadness and anger, while a habit tracker keeps count of the frequency with which I engage in certain habits I hope to form in a month, such as sleeping early, reading and eating healthily. 
Many of my friends find it strange that I still use a physical planner as they prefer to use an online calendar app on their phone or iPad to note down dates of important events to receive notifications when the event is nearing.  
So why do I persist in using a planner in these uncertain times?  
First, I use a planner because it allows me to dream and hope. 
Against the harsh realities of social restrictions and reduced opportunities for outings, the ability to dream has become more important than ever for me to maintain a sense of hope for the future, even if these dreams would not become reality anytime soon. 
For example, one of my travel goals was to visit the Maldives for its crystal clear waters and pristine beaches, or to Japan to visit the onsens (hot springs) and eat authentic ramen and sashimi that I often see in much-loved childhood cartoons such as Crayon Shin-chan.  
However, due to Covid-19, flying overseas for leisure has been rendered impossible.  
Therefore I have instead written a small note next to my to-do list that I should "watch Youtube vlogs on Maldives or Japan" to temporarily satisfy my cravings to travel, and hold on to the dream of going there one day. 
In this sense, writing in my planner what I love and intend to do helps me in visualising something for the future, giving me motivation and something to look forward to. 
Furthermore, most people use their planners also as creative outlets for doodling and calligraphy.  
Sometimes, I find myself writing in my best penmanship short motivational quotes to myself such as: "A winner is a dreamer who never gives up", a saying by Nelson Mandela.  
Otherwise, I would be creating doodles of what I hope to do when I travel, from the photos and videos I have seen with a healthy dose of imagination.  
Second, I use a planner because it allows me to be grounded in the mundane realities of life.  
My planner is therefore not only an outlet for a whimsical world, but one that paints a picture of practical limitations.  
Several down-to-earth functions of my planner are to chart my expenditure and savings, as well as track my mood and assignment deadlines.  
For instance, I was taught at a young age not to spend all my pocket money on myself. 
Now that I am a working adult, I carry on this way of life by limiting my spending and allocating a small sum for charitable causes that I believe are important, such as by supporting the artwork of children with special needs or donating to a fund for needy students. 
My planner helps me ensure that I do not overspend, and keep track of months when I do, as well as to devise ways to keep to a budget. 
At the same time, I started using a mood tracker around the time Covid-19 was first detected at the start of 2020, to observe my feelings and responses to various events across the world. 
Mood tracking was a technique that I learnt from YouTubers who share information on bullet journalling, such as AmandaRachLee and Mochibujo.  
Usually, this entails having grids for each day of the month, to be coloured in with a mood that represents the emotion for the day.
Grids may also be replaced with other interesting objects such as balloons, petals of a flower or raindrops depending on one's preferences. 
I found that tracking my own mood helps me keep in touch with inner thoughts and emotions, which is helpful for conscientious living and self-awareness.   
There is one thing that I do differently when using a planner nowadays, in response to the capricious landscape shaped by Covid-19. 
In the past, I would set my direction of the year by early January, and monitor my progress till the end of the year. 
Now, in view of fast-moving changes brought about by the pandemic, I would review my overall goals every three months, to ensure that my plans are still somewhat relevant. 
At the end of the day, there is no particular set of rules on how one would like to use a planner, and what should be written or drawn in it.  
For those contemplating using a planner, I would say go for it.
After all, the benefits are aplenty and even if one does not find it useful, it can be easily converted to a jotter book for general note-taking, or even used as rough paper. 
ABOUT THE AUTHOR:
Alvona Loh Zi Hui is a junior doctor who works at a public hospital in Singapore.